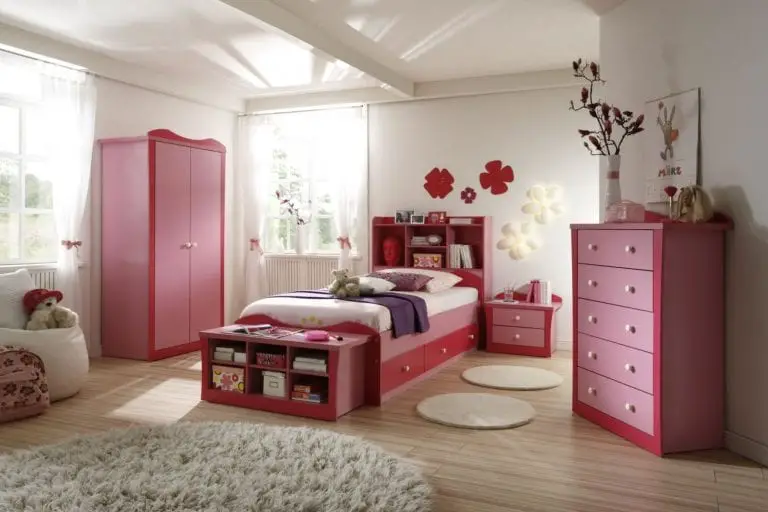 Great Ideas For A Girls Bedroom Theme
Today is all about inspiring and bringing out your vivacious and youthful spirit. We've compiled an amazing list of beautiful girlish themed bedrooms that are perfect for your child. From Victorian to ultra chic, this compilation of ideas we love has it all.
The most important thing when decorating a girl's room is to make sure you choose items that are age appropriate.
If she likes purple then you could use purple accessories such as wall hangings, cushions etc.
You also need to think about what kind of style she wants her room to have.
The room should have a feminine feel but also include a touch of sophistication. It should be decorated in soft pastels and neutral colors.
The bed should be covered in a light pink comforter and pillows. The walls should be painted a soft yellow.
A small lamp on the nightstand should be lit at all times. A few framed pictures of her favorite things would add a personal touch.
The room should have a soft feel to it. It should not be too bright or loud. A lot of people think that children need lots of toys and stuff but they don't actually want them. They just want to play and explore. So make sure you keep this in mind when designing for kids.
A girls room should have a theme. It could be based on a favourite character from a book or movie, or a colour scheme. The room should also include toys and games that are related to the chosen theme.
The best way to decorate a girls room is by using bright colors. Bright colors are great for girls rooms because they make them feel happy. They also help keep the room clean and organized.
The most important thing when choosing a color scheme for a room is to choose a color that you love. If you don't love the color, then chances are the girls won't either.
If you're not sure which color you love, take a walk around your house and see if any of the rooms have a color that makes you smile.
Once you've found a few colors that make you happy, start looking at pictures of children's bedrooms online. You'll find tons of great ideas on Pinterest.
Scroll through and grab ideas with your daughter and start redecorating! In no time, she'll have a fresher and more vibrant space to call her own!  Enjoy our 13 decorative girls bedroom designs and photos and imagine the possibilities in your own home and how that might bring a smile to that special girl.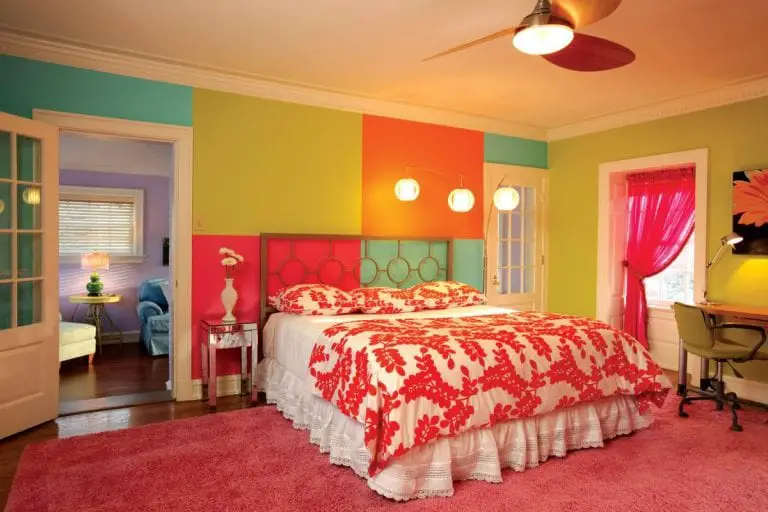 The color-blocking on the walls creates a fun and youthful vibe instantly. And we are loving the print on the bed that gives off an even more vivacious vibe. The mixing and matching used throughout this rooms adds a more personal touch than a traditional coordination of colors.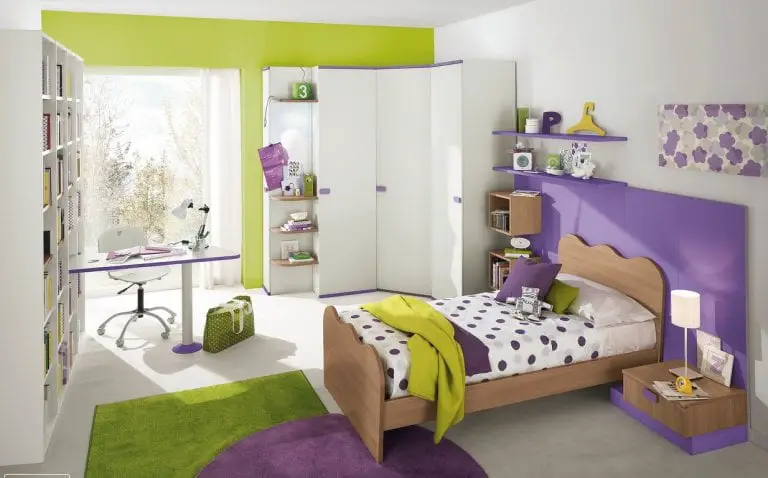 One of the more unique colors combinations, this crisp white, purple and lime room has quite a chic and fashion forward energy about it. The polka dots add a welcoming and feminine touch of charm, while the rest of the room stays fresh, open and quite contemporary.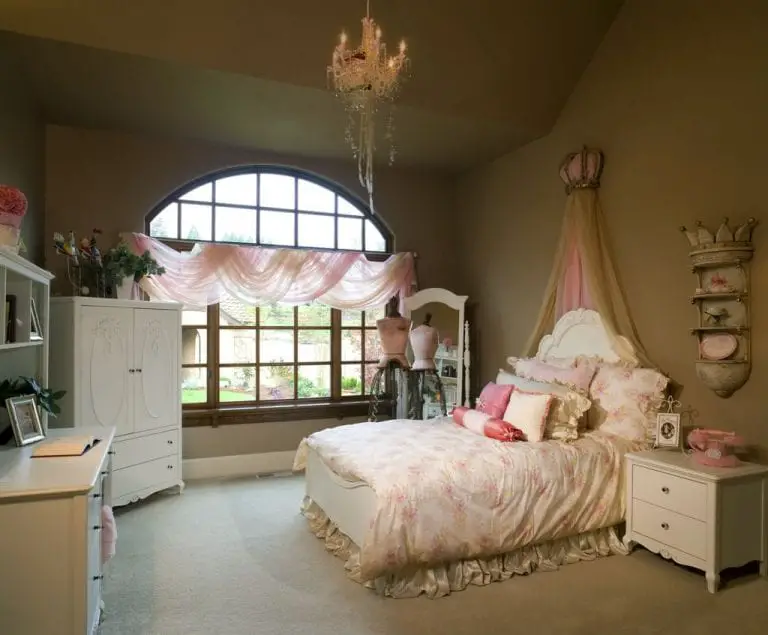 Take a look at this Victorian inspired layout! Your teen can feel like a posh princess in room filled with so much charm and feminine touches. From the chandelier to the plush bedding, this vision is all about girlish tendencies and an old-age spirit. Of course the gold and blush foundation colors help perpetuate an easy style.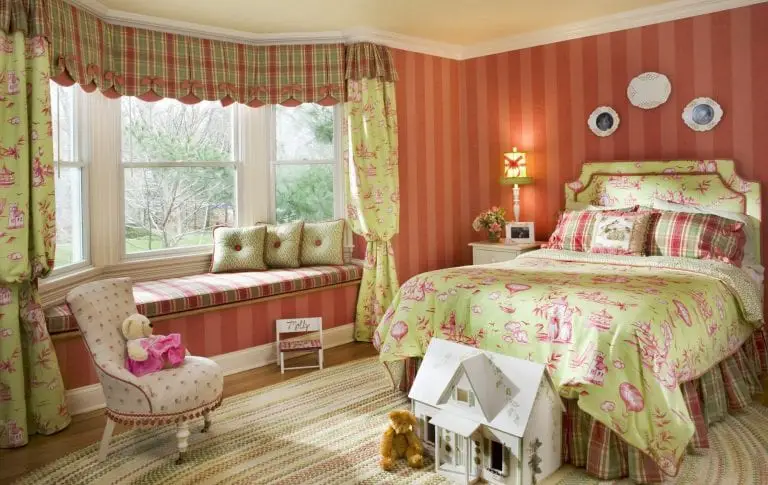 Here's a beautiful example of a layout for a younger lady full of girlish charm and Parisian appeal. This is a great way to combine style into transitional comfort. The bay window in this room only adds to the sophistication and posh appeal. Your daughter will love to relax and enjoy her room everyday and, of course, have some of the best sleepovers inside.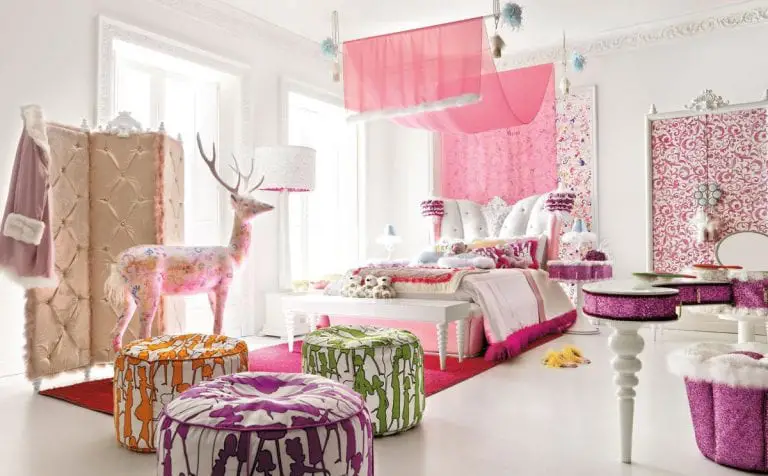 We are absolutely swooning over this funky design. From the bout of poufs for when friends come over to hang out to the fabric hanging from the ceiling creating the most whimsical and fairy-take like essence, everything about this space speaks of artistic charm and stylish vision.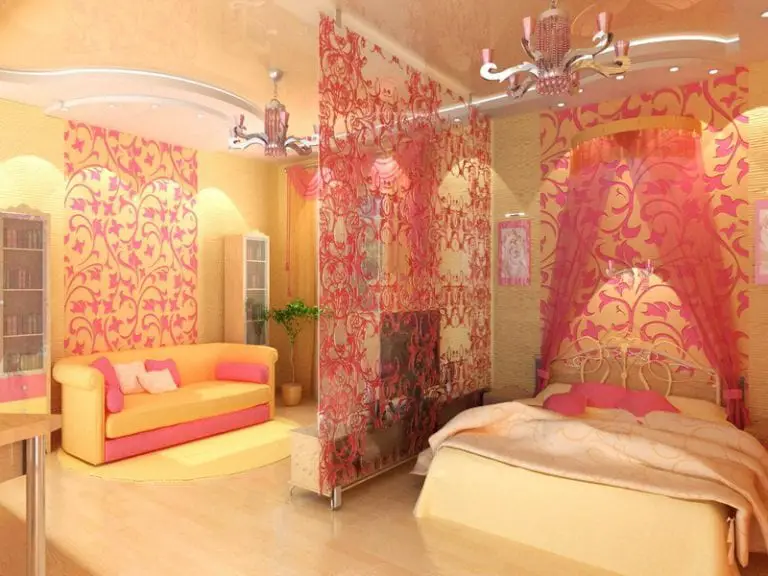 This is quite the luxurious space for a youngster, but what young woman wouldn't love it? Not only is the area warm and inviting, it's still very stylish. And then passed the room partition is an entire "living room" area that's perfect for homework time and for having guests over on the weekends!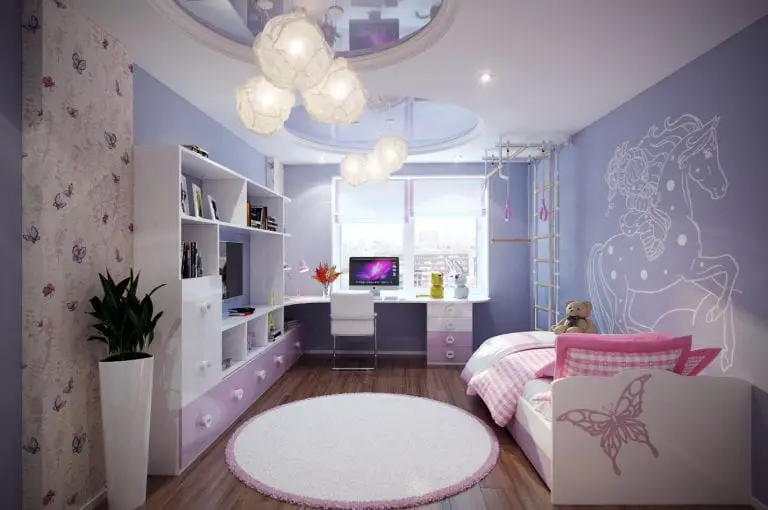 This is a beautiful representation of a light and airy room with sheer contemporary style. Little ones will enjoy every part of this space, and so will their parents because of its chic essence. Even the wall shelving system has sleek lines coinciding with the overall design. And make sure to look up and notice the gorgeous light fixtures topping off the entire room.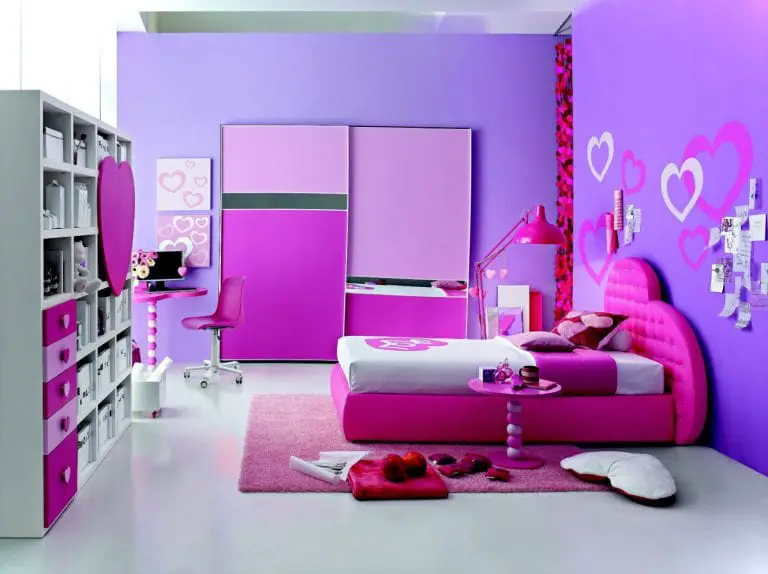 Wow! The girl who gets this space has got to love color and be inspired by the beauty and vivacious nature of a smooth shade of fuchsia. We love the contrast when paired when crisp whites and we love how every piece of furniture pairs with the rest of the room. Sometimes the traditional tendency to "match" works wonders.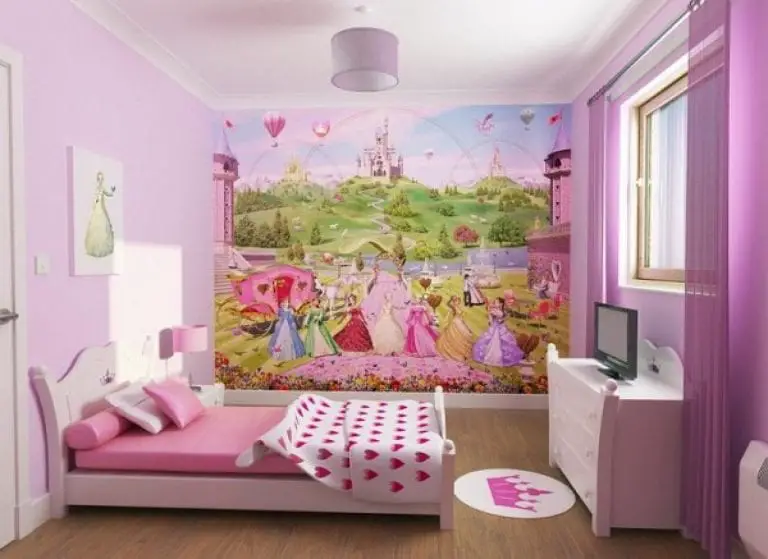 Watch your little one smile wide when she walks into her brand new princess room complete with a huge mural on the wall! She'll want to show off her "royal" room to all of her friends because even her bed and dresser will have princess accents in the most beautiful and subtle of ways.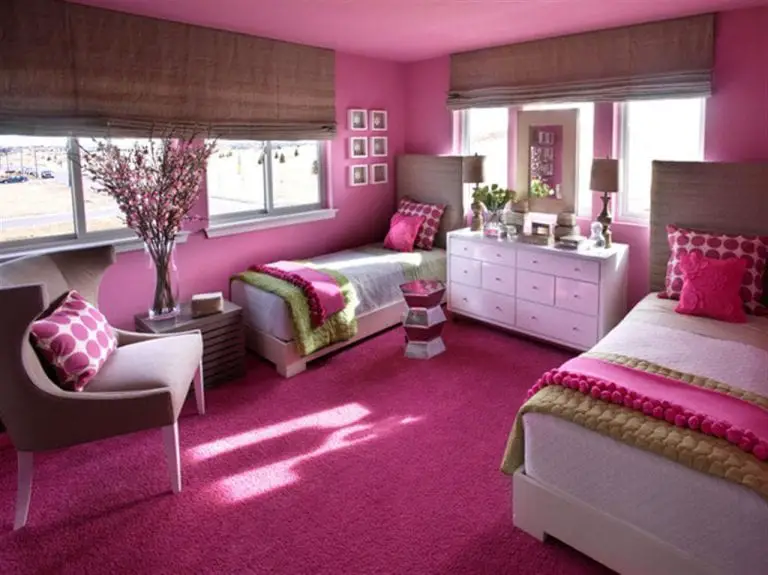 This deeper shade of fuchsia is perfect for older daughters that want a more "grown up" vibe without jumping out of their youthful style vision. This space also has a lot of personality, which is perfect when you have two daughters that need to share a room!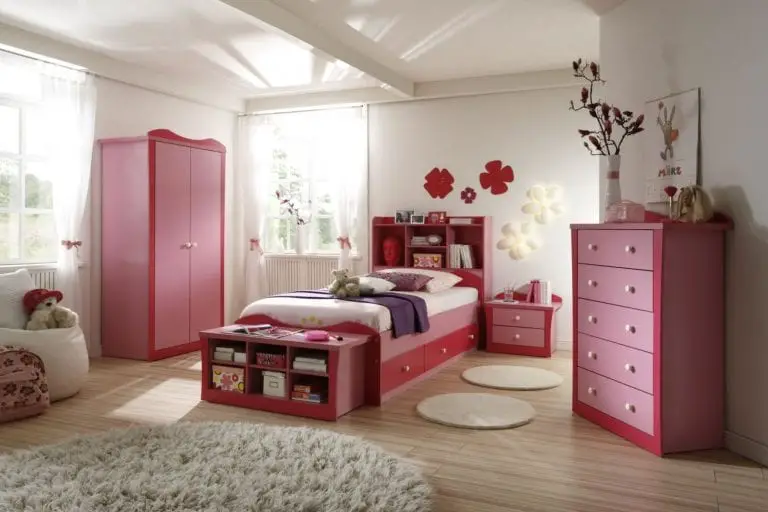 Cherry reds, lighter pinks and touches of gray come together in this contemporary idea to create something unique and refreshing! Not only does the furniture match nicely, creating a solid, modern foundation to work with but the shag throw rug and quirky wall decor adds a fun element to the mix.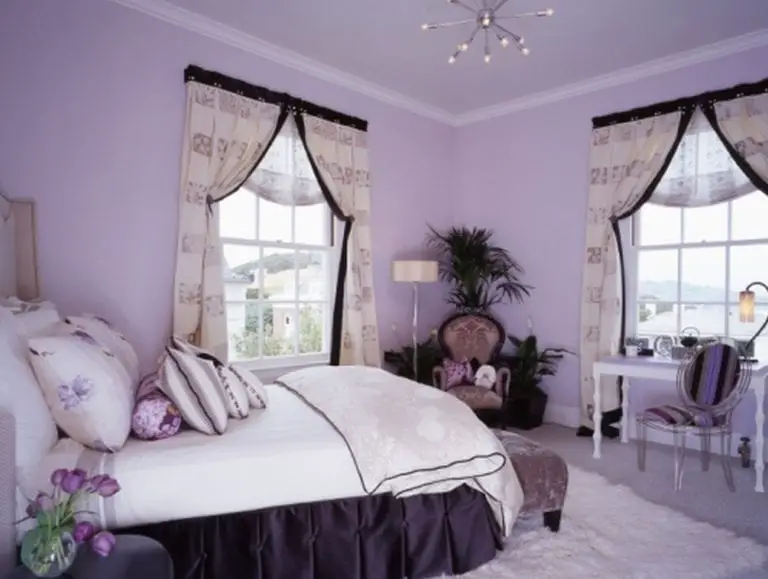 Here's another example of a room with a more mature style infused with French details. There's something so elegant and beautiful about French style and some of that detailing inside your bedroom help to transform a space into one that warms, welcomes and creates a relaxing ambiance with ease.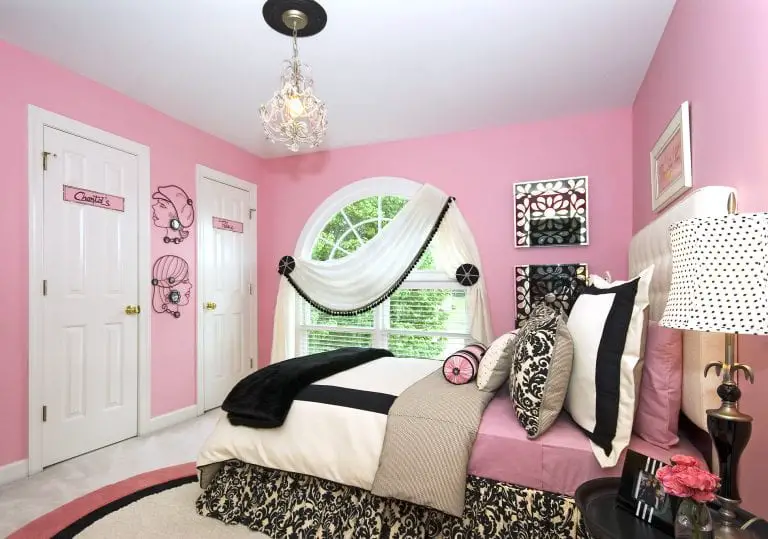 Black and white is a classic color combination and when you add a pop of pink, you've not only have a timeless creation but an always trendy experience. And this room is perfect for a vibrant young lady with a fashion conscious eye and love for artistic details.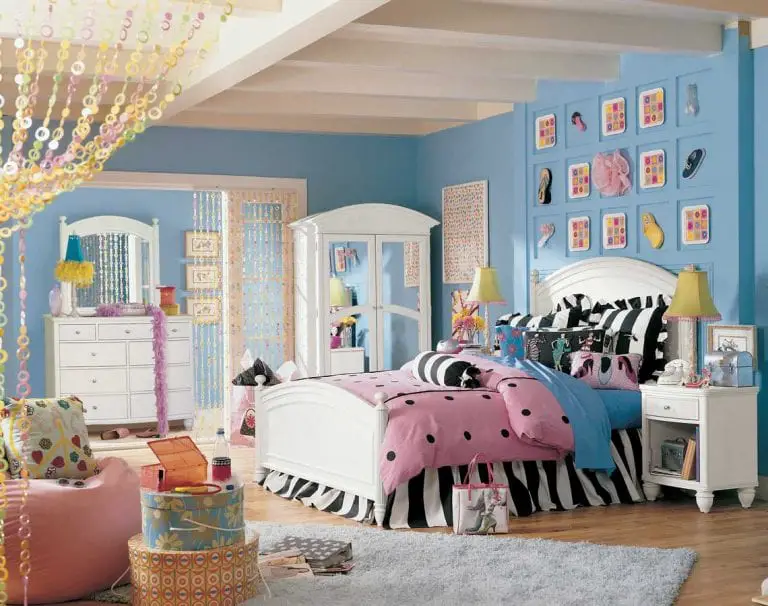 A personal favorite of the entire list, this wonderful room is perfect for the trendsetter and free spirit. This entire space is full of funky style and eclectic details. The mixing and matching just makes it even more unique and fun, full of personality and personal touches!
Related Articles: