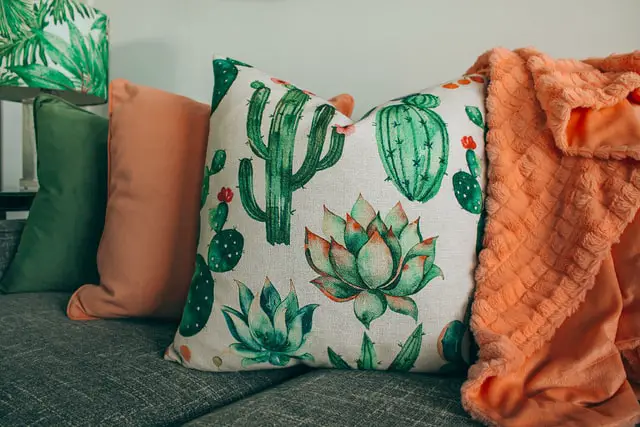 Choosing The Best Custom Throw Pillows
---
Looking to add a personal touch, visual interest, or maybe cultivate an inviting vibe in your living space? Adding or upgrading decorative pillows is an easy DIY way to incorporate accent colors and texture into your home decor — not to mention the added bonus of extra comfort!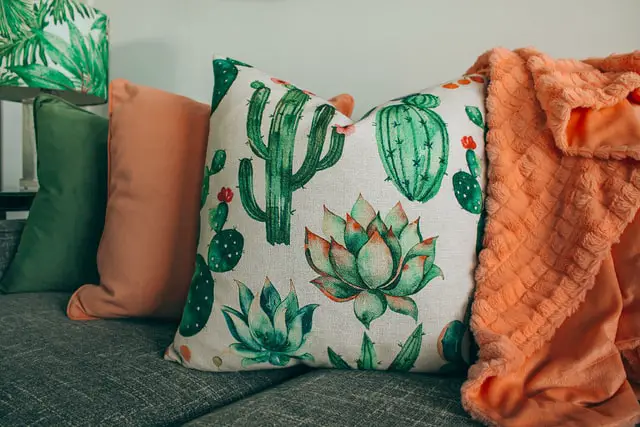 Photo by DESIGNECOLOGIST on Unsplash
Decorative throw pillows are an excellent option for enhancing the style of a room. You can mix and match them, personalize them, and place them just about anywhere. They come in a huge variety of fabrics, colors, shapes, textures, and sizes — the options are endless! Get inspired with these creative ideas for revamping your home with custom throw pillows. 
Refreshing Your Home Decor with Personalized, Artisan Pillows
To make a house feel like a home, it needs personal touches that reflect the people who live there. When thinking about personalizing your home decor, framed photos and hanging artwork might come to mind. However, there are other ways too.
Accent pillows are a great way to tie a room together creating a cohesive style. They also add visual appeal; when placed, they can help to draw the eye creating a focal point. Custom throw pillows are the perfect option for bringing your vision to life. Choosing a neutral color or conventional design has the advantage of never going out of style. However, don't be afraid to be innovative!
Adding a colorful, personalized throw pillow can make your home feel fresh. A bold pattern or unique shape can have a big impact on transforming your space. If you can't find exactly what you're looking for, consider customizing. Nothing matches better than a custom creation!
With a personalized pillow, you can choose your design, color, shape, and size to make the design your own. 
Here's some design inspo for creating your own custom throw pillow:
Refresh old pillows by adding tassels or trim
Tufting is a great way to add dimension 
Peel and stick or hand-sewn appliques
Sequins are a trendy way to embellish decorative pillows
Designs, Prints, and Textures 
Contrary to popular belief, mixed elements like varying colors, patterns, or fabrics don't clash — not necessarily anyway. Create balance in a mix-and-match aesthetic with even distribution. Blending designs can overwhelm a space, making it feel chaotic if you're not careful with your pillow placement. Arranging all of your patterned pillows on one side of the room will make it seem busy while the other side seems dull in comparison. Striking balance promotes harmony in your styling. Start small, add just a few custom throw pillows throughout the space, observe the effect it creates and determine what else the room needs. 
Maintaining balance is the key to a successfully styled room when experimenting with different colors, designs, and textures. Be selective with your color palette and patterns. Choose according to the overarching theme and design goals for the room. A pop of color can brighten up a dark or monochromatic room. Decorating with a mixture of oversized, medium, and small decorative pillows can have a powerful visual effect. Interior designers recommend using custom throw pillows as a foundation for building out the rest of the room. Start with pillows and style the rest of the accessories and decor around those same colors and patterns.
Photo by Laurence Katz on Unsplash
Decorative Pillow Sizing
Finding the perfect pillow starts with determining the right size for the intended space. A common interior design faux pas is using the wrong size pillow. Scale is imperative for styling your space and sizing pillows. Opting for something too large or too small will surely make your design fall short, resulting in an off-balance and undesired aesthetic. A general rule of thumb to follow is to go with fewer, larger pillows as opposed to more and smaller. Large custom throw pillows will fill the space without making it feel cluttered. Place your largest pillows in the back and work your way down to the smallest, creating a triangle. This effect adds dimension and of course comfort. 
Throw pillows are most often found in the following sizes:
16×16 inches
18×18 inches
12×24 inches
20×20 inches
If standard sizes don't work for the design you're trying to achieve, order an artisan pillow that fits your size requirements. 
Pillow Fabrics
Reupholstering a sofa, love seat, or chair can be a big commitment, especially if you've chosen a bold color or pattern. A pillow offers the perfect solution to this potential problem. Using vintage textiles for custom throw pillows can be a great way to add personality, texture, and pattern to your space. A vintage design inspires a "lived-in" feel, it adds depth and warmth with its unique old-world charm.
The fabric should be the same on both sides of your decorative pillows. From a design perspective, if one side is printed and one side has a plain backing it will feel unfinished. Pillows are something we use every day. When we cozy up on the couch and lean into pillows for comfort, the difference from front to back will be easily noticeable. Your eye will be drawn to where the fabric and print change. Not to mention if there is consistency across both sides, you'll get twice the wear. Your pillows will last twice as long when you can use both sides. Fluffing and turning your custom throw pillows is much easier when you're able to utilize both the front and back.
There is always a time to indulge and a time to cut corners, selecting a pillow fabric is the former. Quality fabrics hold up better against normal wear and tear. Your pillows will last longer without tears or pulls, ultimately saving you money in the long run. A higher quality fabric is not only more comfortable, but it also makes your pillows appear more plump and full.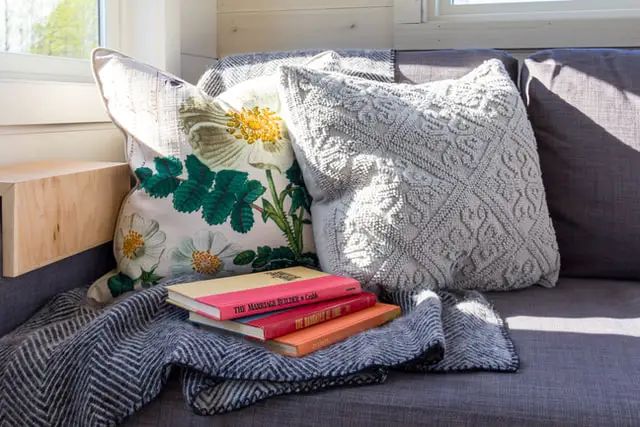 Photo by Calvin Hanson on Unsplash
Types of Throw Pillows
Accent pillows are a great way to give personality and style to your space. Having a range of sizes and shapes provides you, and your friends and family with comfortable options while enjoying your living area. A huge selection of custom throw pillows are available, but the most popular styles are perfect to start experimenting with.
Cotton linen throw pillows are durable and comfortable. These are machine washable for easy maintenance, and decorative covers can be added for enhanced aesthetics.
Floor pillows are typically oversized and used for additional seating.
Velvet-covered pillows are incredibly soft and add chic sophistication to any room.
Seasonal decorative pillows are perfect for holiday or theme decorating. 
Innovative pillows are attention-grabbing conversation starters.
Asymmetrical Accent Pillows
If the space you're revamping already has a cohesive and polished look, asymmetry can disrupt some of that order in a fun and refreshing way. A large, solid-colored pillow stacked against a smaller custom throw pillow with a busy print breaks up the buttoned-up aesthetic. Asymmetry works wonders for rooms with clean or monochromatic color palettes. An asymmetrical aesthetic makes a room less formal with an element of surprise. It provides the visually unexpected, by breaking up the monotony and adding interest.
Throw Pillow Inserts
What's on the inside of your pillows is equally as important as what's on the outside. After all, pillows are meant to be used, not just seen. What's the point of having stylish artisan pillows if they are uncomfortable? Colors, patterns, fabrics, and textures are all crucial design elements, but the inserts are truly what make or break a pillow. Pillows are designed to provide additional comfort, support, and cushion to your couch, chair, or bed, so quality is of the utmost importance. There are a number of different insert options for custom throw pillows — foam, feather, down, cotton, polyester, or blended. What filling you go with is truly a matter of preference. The insert is what determines how firm, soft, supportive, and comfortable a pillow is. Keep things like your budget, temperature regulation, ease of maintenance, shape, and long-term use in mind when deciding which inserts are right for you.
Pro-tip: when deciding on inserts for your decorative pillows, if you know you want a more full pillow, size up the insert. Using a 22" insert for a 20" cover will result in an uber full pillow.
Related Articles: