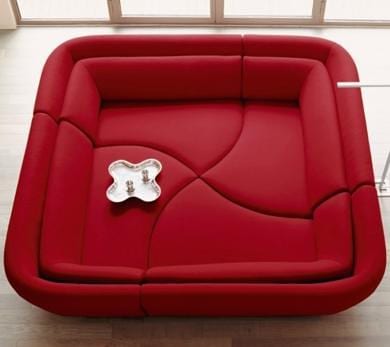 Ligne Roset Furniture
Ligne Roset, a family-run business based in France that started in 1860, known worldwide for its modern stunning furniture collection.
It is in the French's heart countryside, at the foot of the Bugey mountains, that the roots of Ligne Roset are based. With a family tradition rich with over 150 years' experience,
They make all furniture in Briord, in a vast workshop where most operations are completed by hand, the manufacturing of chairs or sofas requiring demanding craftsmanship.
Two tapestry-makers are responsible for training new apprentices. They learn the precise movements and the required dexterity. This one-year in-house training values the work and ensures the quality of the products.
Since the manufacturing chain requires transporting goods from one factory to another, the five production facilities in the countryside, in a neighboring area.
Bedroom, living room, and office furniture made in Saint-Jean le Vieux, in this large 45,000 square-meter plant where Bernard Lipp, great-grandson of the group founder, has installed environmentally-friendly production systems.
Thanks to a sophisticated aspiration system, wood waste can be directly removed, to later be crushed and fed into a boiler that heats the plant and adjoining offices. This sustainable approach is not new to the group.
Ligne Roset Desk Perfect For a Small Office
Here is a super cool home office that may help you hide away and get some work done, and no one will know if you are just having fun surfing the web thanks to the semi shrouded concept.
I think it really creates a bit of personal space surrounded by tasteful panels available in muted tones as to not get your mind racing. The fabric tones used here really are soothing and complementary to the light wood frame.
With the smaller electronic devices of today, this is the perfect size workstation for a bedroom or small home office.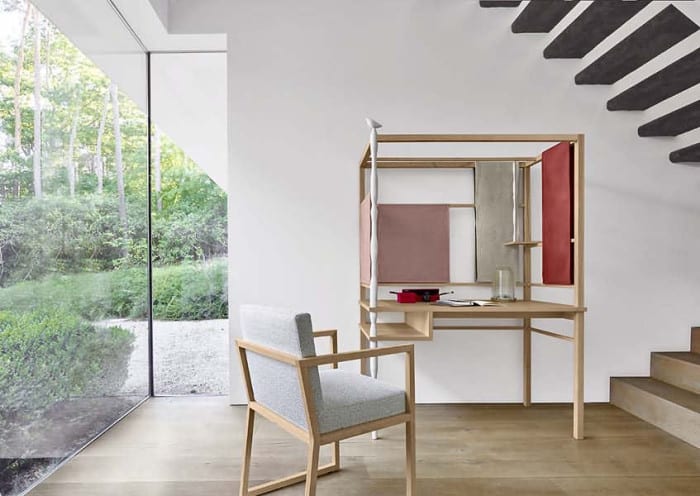 The KOYA Desk has that unique look to their designers for. Here, it was Marie-Christine Doerner who has some serious project to her credit including street furniture for the city of Nîmes, designs for le Mobilier National.
The design is simple and made far more interesting thanks to the use of the natural wood grains of the Ashwood and the different tones from white to anthracite.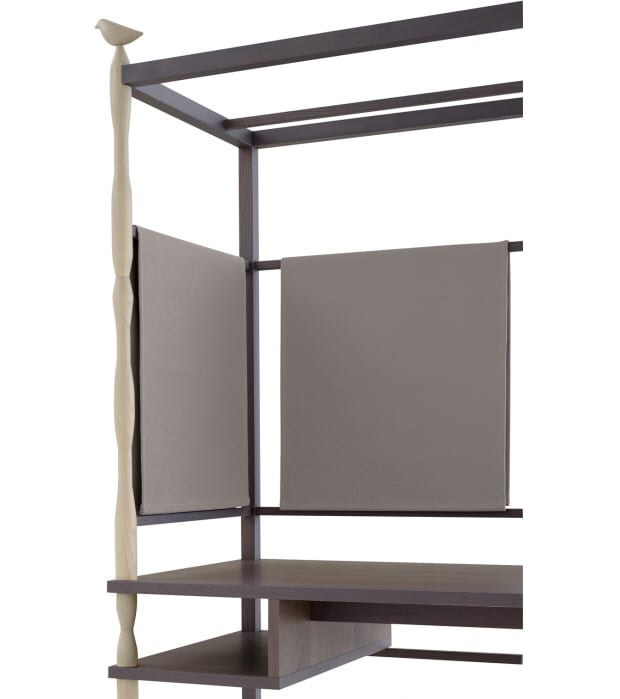 You can see the look is different when the softer colors are changed to the more masculine darker greys and wood tones to match. This desk could easily mix into a real modern stark interior or into a softer transitional environment.
We also like the one curvy post with the wooden bird on top as a nice touch of contrasting shapes and class. I can see myself adding additional surroundings if I had this and possibly some state-of-the-art super small speakers, then I would really get some work done.
The KOYA is available for 1 609 €
Dino Collection By Eric Jourdan
With the Dino collection, industrial designer Eric Jourdan plays with shapes and colors flawlessly. The asymmetry in the collection is no happenstance and nor is the architectural influences.
The designer confesses that he was inspired by Marcel Breuer structures and wanted something equally powerful visually.
The collection features tables, desks, sideboards, etc and is available in veneered walnut and shades of gray and blue that further gets highlighted by the aluminum base.
Says the designer about the collection:
"is very architectural, I wanted to suspend blocks within the sides (curves here) and work on the level and color differences.
I had some Marcel Breuer structures in mind. I like the idea that the construction, the assembly of the volumes is present in the interpretation of the furniture which is in generally closed boxes. With Dino, everything is visually prominent."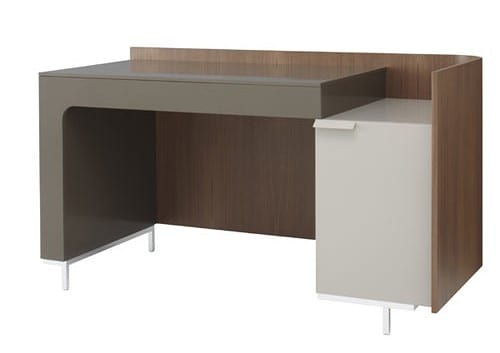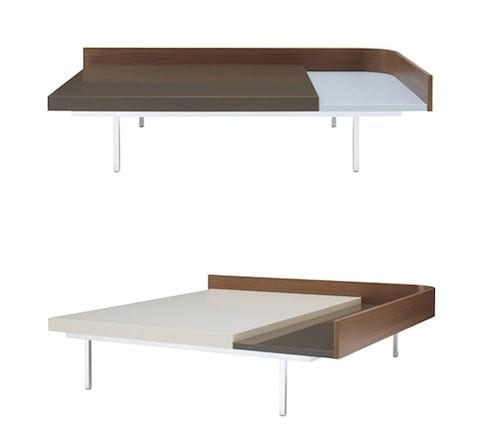 Special Edition Pumpkin Chair Marks 150th Anniversary
Another special edition to mark the 150th Anniversary of Ligne Roset is the "Pumpkin Chair" from Pierre Paulin.
They originally designed the chair for Claude and Georges Pompidou in 1971 for the drawing rooms of the Elysée Palace and was first issued and made available to the general public by in 2008.
For this occasion, a 300 piece edition combination of 150 every 8 shades of blue wool, and 8 shades of red wool are being released and only 42 will be available for the North American market starting in June 2010.
Here is your chance to get a piece of history!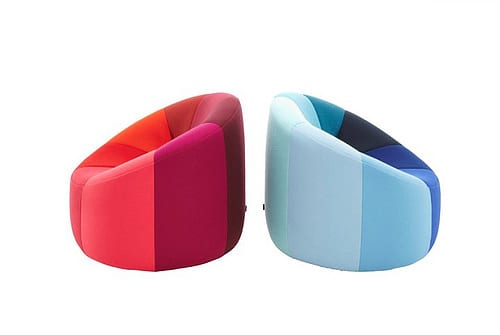 Limited Edition Lines Sideboard by Peter Maly
The Lines Sideboard by Peter Maly which incorporates an unusual use of forms is part of the limited editions that will mark the 150th Anniversary of Ligne Roset.
They derive the Lines Sideboard from the contrast between the external cubic proportions and its surfaces, which are characterized by several self-intersecting lines. External panels are a mix of three different new colors of lacquer.
The elegant metal feet can be either chromed or black lacquered and each limited edition sideboard bears a special label numbered from 1 to 150 and the logo 150 ans Ligne Roset.
They designed the original in 1971 and only made available to the general public in 2008.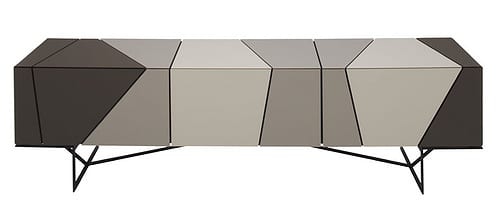 Ruche Settee from Ligne Roset and Inga Sempe
Designer Inga Sempe and French furniture maker Ligne Roset team up to create the slender and refined Ruche offered in a 2 and 3-seat versions, footstool and classic 1-arm settee.
According to Sempe, "I wanted to take a different approach: a settee lifted from the ground by a simple, fine structure which supports a comfortable seat. I was, at the outset, inspired by swing seats, the rocking seats which one brings out in the garden in summertime, made from tubing and fabric, which possess a lightness I like very much".
Ruche's rangy uprights and the undulations of its duvet combine to produce a harmonious union of rigorous straight lines and soft, welcoming curves.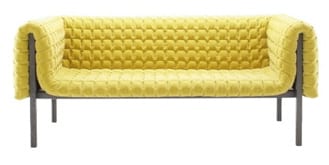 The Compact "Poms" Lap Top Computer Desk
New for the Ligne Roset collection is this slim and unobtrusive "Poms" desk from designer Julie Pfligersdorffer that has the laptop computer user in mind.
The top flips up or down to conceal your current bills waiting to be paid or the computer itself. In addition small drawers open to the side, because we all need extra drawer space. H 29 ¼ W 51 ¼ D 23 ½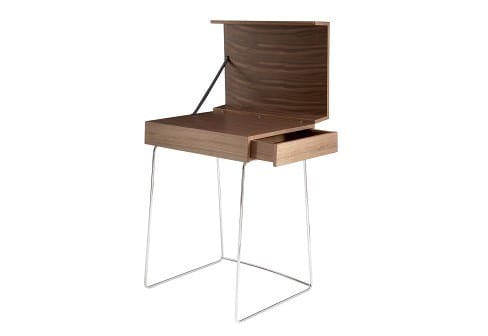 Aphrodite Small Space Storage Chests
Ligne Roset and designer Tadao Hoshino make small space storage possible for those entry hallways and other places that stuff tends to gather.
The five and eight drawer storage chests get stability from a fixed bottom drawer that acts as a counterbalance. Aphrodite storage chest available in white, walnut, or the multi-colored version shown.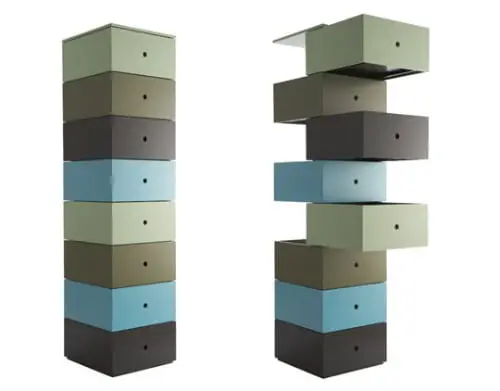 Small Home Office Writing Desk
The Split writing desk adds a sophisticated touch to any home office setting with its cool combination of alveolar panels finished in natural walnut veneer and base in black-lacquered steel.
The Splits top opens to reveal small storage boxes and spaces for cabling while providing added desk top space when needed. One cool feature is the directional desk lamp attached to the back of the desk.
Other features of this Small Home Office include a multi-way plug and connecting cables in a metal chest concealed underneath the top.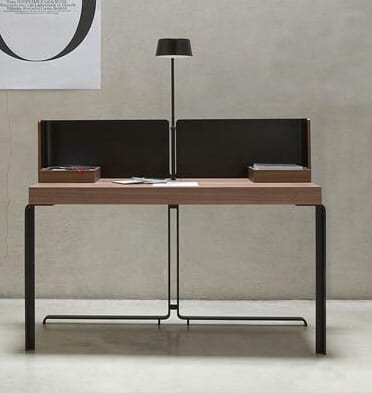 Ligne Roset Opens its First Boutique Store in Austin, Texas
France's premier modern furniture manufacturer will open its first-ever boutique concept store worldwide in Austin, Texas to be located in the 2nd Street District, reflecting the "cool, urban energy of the trendy downtown locale".
The Boutique will offer a collection based on their best-selling products and select design-forward pieces that are an iconic part of the brand. These smaller-scale selections created by some of the brands most sought after designers will offer consumers instant gratification that will surpass the delivery process.
As many of you may know from our reviews on the outstanding designer furniture many well known names in the business like Pierre Paulin, Pascal Mourgue, Didier Gomez, Peter Maly, Michel Ducaroy, Ronan & Erwan, and Bouroullec have contributed to the stunning collection of furniture and accessories geared toward the modern lifestyle.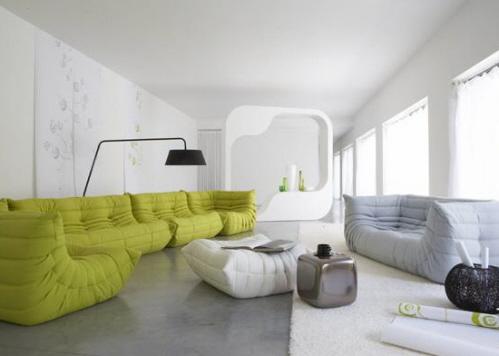 Confluence The Modular Sofa System
Designer Philippe Nigro carries on the tradition with his fun and vibrant "Confluence" sofa system that offers a free form of innovative styling and a multitude of configurations for any modern living room setting.
This super casual modular seating system fits together like a puzzle and is available in shades of similar colors like blue, gold, and red.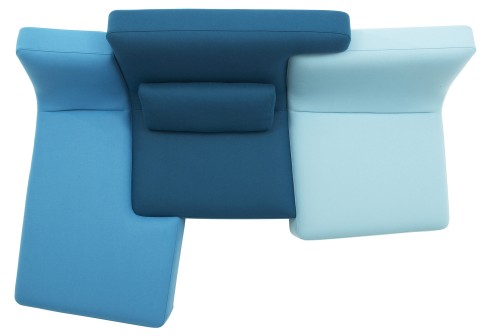 Maly Platform Bed
A platform bed should have good symmetry and use simplicity in construction. The minimalism attracts me to these bed models.
I do believe that you can draw more attention to other decorative pieces in your bedroom when the bed itself does not dominate the space. "Maly" is a platform bed that uses symmetrical forms in how the frame and platform connected.
The wooden frame creates a minimal look, but also adding a bit of flair to the design.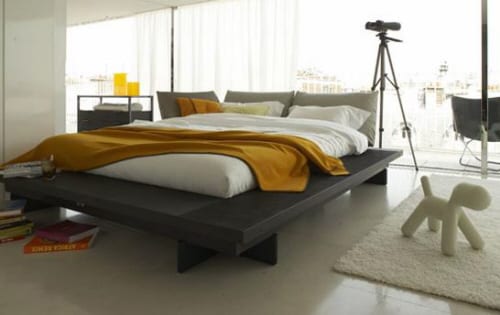 Lines Storage Furniture
Storage furniture is great as it serves a dual purpose as a place to put things away and that of a decorative piece in a home. "Lines" is a series that combines storage furniture with great contemporary looks.
The sideboard is stunning where you can see the lines providing decorative detail that sets this piece apart from others on the market. The shelving unit is also wonderful for a person that wants to make a design statement in a contemporary home.
The shelves not running at a 90-degree angle is an advanced concept that draws the attention of anyone seeing the shelving unit first hand.
The sideboard comes in two sizes: 57″ and 87″.
Shelving Unit
$4,325.
Colors: white lacquer and anthracite.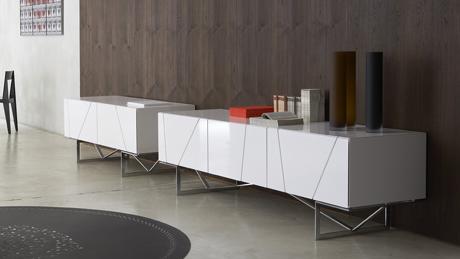 Every Night Convertible Futon Sleeper Sofa
Sure the name "futon" is used a lot to describe an easily converted sleeper sofa, but as you would expect the Evernight has a certain style you won't find ordinary.
I like the continuous styling of the three sections that designer Didier Gomez incorporated into this "small space" yet ample sized sofa sleeper that would be right at home in a loft or studio apartment.
The seat and back (metal-framed, with slats) linked by a mechanism which offers three positions, horizontal, intermediate, and upright. A thermo-compressed foam sheet protects the seat when unfolded on the ground.
Sleep area: 63" x 84 1/2", offering quality and firmness perfect for a good sleep every night.
$6-7000 depending on upholstery.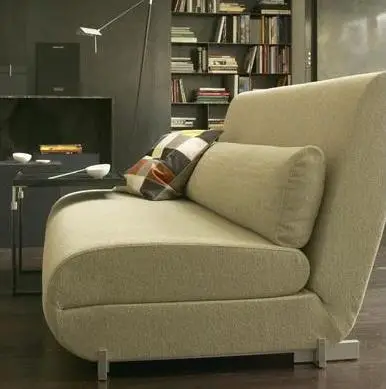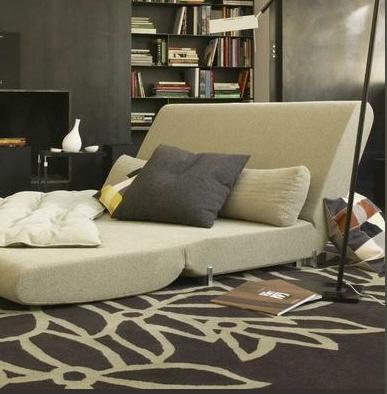 P&P 900 Modular Wall Storage System
The P&P 900 modular wall storage system is as versatile as good looking and comprises floor to wall profiles in natural or black anodized aluminum with matching molded end pieces.
Chests and shelves in panels finished in gloss white or anthracite lacquer, or ebony-stained oak veneer. The P&P 900 wall system is perfect for "small environments" where maximum use of vertical space and features various length shelves, storage chests, overhead compartments with a pull up door.
Other features include a CD or DVD shelving, desktop workstation, and support for flat screen bay with 51 1/4′ or 35 1/2" widths mounted on height-adjustable lacquered steel supports.
Pricing based on size and complexity of composition.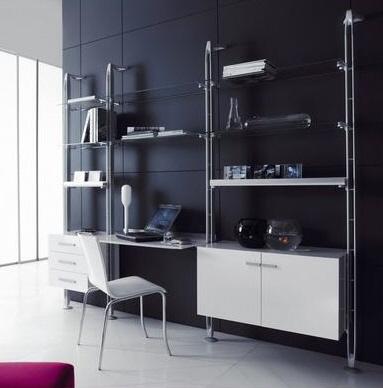 Pierre Paulin's Pumpkin Sofa
Designer Pierre Paulin's revolutionary style initiated in the late 1950s gave way to this 1971 design that was originally limited to the private apartments of Claude and Georges Pompidou at the Elysee Palace.
They say the Pumpkin sofa collection has to emulate the lines and protective shell of a pumpkin with an appeal that is impossible to resist.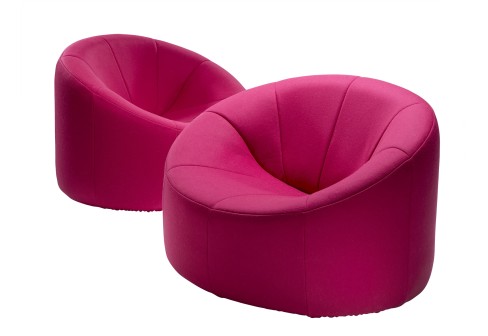 F2 Round Folding Dining Table
Ligne Roset furniture of France is well versed in creative and quality furniture design and has been for the past 150 years.
On a recent trip to one of their stores, I saw the F2 round folding dining table that has a top comprised of three triangular sections that fold flat with help from an ingenious mechanism.
This is the perfect table for small environments or someone in need of extra serving or dining space from time to time. The F2 round dining table is available in walnut or white lacquer with a steel chrome frame and measures 49.25 inches in diameter.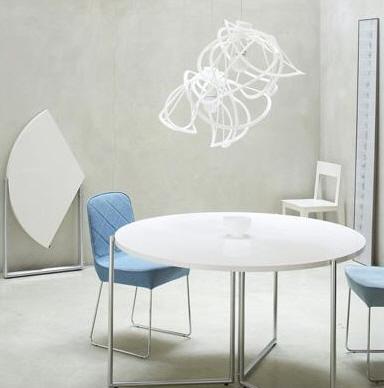 Downtown Multi-Function Sofa and Chaise
The perfect answer to several needs with their new and innovative multi-function sofa and chaise which invites you to sit, lounge, or sleep in modern style.
The Downtown has a unique five positions articulating metal mechanism that converts the sofa into a bed, in which the foot becomes the headrest.
Meanwhile the Downtown Chaise can be transformed into a generously proportioned 81″ day bed, and the fireside chair unfolds to become a large footrest.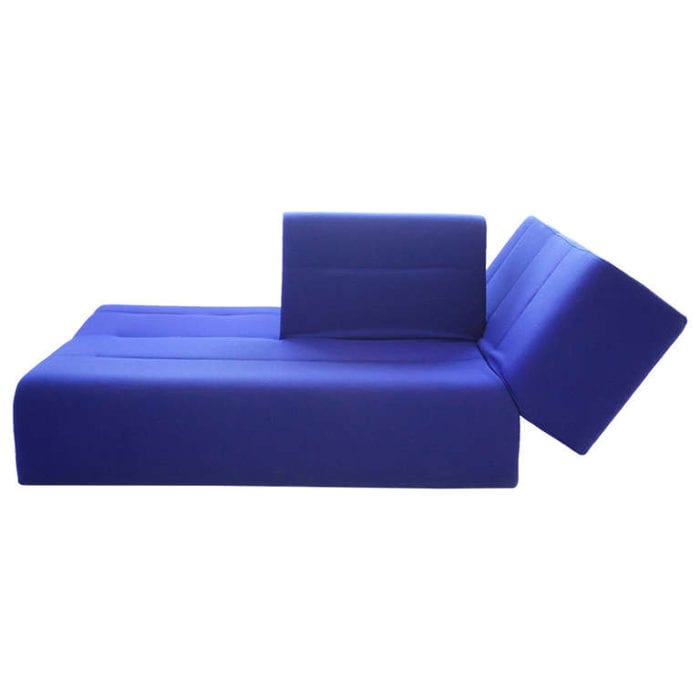 Yang Modular SofaS
A great modular sofa set called Yang. As you can see from the pictures, you can have a simple sofa setup like you would in a normal living room.
You can also put the sofas together to form a sectional seating system that can accommodate your space in many different ways. Yang offers great flexibility in decorating the living room with many possibilities and shapes.
Francois Bouchet designed this clever one arm sofa idea. I like the look of the Yang sofa in any room even if you decide against the modular route.
I find the increasing depth of the sofa as it flows to the right to add a dimension not normally seen in boxier versions of seating. The Yang one arm sofa comes with fabric upholstery and aluminum matte finish legs.
H 27.5″ – W 65.25″ – Depth 51.5″ Price: $3,100 – $3,700 per sofa piece.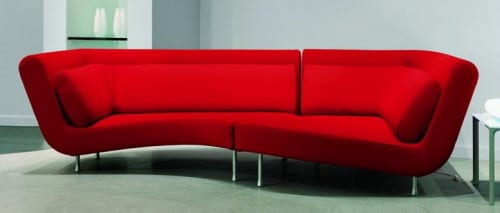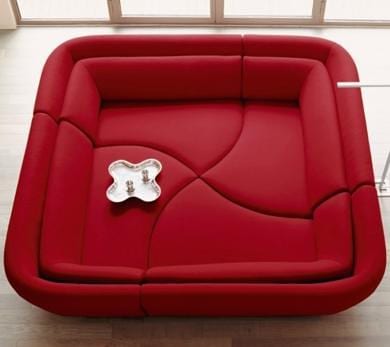 Moel Armchair
With help from designer Inga Sempe, Ligne Roset used its expertise in thermoformed foam combined with bands of quilting to create the ultimate in luxury seating.
The Moel series is available in a large and small sofa, armchair, and footstool in a variety of contrasting colors.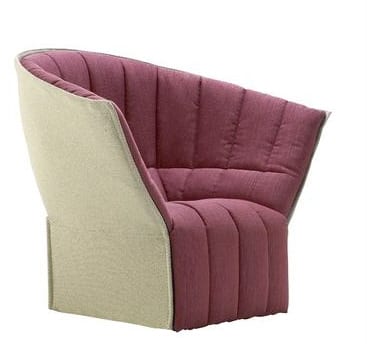 Light and Modern Cemia Sideboard
Peter Maly made the best of well-rounded corners on his Cemia series which has a strong Scandinavian influence.
The Cemia sideboard from Ligne Roset has an informal presence that features recessed drawers with handles made from curved lacquered zamac which are nicely set into the drawer.
I also like Maly's use of a very unusual high rise loop style foot that keeps the Cemia off the floor and very light looking.
Cemia cases are available in walnut veneer or white lacquer, fronts finished in gloss white, taupe or anthracite lacquer. In the picture here is a white version of the product.
White can add an element of elegance to a dining room and provide a great place upon which to add more colorful decorations.
The full range is comprised of sideboards, TV units, chest of drawers and wardrobe.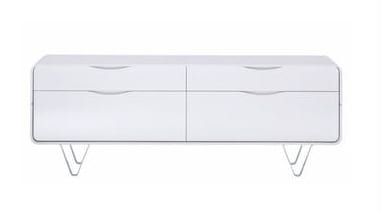 The Smooth Pas Si Classique Sofa
Featured here is the Pas Si Classique, a sofa from Ligne Roset. Founded in 1860 in Montagnier, France, Ligne Roset has developed into one of the foremost contemporary furniture makers. Nothing but elegance exudes this timeless piece.
Small features such as the curved back pillows on the end and the many rounded corners shape this sofa into an architectural masterpiece for any living room.
This sofa features a deep seat with large cushions for the back, allowing you to sit in many different positions for increased functionality.
There are many choices of upholstery from fabric to leather available. The Pas Si Classique was designed by Pascal Morgue.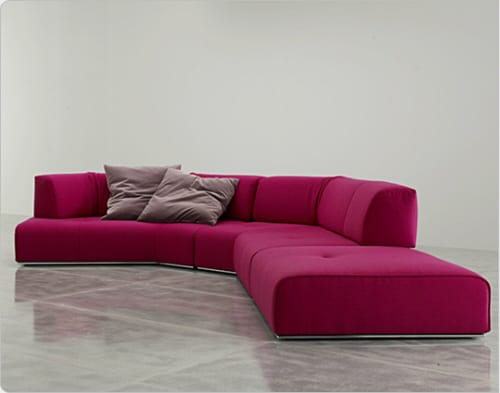 Small Space Furniture on Oprah Winfrey
Off the Wall Beds's Hidden Bed
Queen of day time talk shows Oprah Winfrey pays attention to a topic we are really into here at Furniture Fashion, small space furniture that is not short on style.
Designer Nate Berkus shows a variety of home furnishings that unfold, flip out, and transform with one thing in common, small space requirements.
Here are a few of the small space home furnishings featured on the Oprah Winfrey show that you may have even seen here on Furniture Fashion in the past.
With so much inner-city migration and vertical building happening the need for small space furnishings is really on the rise.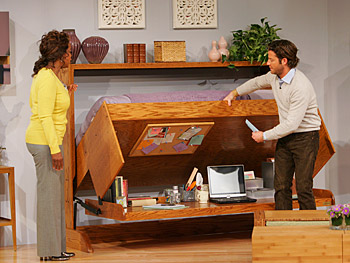 The perfect combination of the desk by day and bed by night offthewallbeds.com $2,399
Akemi Tanaka Tagei and Futaba Coffee Tables
These little gems make the best of coffee tables that become seating. The Akemi Tanaka Tagei coffee table $4,000 Futaba coffee table is $4,750 Available from www.inmod.com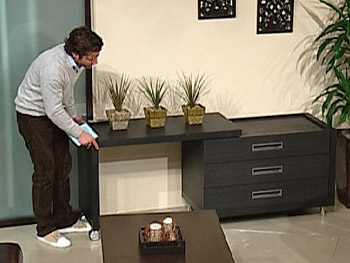 Petit Bed Chest Couliss
Finding a petite bedroom chest in today's world is challenging. Couliss by Ligne Roset defies the norm and challenges the boundaries on its size alone. Bigger is better in many countries.
Also, as consumers we buy more and more things without the propensity to get rid of possessions no longer used. Some may call it hording and others may call it collecting, but that is up for individual interpretation. Ask yourself when you last saw a dainty piece of furnishing that was not antique or from another generation.
The answer is likely "no" as is what came to mind for me when I pondered that question while inspecting this lovely piece.
The wood top is such a clever design. I like the inclusion of raised edges to prevent coins, lipstick and other items from falling to the floor. The sliding top is simple and effective opening up a great-sized compartment for possessions. I could keep a purse covered up by the lid. That way it would always be in the same place when leaving the house.
Long and skinny legs make me think dainty and elegant.  There is nothing wasted here by the designer.  That was part of the plan all along to allow this piece to go into so many different settings.
We can place it near a wall or against a bed with ease making it very flexible. It's also gender neutral working well for either a man or a woman in their room.  How about the grain of the wood?
We construct the top out of Ayous wood in an elephant leather stain. Wawa in Ghana and Samba in the Ivory Coast.  You can see from the grain and stain color that it looks familiar.  They often use it in making guitars.
This is a good picture angle where you can see just how small the petite bedroom chest is. Couliss would work well in a flat or small apartment by not taking up too much space and being light enough to move.
I applaud Ligne Roset for adding a smaller furnishing such as this to its storied product line giving consumers more options on sizes.
Small Home Office Furniture that Makes a Statement
Many people contact us looking for small home office furniture since space is so tight in urban areas. Particularly people in lofts, flats, and apartments cherish every square foot of space.
Families are also moving closer to town and needing more flexibility in room design where perhaps home office furniture and a gym is combined. The product here is a concept from Ligne Roset designer Eric Jourdan, called "Hyannis Port".
I absolutely love this setup in white lacquer. The chair is a great match and creates a wonderful work environment. The way the bottom is finished off with a metal rail is very cool. It creates a bit of openness that differs from most desks which finish all the way to the floor.