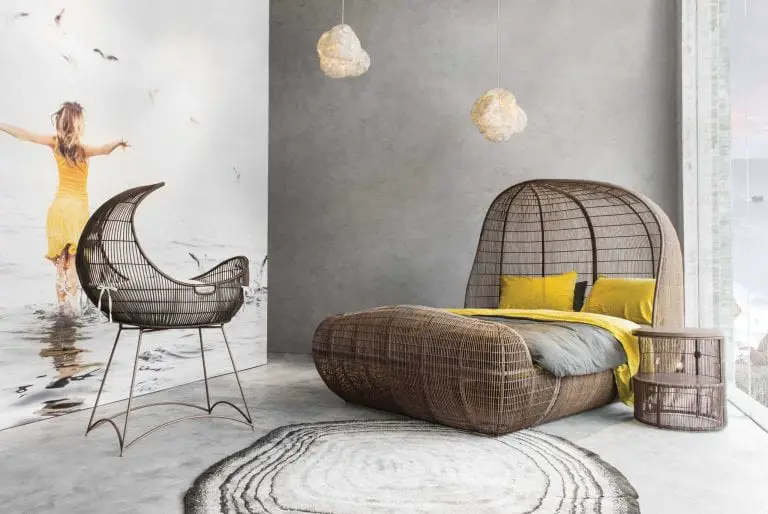 Baby Crib Designs
In this article we are going to present you eleven baby crib designs, in order to choose a piece that best suits your needs as well as the ones of your baby. There are so many types of cribs available on the market, that its becoming hard to choose one when you need it. Unlike selecting a bed or any other piece of furniture, the main features you look for when purchasing such an important item.
Sale
Bestseller No. 1
Dream On Me Synergy 5-In-1 Convertible Crib In Black,…
SAFETY FIRST ALWAYS – This crib is JPMA Certified to meet or exceed all safety standards set by the CPSC & ASTM; All of our products are tested by 3rd party…
5-IN-1 CONVERTIBLE CRIB – A lifetime investment, the Synergy grows with your child, easily converting from a crib into a toddler, day and full-size bed;…
13 ATTRACTIVE FINISHES – Bring your nursery dreams to life with the Synergy; Whether you are thinking of creating an ocean-themed nursery, a whimsical mermaid…
Bestseller No. 2
Dream On Me Chelsea 5-in-1 Convertible Crib, Steel Grey
5-IN-1 CONVERTIBILITY: The graceful Chelsea keeps pace with your child, converting into a comfortable toddler bed, daybed and full size bed as your child grows…
GROWS WITH YOUR BABY: With 4 mattress height positions, the Chelsea can be adjusted according to the age of your baby. Set the steel platform at the highest…
VERSATILE DESIGN: Built of renewable, sustainable and sturdy New Zealand pinewood, the Chelsea's sleigh design in 6 finishes suits several nursery themes….
Sale
Bestseller No. 3
Delta Children Essex 4-in-1 Convertible Baby Crib, Bianca…
GROWS WITH BABY: Crib converts to a toddler bed, daybed and sofa Daybed/Sofa Rail included; Toddler Guardrail 0094 sold separately Crib features stylish angled…
ADJUSTABLE HEIGHT: Adjustable height mattress support with 3 convenient positions to grow with your baby
COORDINATING ITEMS: Uses a standard size crib mattress sold separately , to ensure the perfect fit pair your crib with a Delta Children, Serta or Beautyrest…
Last update on 2023-02-25 / Affiliate links / Images from Amazon Product Advertising API
Usually this is one of the few furniture items where design occupies a third place, but it is not the case of the baby crib designs showcased in this article. Here all these three important features are inventively mixed by famous furniture designers and manufacturers.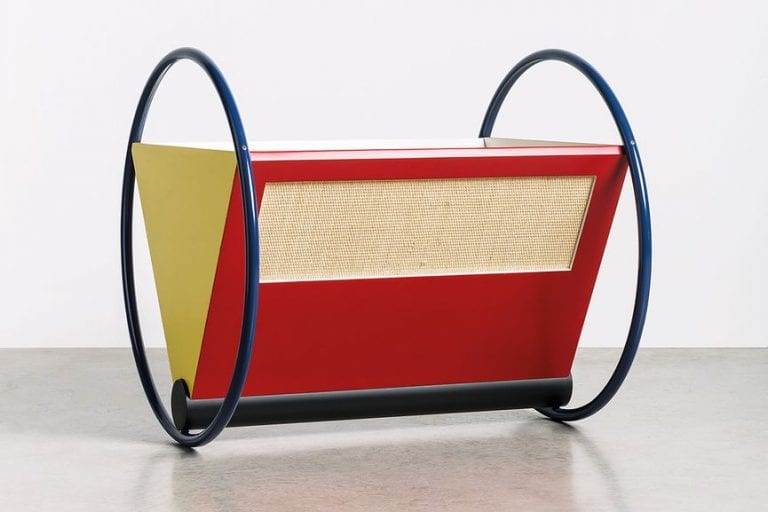 Some of these cool baby beds can save space in the nursery and some even help you keep money in your pocket, because they convert to a toddler bed, a bench, or a storage cabinet for use over the years. But, if you want to go for such  features, first you need to make sure you like the options it offers and you really need them.
Because the baby's bed is where your angel will spend most of his/her time, the materials used should also be very important as the baby deserves optimal comfort. These pieces of furniture are made of different materials like iron, wood, plastics and even tempered glass, with the most common, and recommended ones being the ones made from hardwoods.
Maple, ash, beech, or oak, are the most common woods used, for their resistance in time and quality, but as new materials emerge, there's no longer a must to have a wooden crib. Tempered glass, painted metals, various safe plastics and even carbon fibers, are just as good, healthy and resistant.
Take a look at some of the most incredible baby cribs that are so much more than just a resting place for your little treasure.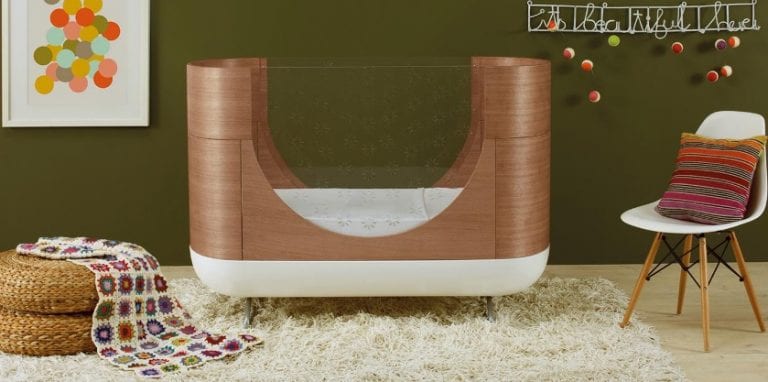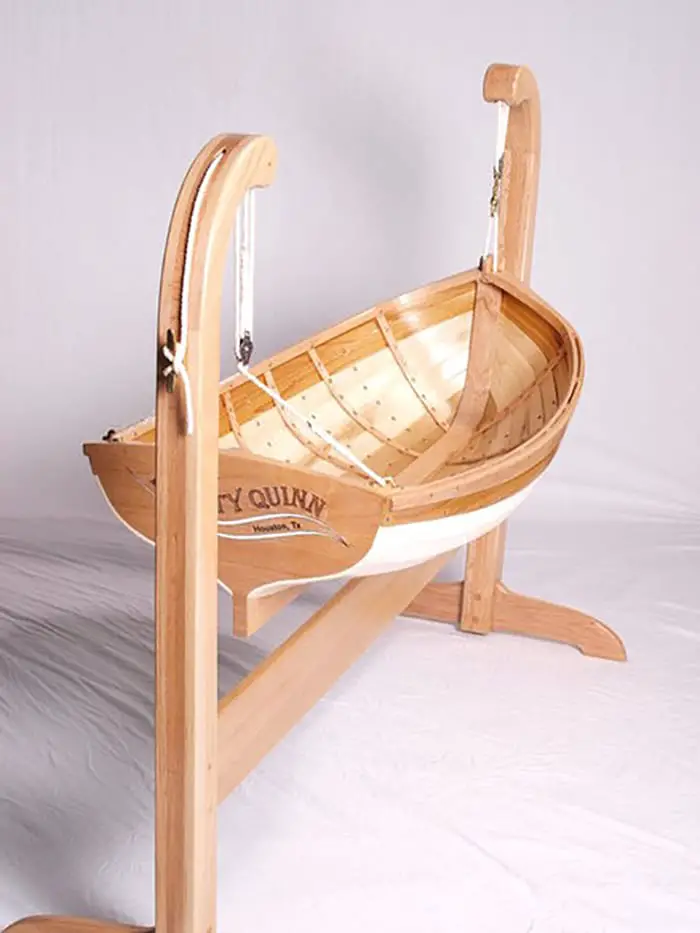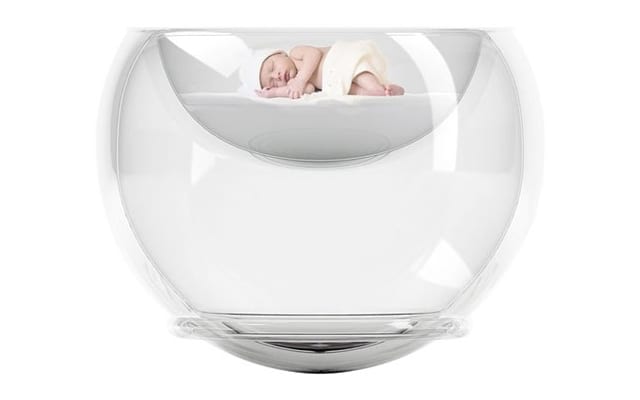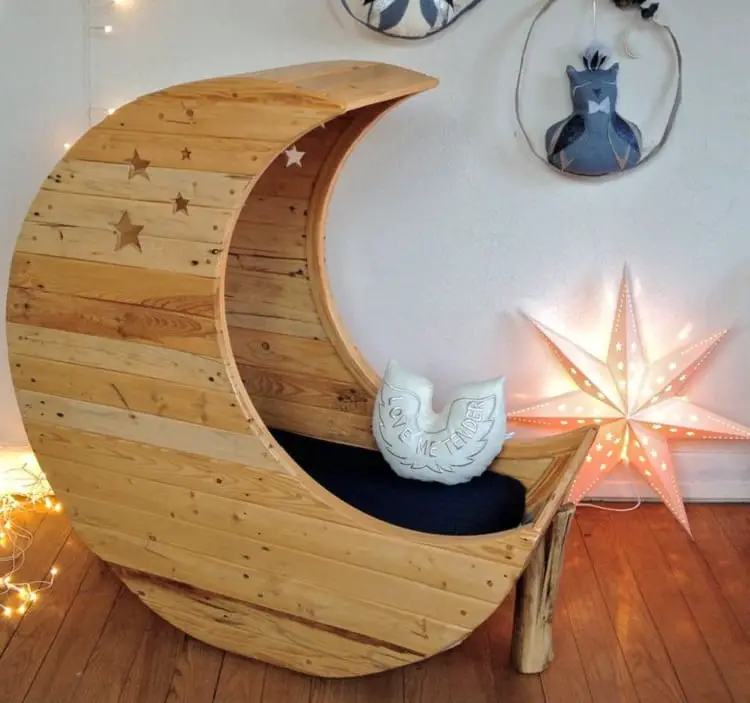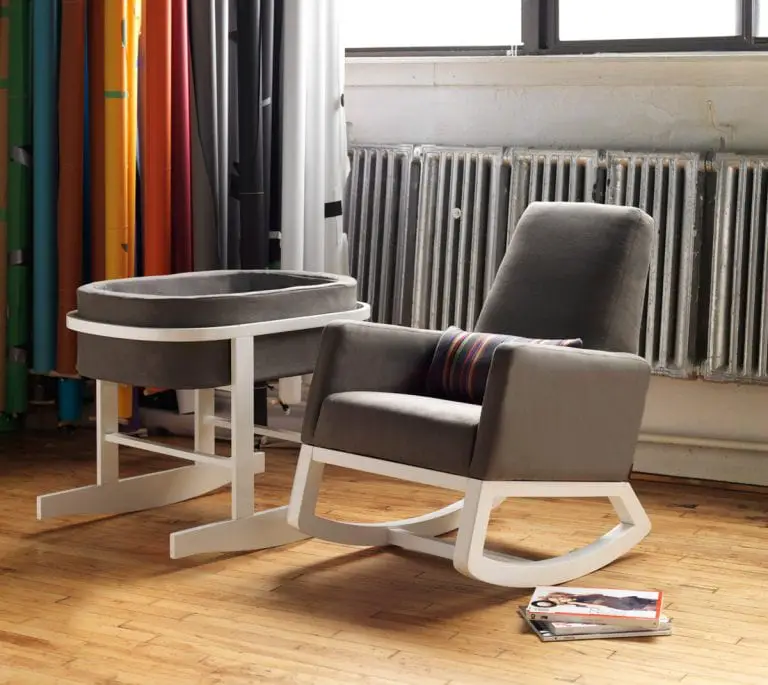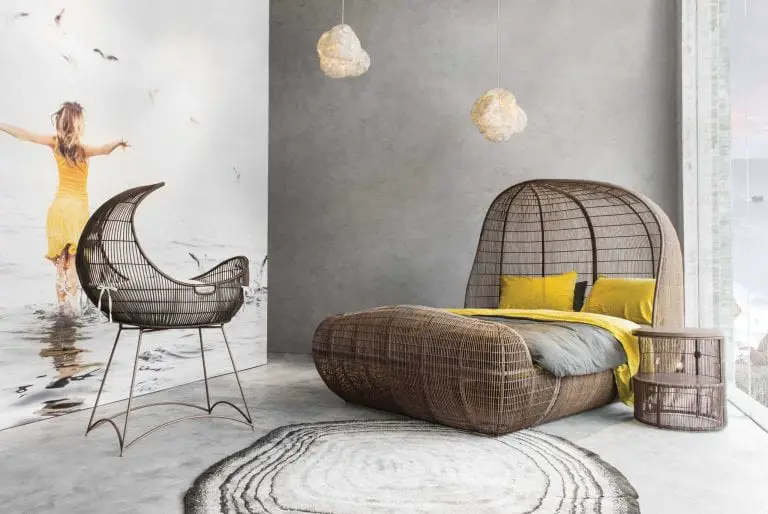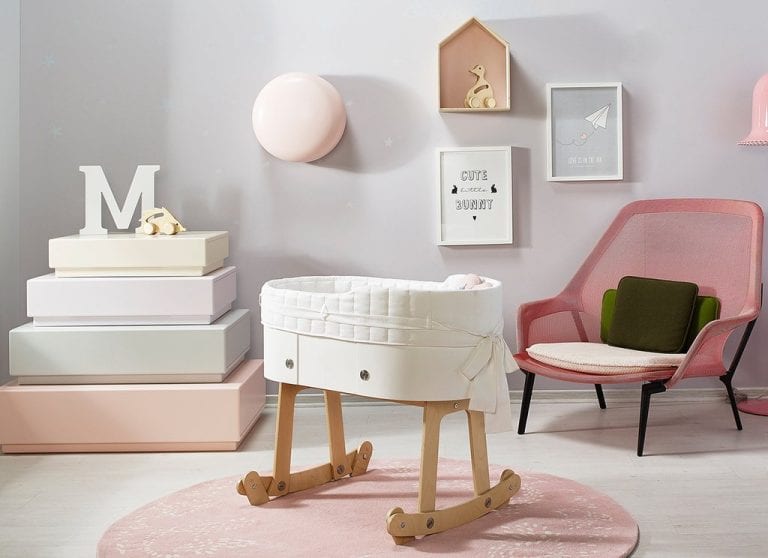 What Crib Is Safe For A Newborn Baby?
The safest cribs for newborn babies are those with side rails. Side rails prevent baby from falling out of the crib and protect them from injuries. They should always be used when you place your child into their crib. If you do not use side rails, then make sure they are securely attached to the wall. This way, if your child falls off the bed, he/she won't fall through the mattress or flooring.
Side rails are usually made of wood, metal, plastic, or fabric. The most common type of side rail is wooden, which is considered the safest option. It is recommended that you choose a crib that has at least three safety features.
First, the headboard must be adjustable so that it can fit any size mattress.
Second, the sides of the crib should be able to fold down so that there is no gap around the edge.
Third, the crib should have a lockable door.
If you want to buy a new crib, check the Consumer Product Safety Commission (CPSC) website.
You can find a list of approved crib manufacturers and models on this site. Make sure that the model you purchase complies with CPSC standards before you put it together.
Top Rated Baby Bassinet
Cloud Baby Premium Baby Bassinet Plus Hanging Doll, Music and Built in…
Pack and Play Baby Bassinet: Our portable crib makes it easy to travel with newborns, infants, babies, and toddlers. The sleek wheel design allows you to move…
9 Height Positions: Our baby bed can adjust to 9 different height settings. The aluminum frame makes this pack n play bedside crib sturdy and lightweight. The…
Detachable Side Panel: Our bedside sleeper & baby cot has a double mesh detachable side, making it extra sturdy while providing plenty of air circulation. The…
Machine Washable Mattress & Sheets: The washable bassinet mattress is both functional and comfortable. The unit includes a halo music box and crib mobile that…
Last update on 2023-02-25 / Affiliate links / Images from Amazon Product Advertising API
Safety Features To Look For In A Crib
When purchasing a new crib, look for these basic safety features:
• An anti-tip bar at the end of the side rails. This feature prevents the mattress from sliding off the bed frame when someone falls out of the crib. If the mattress slides off the bed frame, the baby could fall onto the floor, which could lead to serious injury.
• Two corner posts that prevent the sides of the crib from collapsing inward. Collapsing cribs pose a risk to babies who are sleeping near them.
• Handles on the side rail that allow you to easily lift up the entire top section of the crib. You should never leave a child unattended in a crib without lifting the entire top section of a crib.
• Locks on the bottom corners of the crib that keep the sides from opening too far. When the sides of a crib open too widely, there is a greater chance that a baby could fall through the gap and injure himself.
Which Are the Best Baby Cribs

Baby Cribs are designed to protect your child from harm while they sleep. They are available in different designs, sizes, colors, materials, and price ranges. The most common types of Baby Cribs include Portable Cribs, Infant Carriers, Bassinets, Cot Beds, Toddler Tubs, High Chairs, Strollers, Nursery Furniture, Playpens, Travel Cots, and many others.
The best baby cribs are those that provide safety and comfort for infants. Safety should always come first when choosing a baby crib. There are several aspects to consider when selecting a baby crib, such as size, material, color, style, and accessories.
Safety is the main concern when purchasing baby cribs. It should be easy to assemble and disassemble. A good quality baby crib should have a sturdy frame, durable wheels, and adjustable headboard.
There are two basic styles of baby cribs, one is stationary and another is portable. Stationary baby cribs are usually big enough to accommodate an infant up to 15 pounds. They are normally used for babies who spend their entire life at home. On the other hand, portable baby cribs are small enough to fit into cars, strollers, and car seats. They are ideal for traveling and visiting friends and relatives.
When buying baby cribs, you should keep in mind the following factors:
• Size – The size of the baby crib depends on how much space you want to give your baby. If you plan to use the baby crib only occasionally, then choose a smaller model. However, if you plan to use it every day, then go for a bigger one.
• Material – Choose a baby crib made out of wood, metal, plastic, or fabric. Wood baby cribs are considered the safest because they are very stable and do not absorb moisture easily. Metal baby cribs are lightweight and easy to clean. Plastic baby cribs are light weight and affordable. Fabric baby cribs are soft and comfortable.
When Should I Put My Baby in A Crib? Is There Any Danger?
The first step to take when you want to put your child in a crib is to make sure that he/she is healthy enough to sleep alone. If your child is sick or if he/she had a fever during the day, do not try to put him/her in a crib until his/her temperature returns to normal.
If your child is healthy and ready to go to bed, then you can start putting him/her into a crib. The best way to put your child in the crib is to get undressed and lay down next to him/her. Use a bassinet like the one above for the perfect way to sleep with your baby.
Then, place your hand under your child's back so that he/she feels secure and calm. Finally, close your eyes and wait for your child to fall asleep. When you wake up the next morning, check whether your child was sleeping well. If he/she did not cry at night, then you can safely assume that he/she slept fine.
Questions & Answers
How do I know if my crib is safe?
The first step in determining whether your baby's crib is safe is to check its safety features.

The most common types of cribs include metal frames, wooden slats, and plastic slat models. Metal cribs are generally considered safer than wood ones because they are less likely to break under normal use.

However, some parents prefer wood cribs because they feel that they provide a softer sleep environment for their children.
This product was presentation was made with AAWP plugin.
Related Posts