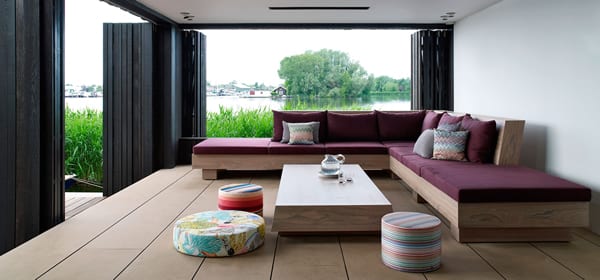 Designer and architect Piet Boon created this custom houseboat in the Dutch tradition for old-fashioned canal life in the picturesque waterways of the Netherlands.  This floating home is indeed moored in a tranquil and lush Dutch locale, but the home itself is a far cry from the traditional houseboats of centuries past.  A full two stories, with bedrooms and a basement below the waterline to adhere to building codes, the floating home is spacious, full of light, and comes with every modern amenity carefully and economically built into the structure.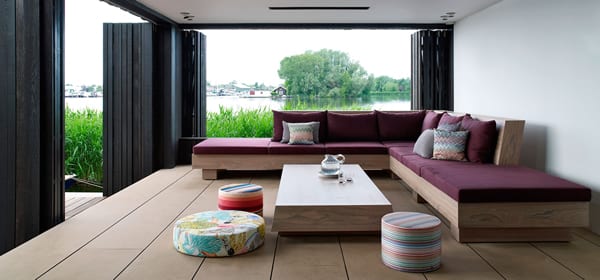 The overall styling is minimalist both for beauty and function.  The clean lines help to create an open feel, along with the tall floor-to-ceiling windows and patio access for allowing the natural light to brighten every corner.  The exterior has a low box-like profile of black-stained red cedar, and inside, wood and stone create an organic and intimate environment.  Despite the modern engineering and cutting edge amenities, the Floating Home by Piet Boon consciously incorporated natural materials and a simple design to maintain the homage to a bygone era and the traditions of Dutch canal life.
When the windows are open, the sofa suddenly feels as though it was outdoors right in the midst of the countryside.  The deep ties to nature in the floating home result in an indoor/outdoor lifestyle that truly harmonizes with nature and history in a way that few if any traditional houses can do.  Can you picture yourself living a life more in tune with your natural surroundings aboard Boon's houseboat?