Many times Furniture Fashion has praised the Ekornes Stressless collection of ergonomic recliners, home theater seating, and living room furniture handmade the old fashioned way in Norway. Well old fashioned goes only for their commitment to building their furniture the right way, as you can see from the look of their new "Blues" recliner the styles are definitely up to date.
I had the pleasure to test drive Ekornes's newest high end ergonomic recliner in High Point this fall and pictures just don't fully tell the story your back will hear loud and clear. The Blues will include the standard Stressless features such as a tilting ottoman, "Plus" automatic adjusting headrest, alternate "Sleep" position headrest, active lumbar support, and 360 degree swivel base, as well as a height adjustable ottoman and chair base which is exclusive the Blues and Jazz recliners.
Visit Ekornes.com as they celebrate their 75th anniversary and see their full collection of modern reclining furniture designed with serious comfort in mind.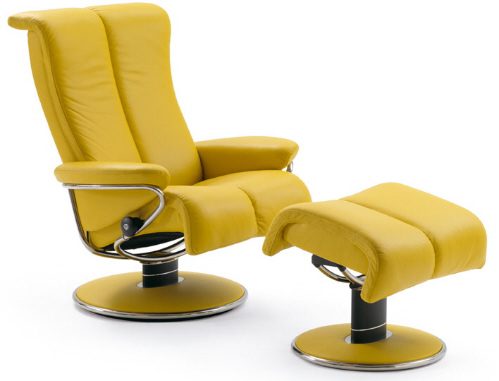 Best Reclining Chair
[amalinkspro type="showcase" asin="" apilink="https://www.amazon.com/dp/B07Q5XRMLD?tag=furnitur11-20&linkCode=osi&th=1&psc=1″ new-window="true" addtocart="false" nofollow="true" sc-id="4″ img-sizes="500:500″ imgs="https://m.media-amazon.com/images/I/41VgLmlYY2L._SL500_.jpg" link-imgs="false" specs="Counter-balanced lift mechanism with TUV certified actuator pushes the entire chair up~~~Assists the user stand up easily without adding stress to back or knees~~~Smoothly adjust to lift or reclining position~~~Simple to assemble the chair no
tools
needed~~~8 vibrating points~~~1 lumbar heating point~~~Fixed timer for 10/20/30 minutes~~~Features high-quality faux leather~~~Dual USB outlets~~~Dual side pockets~~~Two cup holders~~~USB ports ONLY for low-power devices, such as iPhone,
iPad
~~~" btn-color="#ff9900″ btn-text="Buy On Amazon" alignment="aligncenter" hide-prime="0″ hide-image="0″ hide-price="0″ hide-button="0″ width="750″ banner="Top Heated Electric Recliner"]Recliner Chair
Sofa
with Massage and Heat[/amalinkspro]