Wall Shelving For Books
A wall shelf is a great way to organize your books. It allows you to display them in an orderly fashion and make sure that you keep track of where each book is located.
It also makes it easy to find any particular book when you need it. And since most people have more books than they can possibly read, having a place to store them is essential.
The best wall shelves are made of wood, because it provides a sturdy foundation for your collection. And if you choose a wooden shelf, you'll be able to easily add additional shelves later on.
You may also consider adding a few decorative items to your wall shelf. This could include pictures, artwork, or even knickknacks. These additions will help give your space a personal feel, which will make it easier to relax and enjoy your books.
Instead of old fashioned bookshelves, why not look for unique alternatives as a means to display and organize your literary collection? Organization is a must of course, but wall shelving could be the answer to a more stylish look.
They're less chunky, bulky, unsightly and space-consuming, which is great for smaller rooms, homes or apartments and you can find designs that work as artistic additions to the home.
A book shelf is an essential element for any home library. It provides a place to store books and keeps them neat and tidy. But there are many ways to make your own book shelves. Here are some of the best DIY projects for making book shelves.
Wood Book Shelves
This project is easy to do and requires minimal tools. All you need is a hammer, nails, saw and wood glue. Start by cutting two pieces of plywood to size. Then, nail the boards together along the edges. Finally, attach the sides to the front and back panels. Now, add a coat of stain or paint to finish the look.
Wooden Shelf With Hooks
If you want to create a more decorative look for your bookshelves, you can easily add hooks to the sides. Use screws to hang the hooks onto the side panels. Make sure that the holes in the panel are big enough for the screw heads. Once you've finished hanging the hooks, apply a coat of clear varnish to protect the wood.
Plywood Shelf With Pegboard
This project uses pegboards to hold the books. Simply cut the pegboard to fit inside the shelf. Add pegs to the board and then secure the board to the shelf. You can also use magnets to keep the books in place.
Glass Shelf
If you want to display your books in style, you can opt for glass shelving. Cut the glass into small rectangles and then drill holes in each piece. Attach the glass sheets
We did a little digging and found 15 Amazing Wall Shelving for Books Ideas and Designs that are fresh and fashion-forward ideas that we think you'll fall head-over-heels in love with. Let's have a look, shall we?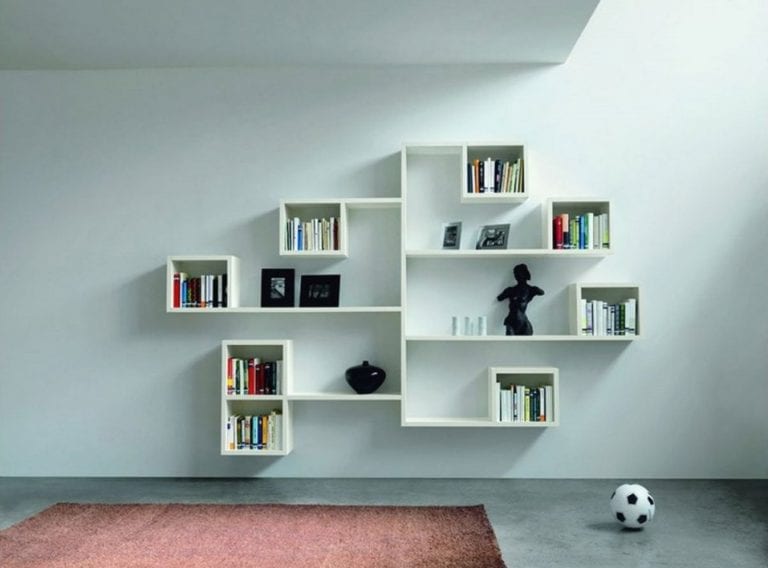 Modern with enough space for personal affects and trinkets to display, we love this easy and light shelving unit. It doesn't take up too much space but it also does well with providing interest and clean looks to the walls. This is perfect for a study, home office, bonus room or even as a spot in your larger living area.
Giving the illusion of kids running in a field, we love this abstract "art" pieces that double as storage. This keeps within modern tempo but adds a lightness and family-friendly energy into any room of the house. It's hard to keep a warmth in a home with a lot of contemporary infusion, but with pieces such as this, you get the best of both worlds.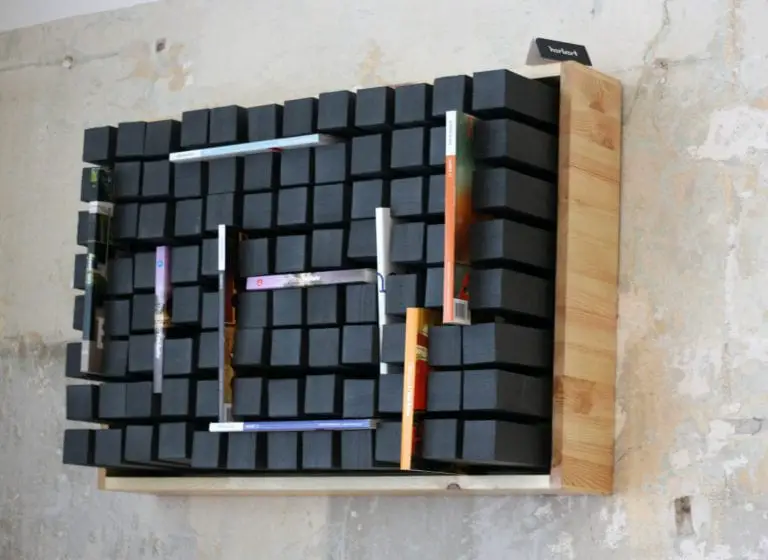 Now, to get really interesting, we have a piece that doesn't even look like a shelf at first glance. Fit your favorite hardcovers inside and have it double has a puzzling, artistic masterpiece in your bedroom or even in the kitchen for your cookbooks. It's funky, fresh and will become a conversational piece for when guests come by.
A rustic charm and a modern design, this wall shelving system looks like a piece of art first and a place of storage second. We love the hominess but also unique power behind this design. The neutral foundation also gives it a versatility that a lot of shelving systems have but don't have the added fashionable element.
Funky and spirited, we're loving this youthful, modular piece. You can fit a lot more in this system than you may believe at first glance or, of course, fit both trinkets and books inside together. The neutral tone is perfect for versatility purposes but we'd also love to see this in bright, popping colors!
These fixtures are large and chunky but that's okay if you have a very open and spacious room to put them in. You can see from both sides do you have to make sure it's styled from all angles but that's also where the fun and creativity comes into play.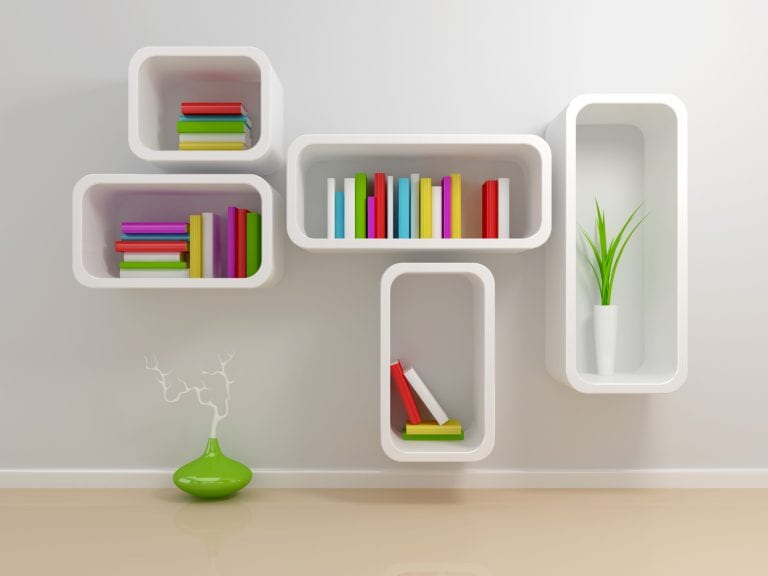 Probably our favorite from the bunch, these rounded wall shelves are such a fun pop for absolutely any room of the house. Of course, they're great for organizing and displaying possessions, but you can truly use these for a variety of great ideas. From spices in the kitchen to essentials in the bathroom, these are very versatile picks!
Your eye didn't fool you, these aren't mirrors! These eclectic shelves resemble picture frames too, but they have a lip deep enough to hold your favorite novels inside. We love them hung in a collage of sorts for the bedroom, home office or even in the hallway  … but we feel that they're also strong enough to stand on their own or in pastel colors, bright shades or funky prints!
These wall shelving systems work separately but they also work together, reminiscent of a film roll – perfect for a movie room to hold all your media! They're modern enough to  hang in different rooms of the house as well with its clean and easy shapes and lines.
If you're looking for something completely outside-the-box and even a bit eclectic and industrial, look no further than this masculine idea. Utilize any nook or corner of the house with a system such as this, it'll hold more novels than you may think and help to transform any room into something much more unusual.  The old brick looks great with the pipes which could easily be done in an old loft or flat.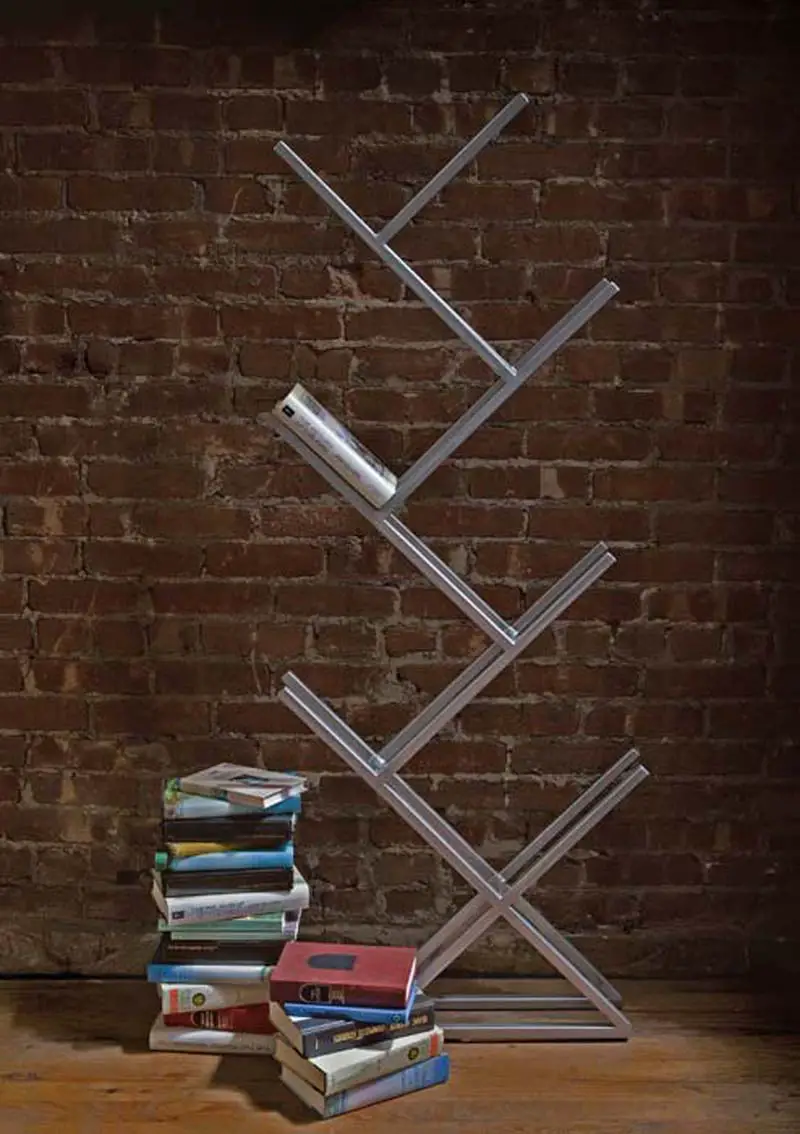 This may not be an actual wall system but we sure do love this shelf that can stand alone. We love how it can create interest in a room, fill a corner and all the while organize and tidy up a space that doesn't need any chaos to take away from its overall look.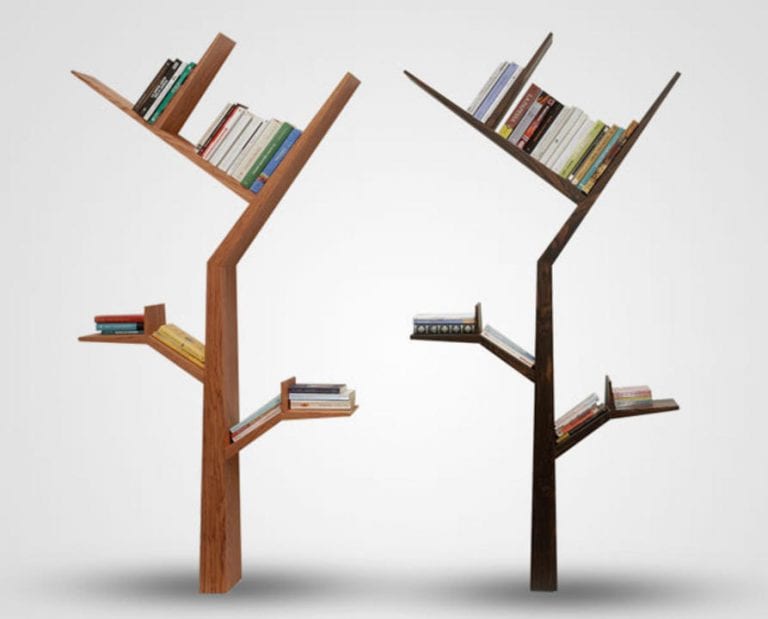 We may have found the perfect addition to the kids' room or even their playroom. A reading corner just got so much more fun and stylish. A tree turned into a bookshelf, it's quite the genius idea and it's the perfect way to fill a bare corner and clean up messes – all while making a playful statement.
We love the pockets this shelving system has for extra novels to find a home in. It's quaint, it's not too bulky and would be the perfect addition to your home office. We love the interest and small details it has making a more traditional idea so much more intriguing and stylish.
Here's another stand-alone piece that can cure a bare corner and pick up the excess clutter with ease. It's modern, it's trendy and it's perfect for your own hipster-inspired apartment. We'd love it in bright colors but of course, the neutral tones make a much more versatile piece.
Gorgeous, bold and luxurious in design, this golden, glimmering storage unit is perfect for room partitioning or creating a focal point in more spacious rooms. It fits inside a contemporary vision or even one with a more traditional, family-friendly feel while still being stylish!