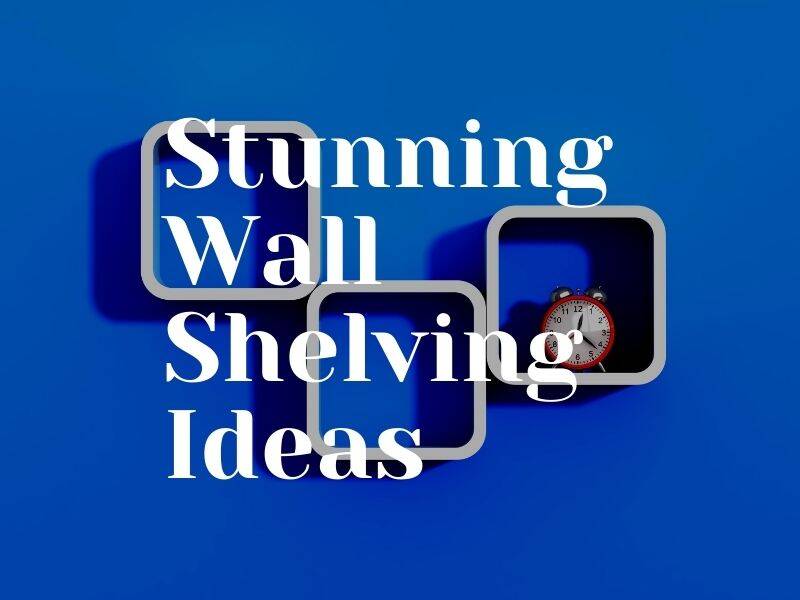 ---
Rustic and Wood Wall Floating Shelving
Don't you just love these whimsical, circular pieces? They are definitely outside the box in terms of traditional design, but they're functional making them such a great option. Something different with this round rustic framed shelving with a wooden base. Three shelves in total that will add a nice and simple design to any wall in any room.
Key Features
Light weight

Easy to assemble

Torched finish wood

Iron metal frame
---
Two Floating Shelves With Towel Holders
Floating shelves are made of high-quality radiata pine wood metal frame that is dampproof, heat resistant. With protective guards and towel holders, durable for bearing capacity strong. Soduku rustic wood wall shelves offer you a best choice! Efficiently use your empty wall to create a storage solution without taking any valuable floor space while the rustic wood shelf matches almost every decoration in great style for your kitchen closet dining room living room bedroom bath or office.
Floating shelves with rails can provide a lot of storage for your bathroom and the extra security makes it worth looking into. The set includes two matching shelves that you could hang side by side or vertically, depending on what will work best in your space!
Key Features
High-quality radiata pine wood

Metal structure design

Protective guards

Removable towel holders
---
Gold Wall Shelving
Do you feel like your floor space is disappearing as storage areas take over? Have you been looking for a way to organize and decorate that cluttered junk drawer, the kitchen countertop, or even the center of your living room with something attractive but still functional too? If so then we have just what you need! The BOLUO floating shelf will not only help create order in an otherwise messy area.
It also has great decorative appeal because the designers took into account both function and aesthetics when making it. Unlike other products on the market these shelves are made from quality materials which means they're durable yet beautiful at any location around your home where there's enough wall-space available – no matter how high up off ground level!
---
Floating Rustic Wall Shelving
A personal favorite of the entire list, the interest and texture of this system is stunning. The combination of colors, which are a bit hipster and definitely on trend are a great way to bring in new life into the home. And what's so beneficial about this system is all the extra spaces you can utilize and decorate with!
---
Industrial Display Shelving
For something that fits in a more traditional and rustic of spots consider this idea for inspiration. The industrial, mixed material feel adds interest and stylish appeal to even the most minimalist and masculine of spaces. This would fit great inside a home office or even in the infamous man cave!
---
Industrial Rustic Wood Floating Shelf
Sleek, sophisticated and functional too, we are loving this modern an slender example. They have a bit of fashionable flair with the slight details but they're also very posh and elegant as well with their smooth lines. It's perfect for media storage but also a great way to display trinkets and decor pieces too.
---
Rustic Modern Wood Ladder Pipe Floating Shelves
Not all systems have to "stick together." This picture is more of a mixed and matched feel. It's traditional and a bit "zen" inspired, which we love, but it's also very contemporary with its puzzle piece finish. The chocolate brown finish also helps for blending into a variety of different spaces.
---
Inspired Wall Shelf In Metal and Wood
Primitives By Kathy is dedicated to providing customers with the best selection of high-quality home décor, gifts and accessories. One example from their extensive collection is this beautiful round distressed metal wall hanging which measures 12.5 inches in diameter x 4 inches deep. It features a wooden shelf that's easy to hang on any door or wall surface for an eye catching display area where you can keep your favorite items out within view all year long!
---
Rope Hanging Rustic Wood Shelves
The distressed wood and rope combination is a unique take on the hanging rustic shelves. The versatility of this piece makes it perfect for both indoor or outdoor use, whether you're looking to add some character in your living room, bedroom, dorm room-or even out on the deck!
Key Features
Useful shelf to hold and display small plants, picture frames, decorative items or knickknacks

A striking decorative accent, provide a touch of warmness and rustiness to any space applied

Complements farmhouse or rustic decor as well as nautical decor
---
Heart Shaped Wall Shelves
Here's another personal favorite from the entire list, this heart shaped example acts as both function and art in this neutral covered living room. Clean lines and smooth edges never looked so feminine than this. We love the combination of girlish charm and contemporary flair.
---
Metal and Wood Three Tier Wall Shelves
Similar to the piece just above, this system is even edgier than its above counterpart. And unlike the design above, this example has a more masculine essence but still a very artistic quality that we find intriguing and inviting. Hang more than one to create a unique focus point in any room.
---
Stunning Three Tier Shelving
Simple and sweet, this dark metal and modern wooden wonder works in any type of home and nearly any style theme you could imagine in a contemporary mindset. We love the shape, sharp lines and of course the crisp, neutral foundation which makes it perfect for blending.
Related Articles: