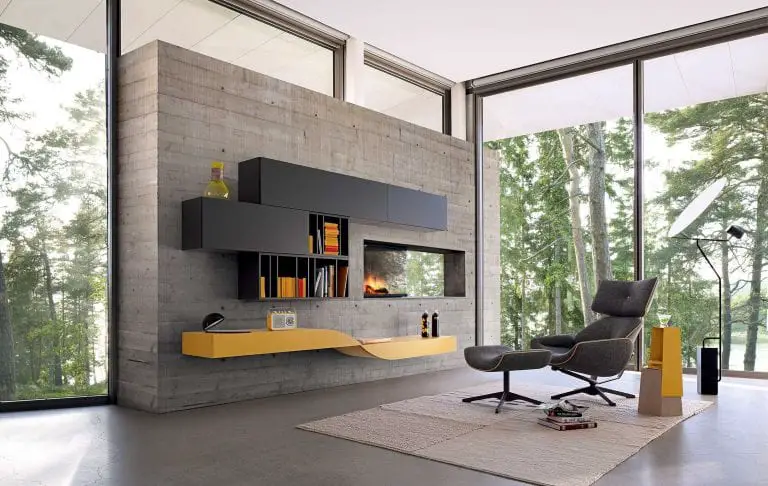 Adding More Storage To My Living Room?
It's time for a change. Your living room is starting to look dated. There are too many old pieces of furniture and not enough storage space.
You've been thinking about adding more storage to your living room for quite awhile now. But you haven't done anything about it because you didn't really know where to begin.
The problem is that most people don't realize how much storage space they actually need. And even when they do, they don't know where to find it.
But there's an easy way out of this dilemma. All you have to do is follow these simple steps.
Step 1 – Get rid of the clutter
Start by removing any items that aren't useful anymore. If you don't use them, why keep them?
Get rid of the junk and make sure you have plenty of open floor space. This means you need to remove any tables, chairs, bookshelves, etc. that are taking up valuable real estate.
Once you've cleared away the clutter, you'll be able to see exactly how much space you have left.
Step 2 – Find the right size storage unit
Now that you have a clear view of the space you have left, you can start shopping for a storage unit.
How Do You Organize a Cluttered Living Room?
Easy, buy a good quality storage unit and place the items you wish to keep within the unit, and either sell or dispose of the old unwanted items.
It's important to keep clutter under control because it can quickly become overwhelming. But sometimes you just need to give yourself permission to let go and let the chaos flow for a while.
The key is to find ways to make your space more functional without making it look messy. For example, you could put away books and magazines instead of leaving them scattered across the floor. Or you could hang pictures on the wall instead of keeping them stacked on shelves.
Or you could create a designated area where you store items that aren't used often. This way, you'll avoid having to dig through piles of stuff whenever you need an item.
This will also make the room much more appreciated when you declutter your mess and place the most wanted items behind closed doors.
There are two main types of storage units
Wall-mounted and freestanding. Wall-mounted units are usually built into the walls and come in various sizes. Freestanding units are typically made of metal and are designed to sit on the ground.
If you have lots of wall space, but don't have lots of closets, you may want to think about using wall units to store and organize possessions that might otherwise be in the way and appear as clutter. These nifty furnishings can update a room with ease while providing a nice visual for family and guests.
Tiding, styling and creating more interest in your interior design, these products have great functionality and fashionable, modern appeal. Take a peek at a list of 15 storage wall units that impress and organize any space that we have compiled to offer ideas about what may be possible in your home.
Two, sleek black boxes with reflective surfaces that utilize the light, these pieces are the perfect way to store your media in a chic and fashionable way. This unit is perfect for the bonus or living rooms, but could also do well inside your home office to store necessities and keep the view of stacked papers out of the limelight.
These locker styled examples are a great way to store media; from books to DVDs! They'd also work well in spacious bathrooms to hide extra towels and beautiful essentials right inside. And believe it or not, these slender, vertical pieces are great for lengthening the height of any room.
Dressed in chartreuse this idea has a plethora of different sizes and shapes to go along with its overall style. From top to bottom this entire structure can take the place of your media table and cabinets. Instead of trying to mix and match functional pieces, this design benefits those who want both function and transformative style.
This space almost looks like two units in one, and we love that. Both the frosted cabinets and white, floating unit come together in this classic black, white and cream accented space to create a very subtle and modernly strong presence. Again, it's such a great way to store all your media and you won't have trouble finding what you need!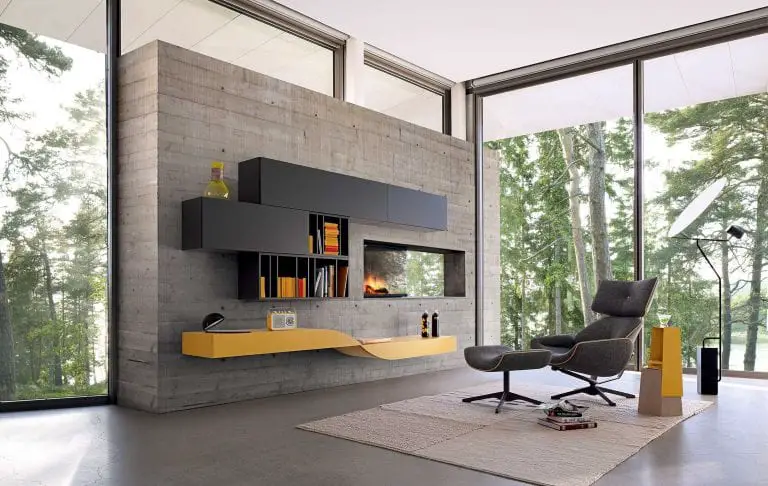 A design that combines both shelving and organization makes for an interesting and beneficial treatment for any room of the house. Even in the dining room you could use the function and pizzazz of this particular piece. Display your favorites and hide your necessities inside!
The slate gray, textural finish on this product works wonders for a room with a cleaner, sleeker look. It provides interest and appeal to bare walls but also provides the opportunity to keep that clean and sleek style going throughout the room by putting away any clutter that may take away from the vision.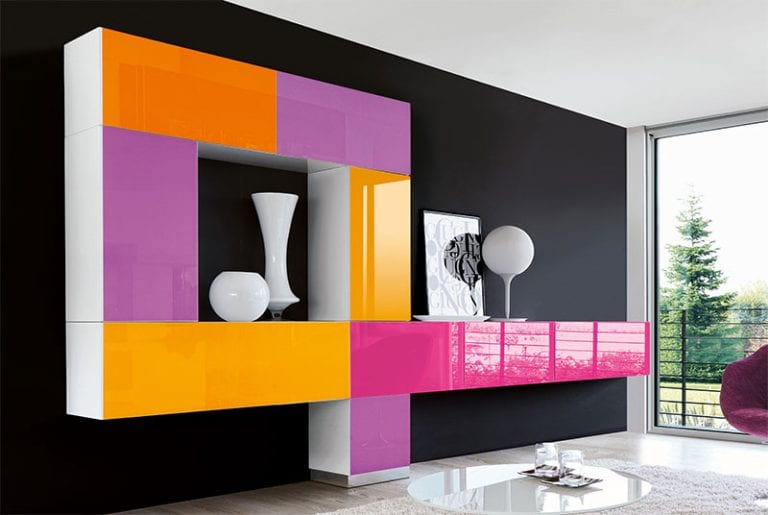 If there was ever a design that works in both artistic and organizational ways it's this one. From the popping colors that will jazz up even the most dull of spaces to the sheer volume of organizational space, this suggestion has so many great qualities for a home that really needs this type of home accessory.  Keep in mind that while the colors may appear to be over the top, another color palette could be selected for your house.
This idea combines both storage and media center qualities, which is great for a living room with a spacious, light feel and larger walls. Although this design may work in other parts of the house, we see it as a perfect living or bonus room creation.
Balance out your space with these three horizontal storage units. They're quite versatile together or used as single pieces in literally any room of the house from the bathroom to the bedrooms. And when placed as a set you can use the spaces in between as shelves for a bit more of a decorative punch.
Similar to the set above, these vertical pieces too seem to be great as a set or used as singular designs all around the house. Of course when they're placed this closely together it seems as though they're more of one-set unit instead of three different parts. Wouldn't these be incredible in bright colors or even subtle patterns?
We are loving these suggestions, because you can see inside! The glass doors makes it a great way to decorate and store your essentials but also show off  your favorite home accessories. This particular design is quite chic and fashion-forward as well fitting inside any type of contemporary home.
We're in love with these dainty, square wall pieces. They're perfect for apartments or even dorm rooms, those with a smaller layouts. And we are definitely head-over-heels in love with the cherry red finish combined with the frosted looks below.
We've seen similar models above but not with the clear shelving inside! Use the units for media organization or a way to hide extra accent pieces during different seasons while displaying the present pieces in that glass setting that everyone will see first. It's quite the modern way of decorating while still utilizing the storage benefits.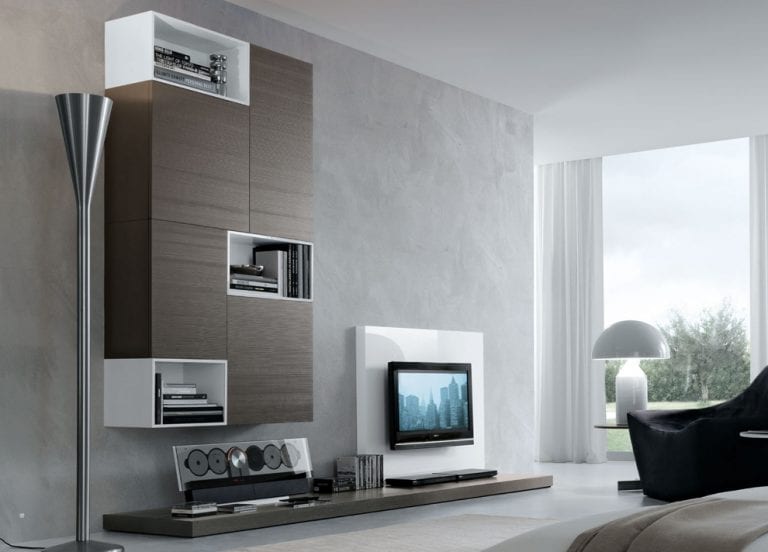 Here's another design that combines both hidden elements and basic wall shelves. This model is more traditional with its slight wooden finish so it'll fit in spaces that have a cozier and sometimes even a more masculine feel and with its shape and size can also fit into a variety of different rooms.
This two tone beauty is a great piece for those that like chic and clean finishes but need just a pop of personal pizzazz and unique touches. the cranberry and red color combination is a classic set and it compliments this white room with quite the bold flavoring, so its perfect for those looking for the right kind of contrast.
Related Articles: