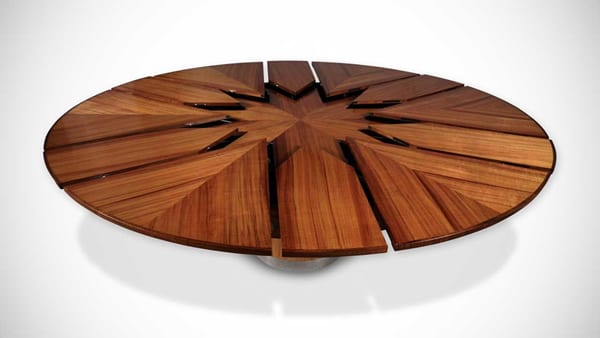 Undoubtedly one of the most innovative tables in modern times, the Fletcher Capstan Table from Fletcher Tables is what every home needs. It doubles its seating capacity automatically while remaining circular in the process. It has self positioning expansion leaves which allow it to expand yet still remain shapely.
The leaves are stored within the table and are made using an advanced layering system. They have a coating of aluminum honeycomb at their core which makes them lightweight, rigid, and stable.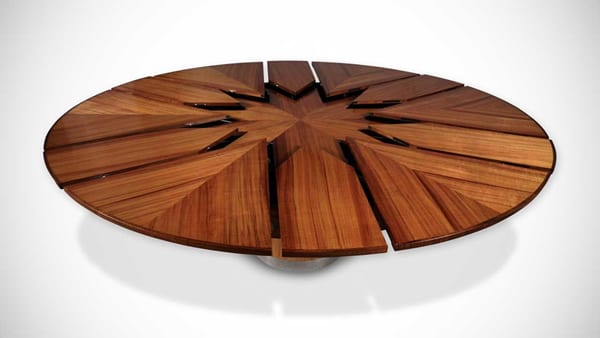 The Fletcher Capstan Table by Fletcher Tables can be operated manually or electronically. Both operation modes are simple and quick. It completes an expansion or reduction cycle in only 3 seconds.
The table sits 6 people when small and more than 12 when expanded. Its top has 13 elements which allow it to radically expand when it is turned 120 degrees. It has a top layer with 6 pieces and looks like a pie when small.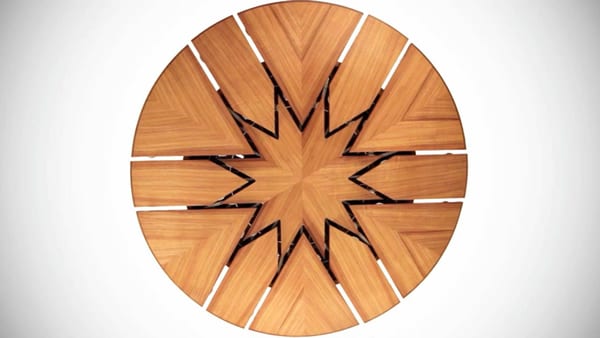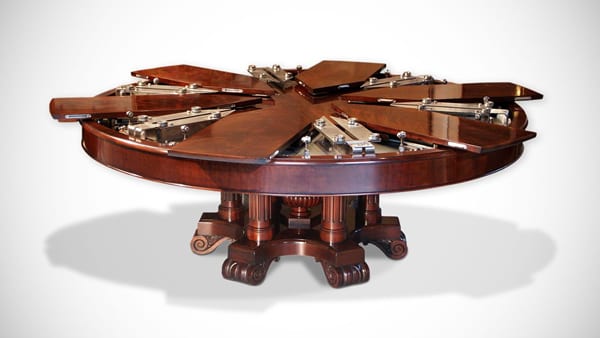 Beneath the top layer are two additional layers: one with 6 arrow-shaped leaves and a large one with a star shape. The table is supported by a sturdy frame made from hard anodized aluminum and stainless steel. The frame is enclosed by a drum which expands and contracts with the top. 
Fletcher is manufactured using high quality materials and made to last for a lifetime. It can be permanently positioned outdoors and still look as good. Designed by mastermind David Fletcher, it is one furniture piece you can't afford to do without. Don't you just love the Fletcher Capstan Table?