Amazing Home Steam Room Ideas
Adding a steam room to your home may not be the most obvious choice when renovating or building your dream home from the ground up, but if you've got the space why not add this bit of luxury?
Bring this bout of relaxation inside but do it in a stylish way that blends well within the vision and confines of the themes you've already chosen. In this day and age of health and fitness why not bring some of those elements into your home design?
In this article, Steam Rooms for Home – 10 Amazing Ideas and Designs, we gathered some of the best examples to highlight possibilities of how you can incorporate this spa luxury into your living space.
Step inside this contemporary corner and take a break from the day. Release toxins, sweat a little and enjoy this zen space right inside your home. If you're inspired by the simplicity and subtle texture, this design may be what you need inside your house!
This is a great mix of modern and Asian-inspired styles.
Here's a smaller example you can place in your house and even in a bathroom. Just a nook can transform into a seat for two if you design it just right. And this is a very raw, natural look combines with some contemporary tones and shapes.
It's the unfinished wood that gives the area a warmer, more rustic presence.
A sleek space with multiple seating options. This example is paired with a marble-covered bathroom, mixing the organic stylings of a luxurious spa and an ultra modern room to do your daily routine in.
The strong lighting also highlights the beautiful texture and colors of the wood inside.
This floor plan has a much more masculine vibe and not as chic and sleek as some of its predecessors. There are a definite simplicity and easy charm about it but the dark spaces between wooden pieces give this a stylish yet manlier nature and the warmer, softer lighting inside makes it a more romantic and inviting design.
One of the most modern designs of the bunch, this idea wreaks with sophistication and fashion-forward appeal. We love how it's a standalone room instead of being attached to the family bathroom or couples' space.
Walk-in, close yourself off from the world and enjoy a bit of "me" time while inside.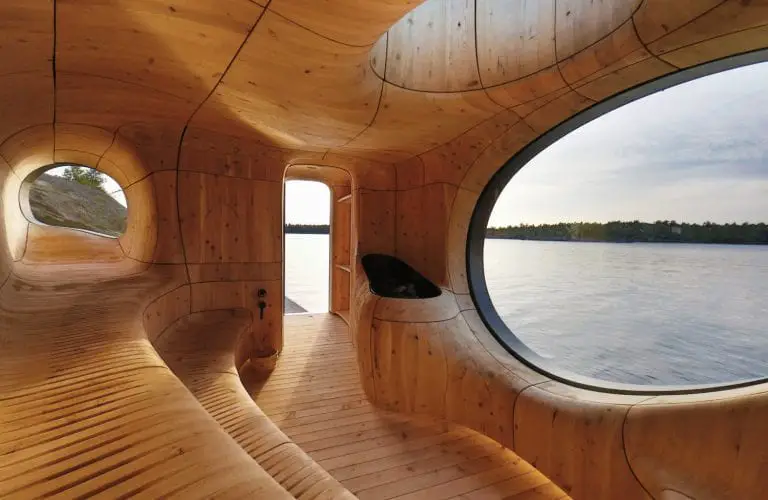 Now, here's an eclectic design you don't see every day. We're used to modern lines and clean edges, this rustic, cabin-fevered design is drenched in homey, cozy vibes.
Soft, fluid shapes and a view that can't be beaten – the entire family or a handful of guests can enjoy this space before (or after) a dip in the lake is taken.
Believe it or not, you can create an idea full of gorgeous tiles too. It's a much more modern style than a classic wood or bamboo choice and we love the glisten and shine this can add to your time of luxury. Just keep things neutral for a more relaxing ambiance.
Pay attention to the sloping seats as well, adding a more feminine touch to a colder area.
Shine bright with a glittering bathroom, that has a hidden steam room too! This entire place is covered in sparkling tiles, but this space is highlighted by a classic wooden door with a stylish pattern.
And although we can't see inside, we love how this accent incorporates a more traditional tone.
Inside this example, you can sit, of course, but lay down too! While you sweat take a 5-10 minute nap to refresh and revive. We love how this design utilizes every bit of space inside this bathroom and the sloping ceiling just adds extra style and unique appeal.
This one doubles as a dry sauna too as you can see the rocks and heating mechanism.
We saved the best for last, or at least our favorite. This sleek and chic design is the poshest of the bunch and we love how it combines deep, wooden tones with modern tiles and beautiful neutrals.
The curved corner example adds a more unique look than a simple square treatment and was inspired by the design that may be small but also very strong.