Amazing Home Indoor Sauna Ideas 2022
Adding a steam room or home sauna, whether it be an indoor sauna or an outdoor sauna, to your home may not be the most obvious choice when renovating or building your dream home.
However, if you've got the space why not add an indoor sauna or steam room for a little luxury?
Bring this bout of relaxation inside but do it in a stylish way that blends well within the vision and confines of the themes you've already chosen.
In this day and age of health and fitness why not introduce a home sauna or steam room and bring some of those elements into your home design?
In this article, Steam Rooms for Home – 10 Amazing Ideas and Designs, we gathered some of the best examples to highlight possibilities of how you can incorporate this spa luxury into your living space.
Image
Title
Price
Prime
Buy

Top

SuperiorBrands 2-4 Person Canopy Barrel Sauna, 4.5kw Heater Size, 220V, Interior LED Light Indoor or Outdoor Usage in Rustic Cedar Lumber - Made in The USA

Prime

Take a Look
SereneLife Portable Infrared Home Spa | One Person Sauna | with Heating Foot Pad and Portable Chair

Prime

Eligible

Take a Look
DYNAMIC SAUNAS AMZ-DYN-6106-01 Barcelona 1-2 Person Far Infrared Sauna - Curbside Shipping

Prime

Take a Look
Daiwa Felicity Portable Lightweight Personal Steam Home Sauna [ETL Certified] (Complete Set)

Prime

Take a Look
JNH Lifestyles NE4HB1 NE4HB Infrared Sauna

Prime

Eligible

Take a Look
1 Person Reserve Edition Near Zero EMF Infrared Sauna GDI-8010-01

Prime

Take a Look
Dynamic "Venice" 2-person Low EMF Far Infrared Sauna

Prime

Eligible

Take a Look
Golden Designs Monte Carlo 4-5-person Corner Near Zero EMF Far Infrared Sauna Canadian Hemlock

Prime

Take a Look
Coronado SA2409 2 Person Sauna with Carbon Heaters Bronze Tinted Tempered Glass Door Oxygen Ionizer CHROMOTHERAPY system Towel Hooks Magazine Racks and Sound System

Prime

Take a Look
Product prices and availability are accurate as of the date/time indicated and are subject to change. Any price and availability information displayed on [relevant Amazon Site(s), as applicable] at the time of purchase will apply to the purchase of this product.
Prices pulled from the Amazon Product Advertising API on:
Stunning Finnish Sauna
A barrel sauna is the perfect way to relax and unwind after a long day of work. It provides a soothing atmosphere that's unlike anything else you'll find in your home, one where steam from hot water envelops you as soon as you walk through the door.
The round shape offers more heat or steam circulation than square designs which means it can stay warm for hours on end even when not being used by many people at once!
The 1 3/8″ thick wood ensures maximum insulation with plenty of strength so this piece will last your family for generations until they pass it down to their children too.
Grade A Canadian Pine

6′ Foot Size

4 + Person Capacity

9KW Sauna Heater with Lava Rocks

Installation by a licensed electrician is required

No Porch on the front.

For Outdoor usage, though can be used Indoors
Finnish Outdoor Sauna with Porch
This is an outdoor sauna that is perfect for those who want to have a sauna at home but have no outdoor space but a spare room to fit something in. This comes with a 5 year warranty plus one year for the electrical items.
2-4 Person Canopy Barrel Sauna
Electric Heater 220 Volts with LED Lighting
Indoor or outdoor
Tempered glass door with long handle
Shipping Weight: 650 lbs
MADE IN THE USA
Barrel Sauna width 72″ depth 47″ height 77″
Canadian Hemlock Wood Traditional Swedish 60″ 2 or 3 Person Indoor Sauna Spa, with 6KW Wet or Dry Heater, Bluetooth, Rocks, and Water Bucket
Indoor Usage Only! 100% Factory Sealed and Tested, 2 to 3 People, Includes: Water Bucket, Ladle, Sand Timer, 6kw Heater (Wet or Dry use), Rocks, Digital Control Panel, Thermometer, and Interior Light (Installation by a licensed contractor/plumber is required). Ships LTL Freight with curbside delivery via lift gate or dock unload.

Bluetooth equipped control panel and a USB connection, Canadian Hemlock Wood: Very long lasting, and no strong odors that some woods can have, 54.5 Inch Bench: Great for laying down or stretching out (Many of these on the market are smaller inside), CE Approved.

Power Requirements: AC220-240V 60Hz, 6000W (6KW), 40A Breaker Recommended (will use around 26-28 amps), Product Net Weight: 250lbs. Gross Weight 350lbs. Crated Weight (For LTL transport) ~500lbs. Ships LTL Freight with curbside delivery only via lift gate.

Measurements: 59.5 W x 48 D x 75.25 H, Inside Height: 70, Inside Depth: Front to Back: 43, Interior Width: 54.5 (length of bench as well).

Bench size: 54.5 x 17.75 Deep, Door/Glass Size: 61.5 H x 21.75 W, Each window (2): 60.75 H x 7.75 W, 5 Year Structure + 1 Year Electrical Manufacturer Parts Warranty.
Stand Alone Indoor Home Sauna
One of the most modern designs of the bunch, this idea wreaks with sophistication and fashion-forward appeal. Walk-in, close yourself off from the world and enjoy a bit of "me" time while inside. Perfect for a small or large home
Stunning Home Sauna – Amazing Views
Now, here's an eclectic design you don't see every day. We're used to modern lines and clean edges, this rustic, cabin-fevered design is drenched in homey, cozy vibes. Soft, fluid shapes and a view that can't be beaten – the entire family or a handful of guests can enjoy this space before (or after) a dip in the lake is taken.
Read the full story about the sauna build from the link below the image. Stunning sauna design.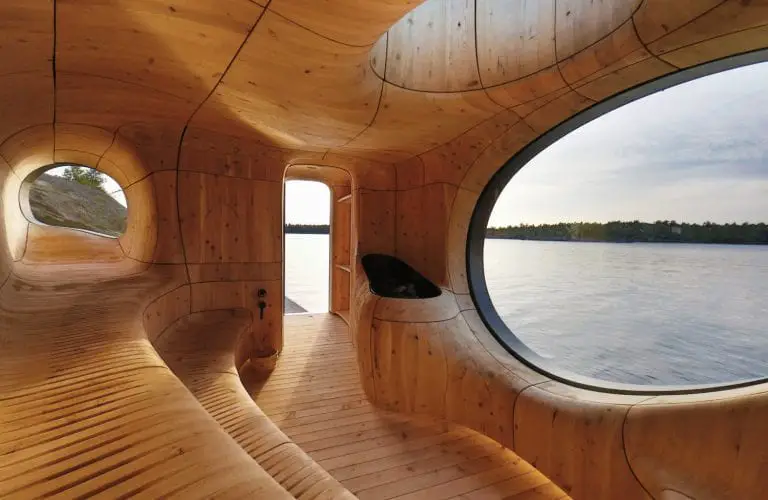 The Heatwave Portable Home Sauna Kit
Portable saunas are all the rage in 2022. Not only is the price one that almost anyone can afford, the sauna is easy to put up, and put away for the summer. What a great idea for winter relaxation and stress reliever.
Tired of relaxing in the same old places? Let your portable home sauna take you on a journey to new destinations!
The Rejuvenator portable sauna is just what you need for relaxation anywhere, anytime. This beautiful sofa-shaped design gives off 3 carbon heating panels that evenly distribute soothing warmth throughout your body while an included foot heater provides comfort from head to toe.
You can even enjoy it outside given its moisture resistant fabric and one minute set up time – so when life becomes too hectic this summer, grab yourself some peace with the rejuvenating power of nature's bathhouse right at home!
SOOTHING WARMTH – FAR infrared heat surrounds your body, thanks to three low-EMF carbon heating panels. Each heater is precisely placed for even, steady heat.

1 MINUTE SET-UP – Six, easy steps convert this handy device into a personal paradise. Simply unfold the sauna, plug it in, and enjoy nourishing warmth in any location. When you're finished, this space-saving, personal sauna easily contracts for storage.
RELAX ANYWHERE – This portable sauna is easy to take on the go. A collapsible design conveniently folds for transport or storage. Its moisture-resistant fabric allows for outdoor use, making it a perfect addition to your deck or campsite.
CANVAS SEATING – Foldable chairs are included with this feature-rich sauna. It also comes with a comfortable collar, sewn-in pockets for books or devices, a relaxing foot pad, and a convenient, hand-held control.

ONE-YEAR WARRANTY – Your sauna comes with a one-year manufacturer warranty. Your item will arrive damage free with all necessary parts and accessories. If something goes wrong, we'll work tirelessly until you're satisfied with your sauna.

Includes fabric cabin, neck collar, Beech dowel frame, 3 heating panels, remote control, portable chair, foam floor mat, heated foot pad, ionizer.900 watts
INDOOR SAUNA WITH PLENTY OF LYING SPACE
A sleek space with multiple seating options. This example is paired with a marble-covered bathroom, mixing the organic stylings of a luxurious spa and an ultra modern room to do your daily routine in. The strong lighting also highlights the beautiful texture and colors of the wood inside.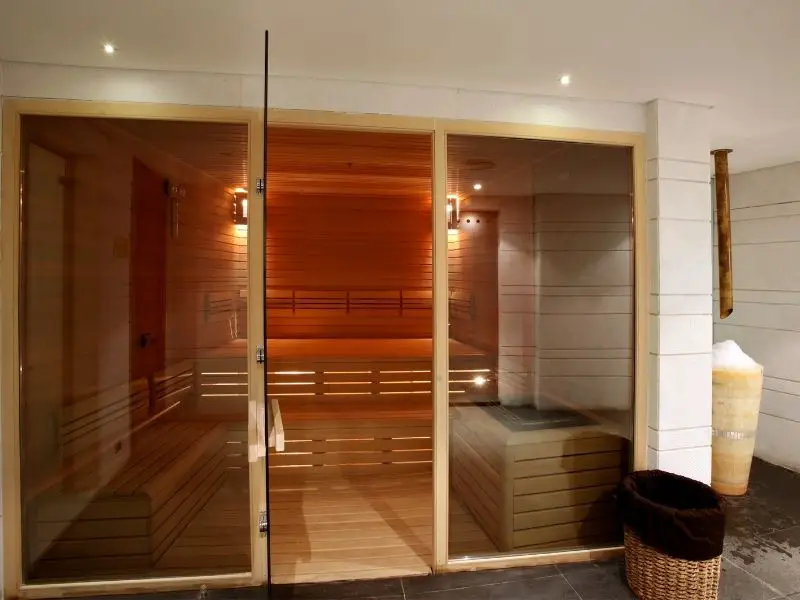 Saunas
Inside this example, you can sit, of course, but lay down too! While you sweat take a 5-10 minute nap to refresh and revive. We love how this design utilizes every bit of space inside this bathroom and the sloping ceiling just adds extra style and unique appeal. This one doubles as a dry sauna too as you can see the rocks and heating mechanism.
Corner Indoor Sauna
Step inside this contemporary corner and take a break from the day. Release toxins, sweat a little and enjoy this zen space right inside your home.
If you're inspired by the simplicity and subtle texture, this sauna design may be what you need inside your house! This is a great mix of modern and Asian-inspired styles.
Small But Sweet Sauna
Here's a smaller home sauna example you can place in your house and even in a bathroom. Just a nook can transform into a seat for two if you design it just right.
And this is a very raw, natural look combines with some contemporary tones and shapes. It's the unfinished wood that gives the area a warmer, more rustic presence.