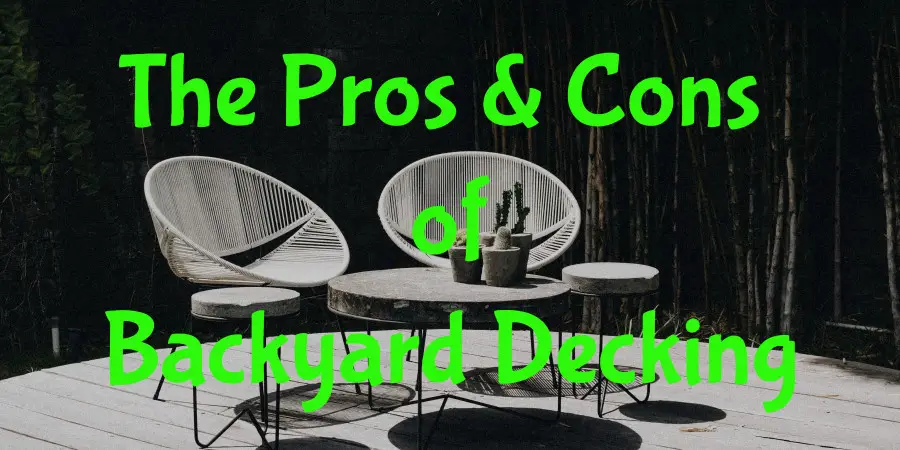 The Pros And Cons Of Adding A Deck To Your Backyard In Newton, Pa
When it comes to backyard fun, there's just nothing like a good ol' fashioned deck. However, Newton homeowners may wonder if adding one is worth the investment. The small Pennsylvania town of Newton is quickly becoming an increasingly popular place to live. 
As more families decide to move to the area, the demand for new houses has increased significantly. A deck is an open outdoor porch or platform that stretches from the home but does not have a roof. Conversely, a patio is a paved space directly on the ground that might be connected or separated from a house. Patios are often less expensive than decks. 
However, the ROI on a new deck addition exceeds that of a patio. Nevertheless, depending on what you're searching for, both features provide a terrific experience.
Because of this increased demand for housing, many homeowners have started considering adding a deck to their backyards. But is this a good idea? Here are some pros and cons of adding a deck to your backyard in Newton, Pa.
It Increases Your Outdoor Living Space
Adding a deck to your outdoor space is a great way to increase your available space. With all the extra space available in your backyard, you can finally have a place to enjoy the great outdoors with the family – something you have just been able to do.
It Makes Your Backyard More Attractive To Buyers
Adding a new deck can be a great way to increase the resale value of your home. This can be especially important if you're considering selling your home shortly – potential buyers will notice your new deck when they're touring it. If you're considering putting your house on the market soon, you may want to add a new deck to increase its value and make it more attractive to buyers.
It Can Be A Great Way To Entertain Guests
A new deck can be a great way for you and your family to host guests during the summer season. It's a great way to get the family together and enjoy an evening under the stars without worrying about leaving your warm living room or kitchen. Add a few comfortable chairs and a table, and you have the perfect place to enjoy a meal with your loved ones and catch up after a long day of work.
It's Inexpensive To Build And Maintain In The Long Run
Building a new deck is a great way to add curb appeal to your home and create a backyard oasis without breaking the bank. It may seem expensive initially, but studies have shown that most homeowners recoup their money when they sell their homes after building a new deck, which means, in the long run, it's a pretty good investment. 
Using sturdy materials and durable construction techniques, your deck should last you for years without much maintenance required to keep it in good condition. An experienced Newton deck builder will work with you to help you choose the best materials for your deck based on your budget and other factors.
Cons Of Building A Deck In Your Backyard
Wooden decks can easily deteriorate over time if you don't take good care of them. This means it's important to be diligent about regular maintenance and cleaning to avoid problems with wood rot and insect infestations that can cause the wood to crack and split. 
You can hire a professional deck builder to learn how to care for a wooden deck properly. This can be expensive, but it can save you a lot of headaches if you need to clean your deck regularly.
If the soil beneath the concrete is not adequately prepared, the patio is likelier to break. Temperature extremes increase the likelihood of cracking.
If the soil beneath the concrete is not adequately prepared, the patio is likelier to break. Cracking is also an issue.
Another potential problem with wooden decks is that they can be difficult to repair if something goes wrong. Find a reputable carpenter in your area who can take care of any repairs that need to be done quickly so you don't have to wait a long time for the work.
Another potential disadvantage of building a deck in your yard is that it can get pretty hot in the summer. The heat can radiate off the concrete underneath your feet, making it very uncomfortable to lounge on during warmer months. Fortunately, you can solve this problem by installing a lattice screen over the area to keep your guests cool and prevent the sun from shining down on them.
Conclusion
Consider what you'll use it for if you create a deck or patio. A cheaper solution may fit your needs better, saving you money, time, and important space! Examine the layout of your property to determine if a covered or exposed addition makes more sense for your requirements and budget, and attempt to plan based on how much use your deck or patio will receive. 
Weighing the benefits and negatives should also be prioritized, as this will help you comprehend the genuine worth of the upcoming upgrades. You can build a wooden deck in your backyard at a very reasonable price, which makes it an economical choice compared to installing a swimming pool or adding a gazebo or other backyard structure. 
While a wooden deck requires maintenance and regular cleaning to stay in good shape, it is still less expensive. If you choose an experienced deck builder, you can look forward to years of enjoyment and relaxation in your backyard oasis.