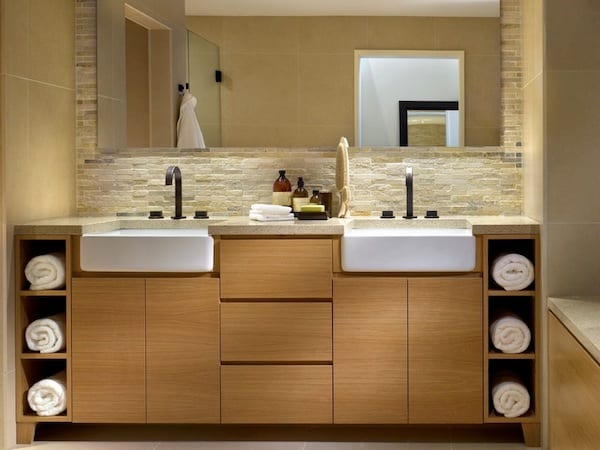 If the last time you visited your favorite spa you were transported in your mind to a relaxing and spiritual retreat – that same feeling can be brought into your personal bathroom. From natural materials and colors inspired by nature, there is know wonder that spas around the world are at the top of travel destinations for homeowners. If you'd like to transform your bathroom with spa amenities, here are a few ideas to consider.
Image via: Paul Dyer 
Nature takes center stage in a spa-inspired bathroom:
Whether you enjoy the crystal blue waters of the ocean or you are inspired by the natural colors of the desert, natural and organic materials are ideal in your spa-inspired bathroom. Wood, stone, beach glass and other materials that bring tranquility into your interiors are ideal. Backsplashes made from stone mosaic tile or accent walls using flagstone are beautiful ways to infuse nature into your bathroom. Flooring in pebble or wood-look-alike ceramic tile are trending materials that make for enjoyable footing when stepping out of the shower and can transform your bathroom into a nature getaway.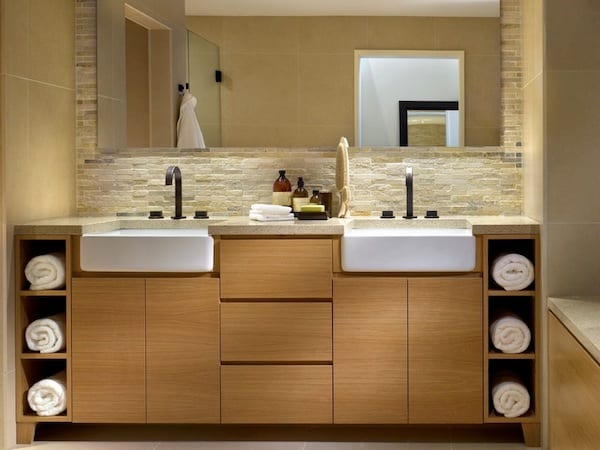 Image via: Claudia Leccacorvi 
Accessories for relaxing and kicking back:
The number one reason why we love spas are for the ability to close our eyes, relax and escape from the world. Spa bathroom accessories can help turn your functional bathroom into a destination spot you love to retreat to daily. Try adding your favorite chair, chaise lounge or bench adjacent to your dressing and bathing area to relax after a long shower or soak in your garden bathtub. If your have the room, consider bringing in a small sitting area complete with side table or other seating options for you and your spouse or just to throw your plush bathrobe into!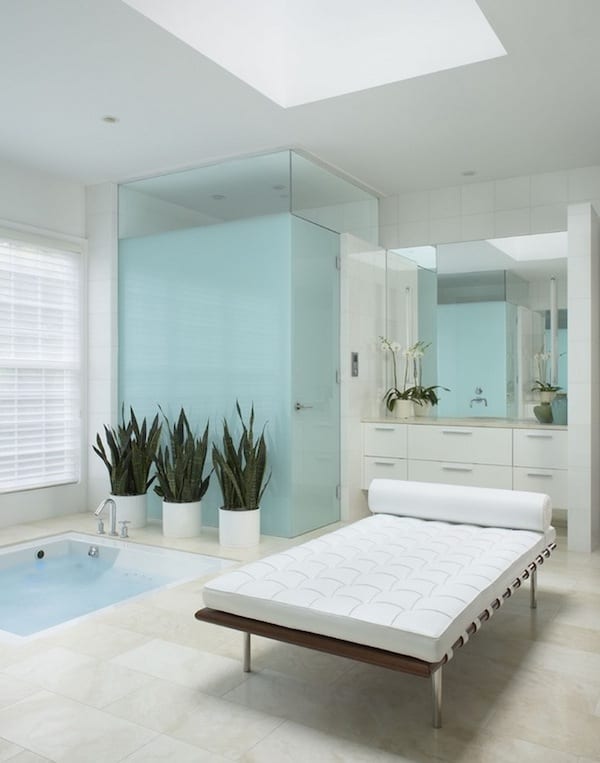 Image via: Beth Singer
Modern simplicity in plumbing fixtures and amenities
Spas always have the latest and innovative amenities in their facilities. Top of the line plumbing fixtures in bronze, satin finish are commonplace and adding vanity sinks in raised vessel bowls or farm house style sinks look equally beautiful. Many bath plumbing and finish brands offer spa-inspired lines that coordinate fixtures, vanity and pedestal sinks, lighting, and backsplash materials in design suites to help you envision before you implement the styles into your bathroom. Look to your favorite bath room brand and inquire about their spa lines to bring your last spa visit to fruition in your home.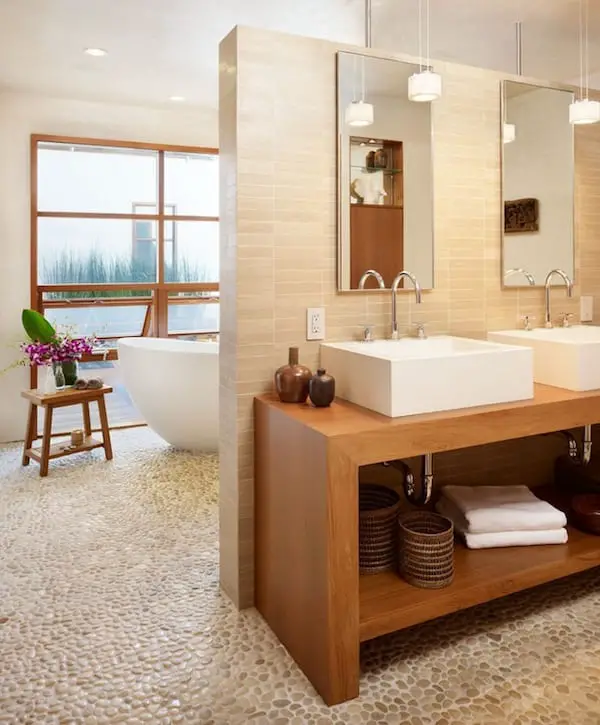 Image via: Eric Staudenmaier 
Instead of wishing your bathroom had the tranquil Zen experience of your last spa visit, bring the amenities into your home. With natural finishes, colors, and the latest fixtures and furniture you will love to makeover your bathroom with these ideas. If you've been thinking about adding some serenity into your bath – tell us if you've tried any of these spa-inspiration ideas in your bathroom!