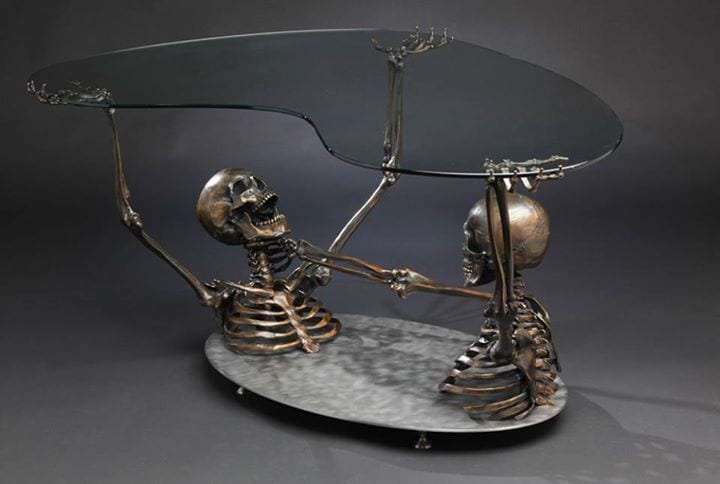 Why Consider Buying a Designer Glass Coffee Table
We would all love to own a modern (or not so modern) glass coffee table from a famous designer. Designer products hold and increase there value rather than lose money as soon as you take it out of a shop. They are very collectable depending on how many where designed, and who owns them.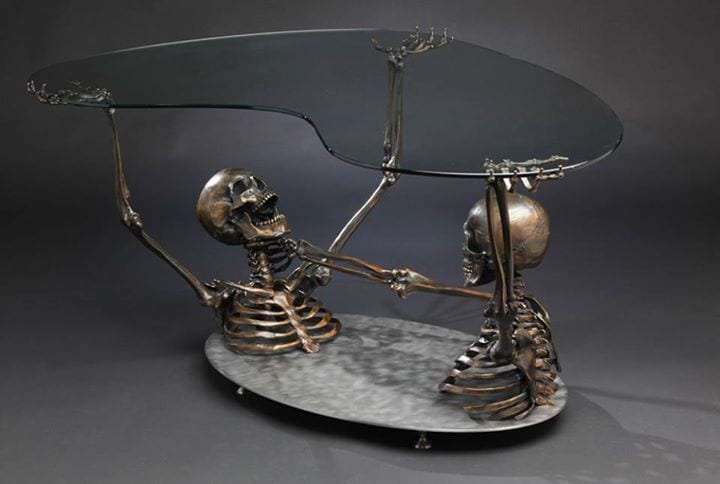 In the current climate you can search on many of the popular second hand websites and find good quality designer glass coffee tables for sale at reasonable prices. These prices will more than likely be slightly more than buying a new table, but if you sell it you will get back the same as you paid for it or even more.
We list a few designers Glass Coffee Tables for you to browse though and to give you ideas for your next modern home update.
Modern Bent Glass Coffee Tables from Zeritalia
They produced these glass coffee table designs in 2008. They are now over 10 years old so will be rare and very hard to find. However, they should hold their value should you ever come across one.
Zeritalia's clean modern bent glass coffee table design feature one of my favorite characteristics. Here are three modern works of Diego Granese who brings us the Zeta shown in vibrant blue, the Live in thick frosted multi-level extra-clear white, black or red lacquered glass from Emilio Nanni, and the Kink from designer Karim Rashid.
Zeritalia was founded 1991 by the industrial group Curvet and is the only company in Europe to offer products in tempered bent glass for customer safety. See the entire collection of Bent Glass Coffee Tables from Zeritalia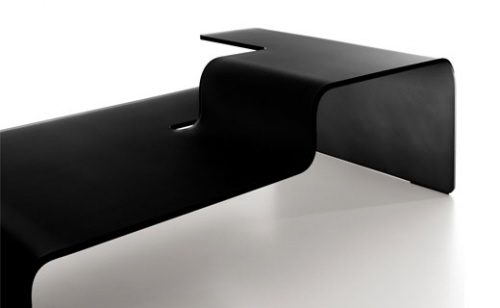 Glas Italia The Jewel Toned Coffee Table
Ever a team of optimists, we have a tendency to look at the world through rose-colored glasses.  For those who'd like a literal opportunity to do the same through home furnishings, there's the orange and pink tinted glass of the "XX" from Glas Italia.
The jewel-toned coffee table is comprised of two symmetrical Xs (hence the name), on top of which balances a single plane of glass. Looking impossibly ultramodern when setting against a white background, the piece brings about a strong sense of emboldened femininity, the likes of which would appear perfectly at home in a Kate Spade showroom or a funky flat inhabited by an artist or designer in Soho or the West Village.
The 45-degree angles created by the double-X base provide a variety of configurations for shelving — in particular, a small selection of art books or glossy magazines would look effortlessly chic resting against the base panes.
Equally compelling whether it's showcasing reading materials or simply standing bare with a vase of fresh-cut blooms on top, this cool-yet-warm accent piece is the perfect finishing touch for any style maven's fashionable abode.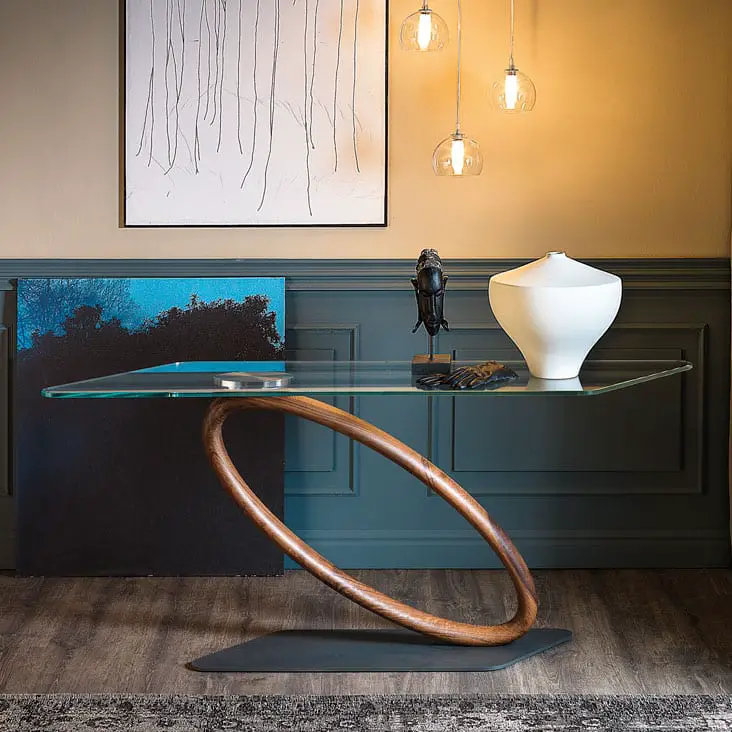 Photo credits: Glas Italia
Modern Coffee Table Tonelli and Karim Rashid
Just three intersecting pieces of glass make up the "Kut" modern coffee table from Tonelli. Designer Karim Rashid included smoked, frosted, and transparent glass to create a look that optically seems to cross each other. The Kut coffee table is available in two sizes from Tonelli, Italy's leader in glass furniture.
The Stately Mai Tai Coffee Table by Finkeldei
The centerpiece of any inviting home, a coffee table is a versatile piece. It provides surface storage for your essential items and also enhances the style of the space.
If you're looking for a coffee table that begins with architectural design inspiration and ends with the functionality for the everyday family, get the Mai Tai Coffee Table by Finkeldei. Modern, it has the looks of a high-end designer piece.
Unlike conventional coffee tables, it thinks outside the box. It can hold your living room necessities and still look like a piece of art.
Available in gold and silver, the Mai Tai Coffee Table is all you need to give your home a royal touch. They paint its frame in gold and silver leaf. They can pair it with a matching sofa, chaise longue, armchair, sideboard, and cabinet.
The table has a crystal glass top filled with shiny objects which look like diamonds. Besides captivating your guests, it will bring interest and color to your living space. From mansion to bungalow and pretty much every place in between, it works wonders.
Finkeldei is a maker of high-quality furniture. It boasts a unique compilation of traditional and contemporary products ideal for any setting. Mai Tai is its latest addition.
It is made by skilled artisans who are very passionate about their work. Just by looking at it, you can tell that it is no ordinary coffee table. It works well with various decors and is all you need to complete your living room.
Mirò Table by Cantori 
The calligraphic curlicues derived from intricate scrollwork bring out the timeless appeal of wrought iron designs. In the history of metallurgy, handcrafted wrought iron carried with it a luxurious panache that is still as relevant in modern décor as it was in the past.
The Mirò Table by Cantori is a contemporary reminder of the innate flamboyance of wrought iron and its ability to infuse an enduring elegance into interior and exterior spaces. Few pieces of furniture carry with them the ageless aura that is ever clear in rustic iron furnishings.
Dexterously handcrafted, the Mirò Table by Cantori is a merging of classical grace and contemporary aspiration. Its intricate curves of beauty and impeccably molded spindles birth intricate scrollwork that makes up the table legs.
Evidenced by the smooth curlicue, specialized artisanship and an inclination to flamboyancy influenced the construction of Mirò.  The continuous wire feed and dainty scrollwork made of 8mm solid, hot-bend wrought iron fastidiously buttresses a delicately transparent glass top.
Polished with a glimmering metallic finish, they cast the iron buttress in a luminosity that adds a soft undertone to dining spaces.
Grounded to produce a flat and matte surface, the smooth sensuality of the oblong glass top is reminiscent of silky porcelain. Eight intricately smoothened layers meld into each other forming concrete glass that extends a lingering elegance to the entire table.
Mirò's polished and hefty construction renders it resistant to the elements. In its undeniable versatility, it will add a tender contemporary aura to living spaces, whether used as a dining height or coffee table.
Lola Glamour Coffee Table
Epitomizing the true essence of modern design, Lola Glamour never shies away from creating ingenious products with impeccable craftsmanship. Casablanca is its latest addition. It is a remarkable furniture piece that screams innovation and originality. It is highly durable and will adorn your living space for a lifetime.
Many things stand out in this stunning creation by Lola Glamour. Top on the list are the gorgeous legs, each handcrafted out of wood and features two ornately carved pieces placed at right angles to form an L shape.
Besides lending classic elegance to the design, they provide extra solidity, sturdiness, and stability. Atop the carved wooden legs rests a solid wooden top that looks very smart and suave. It is highly polished and contrasts beautifully with the legs.
The Casablanca Coffee Table by Lola Glamour offers users a range of choices. It comes in a variety of colors and sizes. It is a versatile and adaptable piece of furniture that will meet your needs excellently. They design the table to fit different settings and decorating styles. It adapts very well to traditional, transitional, modern, and contemporary spaces.
The beautiful Casablanca Coffee Table from Lola Glamour is a flawless masterpiece. They design it to suit any style preference. It will enhance your décor and add a touch of elegance. The table is the personification of elegance and will always be the focal point of your living room.
How would you use Casablanca? To entertain family and friends or to play board games?
Ocassional Coffee Table From Sherrill Occasional
Coffee tables and dining room furniture, from traditional to wrought iron, Sherrill Occasional has a selection second to none. With over 1000 styles and 30 years of experience Sherrill Occasional designs tables and chairs that not only look great, but endure the test of time.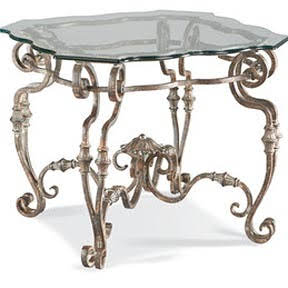 I like this poker game table with the pullouts for drinks so the playing area is free from serious business. The complete line includes coffee tables, entertainment units, cabinets, and home office furniture.