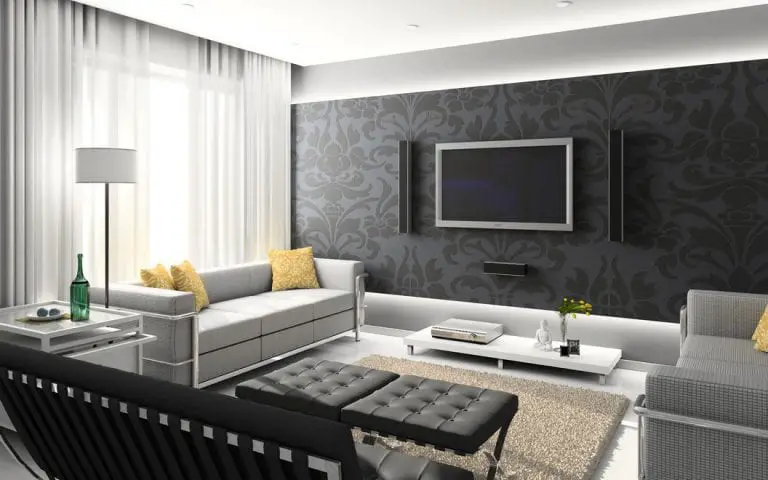 Living Room Furniture Ideas
Spring will always conjure up feelings of renewal and rejuvenation. And a lot of times those feelings settle in the home and we start cleaning, organizing and redecorating for the year. That's why we've compiled a list of 11 living room furniture ideas and that will brighten up a home and get your creative wheels turning.
The living room and the kitchen are the focal points and centerpieces of the family home, so it's only natural we start there when it's time for a sprucing. Let's have a look!
Living Room with Glossy Furniture!
How about a modern glossy look of your living room? High gloss is one of the most gorgeous and stylish materials used for manufacturing furniture. So, a touch of high gloss can provide a marvellous look. To achieve that glossy appearance, get some high gloss furniture.
A high gloss coffee table is a great idea. The perfect thing can be a high gloss entertainment unit. This is a sort of advanced TV stand or unit that can serve several needs, including the much-needed elegance and storage!
However, when you are choosing high gloss furniture, make sure you choose the right color scheme as well. You can get a rug from the living room furniture sale, of similar color scheme and place the coffee table on it. Similarly, make sure you have the wallpaper that matches the overall color scheme as well.
A TV entertainment unit may just take the entire side of your living room. Hence, you can place the couch or sofa exactly in front of it. Also, a small console table or a nest of tables in the corner would be a great idea. This will bring a perfectly modern and stylish appearance while the living room will look glossy and elegant!
Casual Living Room Furniture
We are swooning over this eclectic mix of furnishings. From the plush, grey couch, sweater-knit pouff and quirky additions around the entire space, it's quite the cozy and welcoming space. But it's also full of personal charm, youthful appeal and trendy stylings. It's the perfect inspiration for a young apartment or newlywed home.
High Rise Apartment Decor
Here's a youthful but more sophisticated and modern look for your home. We love the wood and black, chic finishes combined at the entertainment area and coffee table. But we also love the overall muted and relaxed look making a contemporary space still very welcoming and warm.
Light Wood Wall Units
Take a look around this femininely touched, rustic-infused, yet overall contemporary layout. The soft, light wood brings a natural, organic foundation to the sharp-edged space. The textural additions such as the rug and throw blanket add a coziness. And the electric fireplaces makes it a warm room for the family.
Living Room Designs with Colors
Here's a great mix of color and modern inspiration. There's nothing messy or overwhelming about the idea, even with the cherry red focus it's not harsh on the eyes. We are loving the pops of primary colors on the couch, highlight the black. And we're even more in love with the friendly tulips in the corner and easy shelving in the back for organizing.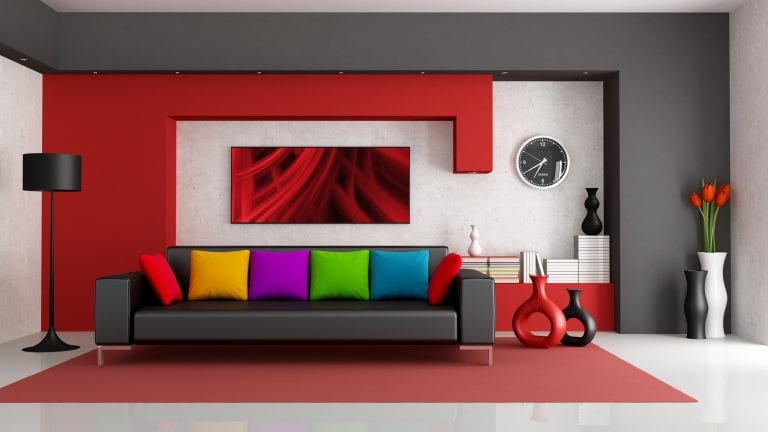 Living Room with Dark Wood Floors
Simple and clean with a pop of red, there's a lot to love about this floor plan. The wall shelving is great for displaying and organizing, provide a lot of organizational space without being chunky, bulky or overwhelming. The seating is cozy and welcoming, but still very strong and contemporary.
Living Room Designs in Grey
There's a lot of entertaining space available in this spacious example, but that means there's also a lot for resting and relaxing. The lengthy couch, the extra accent seats and the area in between all provide for playtime and enjoyment. There's a sleek tone and modern nature around the room as well with the simple coffee table and geometric-infused shelving.
Living Room Furniture with Light Wood Floors
Here's another beautiful picture full of modern appeal, neutral tone sand just the right amount of "pop" to make it interesting. The red accent chair is a beautiful focal point to the room and there's a great amount of shelving, again, making it easy to display and organize all of your media. This design would also look stunning in a new kitchen floor design.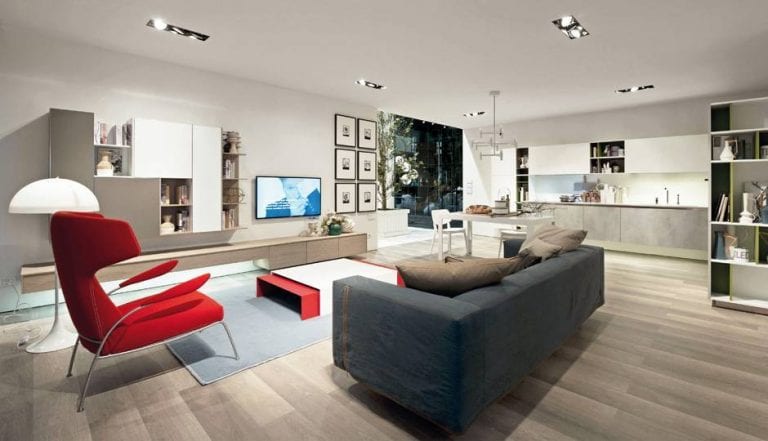 Living Room Designs with Area Rugs
There's a certain femininity that's felt throughout this interior design as well. With it's softer tones and more delicate, light-hearted layout, it's very much a womanly, pretty area. We're especially fond of the textural, printed area rug that highlights every colored displayed throughout the room.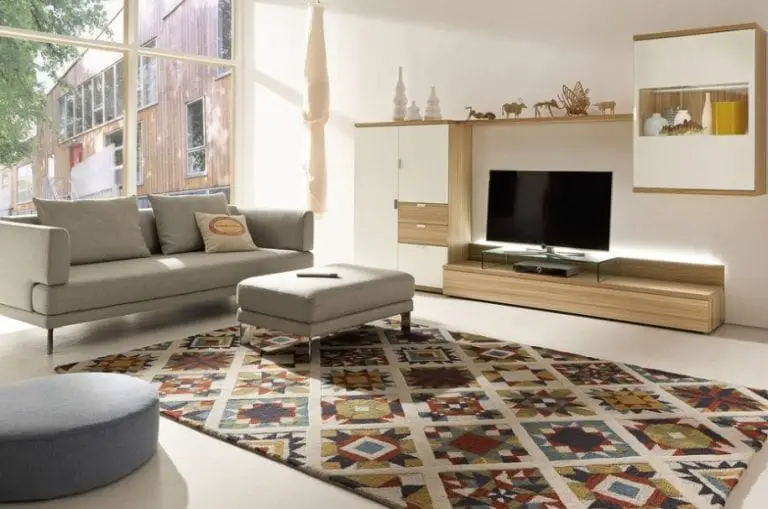 Living Room Designs with Gold Walls
This den has quite the zen feel and we're totally smitten over these plush, "marshmallow" inspired sofas. They couldn't be more welcoming in design or perfect for this space. The low, coffee table may not be the most family-friendly but it has the organic, no-fuss feel that fits in the Asian interior design realm that makes the inspiration for this room.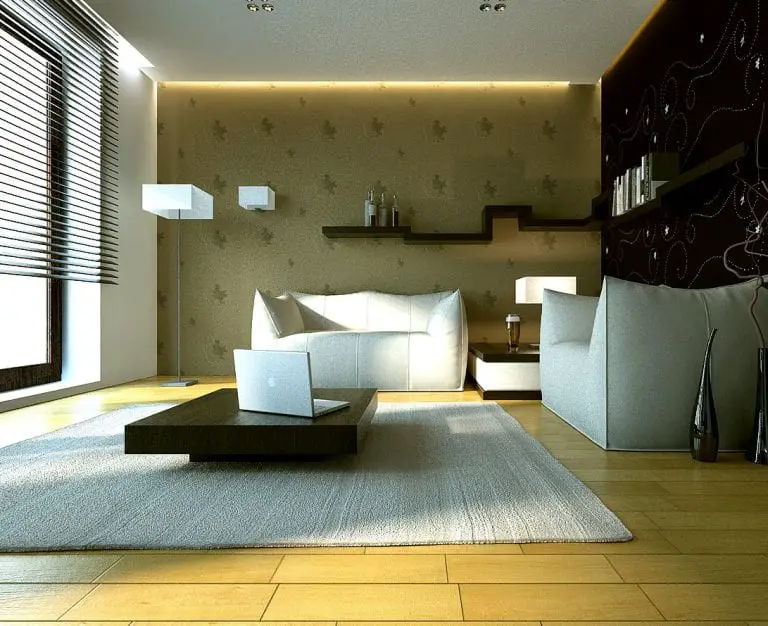 Living Room Designs with Wall Paper
Of course, we find the textured, printed wall a gorgeous addition to the space, but it's the furniture that speaks to us in this great idea. Simple, clean lines that utilize the space in a precise, but never cluttered, way, it's a great way to use neutrals and textures. We're also noticing and loving the combination of ultra modern looks and zen vibes.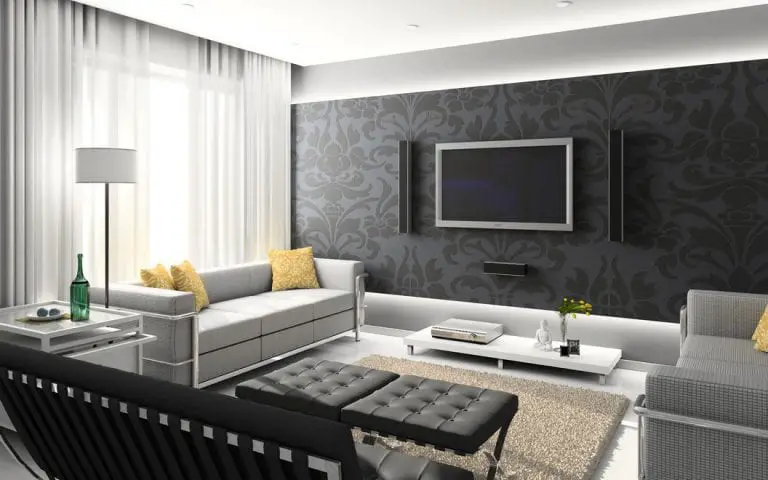 Living Room Furniture with White Tile Floors
Light, bright and classic, these living room furniture ideas have a formal feel and a sophisticated, feminine beauty about it. The slick, white sofa, the minimal surrounding elements and the gorgeous, sparkling light fixture hanging above, all come together to create quite the youthful and energetic space.
Related Articles: