Spice Up Your Living Room with these Great Ideas
Living rooms are often the most important rooms in a home. They are where we spend our time relaxing, entertaining guests, watching TV, playing games, reading books, and sleeping.
They also serve as an extension of the kitchen, dining room, and family room. So they need to look great and function well.
The flooring in a living room is usually made of wood, tile, carpet, vinyl, or hardwood. Wood floors are the traditional choice for most homeowners. But there are many reasons why you might choose another type of flooring instead.
For example, if you live in a cold climate, you may want to consider installing laminate flooring. Laminate is easy to clean and durable. It won't warp or crack, making it perfect for homes with kids and pets.
You may also want to consider installing laminated flooring in your bathroom. This makes it easier to keep the floor clean because water doesn't soak into the material. And it helps prevent slips and falls.
Laminate flooring also looks great in any kind of decor. You can install it yourself, or hire a professional installer to do the job for you.
If you prefer a more natural look, you may want to install bamboo flooring. Bamboo is a renewable resource, which means it grows back after each harvest.
Bamboo is also very durable and stain resistant. Plus, it's naturally anti-microbial, meaning it resists mold and mildew.
Another option is cork flooring. Cork is a soft, resilient, and beautiful material. It's also environmentally friendly.
Cork is highly breathable, which means it keeps moisture out of the air. It's also fireproof.
Hardwood flooring is a popular choice among homeowners. Hardwood is long lasting and extremely durable. It's also a good choice if you plan to entertain frequently, since it's easy to clean.
There are many different types of hardwood flooring. For example, maple and oak are two common choices. Maple is warm and earthy, while oak is classic and elegant.
The living room floor is an important space in any home, and there are many ways to make it more functional and attractive. Here are some ideas for making your living room floor look great.
1. Use a rug
A rug makes a big difference in the appearance of a room. If you want to add color to a room, choose a colorful area rug. This helps to brighten up the room and gives it a fresh feel.
Sale
Moroccan Hype Boho Vintage Diamond Indoor Area Rug
[PET-FRIENDLY AND DURABLE]: Durable enough for high-traffic areas, this soft and comfortable area rug is perfect for families with kids. Low-pile synthetic rug fibers won't trap dirt and debris, so they're pet-friendly and easy to clean. Our trendsetting rug designs are perfect for the living room, dining room, kitchen, entry, bedroom, or home office.
[STAIN-RESISTANT AND NON-SHEDDING]: This rug is made from synthetic fibers that are water resistant, stain resistant. It's been machine-woven so the rug fibers will stay put. When properly cared for, this rug won't shed fluff into your home. Natural fibers such as jute may shed temporarily.
[EASY TO CARE FOR]: Vacuum regularly to prevent grit from breaking down the fibers. Always raise or turn off the beater bars on your vacuum; use a broom to sweep fringed edges clean. Spot clean stains immediately with a mild detergent or carpet cleaning product, then rinse thoroughly and blot dry. Professional rug cleaning is recommended.
With a plush pile cut at 0. 31", It can stand up to high traffic without looking matted or worn
Combining tones of gray and Ivory, this rug is a versatile addition to any color scheme
Last update on 2022-06-29 / Affiliate links / Images from Amazon Product Advertising API
2. Add storage
If you don't already have a lot of storage space in your living room, consider adding shelves or cabinets. These items can help to organize your belongings and keep them out of sight.
Living Room Storage Ideas
Achieve Good Looking & Functionality: Some furniture looks good, but isn't practical. Others are functional, but look boring. Not this Ladder shelf, however—with the rustic dark brown color and 4 shelves, you can get both an eye-pleasing look & functionality
Perfect Design: Sturdy matte-black steel frame, x-bars, and rustic dark brown shelves—the mix of styles makes this elegant bookcase stand out; it boasts individual character, remarkable durability, and a great bearing capacity of 11 lb per level
Your Imagination Run Wild: The steps get wider from top to bottom, offering plenty of space for creativity; line the shelves with green plants, books, decorations, or picture frames for a unique storage rack
Easy-Peasy Assembly: Not assembly-inclined? Don't worry, you can still do this: with clear instructions, simply put the numbered parts together and attach the unit to the wall with the included tool and anti-tip kit—you'll finish the assembly with ease
What's Included: A 4-tier storage shelf with an industrial design from our ALINRU Collection, an assembly kit for a simple assembly process, and a versatile storage option for your living room, balcony, home study, and more
Last update on 2022-06-29 / Affiliate links / Images from Amazon Product Advertising API
3. Make it easy to clean
If you don't have a hardwood floor, consider installing laminate flooring instead. Laminate floors are easier to clean than traditional wood floors because they do not absorb dirt and grime.
The best way to maintain a clean living room floor is to vacuum it regularly. But there are many ways to do it.
You can buy an electric carpet sweeper which works well for small areas. Or you can use a regular vacuum cleaner and put it on its side.
Or you can rent a commercial steam cleaner and use it to clean the entire floor.
But whatever method you choose, make sure you do it regularly.
Vacuum your living room floor 2-3 times per week. If you live in a cold climate, you may need to do it more often.
Use a wet mop to sweep up dirt and dust. Make sure you wipe the floor dry after each cleaning.
4. Change the lighting
If you have a large window in your living room, install blinds or curtains to block out light. This will give the room a cozy feeling and create a relaxing atmosphere.
Sale
Super Bright Floor Lamp for Living Rooms
TRANSFORM YOUR INDOOR SPACE WITH THE PERFECT LIGHTING
SUPER BRIGHT LIGHTING ~150 W EQUIVALENT LED TORCH LAMP LIGHTS UP A WHOLE ROOM - Do you want very bright light without expensive or harsh fixtures? The Brightech Sky torche lamp packs a very high 2190 lumens (at 3000K warm white), enough to light a large room. Its head easily pivots and shines light in any direction that you need it.
The LEDs are rated to last 20 years (assuming 3 hours use/day) because they don't waste energy like halogen, CFL and incandescent bulbs. Instead of halogen lamps burning 200 - 300 watts, the Brightech Sky draws a mere 26 watts.
To bring you the latest in technology, we've designed the Sky so that it can be operated using wall switches and can even be set up with a smart plug so that it can be connected with Alexa or other smart home devices.
A floor lamp with built-in LED light with 2190 Lumens is enough to light your living room
Powered with 26 watts LED lights, the floor lamp generates 3000K warm white colors
Whether you want to read, write or simply relax, the standing lamp provides ample illumination without straining the eyes
This lamp cord extends just over 7 ½ feet, an ideal floor lamp for living room, bedroom
3-Way dimmer and memory mode
Last update on 2022-06-29 / Affiliate links / Images from Amazon Product Advertising API
5. Create focal points
Consider placing a piece of furniture near the center of the room. This will draw attention to the area and make it appear larger.
Mallacar Vintage Rectangular Coffee Table
Signature Design by Ashley
Mallacar Vintage Rectangular Coffee Table
The coffee table has a dramatic presence and is exactly what an eclectically styled room needs.
Solid wood planks and thick veneer merge seamlessly together in an oversized scale. Handsomely turned legs connect to a lower shelf.
Also has a lower shelf for stashing your favorite books
Something that will stand out in any living room
Last update on 2022-06-29 / Affiliate links / Images from Amazon Product Advertising API
6. Install a fireplace
Fireplaces can be used for both decoration and warmth. You can also put a fire pit in your backyard if you live in a cold climate.
Realistic Electric Fireplace
Mystflame Slim 88 In-Wall Recessed Electric Fireplace.Stylish glass, realistic flame effect, fabulous color options, delicate logs and crystals. Mystflame brings a modern look to your living room and entertainment center.Warm your life. Increase the family atmosphere.You can use it at any time.
In-Wall Recessed & Wall Mounted Fireplace
In Wall Recessed Design specially designed for fully or partially recessed in wall, also can be wall mounted and freestanding.
Faux Fire Log & Glass Crystal Sets
This wall mounted fireplace set comes with faux fire logs and glass crystals that resembles burning coals, replicating the look and feel of a traditional fireplace.
Stylish Slim Frame Design
Combining functionality and state-of-the-art design, this electric fireplace offers a slim frame which is a perfect home decor for your warmly home.
Remote Control Is More Convenient For You
All heat settings and flame settings can be operated by a Remote Control or the Touch Control Panel, offering 7 settings and Power ON/OFF function.
With ultra-narrow bezel feature, this recessed fireplace could offer a more aesthetic mounting effect which other fireplaces can't provide. The dark-colored frame perfectly accentuates the vibrant hues of the flames to grant a colorful fire display.
This electric fireplace can be recessed in the wall or be wall-mounted. The 88-inch fireplace comes with easy-to-follow instructions to help homeowners install the unit on their own.
Fitted with a high-quality tempered glass panel with a black sheet metal casing, this electric fireplace is designed for home heating and functional decoration in your house.
Ultra high intensity LED lights to provide a life like and bright flame effect. 3 flame colors and 3 top light colors can be set according to your preference.
Use the glow of quiet embers or the warmth of a raging blaze. Both the heat and flame settings can be operated through remote control.
This wall recessed electric fireplace is equipped with faux fire logs and glass crystals that resemble burning coals to replicate the look and feel of a traditional fireplace.
Different ember bed and flame color can match your mood. The gorgeous realistic dancing flames create a fantastic ambiance when having a party or family gathering in your home.
The heater of the fireplace has a built-in overheat protection device that automatically cuts off when overheating.
There is also a built-in timer can be set to shut off the furnace from 1 to 9 hours.
Last update on 2022-06-29 / Affiliate links / Images from Amazon Product Advertising API
7. Keep it simple
If you want to make a statement in your living room, stick with neutral colors. Avoid bold patterns and loud colors.
Choose comfortable seating. If you spend most of your time sitting in front of a computer, you may want to invest in a couch that is comfortable.
Add plants. Plants can improve the air quality in a room and provide a natural source of oxygen.
Clean regularly. Vacuuming and dusting are good ways to keep your living room looking nice.
Often passed over in its importance, living room flooring creates a baseline upon which sofas, chairs, loveseats, coffee tables and lighting are added to create an overall look. There are so many ideas to choose from with ideas such cork, hardwoods, bamboo, stone, many types of tile and even concrete.
Color should be a prime consideration as it can contrast with furniture. For example dark flooring can compliment lighter colored furnishings whereas light flooring will complement darker hues. Adding a rug can also add some pizzazz to your design and help tie pieces together.
For inspiration, take a look at these twelve ideas and see who these rooms have come together.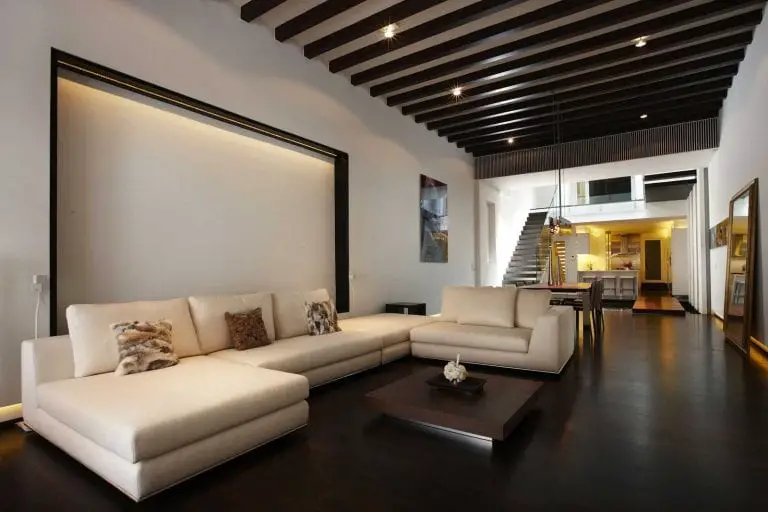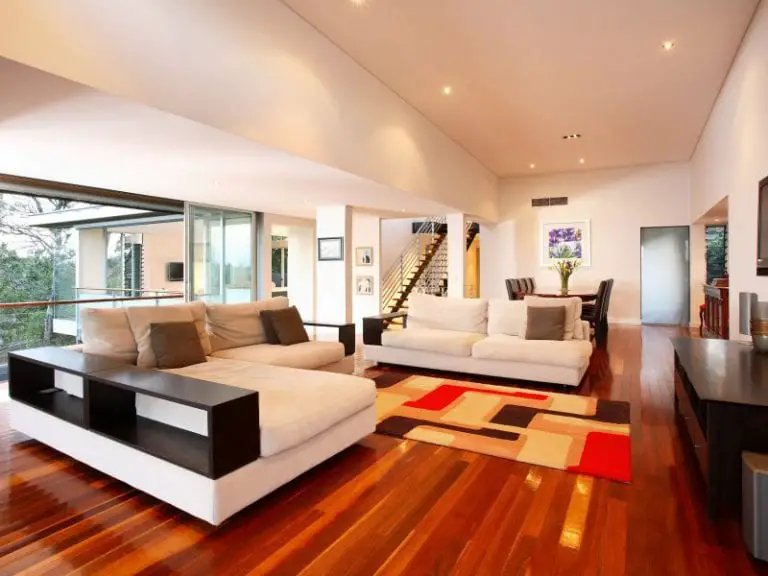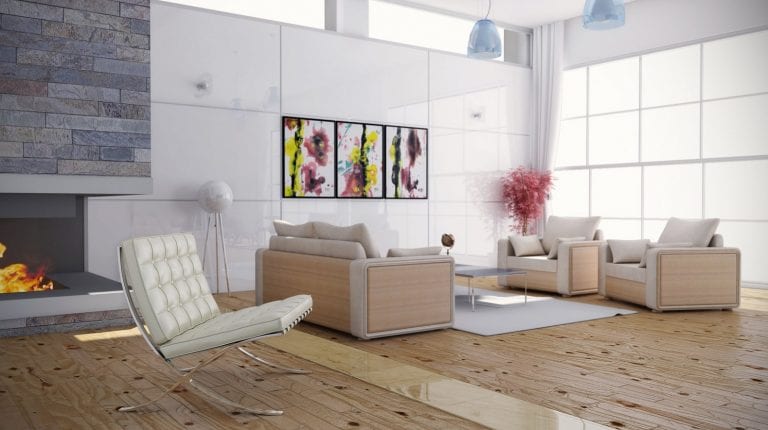 Here are great new flooring options featuring red as a color. Typically we may see an accent wall, but this design is much bolder.