We're an affiliate
We hope you like our recommendations! Just so you know, we may collect a share of sales or other compensation from the links on this page. Thank you for using our links, it is much appreciated.
Do you host a lot of dinner parties and neighborhood get-together's in your house? Are you a fan of clean, slick and contemporary style? With a bit of formal design and a beautiful piano, you can create an amazing room fit for entertaining, wowing and enjoying. Let's take at look at five formal living room and piano ideas, fit for a queen, a king and their charming families.  The piano has hundreds of years of history being an entertaining centerpiece.  Some families still sing and use the piano.  Recently I attended several recitals where children showcased their music education.  The great thing is that a piano is elegant and a great compliment in a formal living room.
A Beautiful Enhancement
We love this beautiful, clean living room that not only has a formal style in presence but still a very cozy, functional vibe as well. And the best part is the piano's placement. It blends well within the confines of the room, while staying usable and guest-friendly. The piece also serves as a gran piece of art and accent to the spacious room.
A Blend-able Accent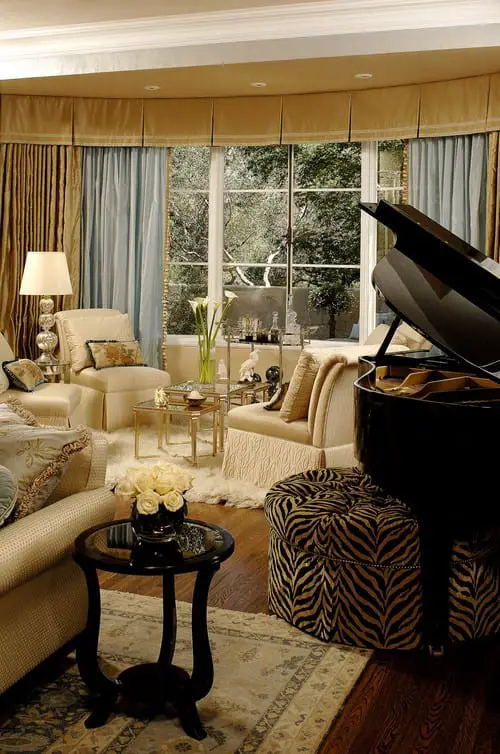 If you're lucky enough to have a piano, let alone play one, you'll have to figure out how you want it styled and where you want it stored. We love how this living room uses it as an accent that's as well blended into the room as the side table and printed ottoman. It all makes for a very grandiose, luxurious style.
A Focal Point
Not only does this piano have pizazz and personality all it's own, so does the layout of this living room. The bay window and platform pair is the perfect spot to show off such an amazing piece. And better yet, when it's being playing in the evening while the table is being set for dinner in the dining room, it doubles as a stage!
A Part of it All
Smaller spaces, that double as dining room and family rooms, can also incorporate the family's piano. You just need to figure out location and how to get as much utilization of the area as possible. Thankfully, the floor to ceiling windows give the illusions of more height and width of the room, leaving the piano a nice home near the edge of all the traffic and action.
A Solid Split
via
An absolutely stunning layout, this formal living room is set up for every family night and doubles even better as a great spot for entertaining a good amount of guests. While the piano has a design-element, placement and accessorizing feature all it's own, the seating area also gets a highlight without too much cluster and chaos. You basically get two rooms in one with this smart decorating.