Rattan and Egg Style Indoor Hanging Chairs
If you're looking to add some uniqueness and extra pizzazz throughout the house and do not understand how, look no further than with an eclectic and surprising indoor hanging chair.
These detailed beauties can do just as much transformative flair as any other accent piece but with a lot more fun and personality intact. Whether it's to add a bit of "you" into your home office or spruce up the living room with a more welcoming and family-friendly vibe, we've got the inspiration to get your creative juices flowing.
Let's take a peek at 10 cool and modern indoor hanging chairs ideas and designs that will make you smile, give the kids a place to plop and brighten up any of your favorite rooms.
Indoors: Pave Stone Indoor Rock Seating Collection by Enzo Beri
Black and brown neutrals cover this chair so it's bendable and easy to mix and match within several rooms and color schemes, but its unique texture and cultural tone create an eclectic ethos and a Zen-like feel. This piece would be perfect for a casual living room or even inside a large breakfast nook or covered patio.
Hang this one straight from the ceiling for a floating and bigger "wow" effect. It's a more organic and neutral look, which fits in with this space, but we also see this design highlighting a brighter room with a lot of color. Not only can it tone done the more overwhelming interior design but it can add an extra element of style.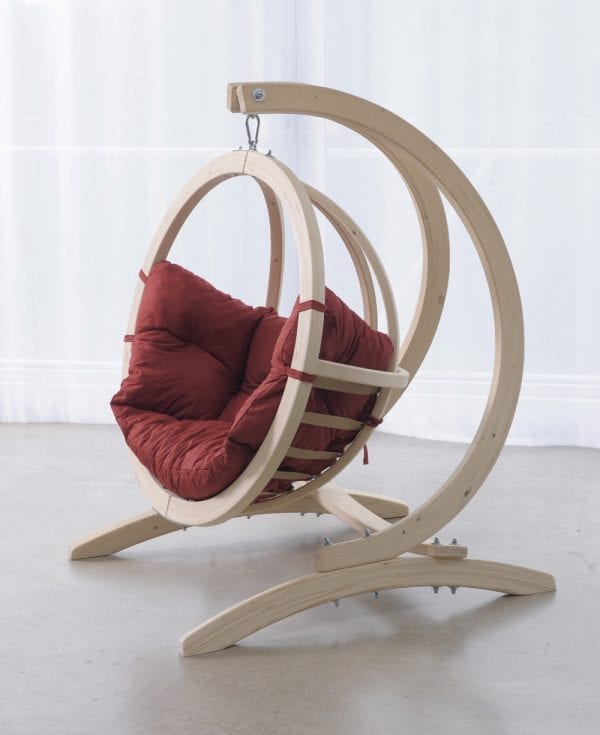 This one is quite the work of art. Chunky and artistic in design, it's got a more masculine and comfortable look. We love the addition of the plush cushion sitting inside, making it the perfect choice for creating a reading nook or corner made for a bit of R&R only. You may even want to paint the unfinished wood!
Check out these Asian-inspired beauties! Although they look like they're fit in with an outdoor scheme with ease, you can have these pieces hanging in the home too. In the kids' playroom or inside the covered patio, these will act as luxurious comfy spots. Throw some colored pillows and printed blankets for a bit of easy pop and pizzazz.
This is more like a hanging loveseat as it's definitely built for two to enjoy – or you can just lay down, lounge and use as your personal reading nook. Again, this has a bulkier and more masculine feel, and you get to add a plush cushion inside for extra comfort. We like the idea that you could also paint the foundation to your liking!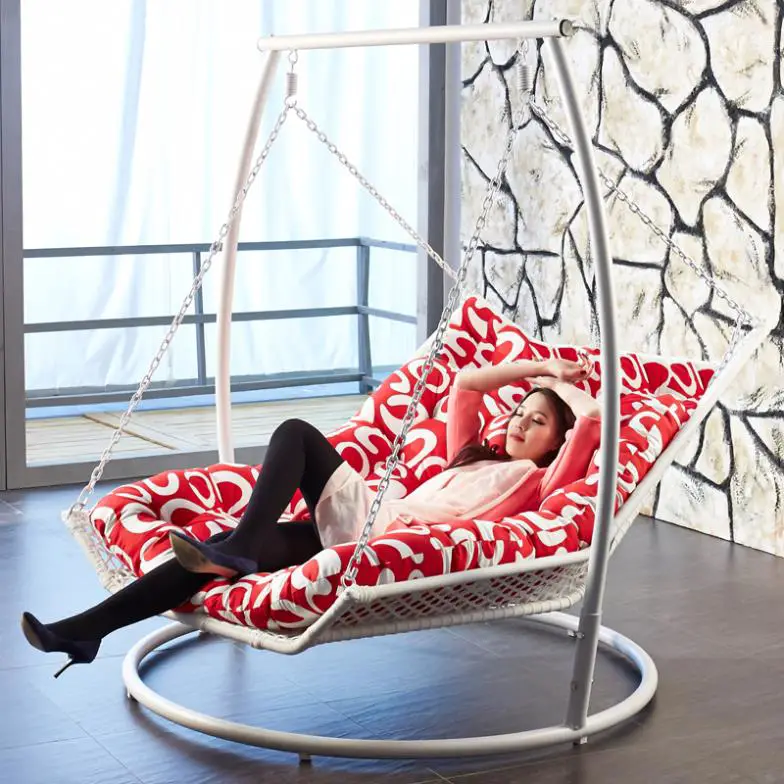 A hanging chaise lounge …. well, that's a genius idea. It's modern, fresh and the patterned cushion can only add more life and theme to your personal style vision. We love this piece for a spacious master bedroom or light and bright living room that needs a bit more room to rest and relax. Just make sure there aren't too many distractions around as it could make any nook feel a bit too cluttered.
We are swooning over this entire space for its subtly and subdued nature. Creamy, camel foundation highlights the beauty of this simple design. There's definitely a zen nature surrounding this room, and it only adds to the Asian, organic sensation.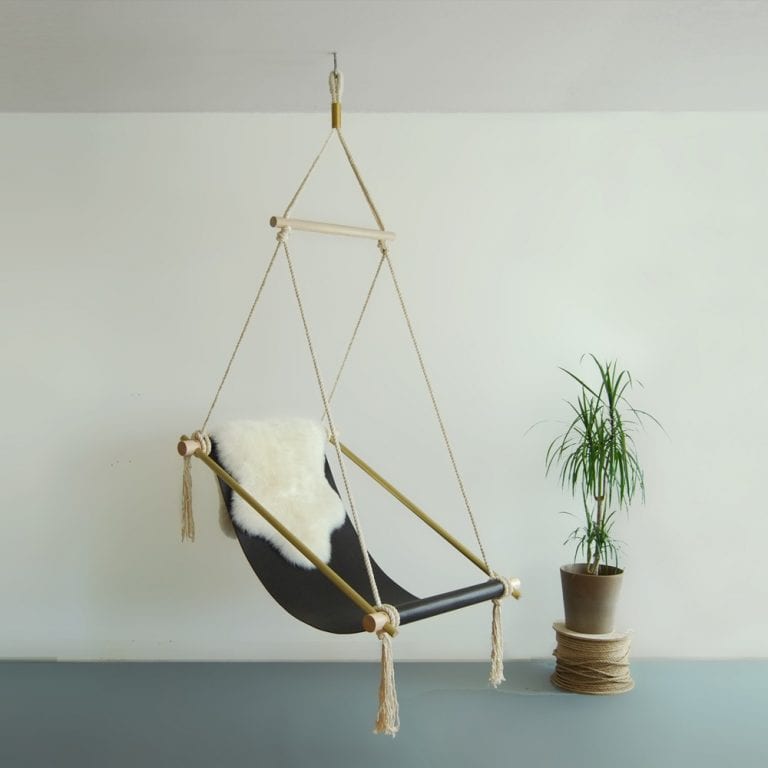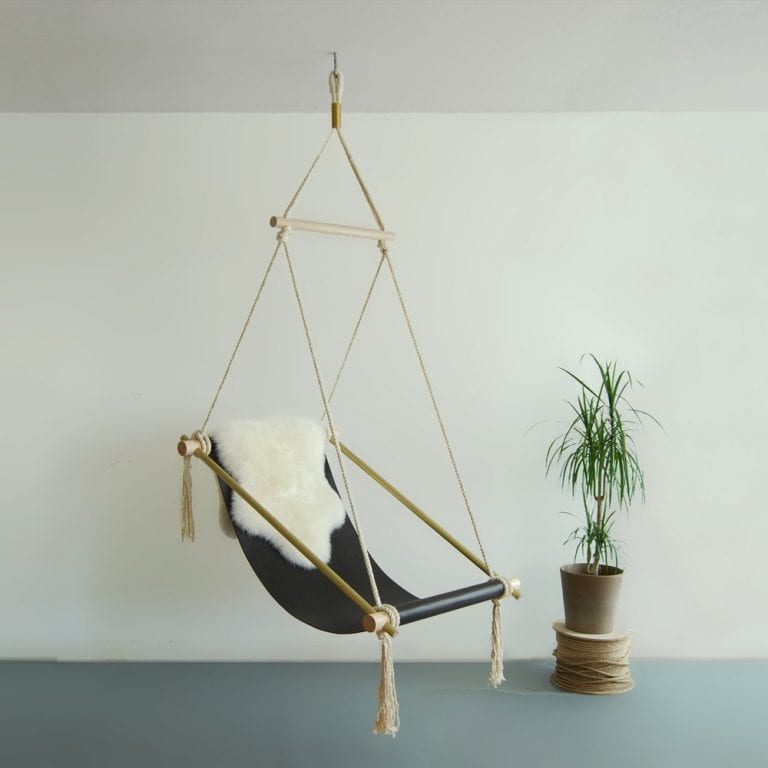 One of the unique designs of the list, we are loving this simple and delicately designed style. Although it may not one you can take a nap in, it can definitely bring a rustic and western vibe into any room. This is one we see accenting a master bedroom or a home office with a simple and minimalistic theme.
If this isn't a "wow" accent piece, I don't know what is. With its birdcage style and whimsical essence, you could really transform your bedroom or living room. There's an artistic, eclectic and purely fairy-tale vision created when you use a chair that has such a unique and beautiful design, this being one of those. And it could definitely be used as more than an accent piece and more like a focal point.
With a seashell shape and a very architectural finish, this piece is quite the showstopper, don't you think? This piece could fit into a more modern or artistically styled space with ease and simplicity. We suggest adding some throw pillows and blankets to the mix to make it a more approachable and welcoming space.
The Leaf Hanging Swing Chair from Studio Stirling
The Leaf hanging swing chair is sculptural and dynamic, fluid and organic. Nature inspires the pattern detail and is reminiscent of organic leaf shapes with its veins flowing out from the center. It is simple and striking in its visual appeal.

Are you looking for a change in your furnishing styles? Why not add a hanging chair! This seat will compliment the look of any living area along with offering a comfortable relaxation spot for the entire family. Hanging chairs and swing chairs are becoming more and more popular.
The Leaf design can boost the interior decor of any room or outdoor living space. Because of its classic shape and materials used, this is an item that looks beautiful regardless of the setting and background. This unique versatility is one reason behind its success.

The swing designer, Joanina Pastoll, intended this piece to be comfortable and cozy. Using the Leaf is like being in a state of complete freedom from the chains of worries that seem to confine us as we go about our daily lives. Products that truly can send you back to childhood and experience allover again those care-free days.

These pieces differ from conventional swing seats. Aside from the smooth and soft cushions that absorb our everyday stresses, they also provide a carefree and soothing movement that puts our souls and body at a peaceful and relaxed state.
Leaf hanging swing chair is handmade from steel, strong and durable. Working by hand allows each piece to have a distinctiveness and individuality in some pattern detailing because of the difference of craftsmanship. Every piece is ideal for inside or outside use. It looks beautiful on a deck, patio, hanging from a branch of a tree or on a porch.
Dedon's Canopy for SwingUs, The Ultimate Hanging Sofa
The Swingrest, two seats, Canopy for SwingUs is the ultimate hanging sofa. While it shares half of its name and much of its design and structure with the Nestrest, the Swingrest collection aims to be in a different category. Perfect for suspending outdoors or even indoors, Canopy for SwingUs comes in two different fiber colors: Chalk and Natural.

The new Swingrest collection product, is truly the personification of the Dedon philosophy of living. Now available for lovers to swing together in cozy comfort, the SwingUs hanging sofa is the extension of SwingMe, Dedon's design for singles, but manages to introduce a longer and more sofa-shaped design in the collection.
The design offers a very exclusive way of outdoor relax in a private atmosphere. The love-seat can be covered and will give the feeling of an intimate room. This furniture gives a whole new meaning to the philosophy of outdoor living! The two-seater is available as pendant version that can be hanged in a tree or under a porch or for the most conservative, it comes as a standing model on aluminum legs.
Made especially from outdoor acrylic fabric, the hanging sofa has also a mold-resistant, soil-resistant and water-resistant finishing with Teflon.
Conceived as an addition of the iconic Swingrest collection, this unique hanging lounge system is the creation of acclaimed French-Romanian designer Daniel Pouzet for Dedon.
Daniel Pouzet is a designer that has taken advantage of his many professional experiences throughout the world by constantly developing his architectural projects towards new creative fields. Always in a search of finding a contextual response to projects, Daniel's designs for Dedon became quickly recognized as outdoor furniture icons.
Named by the critics the world's first floating outdoor living room, the collection of hanging chairs, sofas and beds is so playful and inviting it could have come only from Dedon.
Hits: 307