The Best Platform Beds of 2021
Choosing the right platform bed is something that has to be top of the list for getting it right. That is why we have put together an excellent list of platform beds, including storage beds with pictures for you.
You will spend many years and most of your nights to come, asleep in that double bed. So by looking closely at the bed pictures, we have listed below you should be able to choose wisely and make sure you get it right, as it is not something you will want to do too often.
If you are going all out on any room in your home, it should be your bedroom, you spend some real quality time there and it is the first thing you see every day when you wake up.
With that said, you will definitely need to find the ultimate place to sleep and if you are into the modern interior design, you will have some great choices as you will see.
We have searched hi and low to compile some of our favorite platform beds that really stand out for their unique design and attention to detail.
Perfect for those searching for the ultimate way to decorate their bedroom. Once again we have covered literally the full array of possibilities from the most traditional wood with under bed storage drawers to the minimal lines of the ultra-modern styles from today's top European designers.
That's all the more reason to have the perfect furnishings and room design so you get a good night's sleep and wake up feeling refreshed and ready to face the day.
One challenge in having a great living space is keeping it organized. In particular, using proper storage techniques and preventing clutter-free can be a real challenge. That is why I love these ten storage beds in how they beautify a home and also keep it organized.
Prices pulled from the Amazon Product Advertising API on:
Mellow Naturalista Classic               
A basic wooden bed frame solid looking and designed to give you plenty of air and space under the bed for easy cleaning. No headboard provided.
Modern Studio 6 Inch Low Profile Bed
A simple bed frame fairly low to the ground with a nice design in black that will suit an open plan room with plenty of space.
Metal and Wood Platform Bed with Headboard
A very good looking metal and wood platform bed with a solid and well designed headboard included. Not too low to the ground giving plenty of room for cleaning and air to circulate.
Solid Pine Wood and Durable Steel

INDUSTRIAL STYLING – Black metal frame boasts clean lines and a low profile design accented beautifully with a finished pine wood headboard and footboard

BUILT TO LAST – Sturdy steel framework and solid wood are crafted with durability in mind.Footboard Height: 20.4 inch

NO BOX SPRING NEEDED – Designed with sturdy wooden slats to support and extend the life of any foam, latex or spring mattress without the use of a box spring; slats are spaced 2.7 inches apart; twin size supports a maximum weight capacity of 250 lbs, while all other sizes can support up to 500 lbs

EASY ASSEMBLY – Everything you need is efficiently packed into one box and shipped straight to your door; all parts, tools and instructions are included for easy, two-person assembly in under an hour

Worry-free 5 year limited warranty included; mattress sold separately
Essential Upholstered Platform Bed Frame
NO BOX SPRING NEEDED – Sturdy wood slat foundation supports and extends the life of your mattress without a box spring
MINIMALIST DESIGN – Fabric upholstery adds softness and visual appeal for reliable yet understated support
UNDERBED STORAGE SPACE – Total 13 inch height with 7 inches of underbed clearance space, perfect for storing extra odds and ends
THOUGHTFULLY PACKAGED & DESIGNED – All parts and tools are conveniently located in the zippered compartment for quick and easy assembly
Available in full, queen and king sizes. Mattress sold separately.
DHP Rose Kingsize Platform Bed With Storage
A Kingsized platform bed with a good amount of under-bed storage for extra quilts, pillows and bedding when needed. Nicely designed with a large comfy looking headboard and quilted style boards all around.
Upholstered Platform Bed Frame
A minimalistic platform bed with an upholstered design. Plenty of space under the bed to allow the air to circulate, and for easy cleaning. No headboard included.
Kingsized Platform Bed
A solid wooden bed frame king sized for those looking for a bed with plenty of space. Nice solid headboard included in the design. Plenty of space under the bed for fresh air to circulate and for easy cleaning.
Woven Fabric Upholstery With Steel Framework

DIMENSIONS: 80.5″ X 76″ X 12.2″ | Headboard Height: 38.2″ | Weight: 110.5 lb

INCLUDES: Upholstered tufted platform bed (mattress sold separately)

TIMELESS MEETS FUNCTIONAL – In a world full of trends, Dachelle's a classic; a tufted headboard with neutral toned fabric upholstery is crafted with wood slats and a steel frame that stands the test of time – both aesthetically and structurally speaking

DURABLY DESIGNED – Interior steel framework and dense foam padding add comfort and longevity; twin size supports a maximum weight capacity of 250 lbs, while all other sizes can support up to 500 lbs

NO BOX SPRING NEEDED – Durable wood slats support and extend the life of your latex, memory foam or spring mattress without the need for a box spring; slats are spaced 2.2 – 2.8 inches apart

EASY ASSEMBLY – Everything you need is efficiently packed into one box and shipped straight to your door; all parts, tools and instructions are conveniently located in the zippered compartment of the headboard for easy, two-person assembly in under an hour
Large Platform Bed With Low Frame
This platform bed has been designed with height in mind. Kept quite low to the ground but still allowing access for fresh air to circulate and for easy cleaning underneath the bed. Comes complete with a nice sized headboard.
DHP Cambridge Upholstered Faux Leather Platform Bed
A beautiful platform bed design with storage underneath.
King Select 4-Post Platform Bed with 4 Drawers
A solid looking platform bed with 4 storage boxes underneath.
King Sized Storage Platform Bed with Drawers
A stunning designed king size platform storage bed with plenty of stylist and different drawer space under. Pull out side panel for your early morning or late night cuppa.
Open and closed draw space for the things that you want to use on a regular basis, and the things that you only need when you have guests or need to change the bed linen.
Queen Size Platform Bed With Storage
A large queen sized storage bed with a solid and good sized headboard. Large pull out bed draws on rollers revealing a huge space underneath. Heavy duty headboard means you can relax upright in comfort if you want to read at night.
Plenty of under bed storage for the likes of extra pillows and quilts if they should be required when guest are attending.
Beautiful Linen Upholstered Storage Bed
A beautiful designed platform storage bed with a linen upholstered finish complete with headboard that would complement any bedroom style. Lovely matching headboard and bottom board along with almost un-noticeable pull out drawers that lock into place.
Typically, this type of decor is very sterile lacking lots of things that may make a room look encumbered.
The nice thing about this pull out is that it can be placed well underneath the frame and not be seen easily by the human eye. This way it will look as there is nothing there unless someone looks very closely.
You can see the storage drawer that is pulled out in the picture.
Platform Bed With Upholstered Linen And Under Bed Storage
A solid looking platform bed frame covered in a dark linen, complete with two storage compartments to the sides of the bed. There is no headboard included with this bed.
Bentwood slat system provides great ventilation
Slat bases allow air to pass freely beneath your bed
Very good back support with excellent pressure distribution
The slats adapt to weight exerted to them
Upholstered Platform Bed with Storage Drawers
A stunning faux leather platform bed with four good sized storage units with rollers for easy access. Complete with a good-sized headboard for those who want to relax and read in the night or early morning.
Flexible Platform Bed with Storage and Baskets
A brilliant idea for those short on storage space and need to maximize use of their bed for storing bits and bobs. Nine storage compartments for you to choose from, with both open-and-closed compartments.
Tufted Upholstered Queen Sized Storage Bed
A stunning-looking queen sized platform storage bed with pull out drawers conveniently placed at the end of the bed and on the sides.
Wrapped in a layer of linen and with a nice sized headboard that is nicely padded for those nights when you want to sit up and read.
Contemporary Queen Bookcase Bed with Underbed Storage
An older style platform bed with an almost unlimited amount of storage for a bed. Bed storage draws to the front and sides for ease of use, with four storage draws on the front.
South Shore Queen Platform Bed
A very nice looking platform bed with side storage and a solid white frame including headboard. Being white it will suit almost any type of modern room design.
Platform Bed with Headboard and Bedside Storage Ottoman
A very nice looking platform bed with an unusual design of headboard. Front storage box with plenty of space for quilts, bedding and pillows.
American Furniture Classics Captains Bed
A most unusual style of bed that looks amazing but would not be to everyone's taste. Plenty of bed draw storage space for all of your needs. Including an unusual headboard with built-in places for a lamp, books and more.
Queen Size Gas-Lift Platform Bed
A nice queen sized under storage bed with a very good sized headboard. Complete with gas struts for a full use under stoarge compartment.
Shopping for your next double bed and not sure which direction to go? Well, there are no shortage of styles to choose from out there and one area of bedroom furniture that is growing the fastest are Platform Bed Designs. There are so many to choose from that deciding which to go for is difficult.
Probably the best design for most people is a platform bed with storage. It makes life so much easier if you are short on space and need that extra storage for all of your bedding. make sure that you check out how the bed actually opens so that you are aware of it being with side drawers or a complete bed life.
The simple and clean look may be part of the allure and the elimination of box springs / additional mattress support offers designers the opportunity to really create something special and fun to look at.
These lower styles were originally more of European influence and still, some of the most quality made products and forward-thinking designs are available from overseas manufacturers like B & B Italia, Ruf-Betten, and Natuzzi to name just a few.
Many offer a flexible slat system to act as a cushion since the box spring will not be used.
We wanted to show you some of our favorites so here are 100 Platform Bed Designs and Ideas that will surely offer some insight into what you do and don't like as you narrow down your selection.
We have included a wide variety of looks from the most rustic reclaimed wood to the sleekest modern Italian designs and everything in between.
Common Questions For Platform Beds and Low Profile Beds
What is a low profile platform bed?
A low profile bed is exactly what the name says and cannot normally have an under-bed storage compartment. A low profile bed normally comes with a box spring mattress, whereas a platform bed gets its mattress support from wooden slats or a solid piece of wood placed under the mattress. This is possible due to the height of the bed.
Extra Large Headboard
This bedroom looks stunning as the ceilings are so high it opens a very large space into something special. A very comfy looking kingsize bed in a warm and welcome bedroom.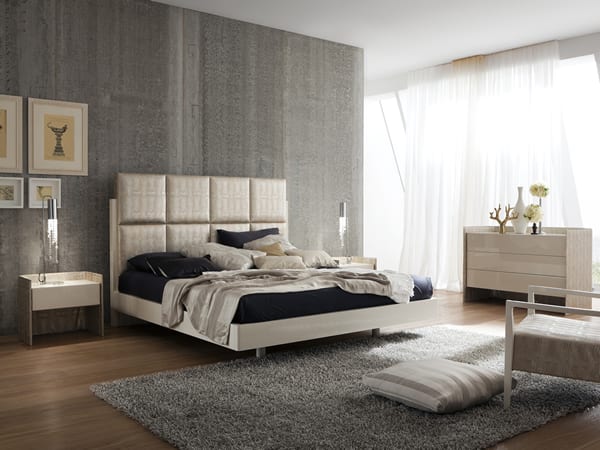 Leather Double Bed
A stunning looking bedroom with a leather style double bed and a fully open window view into the garden. The whole bedroom looks dark and very inviting.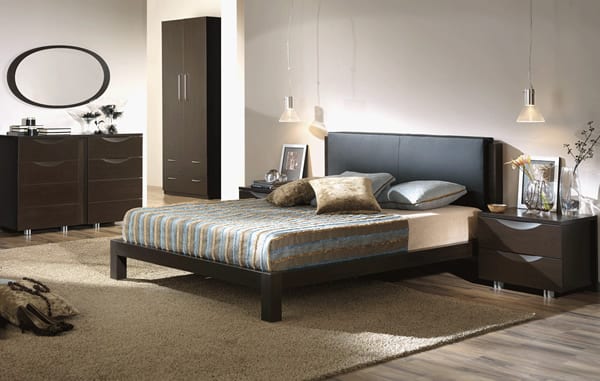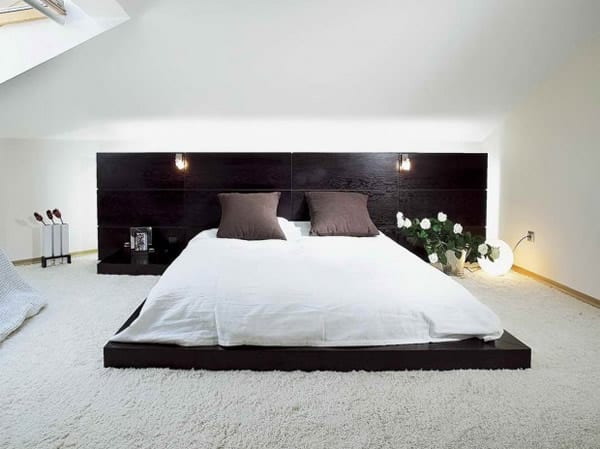 There are sure some great-looking designs and I like some specialty lightings and LED's that some styles incorporate. We have seen more upholstered models in fabric and leather that are a nice way to add some softness and texture.
We hope you found a style or two that may work in your design project!