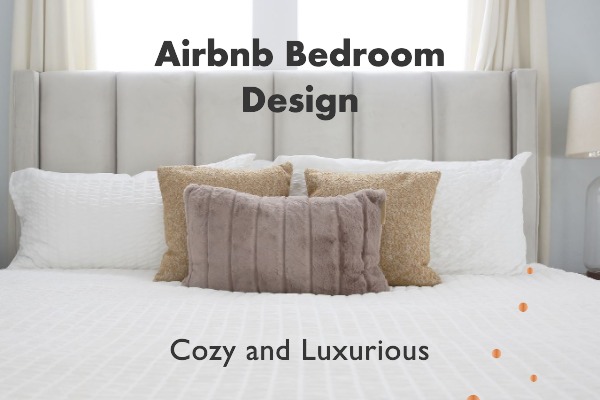 Essential Elements for a Stunning Airbnb Bedroom Design
Designing a 5-star luxury hotel for guests is not something many of us will have to think about during our lifetimes. However, with the inception of Airbnb, which now allows any home or property owner to rent out their rooms for short-stay purposes, people now have to consider what makes a great Airbnb home design.
Of all the rooms in the property you will be letting out for short stays, the bedroom is arguably the most important. The bedroom needs not only to be comfortable and clean, but it also needs to have its edge, making it a force to be reckoned with when looking between competitors.
Designing an Airbnb bedroom should not be a quick and thoughtless process. Time, effort, and research investments must be made before you blindly make your decor decisions. If you are looking for inspiration and more importantly a complete list of what to include in your Airbnbs bedroom, take a look at our following suggestions:
Stick to a theme 
Keeping to a theme when designing any room in an Airbnb property should be followed religiously. Giving your property its own design presence and identity will essentially make your property more noticeable, and offer a greater competitive advantage when guests are searching for the best short stay for them.
You can of course get creative and give each room in the home its theme, but to keep things simple, you might stay with a consistent theme. For example, if your property is at the beach, you might implement seaside decor, and invite as much light into the home as possible to reflect the freshness of the space. If you can not decide on any specific theme, take a look at the styles suggested to consider –
Rustic theme 
Seaside theme 
Farmhouse 
Modern 
Exotic 
Scandinavian 
These of course, are just suggestions, but make sure the theme somewhat correlates with the area it is situated in. If your property is in the center of London as an example, you might include luxury homeware to endorse this.
Airbnb Bedding & comfort 
If there is one thing you need to nail in the bedroom, it's the bedding. When operating an Airbnb, it is important to understand why your customers choose to stay with you over a traditional hotel. First of all, they are looking to stay in a property that offers the comforts they will find in their own home such as a kitchen and other accessories.
However, one thing hotels get a spot on is their beds and mattresses. They do not cut corners when it comes to bedding, and neither should you. Giving your guests the chance to have the comfiest sleep during their stay will earn you extra brownie points, so make sure you are investing in great, hotel-quality bedding. 
This also includes your mattresses in the bedrooms. They should be the highest of quality and a practical size to provide guests with maximum comfort. As mattresses can come at a cost, you should do everything you can to ensure their longevity for each guest.
This means your mattresses should have a permanent mattress protector, including the pillows and bedding you choose. While this may not be as important for the design, it is important for hygiene. The last things guests want to discover are stained mattresses and duvets. 
Decor to stand out 
Decor is a small yet transformative way to elevate the design of your Airbnb bedroom. A simple bed and a comfy duvet are not enough to attract endless guests to choose your property over others.
Adding small yet notable decor pieces into the room such as artwork on the wall, or pretty sculptures on some shelves makes it seem much more homely, and also allows feeding more into the theme of choice.
Do not over-clutter the space with decorative objects, keep it simple. Add an accent piece of artwork above the bed, and dot a few admirable objects around the room.
Mirrors make a difference 
Surprisingly, a good mirror has now become an essential part of any Airbnb. Especially for the guests who like to get ready and take nice photos within the property, having a big mirror can offer you a huge advantage.
Place a floor-to-ceiling length mirror in a prominent space in the property. When guests take their selfies and post them to social media, you will likely generate leads from mutual acquaintances asking where the guest stayed!
A simple yet smart way to create a homely design, and also invite more guests to consider staying in your property. Including the mirror on the door of a wardrobe is also handy when trying to create more room when there is little space. 
Storage solutions 
Storage does not sound as exciting as it may seem, but it is essential and can make or break the bedroom design of the property. Having effective storage solutions in the bedroom is key as guests do not want to leave their belongings scattered around the floor. Include a wardrobe if it will fit, or even a set of draws will suffice.
One thing to keep in mind with storage is that it needs to be positioned correctly. Taking up the whole room is the last thing you need, so consider storage boxes where possible Out of the way, and out of mind. Also, make sure the colour matches the theme of the room.
Ambient lighting 
Lighting in the bedroom is more important than many hosts would like to think. As mentioned, the bedroom not only needs to look aesthetic, but it also needs to support guests when having a sound night of sleep. Ambient lighting is proven to promote the sleepy feeling that we all need to have before we sleep, and bright lights can have adverse effects and make us restless. Ambient lighting should be placed in the room using a lamp or perhaps colorful LEDS if you are going for a modern appearance. You should still have a main light for the bedroom; however, having an ambient light is important. Invest in a simple bedside lamp that matches the decor of the room.
Rugs for comfort
The last thing your guests need when they are getting out of bed is the feeling of a cold hard floor. If the bedroom of your Airbnb property has hard flooring and no carpet, you should consider including a large rug in the space. It will provide much more comfort in a space that should be designed for this purpose.
There are many rugs to choose from, but avoid anything too light in color as they can create problems when cleaning stains between guests.
Bottom line 
There is a world of opportunity to consider when designing your Airbnbs bedroom. You should not list any property you wouldn't spend money on. Before you start spending on furniture and items that you think are worth it, complete a competitor's analysis to ensure you are going beyond your competition's efforts.
The bedroom should be the key focus of the home, and making it as comfortable and inviting as possible is essential if you hope to find success and have regular bookings.