Are you looking to revamp and redecorate a bit in your bedroom? One place to look before your design to accent and re-style completely is the headboard, whether it's a switch or a basic addition, you'd be surprising what one of these beauties can do to the space. It becomes a functional piece of art and immediate focus of the room. We've compiled a great selection of stylish headboard ideas from a variety of interior styles that will help to inspire and get your decorating ideas flowing, let's have a peek and improve your bedroom design!
This double set up works not only because of its spacious design but also the gorgeous, relaxed color combination with its bright white and cool blue duo. But, pay attention to the beds, although they aren't grandiose and bold, the headboards add to the flowing whimsy of the room and its modern, youthful finish.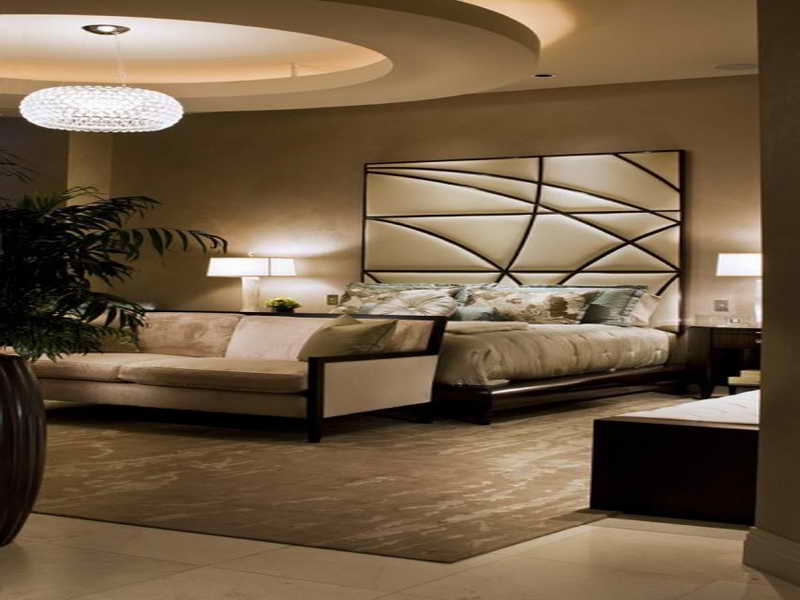 This geometric, artistically-styled design is the perfect addition to a subtle, contemporary decor. Its perfect for a chic-loving couple or even a bachelor living in a large and spacious studio apartment. We love the cream foundation of the room and the delicate, yet modern, black details that are preent. This piece is the exact definition of functionality and style.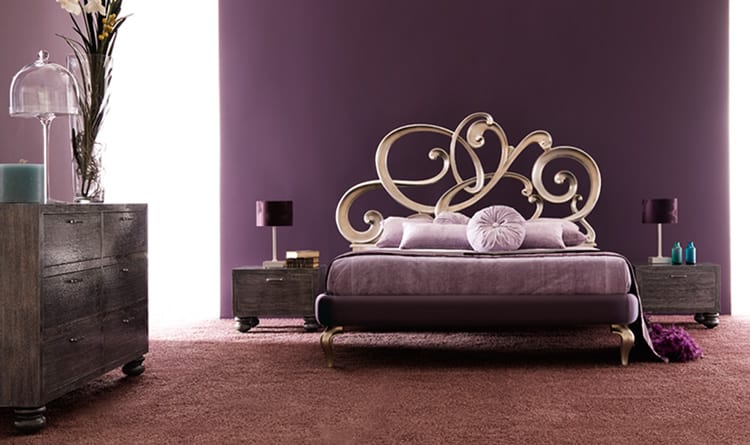 If you're looking for something completely outside-the-box, look for something that doesn't have the traditional design. These pieces don't have to be large and rectangular, instead they can be architectural and artistic too. This swirling addition adds a unique and sultry charm to this plum, fashion-forward bedroom. It's stunning!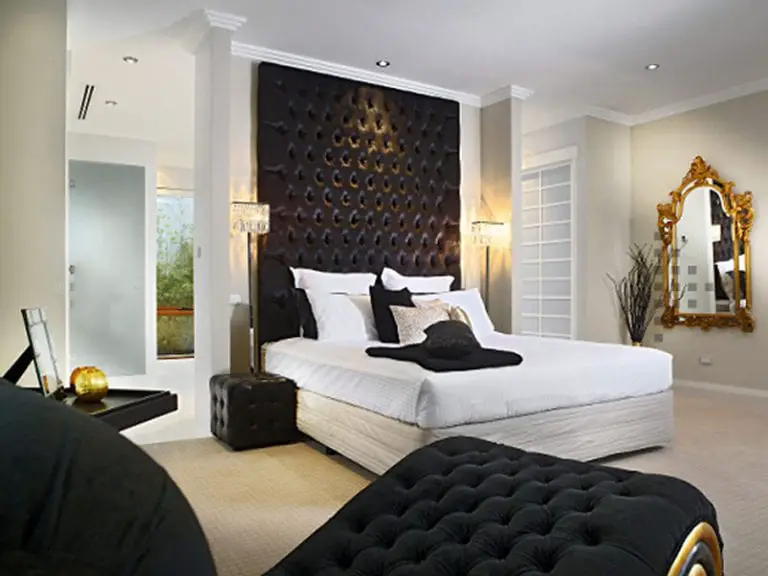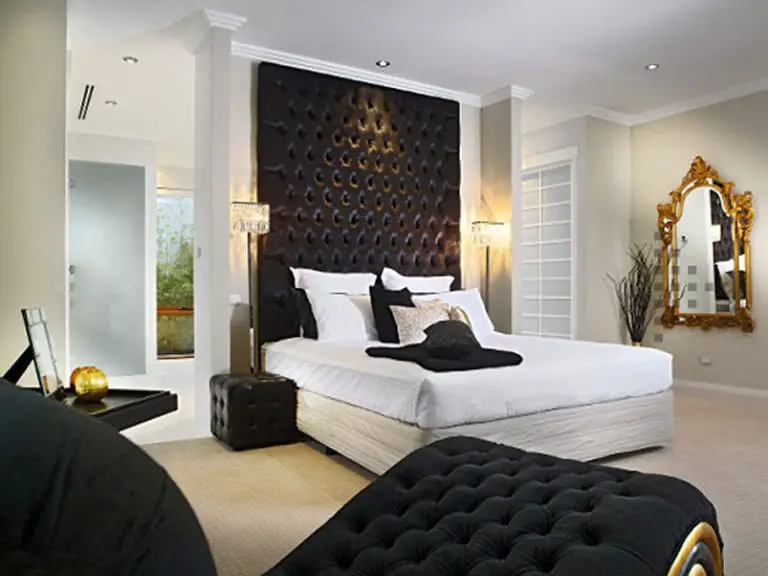 Not only is this a headboard, but it's also a textural accent wall with its faux leather, tufted finish. It's a focal point, it's classic, it's a bit edgy and it rounds our a room that otherwise would be a lot more subdued and neutral in personality. We love how it doesn't overpower, but instead, adds a unique touch.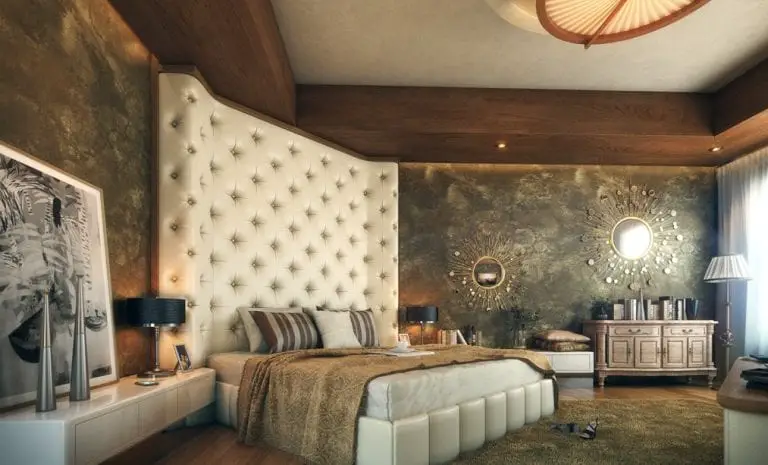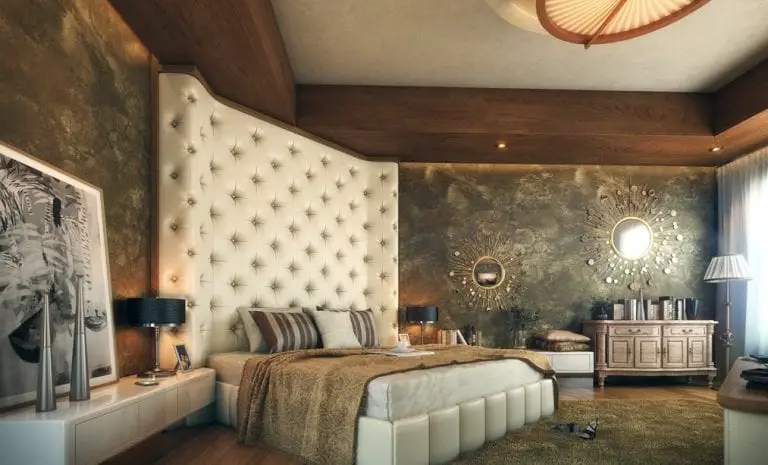 At first glance, it's hard not to just say, "Wow," when taking a peek at this bedroom. This style, again, acts not only in functional but as a unique piece of art and grandiose decorum for an already stylish space. The cream pops off the textured, masculine wall and the tufts add a delicate nature to a room with edgier bearings.
What's different and special about this design is its length. Instead of going the mere width of the bed, it extends to include the nightstands too making a more contrasting pop to the entire room. We love the complimentary nature but focus it puts on the texture and simple elegance. Is it just us or does it remind you of a chocolate bar (in the best way of course!)?
Here is another great example of a longer choice. For a simpler, more traditional addition, take a peek at some chic, finished wood pieces. It'll provide a homey and welcoming feeling but with all the bells and whistles of a fashion-forward, contemporary energy in tow. We feel this entire bedroom combines modern styles with more organic feelings with an elegant ease.
If you're looking for something a bit more luxurious, we've found it for your. This golden, intricately-detailed bed has a distinct Victorian feel and vintage flair. We love its royal flavor and shining, feminine finish. The addition of the chocolate, fabric tufts give it a bit more of a modern edge making it easier to style within contemporary bedrooms.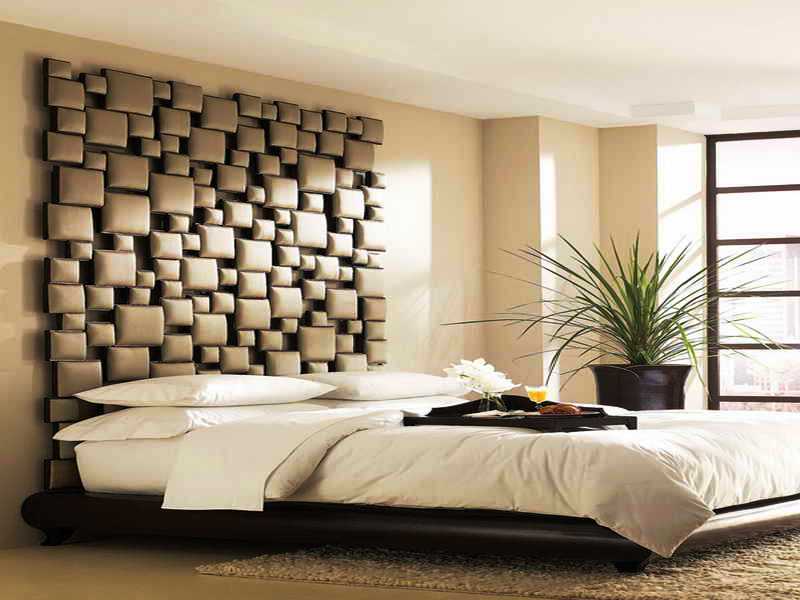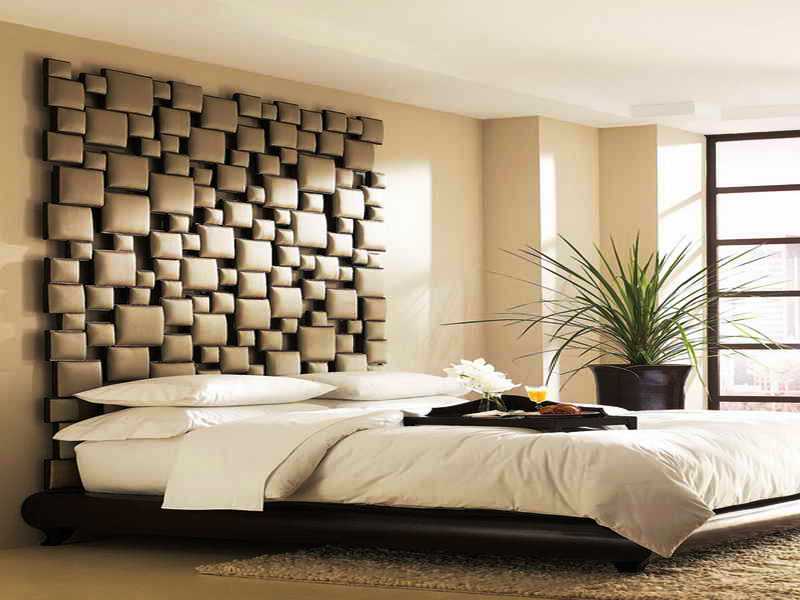 This one fits right into a simple, zen theme. The room itself has a slight Asian flair, so this organic, textural model again, acts as a functional piece but also an accent to the room that helps transform its overall ethos and personality. Without its addition, the room would be a lot blander and less focused.
A personal favorite of the entire list, this tufted beauty sure does take center stage in this smooth and sleek bedroom. We also believe it creates a more welcoming ambiance in an otherwise posh but cold environment. It's soft texture and clean lines create a modern, futuristic vision but it also adds a delicacy to a space with a very sophisticated foundation.
We love that this design is printed, as it gives off the illusion of not only a finished bed but also wall art! It's simple and clean, which provides this chic, yet grounded, room with interest and fashionable energy. But it's set in a creamy tone as to not overpower the easy, relaxing nature of the space either.
I take it back, this may be my favorite piece of the entire list. A look that meshes right into the background of its nightstands, this style is bold, beautiful, eclectic and incredibly well-traveled. It adds to and enhances this worldly, eclectic decors overall feel without taking away or refocusing the eyes of any visitors.