Are you patiently awaiting your little bundle of joy to come into the world? Are you busy nesting around the house and creating a baby room full of fun and surprises? Well, if you're one of those bubbling moms or dads-to-be, we have something super fun in store for you to sift through today. A nursery is not a complete without a proper rocking chair to sway your baby to sleep in the evenings and throughout the day for nap time. So, take some time a peek at our wonderful finds on nursery rocking chair ideas and styles!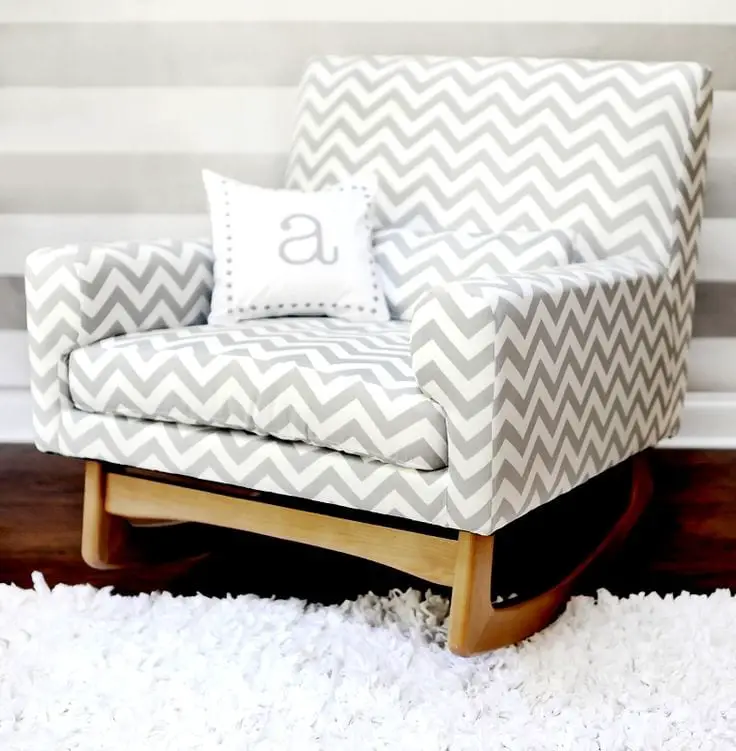 Chevron is in, so the printed style works no matter what your little one's room theme may be. And this rocker has a timeless, mid-century modern appeal that any hipster-loving parent would swoon for. It looks comfy too, don't you think?
Feast your eyes on this slick and contemporary concoction. Rock yourself and baby right to sleep in this genius invention. It's also less bulky and although you'll have problems caddy corning this piece in a nook, it will grace the walls of the nursery quite nicely.
And this piece was actually made for a nursery, and we mean that in a literal sense. Someone out there with some incredible do it yourself skills took an IKEA wing back chair and transformed it into the perfect rocker. It's a great idea, right?
This easy and contemporary rocking chair has a very important component hidden under its surface. It's water-resistant! And why is this important? When spills, messes, spit up and drool get the best of us, this rocker won't get ruined.
Say hello to that shade of vivacious, popping hot pink! For a kick, an amazing accent and a breath of unique personality go with a glider that sings to you and your baby's room. We're also in love with the plush and comfy look of the piece.
A rocker chair stylish enough to use in any part of the home gets an A+ in our book. But we also love how suave and edgy your baby boy's nursery could be with this chic addition. The white edging, the hazy gray finish and the wide seating gives it a lot more interesting than the average piece.
At first glance, you may not even notice that the Neo Rocker is, in fact, a rocker. It's not bulky and it doesn't take up too much space, which is fantastic for smaller rooms turned into nurseries. We love its frame, delicate nature and the heather grey and white color combination.  We also love the throw pillows, can you blame us?
What little lady wouldn't love this beautiful, lavender accent to transform her room into a cozy, princess palace? Mom will enjoy it too with its matching ottoman and easy rocking power. Of course, the clean lines only help to enhance its natural fashion-forward, yet homey, appeal.
If you are looking for something a bit outside-the-box and more interesting to look at, try a patterned piece. This works exceptionally well in rooms with more than average space as to not clutter or create too much focal chaos. This print works even better on the chair choice because of its simple structural design.
 Retro and refined, this option has a throw back spirit that completely transforms the look of the average, traditional nursery. The coral hue, the simple, yet funky bones, it's such a rad way to perk up and create comfort in your baby's home. We just cant get over how surprising and fun this rocking chair really is!
Sometime simplicity is the best. A classic design accompanied by a fun and playful cushion could be just what you're looking for to finish off your baby new room. Find something with soft texture and cool colors for a fashionable accent, you'll love to sit inside and your baby will love to get a feel of its lush touch.
This Ikea rocking chair has such an interesting look and edgy spirit about it, don't you think? The structure itself has an artistic tone and fun presence in a nursery that goes for style and comfort rather than childish appeal or flavor. Pair it with a puff for a quaint and quirky style, and think about adding pops of neon to a nursery with more subdued tones.
Delicate and refined, this beautiful chair may not be big and bold, but it certainly has a beautiful, feminine touch that would spoil any little girl's bedroom. Rock her in the evenings and eventually, she'll be relaxing there reading herself a bedtime story. This is a great piece to place in a room inspired by Victorian features or romanticized accents.
Check out this funky, lime addition to the bedroom! Cushy with a modern spirit, this piece does its job in function, fun and style! We love the playful attitude it brings to a more traditional look and afterwards when the rocking stops, you'll be able to use this piece elsewhere in the house!
Here is a chair that welcomes anyone to sit at a single glance with it's homey spirit and contemporary design. Just take a peek at the beauty of its base. Architecturally beautiful with soft, clean lines, this may be our favorite of the pack. Of course, we love the pairing of subtle tones for a relaxing setting as well.