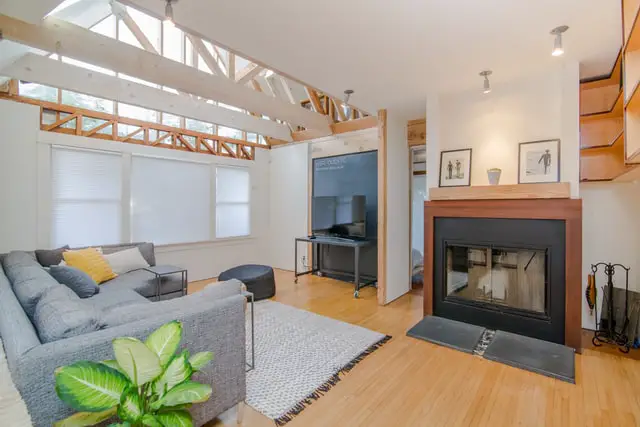 Looking To Renovate Your Home? A Few Ideas
A home renovation project can beautify your space, modernize key rooms, and increase the value of your property, but it doesn't come cheap. Homeowners often get caught up in the small details, only to run out of money when an unexpected structural or budgetary issue appears.
Cutting costs on your home remodeling plans shouldn't be done out of necessity. If you budget accordingly, you'll be able to pay for your project and then some. 
Here's how you can easily budget, pay, and set some extra money aside for your next home renovation project.
Which Remodeling Projects Should You Finance and Save For?
You have to choose your next remodeling project wisely when you're on a budget. Focus on urgent renovations first. Then, use the majority of your budget on high-return projects. If you have some money left over, use it for aesthetic changes, like fresh wallpaper or new floors.
Hire a building inspector to conduct a full home inspection if you need help locating structural repairs. Don't start ripping out drywall or dismantling beams until an inspector says it's safe.
What is an Urgent Renovation?
Anything that impacts your property's sealing or energy performance requires urgent repair. 
For example, a leaking roof, poorly sealed window, and old electrical circuits could damage your home further if you don't fix them. These elements are invisible and don't impact your home's aesthetic appearance. However, these improvements are crucial to your comfort.
What Renovations Offer the Most Value?
A full kitchen, master bedroom, and basement remodel offer the most value for your home. But a minor kitchen remodel, garage door replacement, and vinyl window installation offer the most bang for your buck if you're on a tight budget. When in doubt, focus on a bathroom remodel.
Some renovations can reduce your home's value. For example, too much carpeting, a sunroom addition, and swimming pools don't have a high return on investment or hurt your ability to sell.
How Much Money Do You Need for a Home Renovation?
As a rule, you should set your budget based on your home's property value. 
For example, If your master bedroom represents 10% of your home's total resale value, you should spend 10% of your budget on renovating it. This method can limit overspending.
However, this doesn't help you understand how much your renovations will cost. You'll need to calculate your total remodeling costs by measuring the square footage of each room while accounting for tools, materials, and labor. 
Here's a simple way to understand these expenses:
Project Type: Some projects, like kitchens and bathrooms, are more expensive.
Project Size: Use your room's square footage to estimate the cost of materials.
Material Quality: Low-quality materials are more expensive than high-quality.
New Construction vs. Existing Modeling: New construction is typically cheaper.
US Region: It costs more to remodel in specific states due to regulation and labor.
Labor Costs: Half of the cost of remodeling goes to hiring a professional.
Permits: If you're adding a window or structure to your home, you'll need a permit.
Unexpected Events: Keep 15% of your total renovation costs saved just in case.
Unless you're a certified construction or trade worker that has all the required remodeling tools, you'll waste time and money. It could also be dangerous. For example, changing the plumbing in your kitchen and basement could cause flooding that may damage the structure of your home.
However, you can save money by using government home renovation grants. Some loans help out certain demographic groups, like veterans, or simply offer home repair assistance.
How Can I Tell if My Renovation Budget is Realistic?
Coming up with a plan is one thing, but sticking to a realistic budget is another. You can do this by adding extra financial cushioning to your budget before starting your renovation.
To test the strength of your budget, ask yourself the following questions:
Do I have a demolishing budget?: Always prepare for demolition and cleanup costs.
Does my budget seem reasonable for the age of my home?: Older homes may reveal problems you didn't expect. Keep a bigger budget for older houses.
Can I stop myself from doing unplanned work?: If you're the type of person that can't stick to a plan, ask your friends or family members to keep you on track.
Am I comparing my project to someone else's?: Don't eyeball the cost of your project based on another person's home. Use your own calculations to estimate your budget.
Are my quotes detailed and precise?: Contractors will estimate how much your project will cost based on what you want. Be sure to set aside some money for adjustments.
Will my insurance cover damages?: Your home insurance may cover lodging or other remodeling costs if you have to leave your home during the project.
Understand that a realistic budget looks different depending on your priorities and cash flow. A $5000 Japanese soaking tub can work in any budget if you limit costs elsewhere.
7 Budgeting Tips You'll Need to Afford Your Next Home Makeover
As soon as you're ready to renovate, you can start building a budget that can help you pay for your expenses. Here are 7 extra ways to finance and plan for your next home makeover.
1. Start With a Plan and Set Limits
Write down exactly what materials, products, and permits you need to start your project. Go the extra mile by illustrating project maps based on your home's square footage. Set budgetary limits and make a continuous effort to save money for more aesthetic or decorative remodels.
2. Shop for Materials and Companies
The first contractor or supplier you speak to may not offer the best deal. It's essential to shop around for materials and companies to save money. Watch for sales and discounts on bulk items, like flooring, piping, and lumber, and avoid shopping for expensive materials last minute.
3. Be an Over-Communicator
Over-communication is a necessary, but overlooked home renovation budget tip. Contractors may go over budget if you don't explain your budget constraints and project necessities upfront. If you pay attention to what they're doing, you can prevent contractors from overspending.
4. Take Out a Personal Loan
Instead of reducing your budget or relying on savings, you could apply for low-interest personal loans. You may qualify for a renovation or 401(k) loan, or a home equity line of credit. You can even use credit cards or refinance your mortgage. Don't loan more than you can afford.
5. Make Small Improvements Yourself
While you shouldn't do the entire renovation yourself, you can fix a few things in your home safely. For example, you could paint a room, apply caulking, or glue trim. If you're not handy at all, you can take care of demolition, rip up the carpets, or tear up the deck by yourself.
6. Reuse What's Already in Your Home
Replacing all of the items in your home is expensive. Check if you can reuse what's already there before ripping apart a room. It's much cheaper to repaint a cabinet than replace the whole unit. You don't have to remove a wall to make a space look bigger; mirrors will do the trick.
7. Resell What you Aren't Using
If your windows, kitchen cabinets, bathtub, or other possessions are still in good condition, don't demolish them. Second-hand stores will offer to buy used materials and furniture. While you won't sell these items for a lot, any amount will still offset some of your renovation costs.
Photo by Outsite Co on Unsplash