Modern Rocking Chairs
The modern rocking chair is something for many out there to enjoy. It is used by people around the world for many things including relaxation and stress relief. Since its emergence around the 1700s, the rocking chair has been helping thousands of people sleep better through relaxation, relieving lower back pain for the elderly people and calm crying babies.
Many people prefer sitting on a modern rocking chair while watching television, reading books or magazines, and making handicrafts such as sewing or knitting because sitting on an ordinary chair for a long period time can become tiring and uncomfortable.
Today's modern rocking chair has an ergonomic design that allows you to remain seated for a long span of time without straining your back, and its rocking motion has a relaxing effect that can help you sleep peacefully after you've finished reading or knitting.
As rocking chairs continue to emerge in various designs, furniture makers also make sure that they become even more comfortable by improving their ergonomic design and features.
Because rocking chairs are primarily made of hard wood, many people would place pillows against the back area and on the seat to make them more comfortable. This gave furniture makers the idea of making upholstered or padded seats and back supports for the rocking chair.
To improve ergonomic quality, modern rocking chairs also have a curved back support that follows the natural curve of a person's back.
Today's rocking chairs may also come with an ottoman or a foot stool as does one or two below. This then rocks or sways along with the rocking chair or glider. This is a relatively recent addition to the rocking chair, which contributes to an even more relaxing effect.
Padded ottomans are the most popular, which allows you to rest your tired and aching feet on a soft surface. Because the swinging ottoman provides an increased comfort, it works perfect for the elderly and pregnant women.
The appeal of rocking chairs is not exclusive for adults, since they are also popular toys for children. The wooden rocking horse or chair is a classic children's toy, and it became even more popular introducing various themes, such as motorbikes, firetrucks, and pirate ships.
With comfort, relaxation, and stress relief, rocking chairs have certainly stood the test of time. There is no doubt that rocking chairs have gone a long way, and they have been subjected to various improvements to provide people with greater comfort.
Modern rocking chairs may appear in designs that look a lot different from their early counterparts, but they still serve the same purpose and have the same effect.
Typically, the quintessential rocking chairs out there are usually passe and dare I say boring. In this modern day world where minimalism and clean lines seem to dominate traditional furniture, it is no surprise that even the good old rocking chair has had a makeover.
I think one thing that keeps rockers from being more widely accepted is the stigma they are for the elderly and not something for the design and style oriented interiors.
Listed below are some of the coolest incarnation of the proverbial rocking chair that has been generating a lot of buzz and have rocked  (pardon the pun) the design continuum.
We hope you find one that will change your mind about this often overlooked chair option.
NOTE: All images are copyright of their respective owners. Images have been checked through tineye.com for any prespective issues.
Glider Rocking Chair
Generous seating room with padded arms and storage pockets

Removable chair cushions for easy spot cleaning

Windsor glider and matching ottoman in white finish with gray cushions. Fabric Care Instructions – Do not machine wash, Spot Clean

The glider and ottoman pieces have solid wood frames for stability
Black Ryan Klinger Rocker
Image copyright Ryan Klinger
Purity By Scott Wilson
Natural Organic Rocking Chair
Bookshelf Rocking Chair
Sweet Home Rocker
Handcrafted Rocking Chair
Modern Design By Kati Meyer-Brüh
Naomi Home Brisbane Glider & Ottoman Set Espresso/Cream
Color Cushion Color : Cream; Finish : Espresso

Product Dimensions Glider: 39.5 H x 25.75 W; x 24.75 D; Weight: 38 lbs. Ottoman Dimensions: 14.5 H x 16.0 W x 20.5 D; Weight: 12.0 Lb.

Material / Construction Solid wooden frame makes Glider and Ottoman stability and durability. Closed Ball-bearings for smooth gliding and rocking motion.

COMFORT: Generous seating room with thick cushions for maximum comfort and pockets to hold your belongings. Comes with matching Ottoman. Fill Material: 100 % Polyurethane Foam Easy spot cleanable.

Assembly Beautiful and easy to assemble furniture that is ideal glider rocker for your nursery. Required tool set included.
GCI Outdoor Pod Rocker
Look at cool asa cucumber when you are noext down at the beach. This is one cool rocking chair to keep you entertained whilst chilling at the beach or fishing.
Emerson Glider Rocker
Water in the Southern Hemisphere By Ron Arad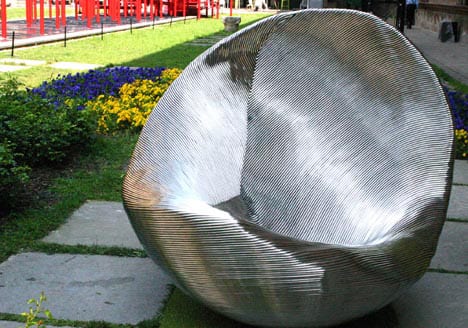 Chain Rocker By BRC Designs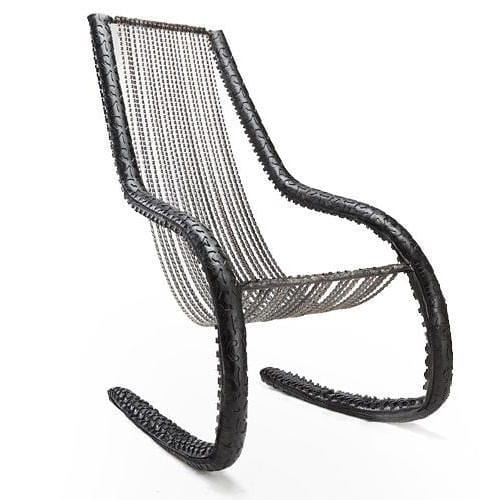 Electric Charger By Shawn Kim
The Voido By Ron Arad
The Human Anatomy By Pouyanm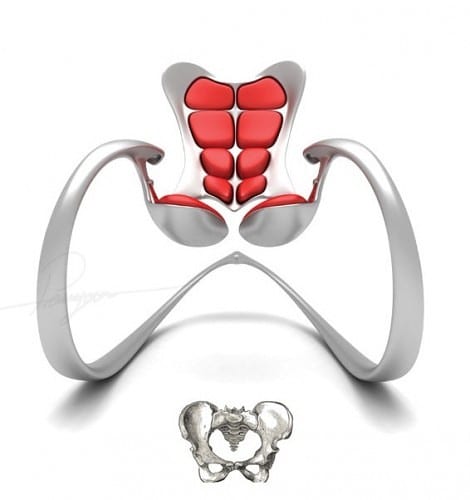 The Murakami With OLED Lamp By  Rochus Jacob