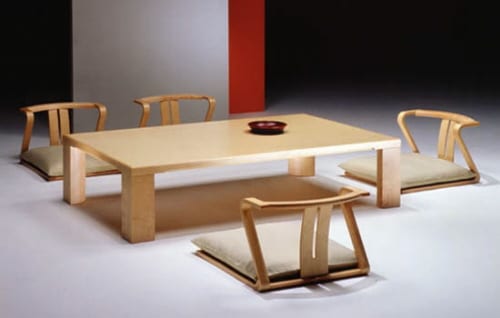 Dining Furniture in Traditional Japanese Sitting Style
Zaisu chairs are a floor sitting. A piece of furniture that came into style in Japan during the Muromachi period. During that period of architecture, floors were covered in thick straw mats known as "tatami".
The ruling warrior class created strict rules about living daily lives which brought on the sitting posture called "seiza" as it was deemed the respectful way to sit. Now, Japanese dining furniture sets featuring Zaisu chairs are popular as families adopt traditional Japanese ways of living in an effort to improve the connection a family feels while spending time together.
The zaisu dining chair is designed for the japanese people in mind as it is a very special kind of chair. It is part of Japanese culture. There are no legs. It is directly on the floor. A short wooden or cloth back is fitted to the chair for comfort and support.
The Washitsu Room
You will mostly find this zaisu chair in traditional japanese rooms known as washitsu. These rooms are no longer in every Japanese home as they were in the older days. This is a room that is only to be used for guests or special events. A washitsu room will have straw tatami mats on the floor along with other types of decor and furniture such as shoji doors and windows.
In this room traditional Japanese meals are served at low Japanese tables. The diners here will each have a tamiti mat or a cushion known as zabuton, which are placed around the table.
The Seiza Position
They will sit in a certain position which is known as seiza. When you are in the seiza position, your legs are folded under the body.
This type of seating known as seiza was very common in older days in Japan but is now no longer in fashion. It is known as being an uncomfortable position to sit in for extended periods of time. Those who are not used to it, especially foreign, will struggle to maintain this position throughout a meal.
The Zaisu Chair
The Japanese chair known as the zaisu chair is a sort of in between which allows you to sit more comfortably on a tamiti mat or zabuton. The back rest of the chair allows for a more relaxed position. This way you can extend the legs out in front rather than under the body for less stress.
There is even a zaisu chair that has more features that are balanced and can be rocked back slightly and supports the weight of the person allowing a more relaxed seating position.
The zaisu chair comes in mainly wood, but there is also a metal version. There are also folding zaisu chairs for easy storage beneath the low lying Japanese style of table. These will normally be with the zabuton cushion.
The chair is normally associated with meals and visits, but it can also be found in the living area as well. This style of chair will normally have padding on both the seat and the back rest. A guest may find this style of chair throughout a house when he or she visits.
How to Sit on Japanese Floor Chair
When sitting on a Japanese floor stool, keep your knees slightly bent and your feet flat on the ground. This helps prevent injuries to your lower extremities.
To help you master this important skill, here are some tips:
• Keep your legs straight when seated on a floor chair.
• Place your hands on the armrests of the floor chair.
• Lean forward at the waistline.
• Relax your shoulders and neck.
• Breathe deeply.
• Look ahead.
• Avoid looking downward.
• Do not cross your arms over your chest.
• Maintain proper posture throughout the entire sitting process.
Once you learn these skills, you'll be able to comfortably sit on any type of floor chair, including those found in Japan.
How Do Japanese Sit on The Floor
Japanese seating positions are very different than Western seating positions. They're not comfortable at all! They're designed to be uncomfortable. This is because sitting on the floor is a traditional practice in Japan.
Here's how it works:
When seated on the floor, the knees are bent 90 degrees and the feet are flat on the ground. The legs are crossed over each other, forming a diamond shape. This position allows the body weight to fall evenly between the thighs and calves. This makes it easier to balance and relax. But this position isn't comfortable for most Westerners. So when we sit on the floor, our knees bend outward and our feet point toward the ceiling.
Why does this matter? Well, it means that when we stand up, our knees tend to buckle inward and our ankles roll forward. We end up leaning forward and having to compensate for the lack of support in our lower back. That's why when we sit on the ground, we need to lean backward to keep our bodies upright. And when standing up, we need to lean forward to maintain balance.
If you've ever tried to sit on the floor, you know how painful it is. But if you've never sat on the floor, you may not realize just how bad it feels.
So next time you visit Japan, try sitting on the floor. You won't regret it!
How to Sit at A Japanese Low Table
If you're sitting at a table in Japan, there are certain rules you must follow. The most important rule is to sit with your legs crossed. This is called seiza (坐子). When seated this way, your knees should be bent at 90 degrees and your feet flat on the floor. Your hands should be placed on top of each other, palms facing down. Your shoulders should be slightly hunched forward looking straight ahead. This posture helps prevent back pain and keeps your spine aligned. It's also considered polite in Japan.

---
Non Foldable Fixed Back Zaisu
---
Zaisu Chairs With Dining Table
A beautiful Japanese style dining table and chairs. Low solid wood table with foldable legs. Complete with four chairs.
---
Zaisu With Base Cushions
Designed With High-quality Chopped Memory Foam

Soft Plush Fabric

Fits Perfectly Into Any Room

Natural materials, Healthy and environmentally friendly, Will not rust like metal, Nor will it pollute the environment like plastic
---
Foldable With Wooden Back
Well crafted 100-percent kiln dried phillipine mahogany, foam pad upholstered seat bottom and back
Black painted frame, attractive cotton blend fabric upholstery
---
Zaisu Wooden Chair With Hard Back
Designed With High-quality Chopped Memory Foam And Soft Plush Fabric To Provide A Comfortable Sofa Seat For Any floor. Memory Foam Fits Your Body And Provides You With The Perfect Seat
---
Japanese Style Zaisu Floor Chairs
---
Zaisu Heated Table
Questions & Answers
Conclusion
Japanese furniture is very popular amongst those who care about comfort ans the way that they enjoy relaxation or a meal whilst sitting in a natural and corect body position.
Related Articles: