Traditional Japanese Sitting Style with Zaisu Chairs
Zaisu chairs are a floor sitting a piece of furniture that came into style in Japan during the Muromachi period. During that period of architecture, floors were covered in thick straw mats known as "tatami".
The ruling warrior class created strict rules about living daily lives which brought on the sitting posture called "seiza" as it was deemed the respectful way to sit. Now, Japanese dining furniture sets featuring Zaisu chairs are popular as families adopt traditional Japanese ways of living in an effort to improve the connection a family feels while spending time together.
The zaisu chair is designed for the japanese people in mind as it is a very special kind of chair. There are no legs. It is directly on the floor. A short wooden or cloth back is fitted to the chair for comfort and support.
You will mostly find this zaisu chair in traditional japanese rooms known as washitsu. These rooms are no longer in every Japanese home as they were in the older days. This is a room that is only to be used for guests or special events. A washitsu room will have straw tatami mats on the floor along with other types of decor and furniture such as shoji doors and windows.
In this room traditional Japanese meals are served at low tables. The diners here will each have a tamiti mat or a cushion known as zabuton, which are placed around the table. They will sit in a certain position which is known as seiza. When you are in the seiza position, your legs are folded under the body.
This type of seating known as seiza was very common in older days in Japan but is now no longer in fashion. It is known as being an uncomfortable position to sit in for extended periods of time. Those who are not used to it, especially foreign, will struggle to maintain this position throughout a meal.
The zaisu chair is a sort of in between which allows you to sit more comfortably on a tamiti mat or zabuton. The back rest of the chair allows for a more relaxed position. This way you can extend the legs out in front rather than under the body for less stress.
There is even a zaisu chair that has more features that are balanced and can be rocked back slightly and supports the weight of the person allowing a more relaxed seating position.
The zaisu chair comes in mainly wood, but there is also a metal version. There are also folding zaisu chairs for easy storage beneath the low lying Japanese style of table. These will normally be with the zabuton cushion.
The chair is normally associated with meals and visits, but it can also be found in the living area as well. This style of chair will normally have padding on both the seat and the back rest. A guest may find this style of chair throughout a house when he or she visits.
Non Foldable Fixed Back Zaisu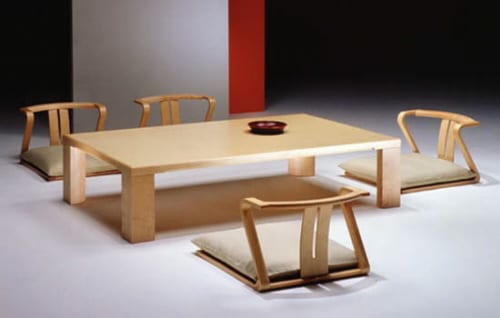 Zaisu With Dining Table
Zaisu With Base Cushions
Foldable With Wooden Back
Zaisu Wooden Chair With Hard Back
Japanese Style Zaisu Floor Chair Natural Materials
Zaisu 5 Piece Table And Chair Set
Prices pulled from the Amazon Product Advertising API on:
Product prices and availability are accurate as of the date/time indicated and are subject to change. Any price and availability information displayed on [relevant Amazon Site(s), as applicable] at the time of purchase will apply to the purchase of this product.
Image
Title
Price
Prime
Buy

Top

Sundale Outdoor Indoor Adjustable Soft-Brushed Polyester Cord Five-Position Multiangle Floor Chair, 17.5"(L) x 17"(W) x 17.5"(H), Tan

Prime

Eligible

Take a Look
QIQ Tatami Room Chair,Bed Dormitory Back Chair Japanese Legless Chair Bay Window backrest Chair Lazy Chair Cushion-N

Prime

Take a Look
WUTRBYZ Japanese Zaisu Floor Chair,Natural Materials Non-Slip Game Meditation Post-Support Simplicity No Legs Tatami-E

Prime

Take a Look
Zichen Japanese Zaisu Tatami Chair, Folding Floor Chair with Back Support Meditation Game-B (Color : A)

Prime

Take a Look
ZEN'S BAMBOO Floor Seat Chair for Living Room Japanese Balcony Chair with Cushion Accent Furniture

Prime

Eligible

Take a Look
Oriental Furniture 6' x 3' Full Size Tatami Mat

Prime

Eligible

Take a Look
H&U Folding Floor Chair, Japanese Padded Legless Floor Chair with Back Support Reading Watching Video-Gaming Meditation Chair-Wood Color

Prime

Take a Look
Japanese Style Floor Chair Handcrafted Eco-Friendly Padded Knitted Straw Chair with Backrest Meditation Chair,Hand Woven Tatami Floor Cushion Corn Maize Husk, 17.7x14.1x14.5x2.3inch

Prime

Eligible

Take a Look
Prices and images pulled from the Amazon Product Advertising API on: