Vintage furniture has grown significantly, with more and more people seeking unique and timeless pieces to add character to their homes. The appeal of vintage furniture lies in its ability to tell a story, evoke nostalgia, and provide a distinct aesthetic that stands out from mass-produced modern furniture.
Finding hidden gems in the world of vintage furniture can be a daunting task. This article provides valuable tips and insights on embarking on a successful vintage furniture-hunting adventure.
Understanding Vintage Furniture
Before delving into vintage furniture, it's important to grasp what constitutes it. Vintage furniture refers to pieces between 20 and 100 years old, showcasing craftsmanship, design, and materials from a specific era.
It's important to note the distinction between vintage and antique furniture, with the latter being over 100 years old. Vintage furniture encompasses various styles and eras, including Mid-Century Modern, Art Deco, and Victorian. Familiarizing yourself with these styles and their characteristics will greatly enhance your ability to identify hidden gems.
Benefits of Having Vintage Furniture
There are several compelling reasons to consider incorporating vintage furniture into your home. Firstly, vintage furniture offers a unique design aesthetic that differentiates it from mass-produced contemporary pieces.
This one-of-a-kind finds can become the centerpiece of a room, sparking conversation and adding a touch of history. Additionally, vintage furniture is an environmentally friendly and sustainable choice. 
Giving these pieces a new life reduces waste and preserves craftsmanship. Lastly, vintage furniture has the potential for value appreciation. As time passes, well-maintained vintage pieces can become sought-after collectibles, making your investment all the more worthwhile.
Tips for Vintage Furniture Hunting
Research and educate yourself
Before setting out on your vintage furniture-hunting journey, take the time to research different styles, eras, and notable designers. Familiarize yourself with the distinguishing features of each era, such as the sleek lines of Mid-Century Modern or the ornate detailing of Victorian furniture. This knowledge will empower you to identify valuable pieces and make informed purchasing decisions.
Photo by Rabie Madaci
Explore various sources and locations
Vintage furniture can be found in a multitude of places. Thrift stores, flea markets, and garage sales are often treasure troves for hidden gems. Online platforms and auctions provide a convenient way to browse a vast selection of vintage furniture. Antique shops and estate sales are also worth exploring, as they often offer unique and well-preserved pieces with intriguing histories.
Inspect and evaluate the condition
Inspecting and evaluating each piece's condition is essential when hunting for vintage furniture. Look for quality construction and craftsmanship signs, such as dovetail joints, sturdy frames, and solid wood. Be mindful of any damages or repairs needed, and consider whether you have the skills or resources to restore the piece to its former glory.
Bargaining and negotiation techniques
Vintage furniture shopping often involves negotiation. Establishing a budget beforehand will help guide your decisions and enable you to negotiate confidently. Research the value of the piece you're interested in and be prepared to offer based on its condition, rarity, and market price. Polite and respectful negotiation can often lead to favorable outcomes.
Consider restoration possibilities
Some vintage furniture may require restoration to bring out its full potential. Before purchasing a piece that needs restoration, assess whether the project is feasible and within your budget. It's advisable to consult with professionals if you're unsure about the extent of the restoration required. They can provide guidance on the process and associated costs.
Preservation and Care of Vintage Furniture
Once you've acquired your vintage furniture gems, it's crucial to understand how to preserve and care for them properly.
Cleaning and maintenance tips
Use appropriate cleaning products and techniques to maintain the integrity of your vintage furniture. Avoid harsh chemicals that could damage the wood or upholstery. Regular dusting and polishing will help keep your vintage pieces looking their best.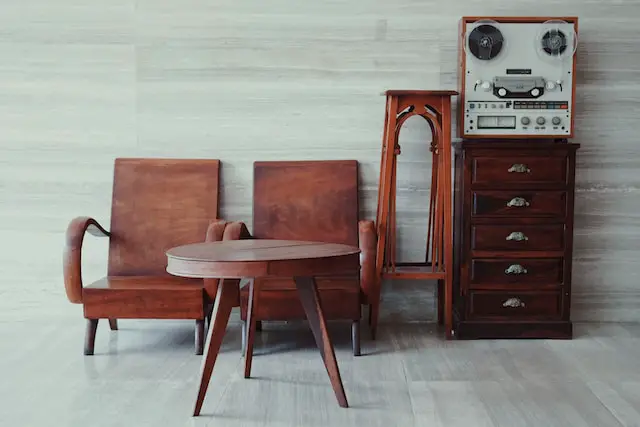 Photo by Lucas Hoang
Protecting vintage furniture from damage
Vintage furniture is often more delicate than contemporary pieces, requiring additional care. Place your vintage pieces away from direct sunlight, as prolonged exposure can cause fading and warping. Protect the surfaces from moisture and heat by using coasters and protective covers.
Showcasing and Incorporating Vintage Furniture in Your Home
Successfully integrating vintage furniture into your home decor is an art in itself. Here are a few tips to ensure your vintage pieces shine:
Integrating vintage pieces with modern décor. Vintage furniture can complement modern interiors beautifully. Mix and match styles to create a cohesive and eclectic aesthetic. For example, pair a Mid-Century Modern sofa with contemporary accent chairs or use vintage side tables to add character to a minimalist living room.
Highlighting the unique features of vintage furniture. Vintage furniture often boasts distinctive features, such as intricate carvings, elegant curves, or bold colors. Emphasize these unique elements by choosing complementary accessories or arranging the room to draw attention to the vintage piece.
Seeking professional advice for interior design and arrangement. If you're uncertain about how to incorporate vintage furniture into your home best, consider consulting an interior designer. They can provide valuable insights and help you create a cohesive and visually pleasing space.
Moving Your Vintage Furniture to a New Home
Moving to a new home is an exciting yet challenging experience, especially when relocating your cherished vintage furniture. These unique pieces require special care and attention during the moving process to ensure their safe transport and preservation. Here are some essential tips to consider when moving your vintage furniture to a new home:
Plan Ahead. Start planning your move well in advance to allow ample time for preparations. Create a checklist of all the vintage furniture pieces you have and note down any special requirements for their transportation.
Disassemble when Needed. If your vintage furniture can be disassembled without compromising its structural integrity, you should take some pieces apart before the move. This will make transportation easier and reduce the risk of damage.
Wrap and Protect. Proper wrapping and protection are crucial to safeguard your vintage furniture during transit. Start by removing loose or fragile components, such as glass panels or delicate decorative elements. Use high-quality moving blankets, bubble wrap, or foam padding to wrap each piece securely. Pay special attention to fragile areas, sharp corners, or intricate details prone to damage.
Use Appropriate Packing Materials. Avoid using plastic covers directly on your vintage furniture, as it can trap moisture and cause condensation, leading to potential damage. Instead, opt for breathable materials like cotton or muslin covers to protect against dust and scratches.
Hire Professional Movers. When dealing with valuable vintage furniture, it's often wise to enlist the services of professional movers experienced in handling delicate and precious items.
Consider Climate Control. Vintage furniture, particularly wood pieces, is susceptible to changes in temperature and humidity. If you're moving to an area with extreme climate conditions, such as high humidity or low temperatures, consider renting a climate-controlled moving truck or storage unit.
Insure Your Furniture. Vintage furniture often holds significant sentimental and monetary value. Consider obtaining proper insurance coverage for your vintage pieces before the move.
Unpack and Reassemble Carefully. Carefully unpack and reassemble your vintage furniture once you arrive at your new home. Refer to the photographs or notes you took during the disassembly process to guide you.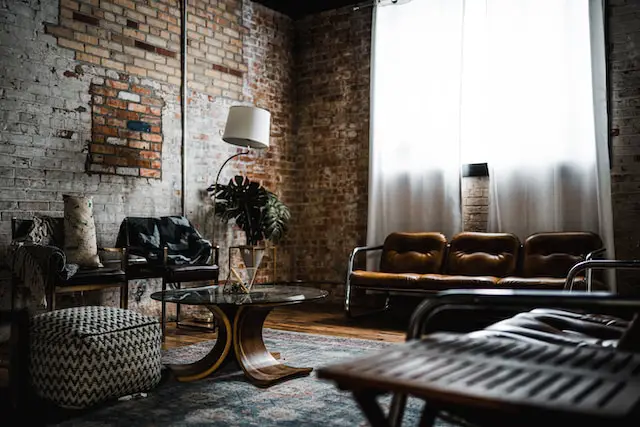 Photo by Anastase Maragos
Is vintage furniture the right choice for you?
Determining whether vintage furniture is right for you involves considering various factors.
Assess your personal style and aesthetic preferences. Vintage furniture offers a unique charm and character that can elevate the ambiance of any space, but it may not align with a strictly contemporary or minimalist design scheme.
Consider the functionality of the vintage piece. Vintage furniture often requires maintenance and may not possess the same convenience features as modern furniture. If you appreciate the craftsmanship and are willing to invest time and effort into upkeep, vintage furniture can be a perfect fit. 
Evaluate your budget and investment goals. Vintage furniture can vary widely in price, depending on factors such as rarity, condition, and designer. It can be rewarding if you view vintage furniture as a long-term investment and appreciate the potential for value appreciation.
Ultimately, choosing vintage furniture depends on your personal taste, willingness to embrace its unique qualities and your value on its historical significance.
Conclusion
Embarking on a vintage furniture-hunting journey can be a rewarding and exciting experience. By following these tips and being diligent in your search, you're more likely to discover hidden gems that will add character and charm to your home. Research, explore various sources, inspect the condition, and negotiate confidently.
With proper preservation and care, your vintage furniture will become cherished pieces that stand the test of time, offering a glimpse into the past and a unique touch to your present. Embrace the timeless appeal of vintage furniture and enjoy the journey of finding hidden gems.