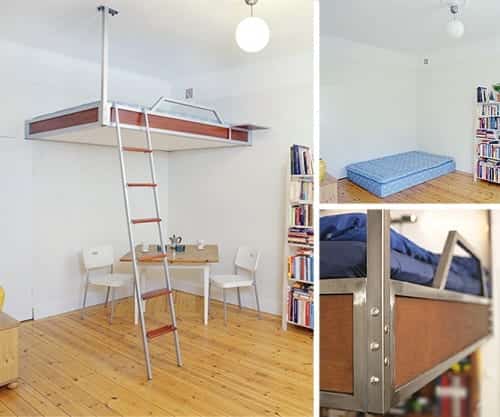 Who hasn't wanted to live in a loft at some point? I think we all go through a phase where we crave the ultra sheik openness of loft living. So how do you get that spacious loft feel in a small home or apartment? Well Compact Living, a Swedish company, has the solution.
Compact Living designs prefabricated easy-to-install lofts for just about any space. Just contact them with the dimensions of your space and they produce a custom loft for you. There are multiple options from sleeping lofts to larger extended living lofts.
Unlike cheaper loft bed kits that look like they have been slapped together from left over deck materials, Compact Living loft beds are constructed of high quality materials. There are multiple options for supporting the lofts from wall mounting to ceiling hangers and leg options. Each loft is designed based on your needs.
Simply lofting your bed frees up space for additional living and in a small apartment or home. It can be a significant gain. You also get the added benefit of being able to say you have a loft.