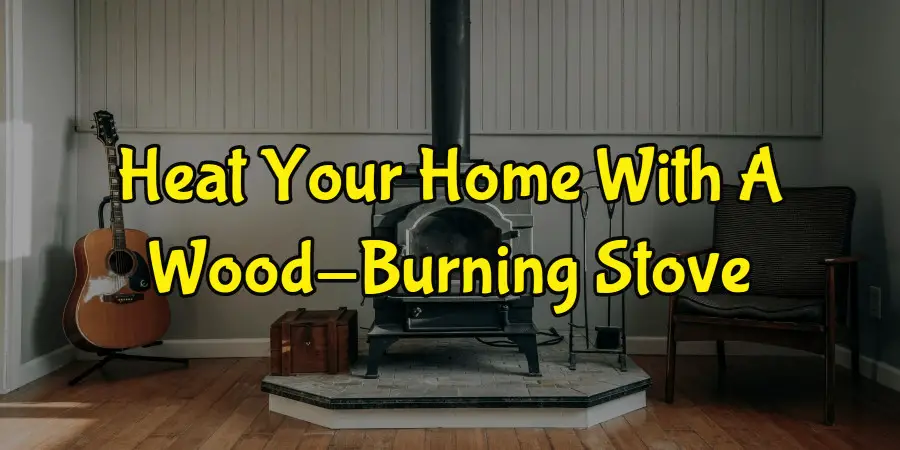 Warmth and Savings: How a Wood-Burning Stove Can Lower Your Heating Costs
The warmth of a wood-burning stove is more than just comfort and fuel to heat a home; it is a symbol of security, providing protection from the elements while sheltering its inhabitants. In modern times, utilizing this same concept in an efficient manner can have many financial benefits as well.
Through careful consideration and implementation of the appropriate techniques, one can realize lower heating costs by using a wood-burning stove. This article will provide an overview of how a wood-burning stove can be used to reduce heating costs.
The primary benefit that comes from using a wood-burning stove is cost savings over long periods of time.
Natural gas and electricity are typically the main sources of energy for heating systems, but both come with their own expenses.
Wood-burning stoves are able to provide consistent, reliable heat at a fraction of the cost. Additionally, biomass fuels such as pellets or chips are generally cheaper than natural gas or electricity in most parts of the world.
In addition to cost savings, wood-burning stoves also offer environmental advantages over traditional sources of energy. Burning biomass fuels produces fewer greenhouse gases than burning fossil fuels and can help reduce one's carbon footprint significantly.
With proper installation and maintenance, these types of stoves can also be more efficient than traditional furnaces or boilers in terms of energy output per unit burned. Consequently, utilizing this technology helps reduce our dependence on finite fossil fuels while simultaneously cutting down on heating costs and conserving resources in the process.
What Makes An Epa-Certified Wood Stove Burn Cleaner?
The process of heating our homes with wood-burning stoves can be likened to a game of chess. Every move must be carefully planned and executed in order to achieve the desired result- economical and efficient heat for our homes.
EPA-certified wood stoves are one such tool that can help us reach this goal, as they burn cleaner than other wood stoves, reducing air pollution and providing cost-saving opportunities when it comes to central heating systems.
Advanced combustion stoves work differently than traditional wood-burning appliances; they have been designed to burn fuel more efficiently, using less wood in the process. This helps reduce air pollution as compared to conventional wood-burning appliances.
In addition to this, clean chimneys help ensure that all smoke is released outside rather than into the home. As a result, homeowners can enjoy annual fuel cost savings while also saving on their energy bills.
In order to ensure the safety of the user, certified wood-burning appliances must meet specific safety standards set by the Environmental Protection Agency (EPA). These standards include testing for carbon monoxide levels and ensuring that the appliance does not produce any hazardous materials or particles during its operations.
By adhering to these standards, homeowners can rest assured that their heating system is running safely and efficiently while also enjoying significant savings on their energy bills.
Heat Your Home With A Wood-Burning Stove
Wood-burning stoves are a popular alternative to central heating systems, offering efficient heating solutions at a fraction of the cost. In order to heat your home effectively there are several steps that must be taken.
The first step is to ensure that the wood-burning stove bears an EPA certification
This guarantees that the stove meets certain air emission standards and uses wood efficiently. The EPA certification also ensures that the stove is capable of producing enough heat output.
In addition to selecting an EPA-certified wood-burning stove, it is important to ensure air for combustion can enter freely into the fire chamber. Doing so helps maximize heat output and keep heating costs low.
It is also important to consider your stove as a central heating source (radiators and hot water) instead of relying solely on a central furnace for warmth.
To help a stove effectively heat your home, here are four key points:
Choose an EPA-certified model in order to meet air emission standards and use less fuel
Ensure air for combustion can enter freely into the fire chamber
Consider using the stove as your main source of warmth
Make sure the model is capable of producing enough heat output
By following these steps when selecting and utilizing a wood-burning stove, you can enjoy efficient heating solutions while potentially lowering your overall heating costs.
What Are The Benefits Of An Epa-Certified Stove?
When considering the cost of heating one's home, looking into a wood-burning stove may seem an expensive and impractical option.
However, EPA-certified stoves, fireplace inserts, and pellet stoves offer high efficiency with modern features that significantly reduce air emission rules and safety risks. As such, they provide a viable option for lowering one's heating costs.
Using an EPA-certified appliance can result in numerous benefits. Wood stove changeout programs are available to replace older or inefficient models with newer and more efficient models that require less firewood to generate the same amount of heat.
Owning an EPA-certified stove also saves money on heating bills due to its higher efficiency rate. Since it uses less firewood than traditional wood-burning appliances while producing the same amount of heat, there is less fuel needed overall which reduces costs significantly over time.
Many states offer tax credits and other incentives for installing high-efficiency wood stoves or fireplace inserts as a way to promote energy conservation among citizens.
By taking advantage of these incentive programs and using an EPA-certified stove or fireplace insert, homeowners can lower their heating costs while helping the environment by reducing air pollution.
Are Fireplaces An Efficient Method To Heat A Home?
As gas prices and energy costs continue to soar, many homeowners are looking for more efficient ways to heat their homes. A recent study by the U.S. Department of Energy revealed that traditional fireplaces can be up to 50% less efficient than wood heating appliances such as wood pellet stoves and wood-burning stoves.
Wood-burning stoves offer many advantages over traditional wood fireplaces. For one, they typically produce more usable heat, allowing you to reduce your fuel consumption and resulting in substantial savings on your heating bills.
They also require less maintenance than traditional fireplaces and allow you to select from a variety of fuel sources such as logs, pellets, or other forms of wood fuel.
When used correctly these stoves can lower your yearly energy costs by reducing your reliance on fossil fuels and helping you take advantage of the low cost of wood fuel.
Some models even burn with very little smoke which makes them even more environmentally friendly than traditional fireplaces or furnaces powered by natural gas or electricity.
Are Gas Stoves Cleaner Than Wood Stoves Or Pellet Stoves?
With the growing shift towards environmental sustainability and efficient heating systems, are gas stoves cleaner than wood stoves or pellet stoves?
This is quite a long topic and cannot be answered with a single question. Check out what we have to say about gas stoves vs wood stoves.
Can A High-Efficiency Wood Stove Cut Your Energy Bill?
As the cost of energy, particularly electricity, continues to rise across the globe, homeowners and businesses alike are looking for ways to reduce their annual costs. The use of a high-efficiency wood stove has been gaining traction as a supplementary heating source that could potentially help cut energy bills.
While traditional wood-burning stoves have been around for centuries, modern technology is now making it easier than ever to control and monitor a centralized wood heater.
To get the most out of your wood stove and maximize its efficiency, there are several things to consider. Firstly, understanding how much heat is generated by the combustion process and how best to utilize this heat is key.
Wood stoves may be used to heat hot water or connected with hydronic heating systems in order to provide additional warmth throughout the home. They may also be used as an alternative or supplementary heating source for those who rely on oil or propane tanks for their main source of heat.
For those interested in using a wood-burning stove to lower their electricity bills, there are app-based control systems available that can help manage usage and optimize performance.
Studies have shown that properly maintained high-efficiency wood stoves can reduce energy prices significantly over time while also helping preserve our environment by reducing emissions from other sources of fuel.
What Is A Pellet Stove? Do They Burn Cleaner?
A pellet stove is a wood-burning heating appliance that can help you save on your energy bill. It burns cleaner than traditional woodstoves and is considered one of the cleanest wood-burning heating appliances available.
What Are Firelogs?
Firelogs are a form of fuel used for wood-burning stoves and other heat sources.
These logs are typically made from recycled wood waste, such as sawdust, wax, and food-grade vegetable oils. Firelogs contain more energy per pound than standard firewood, making them an excellent choice for people looking to reduce their energy bills.
For example, a family living in a rural area who relies on fuel oil to heat their home could use a wood stove and firelogs to significantly reduce their annual bills.
Wood burns at a higher temperature than other fuels like fuel oil, which makes it an ideal source of heat during power outages. In addition, the average price of firelogs is often much lower than the cost of purchasing standard firewood.
Users should take into account the potential sources of wood smoke when burning these logs as indoor air quality is an important factor to consider when using any method of heating.
When selecting a reliable and efficient heat source for both indoor and outdoor needs, firelogs provide an economical and effective solution. Their low cost combined with their high energy content make them an attractive option for those looking to reduce their energy costs while still staying warm during cold weather periods.
What Are Fireplace Inserts?
Fireplace inserts represent a warming solution for homes with an existing masonry fireplace and chimney flue. They are designed to fit snugly within the opening of a fireplace, similar to an attic floor.
Inserts can be made from cast iron, steel, or soapstone, and often come with a certification sticker indicating that the unit has been tested and approved for use in a non-combustible setting.
The benefits of wood heat generated from an insert include lower energy costs than central air systems as well as improved air quality due to fewer emissions than other heating sources.
Dry wood should always be used for burning in order to reduce smoke production as much as possible. It is important to ensure that the chimney liner is properly installed and maintained by a certified chimney sweep.
What Is A Forced-Air Furnace?
A forced-air furnace is a dependable and efficient way to heat an area. It involves using a centralized wood-burning boiler to generate heated gases that are circulated through the space via air ducts.
This process requires an attic space and is regulated by the Chimney Safety Institute of America for chimney air temperature and combustible gases.
The system also employs a heat exchanger, which transfers the heat from the hot gases to the cold air that is being circulated throughout the space. This helps regulate electric power usage, and can be further enhanced with a water baggie as a space heater.
It can provide a cost-saving measure in terms of heating costs due to its efficiency compared to traditional methods such as wood-burning stoves.
Overall, forced-air furnaces provide efficient heating while still being safe and reliable. Its cost savings potentials make it an attractive choice for many users in comparison to traditional heating options, making it an ideal solution for those looking for ways to reduce their energy bills.
Heat-Storing Stones And Soapstone Retain The Heat Longer
As an alternative, heat-storing stones or soapstone can retain heat longer than what is typically produced by a wood stove. These materials are naturally dense and able to store heat from a single fire for long periods of time. Thus, they are often used in combination with wood-burning stoves to increase efficiency and lower heating costs.
The use of heat-storing stones and soapstone to retain heat for longer periods of time appears to be a no-brainer when it comes to reducing heating costs.
Using this technique, individuals can maximize the efficiency of their wood-burning stoves, while taking advantage of masonry mass that stores heat from hot fires.
Glass doors on the appliance and built-in safety devices help ensure that the fuel is burned properly, with advanced combustion woodstoves helping reduce air pollution. Those looking for a more efficient way to store wood can take advantage of bulk-filled storage systems or insulated wood chips in cubic feet.
Heat-storing stones and soapstone prove beneficial for those wishing to lower their heating costs, as they provide enough warmth and energy to heat an entire house. This is a great alternative to traditional methods of heating, enabling individuals to save money while being more eco-friendly. With this technology at hand, there's no excuse not to take advantage of it.
How To Select And Store Wood
When selecting and storing wood for a wood-burning stove, there are several factors to consider. The Air Pollution Agency recommends avoiding non-certified wood stoves due to their potential for releasing higher levels of pollutants such as carbon monoxide.
The moisture content of the wood should be monitored because wet wood and inefficient fires can lead to extra smoke and ash contents that may require more catalyst maintenance, and are also very harmful to your health.
Regular cleanouts of the door must be conducted to reduce the risk of a chimney fire.
When selecting and storing wood, it is important to consider its moisture content, certified status, and cleanout frequency in order to maximize safety standards while ensuring efficient use of resources. This will enable users to receive optimal benefits from their wood-burning stove while also reducing overall heating costs.
Wood heat is a renewable energy source that can be used to reduce heating costs. It is a clean and efficient way to heat homes, and it has many hidden benefits. There are several ways in which wood heat can contribute positively to both the environment and the homeowner's wallet.
Using a wood-burning stove for home heating reduces the need for electricity, which can lead to lower energy bills. Wood stoves are also an economical option, as they require no additional fuel other than what is available locally and can often be found at low cost or even free.
Frequently Asked Questions
What Is The Most Cost-Effective Way To Heat A Home?
A wood-burning stove offers several benefits over other forms of heating. For starters, it is significantly more affordable than electric or gas furnaces. Furthermore, the fuel source – wood – is abundantly available and renewable.
How Do I Know When The Wood-Burning Stove Is Ready To Use?
Generally, it will take around an hour from lighting the fire until the stove itself is hot enough to start providing heat. If a user does not wait long enough for their wood-burning stove to heat up, they may not get full effectiveness from their appliance.
How Often Do I Need To Clean My Wood-Burning Stove?
The accumulation of soot in the chimney or flue of the stove should be monitored closely. Not only can it decrease the efficiency of heat production due to clogged pipes, but it can also become dangerous if left unchecked.
Soot buildup can lead to chimney fires which put your family at risk. It is recommended that you have your chimney professionally inspected yearly or bi-yearly depending on usage and environmental conditions around your home.
Are There Special Safety Considerations For Using A Wood-Burning Stove?
When considering how a wood-burning stove can lower heating costs, it is important to be aware of the safety considerations associated with their use.
Some key points to consider include:
Ensuring that the stove is installed correctly and meets local building codes
Maintaining proper ventilation while the stove is in use
Checking regularly for any signs of smoke in the room or house
Conclusion
The use of a wood-burning stove is an effective way to lower heating costs in a home. This cost-saving solution is economical, efficient, and relatively easy to use. In addition, it is important to note the safety considerations when using a wood-burning stove.
To ensure that the wood-burning stove is safely used, it is necessary to understand when the stove is ready for use and how often it needs to be cleaned. When the wood-burning stove is properly prepared and maintained, it can provide consistent heat while reducing energy bills.
Overall, the use of a wood-burning stove provides many advantages. It allows homeowners to save money on heating costs while also providing a reliable source of heat during colder months. Furthermore, properly maintaining a wood-burning stove ensures that it will be safe and effective for years to come.
Related Articles: