It's been said that necessity is the mother of invention, and with ever-shrinking budgets and little time for vacations, sometimes we need to get creative when it comes to an occasional three-day weekend or odd day off.
The term "glamping" has been used to describe the act of camping with added luxuries instead of just the essentials, and the word "staycation" has nearly worn out its welcome describing the act of taking a few days off and just relaxing at home.
Today's roundup combines the two with some whimsical inspiration points for camping at home… or, rather, taking a "glamping staycation," from old-fashioned teepees to ultramodern personal pods.
Whether it's welcoming an overnight guest and wanting to give them more privacy than an air mattress in the middle of the living room, a safe yet adventurous way to spend a Friday night with the kiddos or just an inventive idea for a cozy night in with a loved one, these ten indoor camping ideas are full of childlike creativity and — the most important part fun.
Little Dove Kids Foldable Teepee 
This play tent is lightweight, the side length 43. 3inch, top height 59inch, pole length 70. 9inch. Perfect size for an apartment or bedroom.Color kinda taupe;beige. Natural canvas color, not off white.
The teepee tents are made of 100% natural, non-toxic, unpainted cotton canvas. The tent poles are made of sturdy pine wood and are free of chemical odors and harmful substances. The best choice for your adorable boys or girls.
Unique Design: With curtains; front flaps could be closed completely, offering kids personal space for little secrets and encouraging them to become more independent and show respect for others. Two inner pockets lets kids store beloved dolls, books and snacks.
Easy installation being a significant feature, this tent can be conveniently assembled by a single adult. Or you can have fun and install it with your kids. Comes with carry case, made to be portable and practical, so that you can carry your child's favorite teepee anywhere with you.
Teepee Tent for Kids with Padded Mat
BEST QUALITY FOR YOUR CHILD: Tiny Land kids teepee tents are made of 100% natural, non-toxic, unpainted cotton canvas. The tent poles are made of sturdy pine wood and are free of chemical odors and harmful substances. Only the best for your little kids!
PERFECT INDOOR & OUTDOOR PLAYHOUSE: These teepee tents make for the perfect space for kids to play and relax in. They can be set up either at home or outside and provide children with a feeling of privacy and personal space while allowing parents to monitor them for their safety.
PORTABLE & FOLDABLE: Tiny Land's play tents are lightweight and easy to set up. Likewise, they are easing to disassemble and fold. These cotton canvas playhouses are made to be portable and practical so that you can carry your child's favorite teepee anywhere with you!
HAPPY CHILDHOOD MEMORIES: Witness the priceless expression on your child or grandchild's face when they open their very own kids teepee tent. If you're looking for the ultimate toy for any child, this teepee canvas tent will win their hearts and creative attention for years of playtime. Highly suggest letting your kids personalize their teepee with water- or oil-based or acrylic paint, stickers or light strands.
More Stable: You certainly don't want to buy a tent that may collapse or fall down when kids play in it. Tiny Land teepee has a wider base (47″ square) than normal size, which means more room and more stable.
Luxury Tipi for Indoor Reading
💗 CAMPFIRE WITH S'MORES! This luxuriously handcrafted tee pee set comes with a fabric campfire set with enough s'mores pieces for 2, which means that your little one can share treats with others! And what that really means is they will develop vital social skills while bonding with a friend! And what that ultimately means is they will learn one of life's most essential skills: roasting s'mores with friends while camping!
💗 LIGHTS UP FOR PRETEND CAMPING Children will have open-ended play time with a campfire and s'mores under the stars when they turn off the room light and turn on the "Twinkle Lit Teepee"! They can snuggle up with their stuffies under the soft glow from the twinkle fairy lights while they read a book or play pretend and make-believe. It's among the best gifts to promote imagination and dramatic play with young children ages 3, 4, 5, 6, and up!
💗 READING NOOK For those that need an independent space for cooling down in the classroom or in the home, this teepee provides a peaceful, cozy corner to read in and relax. Designed by a former first grade teacher turned mompreneur, this tent offers a quiet reading space that can be used to foster early childhood development in literacy and creativity! It is an ideal gift for toddler preschool, kindergarten, and other elementary school classrooms.
💗 CUTE FOR PHOTOS Whether you're a parent or a photographer looking for a prop, this teepee tent for kids will help make your photos come to life! You can record a child's precious fleeting moments of innocence that the whole family can cherish – they're only little for a very short time!
💗 EASY ASSEMBLY: Unlike other teepees that offer a frustrating experience of threading a shoestring through tiny holes, the Twinkle Lit Teepee comes with cute pole top covers that are permanently attached and make setup easy! The poles simply slide all the way up to the top of the teepee and you're done! The illustrated instructions provided show exactly how to do it, but many people prefer watching a demo on video – so point your phone's camera at the booklet and it will take you to a video!
Living Room Tent & Cushions via Nordic Bliss
A-Frame Tent Tutorial by Cakies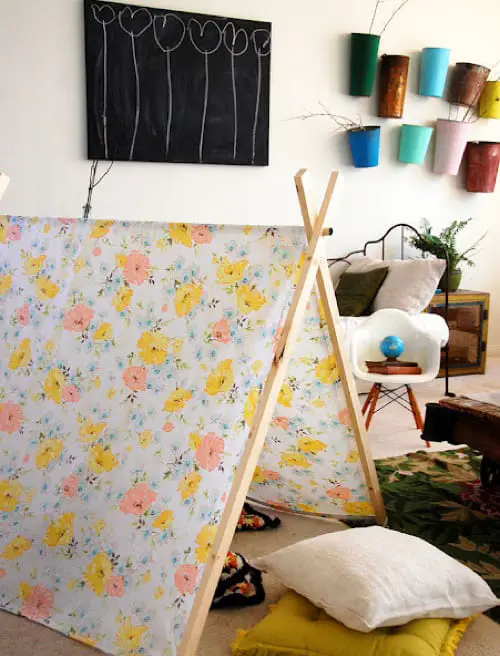 Ferrat Pyramid Daybed from Modloft
Handmade Kids Teepee from Moozle Home
Indoor Camping Scheme by Happiness Is
Kids Room Tent via Remodelista
Reading Tent via UK Telegraph
Slumber Party Tents from Spearmint Baby
The Huettenpalast Hotel Indoor Camper Concept
The HUSH Seating Pod by Freyja Sewell
And Last But Not Least – The Trailer Mansion
Here is an interesting photo I found on the web today: the "luxury" Trailer Mansion.
Image
Title
Price
Prime
Buy
DDASUMI Warm Tent for Double Bed without Floor (Pink) - Blocking Cold air, Privacy, Play Indoor Tent

Prime

Eligible

Take a Look
princess castle play tent Kids Teepee Tent Large Children Playhouse Oxford Fabric Children Playhouse for Indoor Outdoor with Carry Bag Portable Playhouse Boys & Girls Birthday Gift (flower pink)

Prime

Eligible

Take a Look
Sumbababy Teepee Tent for Kids with Carry Case, Natural Cotton Canvas Teepee Play Tent, Toys for Girls/Boys Indoor & Outdoor Playing--ASTM Certified

Prime

Eligible

Take a Look
Monobeach Princess Tent Girls Large Playhouse Kids Castle Play Tent with Star Lights Toy for Children Indoor and Outdoor Games, 55'' x 53'' (DxH)

Prime

Eligible

Take a Look
Bed Tent Dream Tents Bed Canopy Shelter Cabin Indoor Privacy Warm Breathable Pop Up Twin Size for Kids and Adult Patent Pending PitchBlack(Mattress Not Included)

Prime

Take a Look
little dove Kids Foldable Teepee Play Tent with Carry Case, Banner, Fairy Lights, Feathers, Floor Mat , Four Ploes Style Raw White Color - New Version

Prime

Eligible

Take a Look
Teepee Tent for Kids with Padded Mat- Play Tent for Boy Girl Indoor & Outdoor, Gray Chevron Heavy Cotton Canvas Teepee

Prime

Eligible

Take a Look
Kids Teepee Tent with Padded Mat & Light String& Carry Case- Kids Foldable Play Tent for Indoor Outdoor, Raw White Canvas Teepee - Kids Playhouse - Portable Kids Tent

Prime

Eligible

Take a Look
Teepee Tent for Girls, Boys - Deluxe Set with Smores-Campfire, Fairy Lights, Super Thick Fabric | Kids Love This Luxury Tipi for Indoor Reading, Imaginative Pretend Play | for Children, Toddlers

Prime

Eligible

Take a Look
Tiny Land Huge Teepee Luxury Lace Tent for Wedding, Party, Photo Prop (7.5 Feet Tall) 5-Poles Lace Canopy for Indoor & Outdoor Use

Prime

Eligible

Take a Look
HAN-MM Floral Classic Ivory Kids Teepee Kids Play Tent with Ferry Light and Feathers Childrens Play House Tipi Kids Room Decor

Prime

Eligible

Take a Look
Prices and images pulled from the Amazon Product Advertising API on: