Ceramic Coffee & Beer Mugs
We're an affiliate
We hope you like our recommendations! Just so you know, we may collect a share of sales or other compensation from the links on this page. Thank you for using our links, it is much appreciated.
Here is a cool modern gadget for the beer drinker in the family, which also seems like a great gift idea for the holidays. The Plasma Mug induces an orange glow between the walls of an evacuated, double-walled glass mug best appreciated in low light.
The bottom of the mug lights up while it's sitting on its electric coaster also creating fiery traces if a finger touches the outside wall of the mug. Place the Plasma Mug on the electronic coaster and orange plasma lightning radiates inside the mug.
This may be you chance to get your partner trained in the benefits of "using a coaster" as well. $19.95 From 2Shopper.com Plasma Mug 5.5″ H 3″ Dia Coaster is 5″ wide.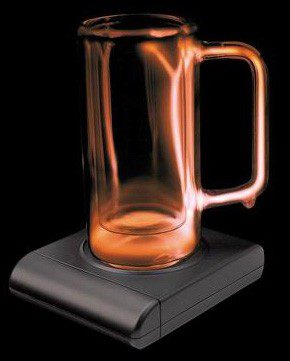 Image
Title
Price
Prime
Buy
Ambesonne Psychedelic Beer Stein Mug, Abstract Hallucinatory Plasma Shapes with Eastern Marbleized Print, Traditional Style Decorative Printed Ceramic Large Beer Mug Stein, Orange Brown

Prime

Check Me Out On Amazon
P-3 Orion Plasma Cups Novelty Oversized Frosted Beer Mug

Prime

Check Me Out On Amazon
Ambesonne Outer Space Beer Stein Mug, Galactic Travel Atmospheric Plasma Cosmonaut Transportation Interior Design, Traditional Style Decorative Printed Ceramic Large Beer Mug Stein, Warm Taupe

Prime

Check Me Out On Amazon
Ambesonne Letter O Beer Stein Mug, Alphabet Abstract Concept Hot and Fiery Letter O Plasma Smoky Look, Decorative Printed Ceramic Large Beer Mug Stein, 30 oz, Orange Black Tan

Prime

Check Me Out On Amazon
Halo Beer Mug, Gamer Gift Stein, Personalized Beer Stein, Halo Tankard, Custom Gift for Men, Gift for Him, Geek Gift

Prime

Check Me Out On Amazon
Oktoberfest 44 Oz Dimpled Glass jumbo Beer Mug by HC

Prime

Eligible

Check Me Out On Amazon
Bormioli Rocco 4-Pack Solid Heavy Large Beer Glasses with Handle - 17.1/4 Ounce Glass Steins, Traditional Beer Mug glasses Set, Perfect Coffee - Tea Glass, Everyday Drinking Glasses, Cocktail Glasses

Prime

Eligible

Check Me Out On Amazon
Dimple Stein Beer Mug - 20 OZ (4 Pack)

Prime

Eligible

Check Me Out On Amazon
Prices pulled from the Amazon Product Advertising API on: