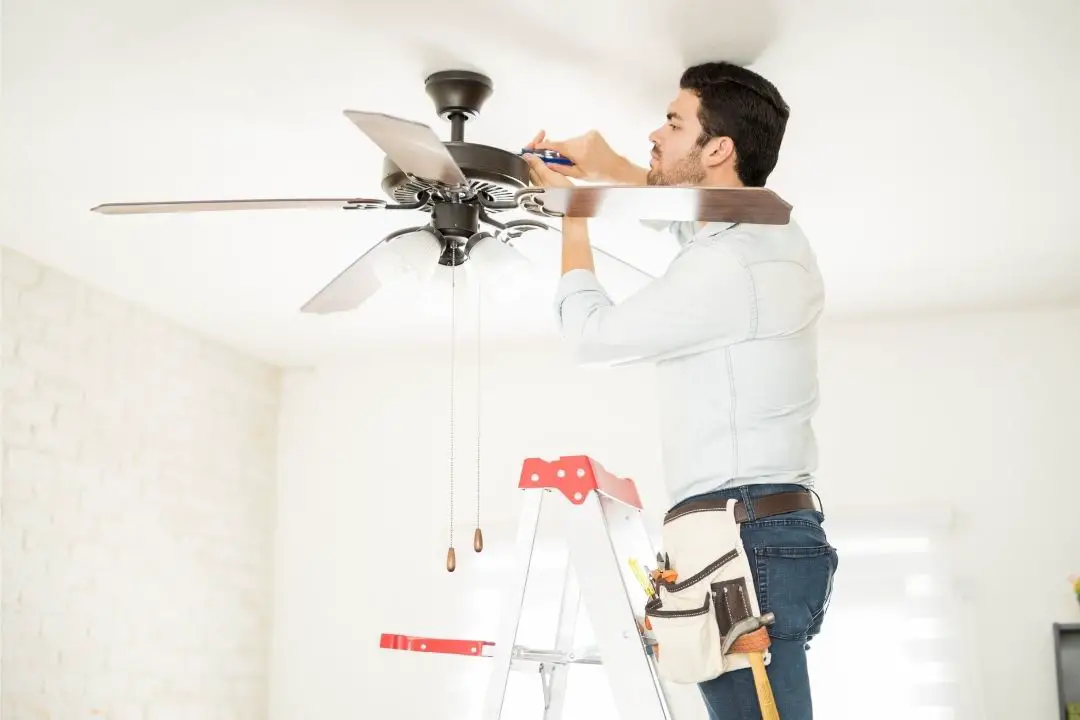 Maintenance Tips for a Ceiling Fan
All the appliances in your home make your life smoother and comfortable. Whether it is good lighting, sufficient ventilation or other home appliances, proper maintenance will enhance the life span of the product and ensure that you are enjoying all the features.
A ceiling fan is one of the major appliances that you can find in every home. In India, where people battle with the scorching heat for several months each year, table fans and ceiling fans come to the rescue by providing relief from the humidity.
Even within the category of ceiling fans, you can find many fans available for purchase beyond just the basic fans.
Types of Ceiling Fans:
Under light ceiling fans that come with decorative lights
Silent ceiling fans that make less noise than typical models
Electroplated finish ceiling fans that last longer and not corrode fast
Anti-dust ceiling fans that attract less dust than regular fans
Energy-efficient and low voltage ceiling fans that consume less electricity to operate
Stylish designer ceiling fans that can enhance the look of a room while providing superb air circulation
But no matter what fan you get, buying a fan does not mean that you have a onetime perfect solution to your heat woes that you will never have to worry about again. No appliance can last forever, and after your purchase, you must be mindful about the maintenance and take care of the ceiling fan if you want to use it for years with no trouble.
LED Ceiling Fan
INDUSTRIAL CEILING FAN: Trend-setting, industrial style. This modern fan flaunts warm rustic, dual-finish rough pine / chestnut blades, a bronze finish motor housing as well as Edison-style light bulbs.

EDISON BULBS SPECIFICATIONS: Illuminate your space with three E26 / B10 LED bulbs included, clear glass, 25,000 hours lifespan, 2700k, 80 CRI, dimmable 100% to 20%. Lumens (450), Beam Angle (360).

TRI-MOUNT COMPATIBLE: This fan boasts dynamic hanging abilities. This fan can be mounted with a downrod (standard), angled-mount (sloped) and flush-mount (4" downrod included with purchase).

QUIET, REVERSIBLE MOTOR: Conveniently quiet, 3 speed – reversible motor. Can be run in the winter to aid in rotating warm air and cutting down on energy costs. You'll love this ceiling fan!

REMOTE CONTROL INCLUDED: This fans includes 3-speed settings, 'Smart Sync' for quick setup, 'Walk Away Light Delay' and light dimmer. Controlling your ceiling fan has never been easier.
5 Maintenance Tips For A Ceiling Fan
Clean Your Ceiling Fans
Cleanliness is the most important thing, be it for yourself or the maintenance of your household products. Whether it is a ceiling fan with remote or a kitchen exhaust fan, they are in function throughout the day. And by the end, a thick layer of dust particles stick to the surface of the blades.
Eventually, the dust particles will increase and reduce the speed of the fan and the overall efficiency. The dust might get inside the motor and cause additional problems. To make cleaning easier, you can also consider getting anti-dust fans.
You must clean your ceiling fan at least once or twice within six months. First, you must plan to reach the fan and then wipe the blades properly with soapy water. Once it is done, take a clean and dry cloth and wipe the blades once again. Cleaning your ceiling fan regularly will ensure the proper functioning and superior airflow.
Check If It Needs Lubrication
Most of the ceiling fans require frequent lubrication, and improper lubrication might affect motor functioning. If you are unsure about when and how often you should oil your fan, then you should refer to the manual or user guide that comes along with the ceiling fan.
The hole for oil is usually at the top of the ceiling fan. All you need to do is pour lubricant in it and clean the excess amount, if any. Lubrication helps in the machine's maintenance and ensures that the ceiling fan moves smoothly.
Check The Screws
There is a constant motion when the fan moves and the ceiling fan moves almost for the entire day. In such a situation, it is quite predictable that the screws will lose their strength over some time. And eventually, the fan will wobble.
Screws can also become loose in the fan and go missing. So, you need to check all the screws and if you find anything unusual, then you should tighten or replace that screw. All you need is a screwdriver and a replacement screw, and you are ready. Whether it is a ceiling fan or table fan, the vibration happens everywhere, and you must be careful to ensure the long-lasting functioning of the fan.
Look For Proper Movement
The blades often lose their shape by having dents. There might be some unusual movement in the ceiling fan. This can cause the ceiling fan to wobble, especially at high speeds. In such cases, you must balance the fan. It is extremely easy to do this with the balance kit that usually comes with the fan.
A ceiling fan balancing kit comes with a plastic clip and balancing weights. If your ceiling fan did not come with a balancing kit, they can also be purchased separately.
To use the balancing kit, identify which fan speed causes the most wobbling, and then switch off the fan and wait for the blades to stop turning before placing the clip on the edge of the fan blade. Adjust the placement of the clip and keep switching on the fan to see if there is any improvement.
This process will have to be repeated for all the blades. Once you find the faulty ceiling fan blade, you can place the weight on the centerline of the blade, parallel to where you have placed the clip. This should help fix the wobbling of the fan so it runs smoothly.
Get help If You Need It
While we have talked about simple cleaning and maintenance tips that you can follow yourself, call someone to service your ceiling fan once in a while if something seems amiss and you are uncertain about following these steps. If you are doing the maintenance of the fan by yourself, be sure to follow precautions to avoid any damage.
You should handle the fan carefully if you are attempting to remove it from the ceiling, as there are sensitive parts that can be damaged if you drop the fan. For example, in case the motor gets damaged, the fan may cause a lot of noise and it can also seriously malfunction resulting in overheating and even cause a fire.
Another thing to consider when you remove the fan from the ceiling is having sufficient area to put it in so the blades are pushing against anything which can cause them to bend. You should also note the electrical connections which you will have to install in exactly the same way when you replace the fan back on the ceiling.
With these tips, we hope that you have a better understanding of your ceiling fan and you will have a wonderful experience with the appliance and increase its lifespan. Fans are a must-have in every household and are an excellent way of keeping the air circulating.
With a superior ceiling fan, you will also get longevity without having to spend too much time on maintenance apart from regular cleaning. If you only need a fan for a small area, a pedestal fan should fall within an affordable range, ensuring you get the benefits without digging a hole in the pocket.