Cool and Funky Ceiling Fans
Ceiling fans are an evil necessity. You need the light around the house and the occasion spin of the blades help to cool down warmer corner. The problem is the overbearing and dull traditional designs that cover most of these functional pieces.
But that's where are scouring and shopping comes in handy. We like the find cool, unique pieces and then inspire you with all of our treasures. If you're looking for spruce up your home, a particular room or even just a corner of your house, you may want to just look up!
Check out these 12 cool ceiling fan ideas and their originality, personality and stylish pizzazz.
The L.A. 44 in. Indoor/Outdoor Oil Rubbed Bronze ceiling fan
Three blades full of lightness and movement, this curved beauty would fit right into any home setting. It's got a cozy, traditional vibe that can easily be blended into most living rooms, dining rooms or even comfortable and a bit rustic of master bedrooms. But it has a pinch of artistic uniqueness that will still transform a space easily and lightly.
Not only is this chic and sleek design available to spin by the press of a button on a remote control, but it sure does add a punch of fashion-forward style to a most unsuspecting of places. We love this piece placed in your edgy and masculine home office, or even in your subdued and modern guest bedroom.
It doesn't get anymore contemporary and futuristic than this sycamore style. If you're looking for a strictly contemporary and posh style throughout your bachelor pad or studio apartment, look for something that has this type of unique and slick appeal to round out that transformation. A boring, traditional ceiling fan won't do the trick!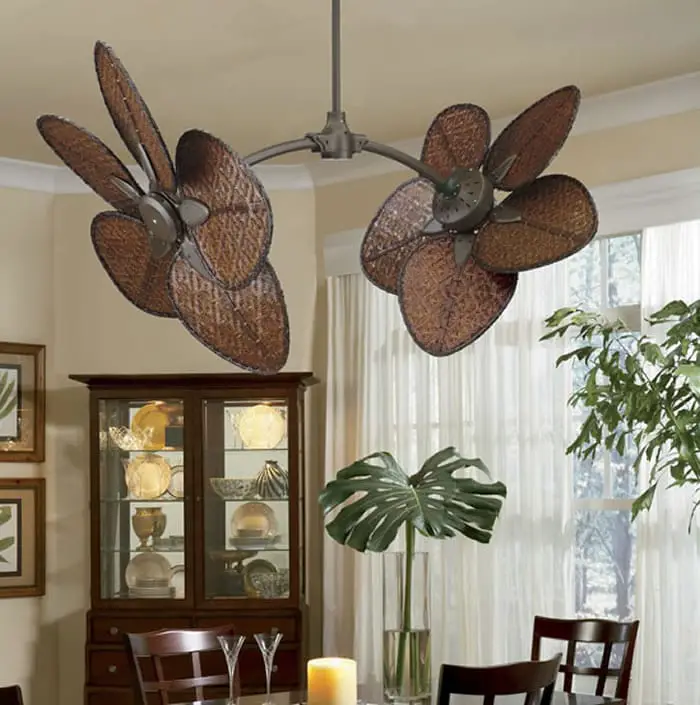 If you're looking for a standout piece, look no further. Bring a bit of the islands and vacation vibes into your dining room, breakfast nook or covered porch with this Caruo dual fan design. This easy, tropical addition will make coming home that much more enjoyable when you need a bit of R&R and can't truly get away from the office.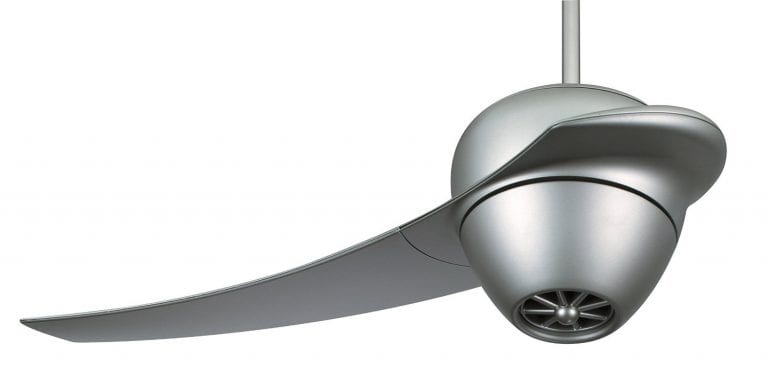 Another super slick and futuristic fan choice. Again, this is a great choice when you're wanting to stay within the confines of modern and ultra contemporary style throughout your home. You'll need to get rid of your "normal," "everyday" ceiling fan choices and help transform every ounce of your home with chic accents.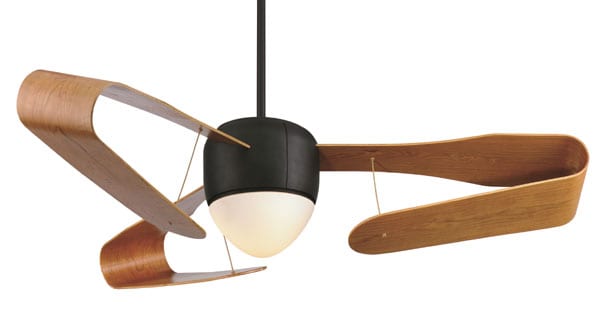 What about finding something a bit more architectural with a hipster vibe? This fan from the Centaurus collection would look incredible hanging in the craft room or even in the "man" cave for a bit of creative expression and inspiration. We love how it looks homemade and on-trend in the easiest of ways.
This Minka Aire Artemis design may have been around for a bit longer than some other picks on this page, but it's one of the most artistic and unusual of the bunch. Although made with traditional in mind, we love how it looks like a sculpture built from the hands of a professional and inspirational artist.
Light up your world with this incredible "helicopter" piece. Whether it's in the playroom, bonus room or in your son's room impressing all of his friends, this amazing, imaginative style has everything it needs to be functional and stylish too. Besides, it's a complete reproduction of a Hughes/MD 500 – how cool is that?
We just found the perfect ceiling fan for a fashion-forward breakfast nook or inspiring craft room. Not only is this fan reflective of a winding ribbon, but it's named the "ribbon," as well. Once it's on the fluid blade will look like a spinning piece of decor on the ceiling and a piece of art when stable – you can't go wrong with this contemporary choice.
Are you looking for a color? Then look nor further than this bold and playful fan. In the kids room, playroom or just brightening up the guest room, we've fallen in love with the Harlequin. Imagine the rainbow it will make once it's spinning in the sky!
Similar to several of its predecessors, the Westinghouse Harmony fan combination traditional features with chic, contemporary nickel finish. The two-blade design will give off enough air to cool down any nook but also keep within a forward-thinking and stylish home. This piece would be a great fit for the kitchen, don't you think?
Sometimes a circular motion isn't needed to take the temperature down a notch in a room. This Victorian-inspired fan may flap back and forth like a hand-piece but it's also got a lot of unique and feminine appeal to it as well. Imagine this in your grand foyer or formal living area when guests arrive. It's art in the sky!