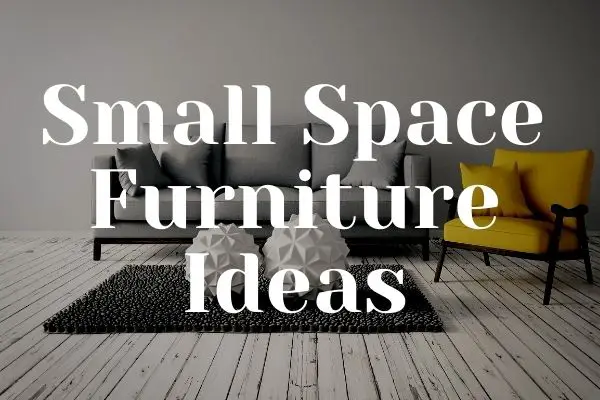 5 Pieces of Furniture For Small Spaces
So, you're looking to improve your space with a few brand-new furnishings. But there's only one problem: your space is pretty small. How do you get around the space limitations while still crafting a magnificent, nice-looking room? By enhancing it with appropriate furniture and appliances, of course.
There are plenty of amazing options for customizing and improving a small space with just a few unique furnishings. Whether it's a table or a functional appliance somewhere in the room, there's something for everybody that fits any space. Here are five pieces of furniture or appliances that can help you improve your small spaces.
Bedside Table
The bed is the centerpiece of your room. Why not accessorize it with a nice bedside table? Bedside tables are wonderful additions to any room.
A bedside table can be a safe place to store your phone while you sleep, add a reading light for some late-night page-turning, or merely be a place to keep some miscellaneous items. It's important to be able to quickly grab items when you wake up or before you go to bed.
A bedside table will help you do this while also providing a nice furnishing for your room. Be sure to match the decor of the room for the optimum effect.
A sturdy table, possibly with some shelving or additional drawers, can be another great option for enhancing the furnishings of your room.
A Comfy Chair
Nothing beats a nice, comfortable chair! In addition to the obvious reasons for having a nice chair in your home, a comfortable chair can provide all the support you need.
Experiencing neck issues? Need to improve your posture? Just want to relax after a hard day at work? A comfortable chair will help you with all of these items and always be there for you when you need it.
Chair upholstery comes in a variety of colors, designs, and styles so you should be able to find something that matches the rest of your room's look.
Lamp
If you're looking to add some ambiance to your room—or just have some additional light—a lamp is always a fantastic accessory. Lamps are functional, fit with just about any decor style, and come in a variety of different options these days.
If you want to showcase your personality while providing extra light in your area, you can do that with a customized lamp. You can even get dimmable lamps for that extra bit of ambience and lighting support.
A bedside lamp can fit right on your bedside table while an upright lamp can help provide Lighting in other parts of the room. Less light saves energy and reduces utility bills, too. Whether you're looking to do a little bit more reading at night from the comfort of your bed, or just reduce your overhead lights a bit, a lamp is an inexpensive and excellent bet.
Small Ceiling Fans
There's nothing quite like a diminutive ceiling fixture to really tie a room together. No, really! A small ceiling fan can be an amazing addition to any room.
Not only does it have a beautiful aesthetic quality to it, but it's also pretty useful. The ceiling fan circulates air in both the summer and wintertime. They can create a cooling or heating effect depending on the direction in which they are spinning.
Ceiling fans can provide a little extra light in a room and a nice visual touch. Ceiling fans come in many unique styles, including a modern aesthetic, a rustic aesthetic, and a farmhouse aesthetic that sort of encompasses both design ideas.
Ceiling fans can also be remote-controlled, controlled with smartphones, and offer dimming, which essentially makes them the ultimate home appliance.
Best of all, elegant small ceiling fans fit in just about any room. All you need to do is measure the size of your room, find its area, look at your favorite ceiling fan vendor's size charts, determine the blade diameter/blade sweep, and you'll be ready to install a brand new, amazing small ceiling fan today. They're worth adding for both their usefulness and their beauty.
Small Shelving
Sometimes, you have a lot of extra stuff. Whether they are books, trinkets, miniatures, or other bric-à-brac, you need a space to store them. Shelving can really help in a pinch. It doesn't have to be a large or tall shelving unit.
Something as small as a media shelf or a small bookcase can be quite beneficial. Maximizing your space using shelves it's a great way to showcase your personality while finding a place for all your stuff.
Shelves can work in a closet, on the wall, above your bed, or pretty much anywhere you can fit to install them safely. Consider getting some shelves to really make the most out of your small space.
Related Articles: