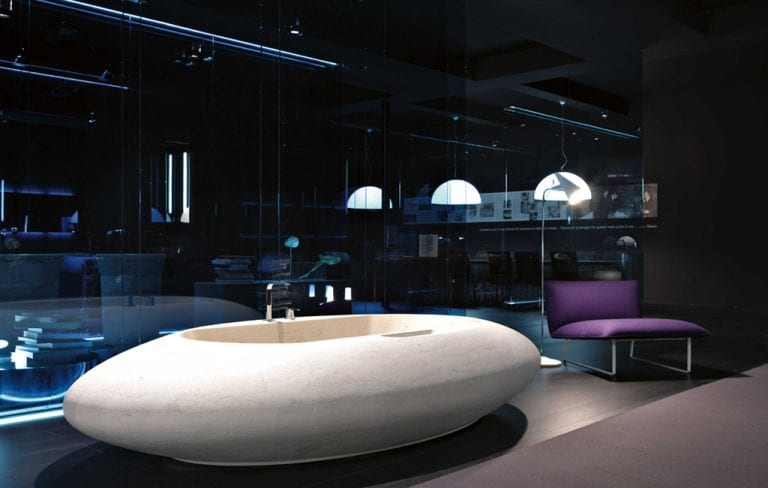 Sometimes, furniture designers create pieces that are more art than furniture. Such is the case with the Arca Bathtub. Designed by Carlo Colombo for Antonio Lupi, it is a true sculpture. It is made in moonstone and is rough on the outside and smooth on the inside. Its polished interior shows off its lovely texture.
Arca will add a little luxury to your bathroom and allow you to say goodbye to the cares of the day. It gives you the perfect opportunity to transform your bathroom into a little haven.
The solution to modern functionality, Arca Bathtub by Antonio Lupi showcases beauty at its best. It merges natural materials with modern flair. It is freestanding and can be placed anywhere in the bathroom. When installed in contemporary bathrooms, it adds an element of luxury without affecting the atmosphere. It creates an environment of absolute comfort and works well with a variety of bathroom decors.
Antonio Lupi is a leader in the design and manufacture of modern furniture for bathrooms, living rooms, and every other part of the home and office. The company continuously enhances itself through research into new materials and designs and by investing in manufacturing technology.
Its designs cater to both homes and offices thanks to its association with top designers such as Carlo Colombo. Arca is one of its best bathroom furnishings. Made in high-quality materials with the utmost attention to detail, it stands out brilliantly from other bathrooms.
What do you like most about the Arca bathroom?
Related Articles: