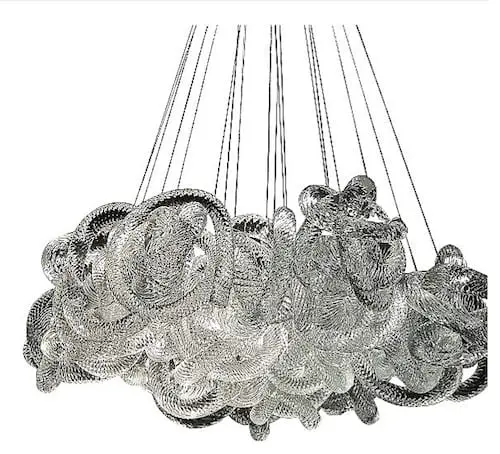 Cloud Round Chandelier By Stonegate Designs
The magnificent Cloud Round Chandelier by Stonegate Designs can be purchased online from the Lumens website. The stunning chandelier pays reverence to old school aesthetics and is unapologetic-ally opulent.
Handcrafted by Fusion Z,the chandelier compromises of seventeen, individual, hand-blown, patterned glass fixtures that create a strong visual language and also give an illusion of movement.
Included Features:
Polished Nickel finish.
Seventeen hand-blown glass knots clustered into a round configuration.
Ceiling canopy and suspension mounting hardware.
Lighting: Three dimming 20 Watt 120 Volt MR11 Halogen lamps