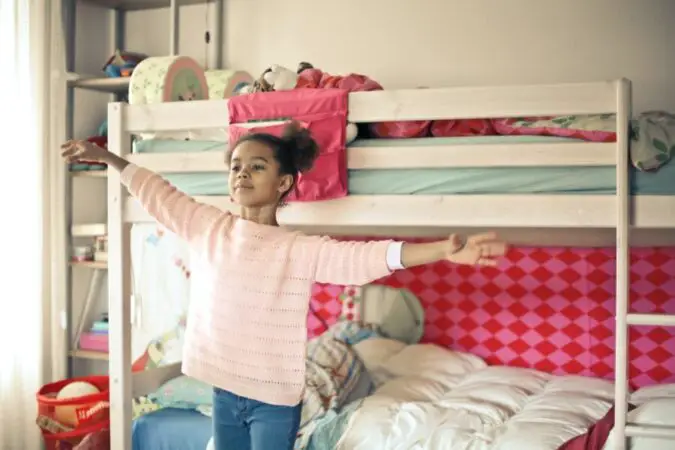 Kids Love Cool Bunk Beds
Kids love bunk beds for many reasons. One of the main reasons is that bunk beds are fun and exciting. They allow children to climb up and down and play games like pretending to be pirates on a ship or superheroes on a mission. Bunk beds also provide a sense of adventure and independence, as many kids enjoy having their own space on the top bunk. Additionally, bunk beds are great for sleepovers and hosting friends, making them a great addition to any child's bedroom.
The Coolest Kids Bunk Beds Ever – Petit & Small. Ask any kid if they'd like a bunk bed; the answer is almost always yes. Kids love bunk beds, especially if it means they can invite friends to stay..
✖

November 22, 2023 02:38
The Advantages of Bunk Beds
Bunk beds offer several advantages that can make them a great choice for certain living situations, including:
Space-Saving: By stacking one bed over another, bunk beds maximize floor space, which can be particularly beneficial in small rooms or shared living areas.
Cost-Effective: Often, bunk beds can be a more economical option compared to buying two separate beds. They might also include integrated storage or a desk, further saving furniture costs.
Shared Rooms: Bunk beds are particularly useful in shared bedrooms, such as in siblings' rooms or dormitories, allowing for private sleeping spaces without taking up as much room.
Design Options: Bunk beds come in various designs and styles, enabling a match with the room's décor or personal preferences.
Fun for Kids: Many children find bunk beds fun and unique, making bedtime more exciting. Some bunk beds are designed with themes or additional features like slides to make them even more appealing.
Versatility: Some bunk beds can be separated into two individual beds if needed, offering more flexibility in room arrangements.
Additional Sleeping Space: Bunk beds can be ideal for guest rooms or vacation homes where extra sleeping space is needed without compromising the room's usability during the day.
Increased Room Functionality: By freeing up floor space, bunk beds may enable additional furniture, such as desks or dressers, or provide more play or work space.
Potential Social Interaction: For roommates or siblings, bunk beds can foster a sense of companionship and make shared living more interactive and enjoyable.
Adaptability: They can be used in various settings, not just in children's bedrooms but also in hostels, cabins, or other places where maximizing space is important.
Of course, bunk beds are not suitable for everyone or for every situation, and there are also potential downsides such as safety concerns, difficulty in making the bed, or lack of privacy. It's essential to weigh these factors and consider individual needs and preferences when deciding if bunk beds are the right choice.
Are There Any Disadvantages To Bunk Beds
Bunk beds, while space-saving and often popular in shared bedrooms, do have some disadvantages:
Safety Concerns: The top bunk can present a fall risk, especially for younger children. Guardrails can mitigate this risk to some extent, but it is still a concern for many parents.
Accessibility: Getting in and out of the top bunk can be a challenge, especially in the dark or for those who may have mobility issues. Climbing the ladder might be difficult for some people.
Limited Comfort: Depending on the design, bunk beds may not be as comfortable as standard beds. The space for the mattress may be more restrictive, leading to a thinner or less comfortable mattress being used.
Aesthetic Limitations: Bunk beds have a specific look that may not fit with every room's decor. They can also limit your options for arranging furniture in a room.
Differing Bedtimes: In shared rooms, different bedtimes or waking times can be disruptive to the person in the other bunk.
Age Appropriateness: As children grow older, they may feel that bunk beds are too childish or that they want their privacy and space. This can lead to the need for new furniture sooner than you might with separate beds.
Cleaning Difficulties: Cleaning the top bunk can be more challenging. Changing sheets, making the bed, and even dusting can become more cumbersome tasks.
Heat Distribution: The top bunk can become warmer since heat rises, which might not be comfortable for some, especially in hot weather. Conversely, the bottom bunk might be colder.
Lighting Issues: The top bunk might get more light, while the bottom bunk may be darker. This can cause problems with reading or other activities that require good lighting.
Limited Personalization: If the bunk beds are used by two different individuals with varying tastes, personalizing the space can become challenging. It's harder to express individuality within the confined space of a bunk bed setup.
Noise: If one person moves around a lot during sleep, it can create noise that disturbs the person in the other bunk.
Height Restrictions: The lower bunk often has limited headroom, which can be uncomfortable for taller individuals.
Resale Value: Bunk beds may have a limited resale value since the potential market could be restricted to families with children of certain ages.
Potential Damage to Walls and Ceilings: Depending on the design and placement, bunk beds might cause damage to walls or even ceilings if not properly secured.
Despite these disadvantages, bunk beds can still be a great solution for many families, particularly when space is limited. Careful consideration of the design, placement, and the needs of those who will be using the bunk beds can help mitigate many of these issues.
✖

November 22, 2023 02:38
Related Articles: