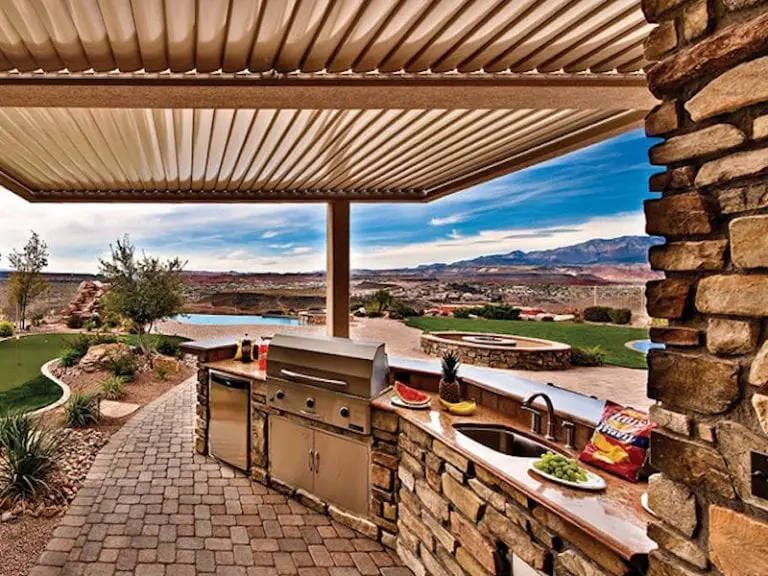 Aluminum Patio Covers are a great way to extend your Living Space and enjoy the Outdoors
Not everyone may be able to have a completely enclosed garden patio, or even want one, but it'd be nice to have some type of covering so you can enjoy your space even when there's a light drizzle happening outside.
We have compiled a beautiful list of aluminum patio covers filled with functionality and fashion for a variety of looks and style themes. From skylights to intricate designs and details, there are so many ways to give yourself shade while still enjoying what your backyard has to offer.
Let's take a peek at 12 amazing aluminum patio cover ideas and designs that will make your outdoor space beautiful and fun for the family, shall we?
Contemporary with a business style, this is the perfect way to spruce up an apartment-top or multiple-storied home. The modern foundation is intertwined with "windows" or skylights for you to enjoy the sky even when it's raining!
Aluminum patio covers offer an easy solution for adding protection from rain, snow, sun, and insects without sacrificing style. Aluminum patio covers are also very well made, and do not rust, unlike metal patio covers which, if not completed and had a zinc coating on them, will rust and become dangerous and ugly over time.
Patio covers can be installed separately from the main house or as part of a larger renovation project. If you're looking for something that requires less maintenance than alumawood or vinyl, aluminum is your best bet. You'll never have to worry about cleaning again with these durable materials that require little upkeep!
Your aluminum patio cover can also be designed so that it is insulated to keep the area warmer or allow you to build a warm room in the winter when required. Plus they're resistant to termite attacks so you don't need to worry about them being eaten away by bugs over time.
It's also worth noting that aluminum patio covers come in many different styles and colors so they will fit seamlessly into any outdoor decorating scheme you already have in place! Aluminum covers are the most durable and lightweight patio cover type that can withstand all weather conditions.
They come in a variety of colors, designs, and shapes to fit any homeowner's needs for their outdoor space! If you prefer, fit the aluminum cover with an inbuilt drainage system for proper drainage of rainwater. The other advantages of aluminum covers include a varied range of color and design options. Aluminum does not rust and requires the least fall for installation. At the same time, these patio covers require little anchoring to your house.
Aluminum Patio Cover Ideas and Designs
Aluminum Patio Cover in Bronze
A detailed and textured, the bronze cover fits perfectly into this Tuscan, dessert-styled design. We love that it blends into the scenery, flooring and kitchen module with ease.
So, even when the weatherman calls for afternoon showers, you'll still be able to grill up those hamburgers and hot dogs you've been planning for days.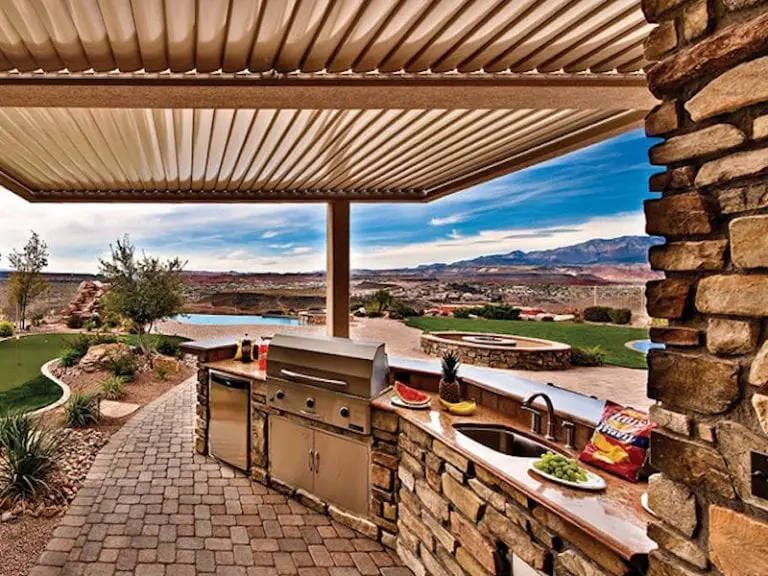 Patio Cover Ideas: Patio Awning Retractable Sun Shade
The patio awning is ideal for shading of windows, providing protection from UV rays and make the space looks elegant.
A retractable awning made of 280g polyester and PU coating fabric, which is water resistant, anti ultraviolet, resistant to sun fading
30UV+ solar protection.
Build with rust-resistant, powder-coated aluminum frame
Lightweight design solid structure can resist a scale wind under level 5
Retractable mounting brackets have double strand steel rope
Patio awnings with simply open and close operation
Patio retractable canopy can be installed on a concrete, solid brick wall and even on a wooden wall
✖

September 14, 2023 16:31
Cream Style Patio
We are in love with this cream-colored style. It gives this home's backyard a bit of light beauty and vacation-style appeal, don't you think?
There's also a ceiling fan to help circulate the air when the humidity and summer heat hit hard, but with the addition, you'll still be able to enjoy those warmer months!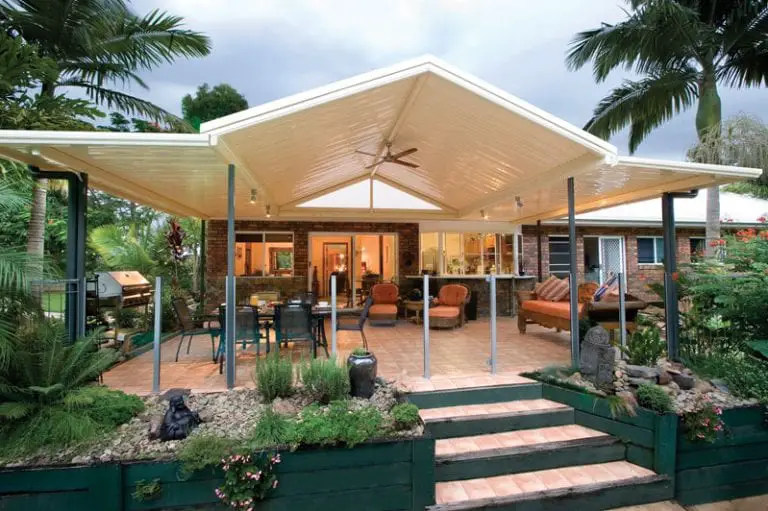 Rocking Chair 3 Piece Patio Set Rattan
This rocking chair outdoor set is simple to set up and looks perfect when assembled on almost any home garden project
NOTE: When you try to install the Patio Furniture Set, try to line the hole together in all sides, do not over-tighten one hole, then try to tight it slowly in each side.
Thickly Cushioned Wicker Patio Sofa Set Chairs For Maximum Comfort.
Patio Outdoor Sofa Gives You an Excellent Seating Experience.
This Garden Outdoor Conversation Set has strong feet to protect your floor and increase the stability of your furniture.
This outdoor furniture set can be used in the courtyard, backyard, porch, garden, poolside, balcony.
Patio furniture set is made with a powder-coated steel frame.
All-weather PE rattan wicker for a comfortable experience.
The seat cushion of this patio Conversation Set can be removed for easy cleaning.
The table in the patio furniture set is made of high-quality tempered glass
Cushions of the patio furniture set use a high-density rebound sponge
✖

September 14, 2023 16:31
Contemporary Patio
Sleek and contemporary, this one has a more stylish essence than functionality. It'll keep some of that shade off of your when you just want to relax by the pool without becoming burnt to a crisp.
But it also gives an overwhelmingly powerful and chic presence to your outdoor area.
Arch Style Patio
This is a great example of a traditional patio cover for a family home. It's functional, the arch allows more light to pass through space but also lets you have some shade and coverage away from pesky flying insects or muggy, wet weather days.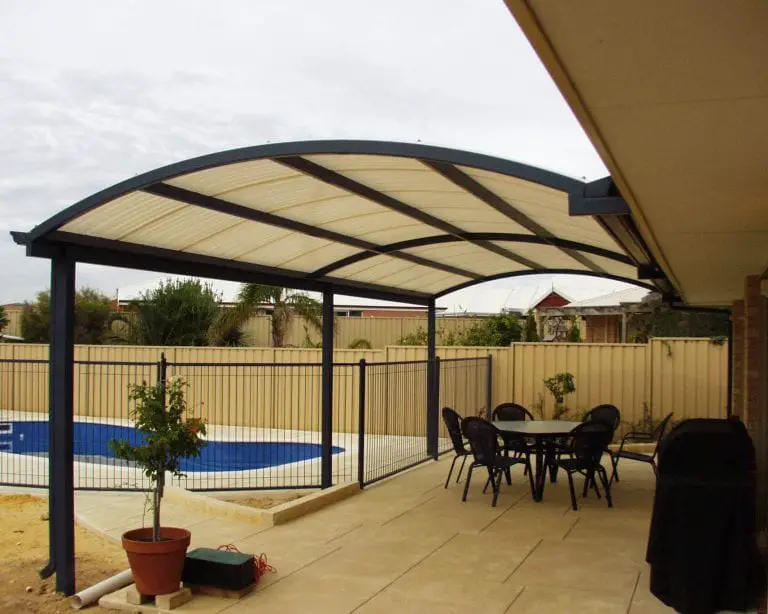 Professional 36 inch Outdoor Flat Top Gas Grill Griddle Station
Easy assembly, and quick ignition button
Griddle top is easily removable
Four independently controlled burners with low to high temperature settings provide versatile cooking options
Four industrial strength, caster wheels (two are lockable)
Solid stainless Steel burners for long life, and thick Rolled Steel surface for excellent heat retention and distribution
Twin Style Patios
Not only is the version itself delightful and stylish, but there's two for both areas of backyard enjoyment. Again, the foundation is made from durable metal and multi-layers and multi-tone textures help to create a more fashion-forward and contemporary look for a beautiful patio.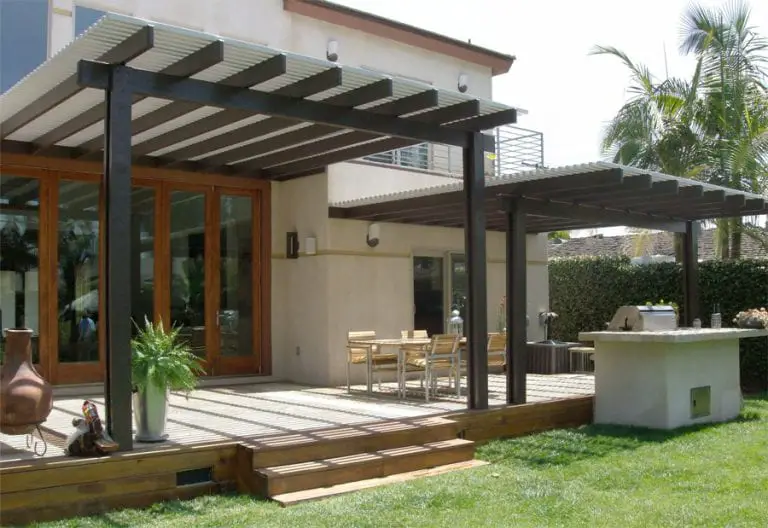 Glass Patio With Blind
What's great about this style is the amount of light and visual you get. Just like adding a mirror to a smaller room to make it look bigger, this area continues to feel open and more spacious by not adding coverage that darkens are tightens the area.
Instead, it blends and lets all the natural light in, without the fear of drenching yourselves or your furniture it springs showers.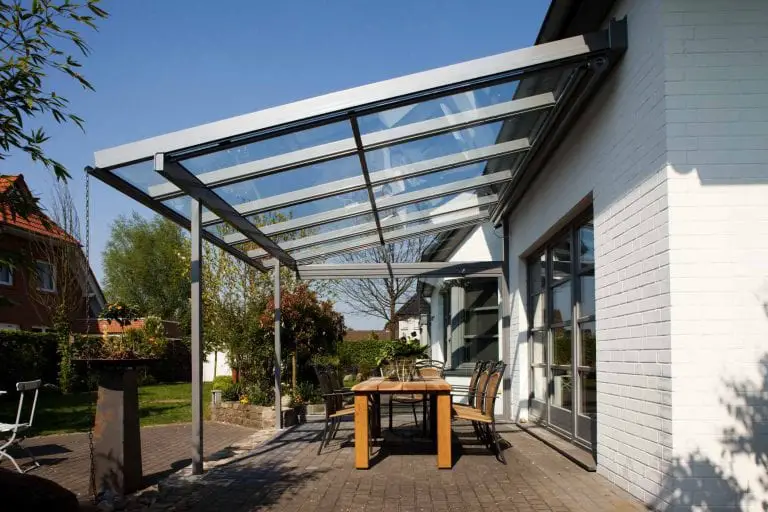 Matching Patio Design
This may be one of our favorites on the list simply because this quaint and charming home, still looks like a home. Instead of creating an entirely separate space and style, this coverage blends right in with the house for a cottage, cozy feel.
You get the function you need without straying from the traditional, comfy feeling of the family home.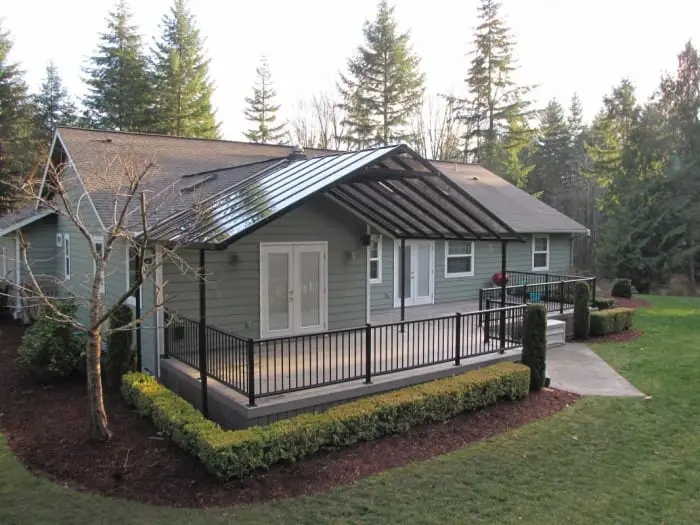 Glass Patio With Extra Covers
Take a look at this two-sided beauty! You have the luxury of grabbing the fresh outside air from both sides but with the wind and rain coverage from the top and main walls.
This appendage may not blend in, but creates an entirely different room and feeling of luxury right outside your home's doors.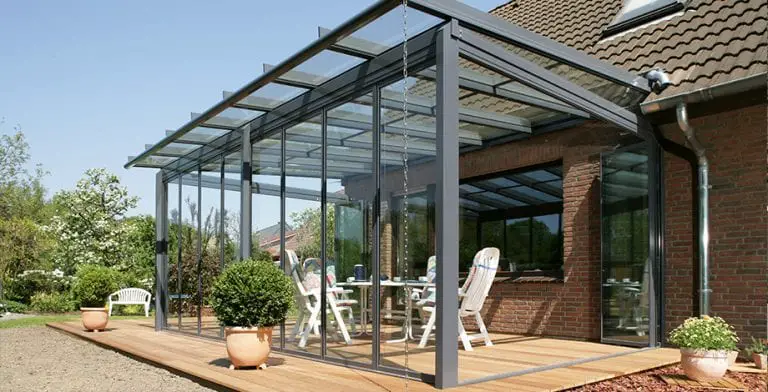 Split Roof Patio
Here's another beautiful example of traditional design for a family home's patio. It's Tuscany wrapped in a dessert style and it mixes well right into the rest of the house, which is a great way to go for function before style – which is sometimes exactly what you need.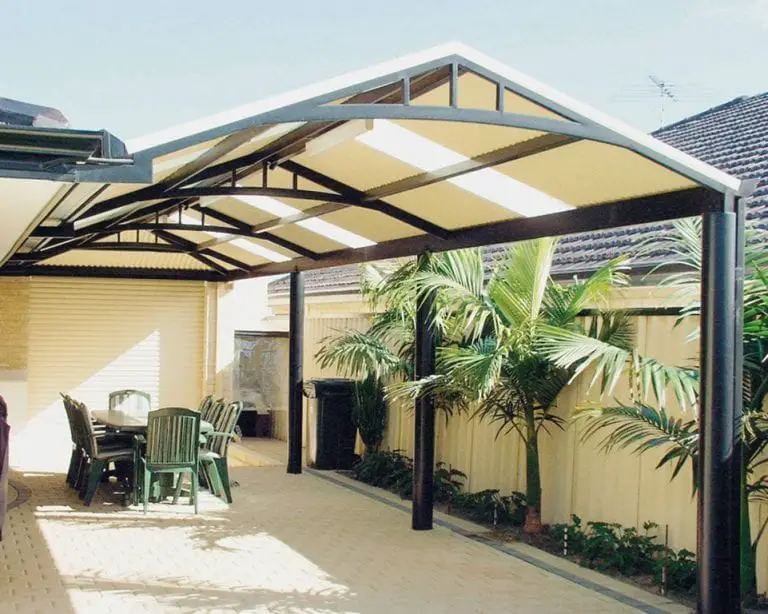 Shaded Glass Roof Patio
We are swooning over this simple, yet modern version. Again, this space will get beautiful, natural lighting while steering clear of direct sunlight that will fade your furniture or evening when you need a night out on the patio but the light spring storm keeps you inside.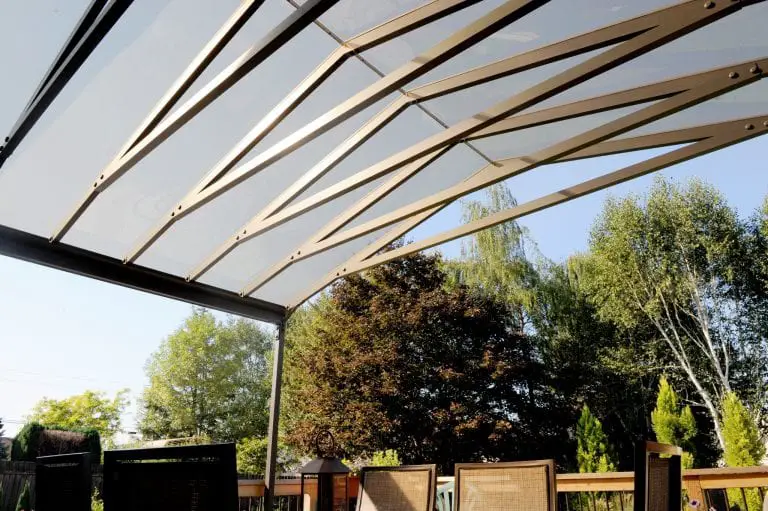 Aluminum Patio Cover
If you want something that will truly look like a part of your home and not an extra piece you added later, go for aluminum covers that will blend right in. Take a look at this ledge that helps to give shade and style to this smaller backyard.
There's a place to sip your lemonade and have a snack during your afternoon swimming without burning in the hot sun or taking away from your contemporary home style.