Aluminum Patio Covers Ideas and Designs
Not everyone may be able to have a completely enclosed garden patio, or even want one, but it'd be nice to have some type of covering so you can enjoy your space even when there's a light drizzle happening outside.
That's why we've decided to compile a beautiful list of aluminum covers filled with functionality and fashion for a variety of looks and style themes. From skylights to intricate designs and details, there are so many ways to give yourself and shade while still enjoying what your backyard has to offer.
Let's take a peek at 12 amazing aluminum patio covers ideas and designs that will make your outdoor space beautiful and fun for the family, shall we?
Contemporary with a business style, this is the perfect way to spruce up an apartment-top or multiple-storied home. The modern foundation intertwined with "windows" or skylights for you to enjoy the sky even when it's raining!
A detailed and textured, the bronze cover fits perfectly into this Tuscan, dessert-styled design. We love that it blends into the scenery, flooring and kitchen module with ease.
So, even when the weatherman calls for afternoon showers, you'll still be able to grill up those hamburgers and hot dogs you've been planning for days.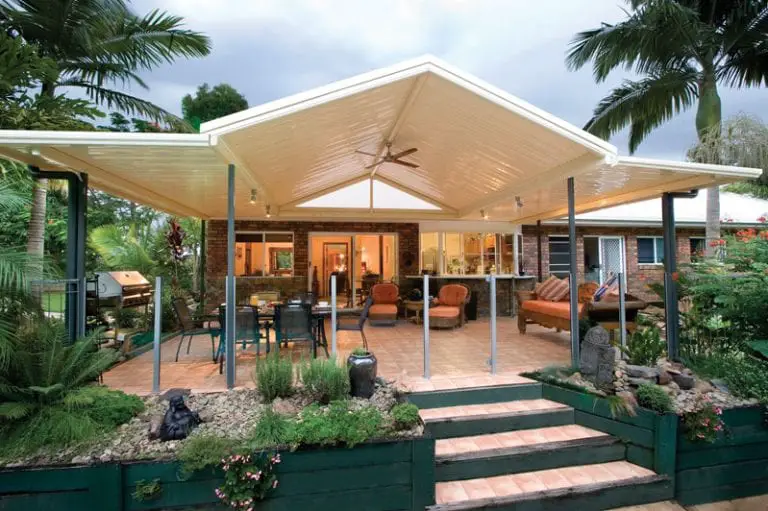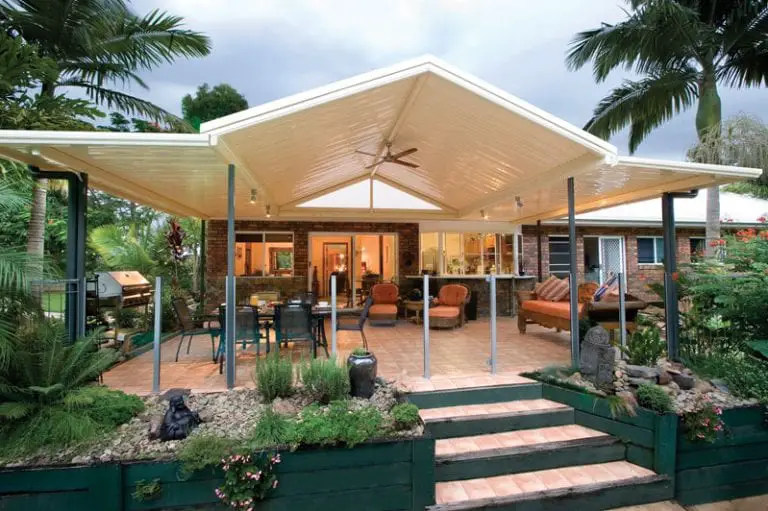 We are in love with this cream-colored style. It gives this home's backyard a bit of light beauty and vacation-style appeal, don't you think? There's also a ceiling fan to help circulate the air when the humidity and summer heat hit hard, but with the addition, you'll still be able to enjoy those warmer months!
Sleek and contemporary, this one has a more stylish essence than functionality. It'll keep some of that shade off of your when you just want to relax by the pool without becoming burnt to a crisp.
But it also gives an overwhelmingly powerful and chic presence to your outdoor area.
This is a great example of a traditional patio cover for a family home. It's functional, the arch allows more light to pass through space but also lets you have some shade and coverage away from pesky flying insects or muggy, wet weather days.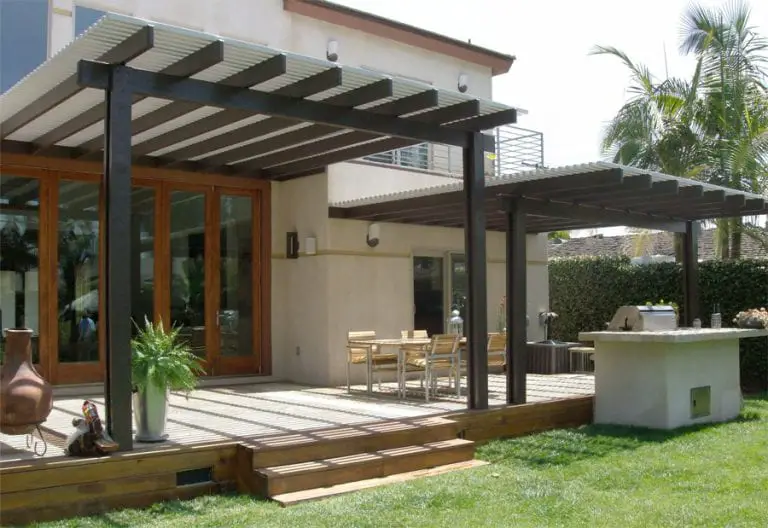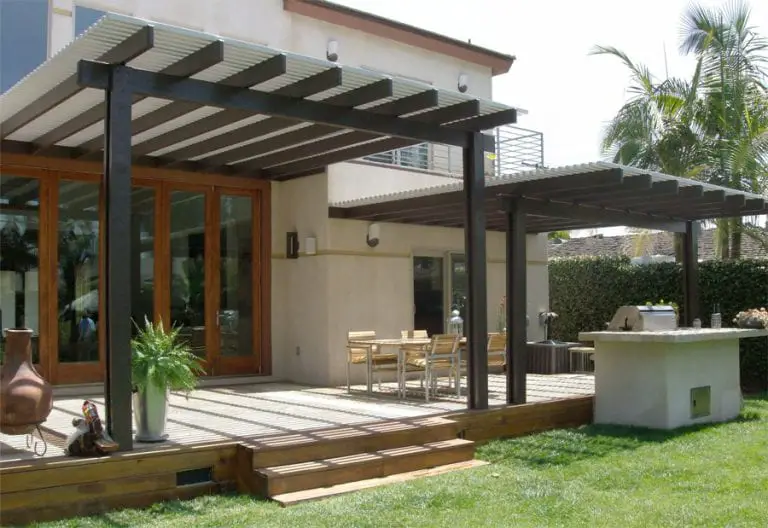 Not only is the version itself delightful and stylish, but there's two for both areas of backyard enjoyment. Again, the foundation is made from durable metal and multi-layers and multi-tone textures help to create a more fashion-forward and contemporary look for a beautiful patio.
What's great about this style is the amount of light and visual you get. Just like adding a mirror to a smaller room to make it look bigger, this area continues to feel open and more spacious by not adding coverage that darkens are tightens the area.
Instead, it blends and lets all the natural light in, without the fear of drenching yourselves or your furniture it springs showers.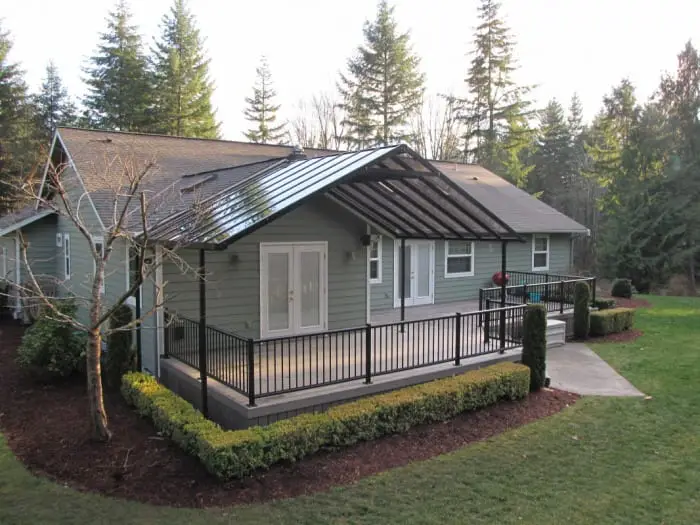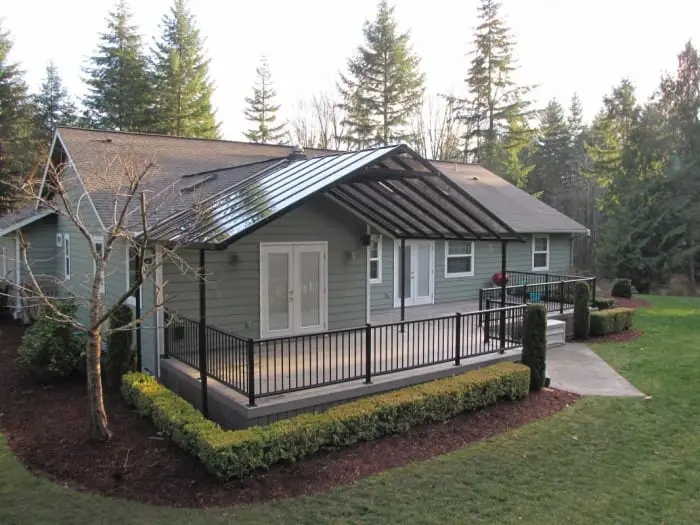 This may be one of our favorites on the list simply because this quaint and charming home, still looks like a home. Instead of creating an entirely separate space and style, this coverage blends right in with the house for a cottage, cozy feel.
You get the function you need without straying from the traditional, comfy feeling of the family home.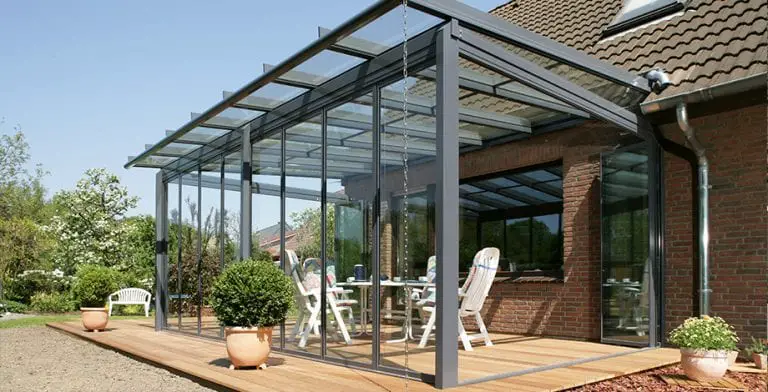 Take a look at this two-sided beauty! You have the luxury of grabbing the fresh, outside air from both sides but with the wind and rain coverage from the top and main walls.
This appendage may not blend in, but instead, creates an entirely different room and feeling of luxury right outside your home's doors.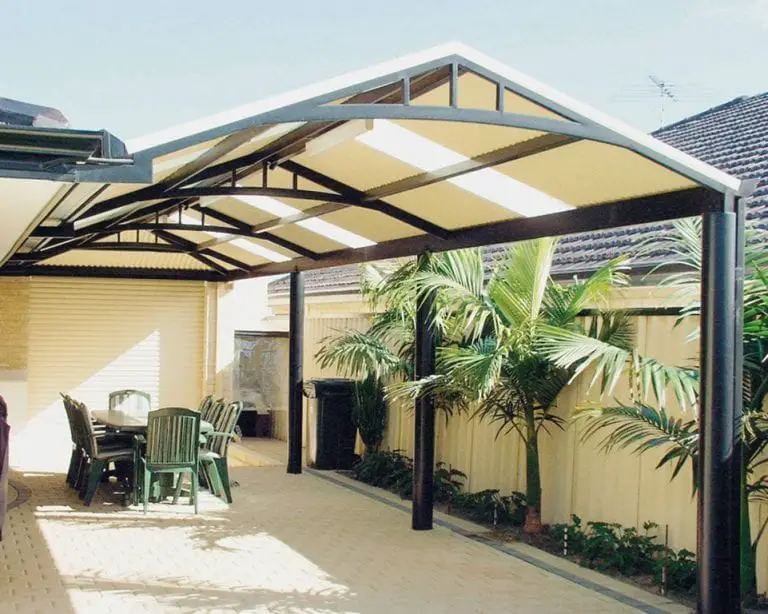 Here's another beautiful example of traditional design for a family home's patio. It's Tuscany wrapped in a dessert style and it mixes well right into the rest of the house, which is a great way to go for function before style – which is sometimes exactly what you need.
We are swooning over this simple, yet modern version. Again, this space will get beautiful, natural lighting while steering clear of direct sunlight that will fade your furniture or evening when you need a night out on the patio but the light spring storm keeps you inside.
If you want something that will truly look like a part of your home and not an extra piece you added later, go for aluminum covers that will blend right in. Take a look at this ledge that helps to give shade and style to this smaller backyard.
There's a place to sip your lemonade and have a snack during your afternoon swimming without burning in the hot sun or taking away from your contemporary home style.