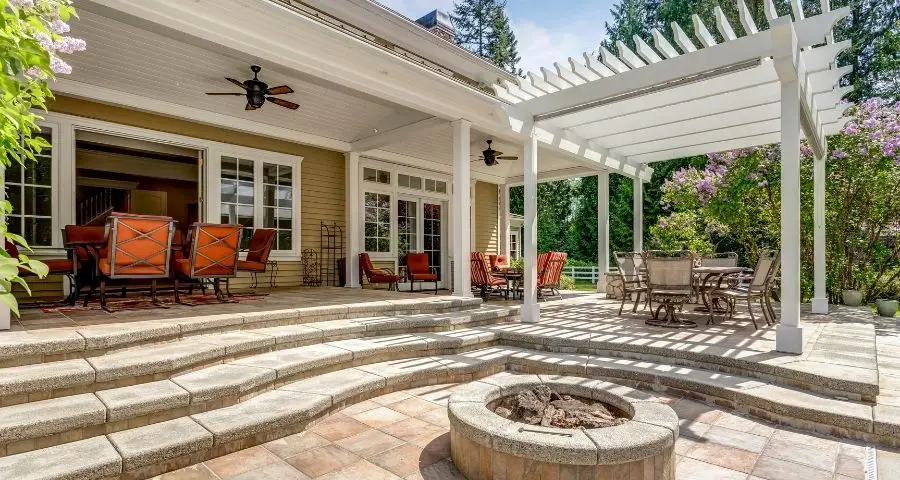 How To Clean Your Patio Screen Enclosure Without Chemicals
If you're like most homeowners, your outdoor space is probably the most used space in your house. And it's no wonder—having a covered outdoor space gives you the chance to enjoy your home in all the seasons, even in the middle of summer. 
But with all the hours you spend outside, you know that your outdoor space needs some TLC too. That's why you should invest in a patio screen enclosure. 
Even if you don't spend much time indoors, you still need to take special care of your patio to keep pests and pollutants out. Thankfully, with a little maintenance, you can keep your patio looking beautiful and free of harmful chemicals. Let's learn how to clean a patio screen enclosure without harmful chemicals.
Things you will need:
Water
Water Bucket
Garden Hose
Ladder
Scrubber
Sponge
Soapy water
Vacuum Cleaner
Glass Cleaner
Ladder
Microfiber towels
Patio Screen Enclosure is not a difficult process. However, it can be a mess if it is not cleaned for ages. Usage of chemicals damages the quality of the patio screen and leaves visible marks. Therefore, we encourage cleaning the patio screen enclosure & your outdoor furniture without any harsh chemicals. Not to mention, the ladder you will be using to reach the higher areas must be stable. If you have a fear of heights, get help from someone. 
Remove Anything That Is Dead Or Diseased
The first step to cleaning a patio screen enclosure is to remove anything that is dead or diseased. This means pulling the weeds and plants, taking down the dead leaves, and removing anything else that no longer has a use. 
If you have any damaged screens, then make sure to replace them before getting started. Now it's time to start washing! Start by placing your patio screen enclosure in the sun and washing down all of the surfaces with a bucket of warm water and soap. Be sure to get into all of those crevices that can be hard for the water to reach on its own. 
Lastly, rinse off your patio screen enclosure with a hose—don't forget about those hard-to-reach areas again! After you've rinsed off your patio screen enclosure, it should look new. But don't worry—you still need to maintain it from here on out. By following these simple steps every few months, you should be able to keep your outdoor space looking beautiful for years!
Removal of Mold, Algae, and Tough Stains
Moisture, pollen, and spores are pretty common substances that can stain your patio screen enclosure. Don't give up on the tough stains; you have to give in some extra effort, but in the end, "it is all worth it." To clean mold, algae, and tough stains, use a mixture of vinegar and water and spray it on the spots. Use a brush or sponge to scrub away the stains, and rinse it with your garden hose. 
Tip: Don't forget to wear rubber gloves while scrubbing the tough stains. 
Sweep And Vacuum Up Anything Moved
No matter how hard you try to keep your patio tidy, there's always going to be a mess. The first thing you should do is sweep up anything that was blown or moved by the wind. This includes leaves, dirt, and other small particles. 
Then, vacuum up any leftover dirt or dust that might have gotten caught in the cracks between the floorboards. If you want to make sure you don't miss anything, use a brush attachment on your vacuum cleaner and get right down into tight spaces like cabinets and corners of furniture. Finally, wipe down any surfaces that may have been dirty or dusty from your cleaning session. If there are any stubborn spots on furniture or leaves stuck in the screen enclosure itself, use a damp rag to wipe them away.
Wash Walls And Patio Furniture
Outdoor furniture and walls tend to collect dirt and debris from the environment, so you should clean these areas at least twice a year with soap and water. When you wash your patio furniture, use a mild soap or detergent in water to scrub. If you need an extra boost of shine on your outdoor furniture, consider using oil-based furniture polish. 
Don't forget to wash the walls of your patio too. You can use a soft cloth dampened with soap and water for this task. Wipe away any streaks or water droplets left behind. Depending on the material of your wall, it might not need any special treatment other than soap and water either. Take care of your outside space by cleaning it often to keep it free from harmful chemicals—especially if you have children or animals frequenting the area!
Wash Screening
One of the most important things you can do to keep your patio enclosure looking its best is to wash the screening. You should always use a hose and gentle soap with a scrubby brush. When you're scrubbing, be sure to carefully rinse off all the soap, so it doesn't leave any residue on the screen.
Protect Your Screening With Damp Paper Towels
To clean your screen, start by using a damp paper towel to wipe down the surface. Make sure to use a non-abrasive material like a paper towel, so you don't scratch the surface. Keep wiping until you've wiped off all debris on the surface. For stubborn dirt, you can use a diluted soap solution or water with vinegar to cut through grime.
To Hose or not to Hose?
A lot of people use a pressure washer to clean the patio screen. But, a lot of people do not know how to reasonably handle a pressure washer without damaging the frame. A hose, hot water, soap, and soft brush are enough to clean a screen closure. 
However, if you have a pressure washer and you have a good command over it, there is no harm in using it. The key is to be gentle with the whole cleaning process. Make sure to start from the top and make your way down. It is better to sweep the areas which you cannot spray. 
Tip: Mix 50% water and vinegar in a spray bottle to get rid of mold and algae from your screen. 
We would not recommend using any bleach or harsh chemicals that can damage your frames. Usage of harsh chemicals should be your last resort. If you feel that your patio screen is in really bad shape, and cleaning it even with simple water can damage the screen, do not clean it without professional help. 
Conclusion
Professional patio cleaners will use chemicals to clean your screens and patio furniture, but there are other ways to do it. We've compiled the steps for how to clean your patio screen enclosure without using any harsh chemicals. Moreover, we have also mentioned the stuff you will need to clean your patio screen enclosure. It is easier to clean the patio screen if it is done every three months.