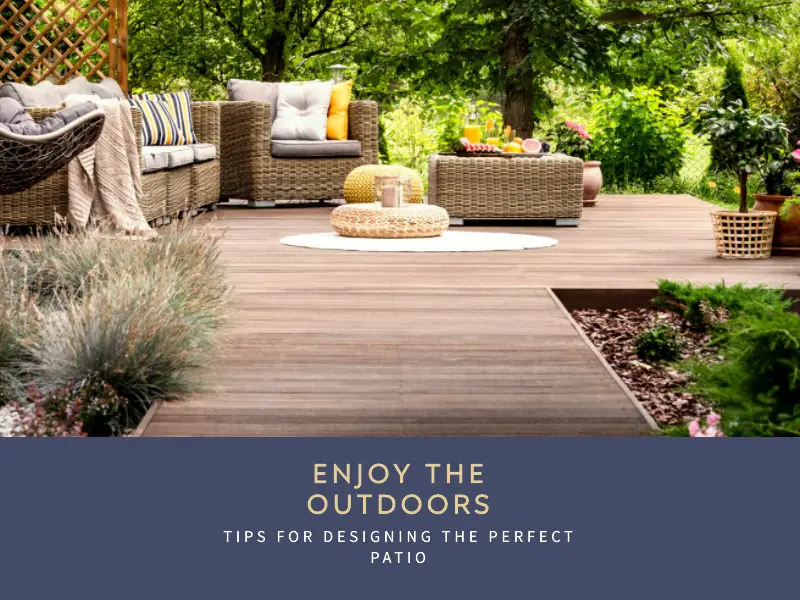 ---
Designing the Perfect Patio
Photo by LANA ANDERSON on Unsplash
Creative Patio Ideas for the Ultimate Outdoor Experience
Your patio is an ideal place to relax and entertain guests. With a thoughtful design, it can be a functional and visually appealing extension of your property. There are numerous ways to transform your outdoor living area into a cozy and stylish retreat. Here are some factors to consider, as well as tips and ideas for the ultimate outdoor experience.
Factors to Consider Before Designing Your Patio
There are a few key components of exterior design that might impact your plans:
Size
Although you need to work with the lot you have, knowing how to utilize the space will give you an advantage in choosing the appropriate design elements. Measure the square footage of the patio area. Then, you can calculate details like the cost of stone or brick patio pavers.
Functionality
Understanding the purpose of your patio is critical to the layout and design. Will you be using your patio for dining, lounging, or both? Will this outdoor living space be animal and kid-friendly? Do you want to incorporate a simple grill or build an outdoor kitchen? Determining the functionality will narrow down the furniture, tools, materials, and accessories needed. 
Location
Wherever you build your patio, consider the sun's direction, the foundation's level, and other natural components, such as tree stumps or vines. Where you place your patio might significantly alter the patio's arrangement.
Clearances
It's tempting to jump into the patio design process, but you must do your due diligence first. If you plan on building a shed, pergola, or underground pool, you may need certain clearances and permits from the local governing body or the Homeowner's Association.
How to Dress up a Small Patio Space
With a smaller outdoor space, you can still boast of a great patio. You'll need to get inventive. Here are some tips to make the most of it:
Tip #1: Use Vertical Space
One way to maximize your small patio is to use vertical space. You can hang plants instead of potting them, use a trellis with plants for a unique divider, or hang plants on a pergola for shade. This declutters the space while giving it an honest, fresh look.
Tip #2: Choose Multifunctional Furniture
Furniture that serves more than one purpose is optimal for small patio spaces. Look for pieces that double as storage and seating, such as a hollow bench or a coffee table with hidden drawers and compartments. Foldable chairs and tables that stow away easily are also small space favorites.
Tip #3: Use Mirrors
You can use a mirror to create the illusion of a larger space. Mirrors reflect light to make your patio feel brighter and more open. Outdoor mirrors add to your patio area's unique, almost multidimensional, ambiance.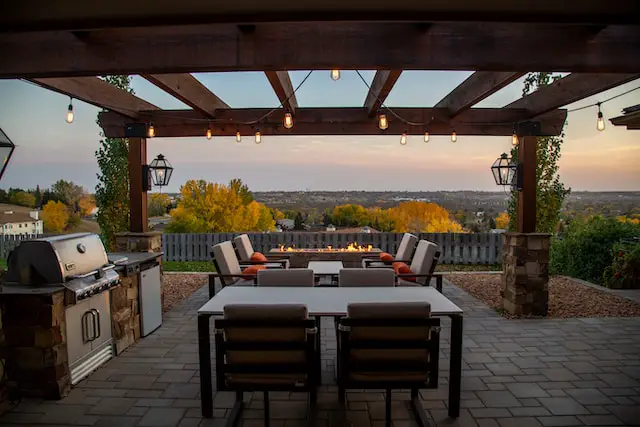 Patio Design for Large Spaces
Expansive spaces allow you to be imaginative and create an immersive outdoor adventure. Here are some tips and ideas to bring your large patio to life:
Tip #4: Create Zones
With enough room, you can section off multiple areas, such as a lounging area, dining area, bar, cooking area, and a play space for the kids. Creating distinct zones means your patio won't feel burdensome, overcrowded, or too busy. You can even separate each zone with privacy screens or hedges.
Tip #5: Add a Fire Pit
A fire pit is a popular choice for large patio layouts. Incorporating a fire pit brings warmth, tranquility, and functionality, as it can be used for relaxing just as easily as roasting skewers or marshmallows. It's also a great focal point for entertaining guests and is especially useful during colder months.
Tip #6: Incorporate Water Features
Nature needs water, and what better way to create a calming and serene environment than to include a fountain, waterfall, or a small pond in your patio plan? From the soothing sound to the visual opulence, a water element is a must-have in a perfect patio.
Outdoor Patio Furniture for Any Style
Patio furniture is at the helm of yard entertainment, but weather and durability are key factors in what to choose. Here are some patio furniture ideas and tips to focus on:
Tip #7: Choose the Right Seating Material
Check that your general seating is weather-resistant and durable. Whether you are looking for chairs, sofas, benches, umbrellas, or entire patio furniture sets, they should go far. Standard patio furniture will come in a variety of weather-safe materials: 
Wood: A classic, durable option that can be painted or stained to match the desired aesthetic
Metal: Aluminum, steel, and wrought iron provide strength and durability, but they may require maintenance to prevent rust
Wicker: A lightweight and flexible material but less durable
Plastic: Resin or PVC furniture that is also lightweight, easy to clean, and somewhat durable but may not be as sturdy as other materials
Tip #8: Use Dining Patio Furniture
If you're excited about a full dining experience outside, outdoor dining patio furniture might fit your design style. Dining sets, bistro tables, fire pit tables, picnic tables, and deck bars are among the top choices in outdoor seating.  
Tip #9: Use Lounge Patio Furniture
Lounging outdoors is one of the main driving forces behind patio design. If you want to develop a haven—a home away from home—try adding a deck chaise lounge, suspended seating, a hammock, a patio daybed, or a patio sectional.
Photo by Collov Home Design on Unsplash
Accessorize Your Patio
Personalizing your patio with outdoor accessories can play up the theme you're going for. Here are some tips:
Tip #10: Affix Lighting
Patios should be stunning in the dark too! Outdoor patio lighting has an emanating glow that creates an entirely new feel. Add string lights, pathway lights, spotlights, lanterns, battery-powered candles, torches, or even solar-powered lights for that dreamy effect.
Tip #11: Grow Some Plants
No patio is complete without the use of plants. Plants add color and texture to your outdoor living space while providing privacy and shade. There are hundreds of lush foliage to choose from so consider mixing and matching for added flare. Some great ideas include flower beds, tall planters, ferns, cacti, and small trees. You can even start a patio garden to increase the use cases for your patio.
Tip #12: Add Decor
Finish accessorizing your patio with decorative accents like rugs, throw pillows, wall art, curtains, pottery, sculptures, an outdoor shower, and vases. While an embellishment, these decor pieces morph your patio into an outdoor oasis.
The Different Types of Patio Covers
One way to enhance your outdoor living space is to install a patio cover. These outdoor structures provide year-round access to your patio as you escape the elements. Here are some types of patio covers to choose from:
Tip #13: Install a Retractable Awning
Retractable awnings make for great patio covers and sun shading because they are as versatile as luxurious. These awnings are attached directly to your existing roof or wall or can be mounted to the eaves. Retractable awnings can be extended or retracted as needed and come in many different styles to fit the aesthetics of your outdoor space. 
Tip #14: Build a Fixed Patio Cover
Another type of patio cover that is both elegant and operational is the fixed patio cover. This can be a pergola, pavilion, or gazebo. These integrate nicely into your patio garden when you hang vines and greenery from them.
Tip #15: Have a Popup Patio Cover on Hand
If you can't have a fixed structure, need extra coverage, or want to take your patio cover with you, portable popup patio covers are the way to go. This can be a pop-up tent, canopy, portable deck cover, or portable roofing system.
Photo by Randy Fath on Unsplash
Get Ready to Enjoy the Best of Outdoor Living
When amplifying your patio area, you want to create a rewarding long-term experience. By incorporating creative and functional design elements to fit the size of your outdoor living area, adding the right patio furniture, accessorizing, and buying a patio cover, you can transport yourself every time you step outside.
Enjoy entertaining guests, or just get lost in your own private escape. Start brainstorming with these 15 patio ideas to build the ultimate patio!