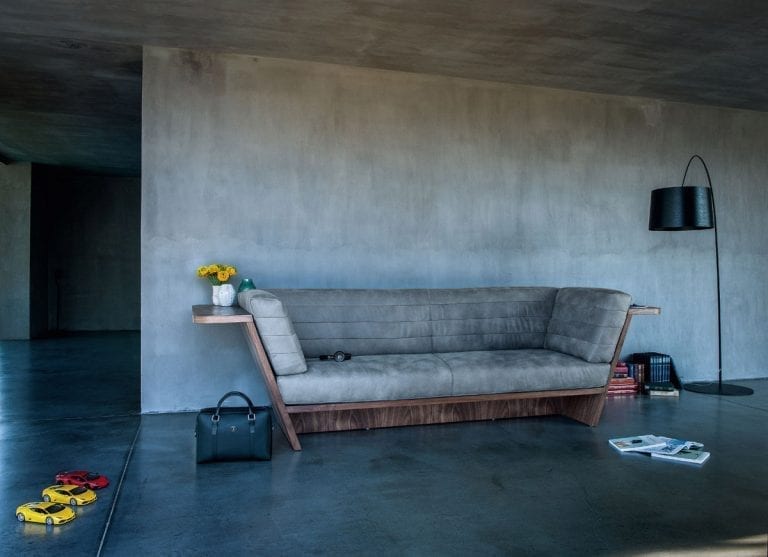 Sofa Designs For Your New Home
Fabric Sofas
Here we show fabric sofa ideas to give you an idea if you want to opt in for one of these instead of a leather sofa. Nowadays almost every living room has 2 important points of attraction: a TV and a sofa.
[affiliatable id='95633′]
Deciding what kind of sofa you need to integrate into your home decor it is very important because we are not talking about an item you'll change every couple of months.
It should last there for years to come, so quality, easy to clean covers, comfort and aspect are all major factors that you need to consider when buying these items.
Claesson Koivisto Rune Gate Sofa
Consider a leather sofa if you are looking for a more luxurious interior, but if you opt in for a modern look, and more vivid colors, focus your attention over the fabric sofa designs.
We use also them a great way to make livings appealing not only to your guest but also to everyone who lives in the house.
Depending on the designer, fabric sofas are usually less pricey as compared to the leather ones and fit nicely into a relaxed environment where casual entertainment takes place.
Textile couches provide comfort at all times, and are a good option specially if you are in a place that has a hot and humid weather, but unlike leather they faster absorb dirt.
Luckily another important thing of these type of seats, is that most of them have removable covers, making them easier to clean and maintain.
Designer Fabric Sofa
If in the past, leather furniture was almost a must, in recent years, fabric sofas became an almost essential part of any modern home decor because they are coming in a wider variety of styles and designs, making them perfect to fit almost every individual need and requirement.
A Multi Colored Style Sofa
Convertible Sectional Sofa Couch
The cushions you sit on are nice and firm. Youll never have to worry about sinking in.The more you sit in it the better

Small space reversible sectional sofa

Perfect for my small apartment, upstairs loft and more

No tools needed

Convertible Sofa and Ottoman-Mid-century modern linen fabric with sectional sofa with reversible chaise lounge
Prices pulled from the Amazon Product Advertising API on:
Product prices and availability are accurate as of the date/time indicated and are subject to change. Any price and availability information displayed on [relevant Amazon Site(s), as applicable] at the time of purchase will apply to the purchase of this product.
The Loveseat
Adaptable Cover Sofa Collection by Paola Lenti
Flexible seating has become a necessity these days. It not only helps us to create different conversation areas when entertaining, it offers extra seating for all our guests.
Whether you like to entertain, have a large family, or love large sofas, you'll find everything you need in the Cover Sofa Collection by Paola Lenti. It can create various seating compositions and lend itself to different themes.
This modular seating system comprises left, right central, and corner pieces. It also comes with a pouf and a chaise longue. It has a visible buttress made of multilayer bentwood available in two versions: veneered and dyed.
We can dye the frame in grigio, grigio scuro, cacle, or sabbia colors or lacquered in matt colors resembling the upholstery cover. You can also get the sofa with a wooden base in the color of your choice.
The sofas' wooden internal structures come with elastic belts. Their filling are made of stress resistant, expanded polyurethane. They come in polyester fiber and polyamide and purchased with removable covers made from different fabrics.
They join the modules that make up with a steel coupling system. Also included in the series is a side table with a finish similar to that of the sofas. We recommend loose cushions.
The sofa in your home says a lot about your personality. A sofa is the largest piece of furniture in a living room and cannot be chosen carelessly. It must reflect your style, add zing to the space, and provide comfort. Cover Sofas by V. Carrasco have these qualities and will breathe life into your space.
Cordoba Sofa by Della Robbia
With adding glamour and spirited flair to living spaces, few furniture pieces can compare to the sectional sofa. Contemporary, comfortable, and casual, sectionals can brighten up interiors, add a touch of elegance, and adapt easily to both large and small spaces.
This is the same versatility espoused by the Cordoba Sofa. It has all the attributes of modern design. Shrouded in an aura of minimalism, it epitomizes European structural design elements and American contemporary craftsmanship.
Decked out in neutral upholstery with contrasting colors, this sofa will add a plush look to your living area. It has a tight geometric frame that boosts its solidity. Its seat cushions, armrests, and backrest fit perfectly within the frame creating a neat and compact statement sofa.
Cordoba's minimalist construction highlights its thin frame which buttresses the entire seat. Shiny steel legs contrast perfectly with the coral upholstery enhancing its modern appeal.
Without a doubt, you will adore the clean lines, no-fuss design of the Cordoba Sofa by Della Robbia, more so if it inclines you to subdued furniture pieces that do not compromise on style.
A highly configurable seat, they can customize Cordoba into an all-encompassing sectional, loveseat, or sofa. Its modular and dynamic personality lends it well to small spaces and expansive living rooms without sacrificing its comfort or panache. It is available in an array of microfiber and fabric upholstery to support any design preferences.
Contemporary Softbox Sofa Corners by Paul Brooks
Choose a style and modularity with the Softbox sofa collection from Profim. One of new highlights in the collection are screens that allow for a division of a larger space into smaller meeting zones, which is especially useful in bigger, multi-functional areas.
In addition, the screens soundproof outside noise and let you focus on the conversation or create a chill-out zone. Combining style, precision and comfort, Softbox sofa collection from Profim becomes perfect for adding accent and class to your living room or office area.

Designed by Paul Brooks (not the movie producer) for Profim, the collection it's wide and you can choose between corner elements, single and double poufs, an armchair and two and three seater sofas.
Nowadays, contemporary sofas are the best furniture ideas for modern day living with comfort and style.The sofa can make or break your modern office or living area design, and the Softbox makes no exception to this rule.
Softbox sofas seem like the perfect choice to add class and style to your contemporary interior. They all come in a wider variety of colors, to fit anyone's needs.
Paul Brooks worked on various projects before setting up his own business in 1988 as a specialist for office furniture and swivel chairs and today he is a very sought after designer and one of the most awarded from Europe.
His idea was to "create a support structure which when used in modular becomes a simple sequence of fluid forms", and he did that with the Softbox. The pieces from this collection are adjustable and seem created for any place possible.
Known for its quality and the comfort it provides its customers, Profim  is becoming one of the highest-ranked furniture manufacturers in the past couple of years.
The sofa sets manufactured by Profim are perfect for adding accent and class to your living space.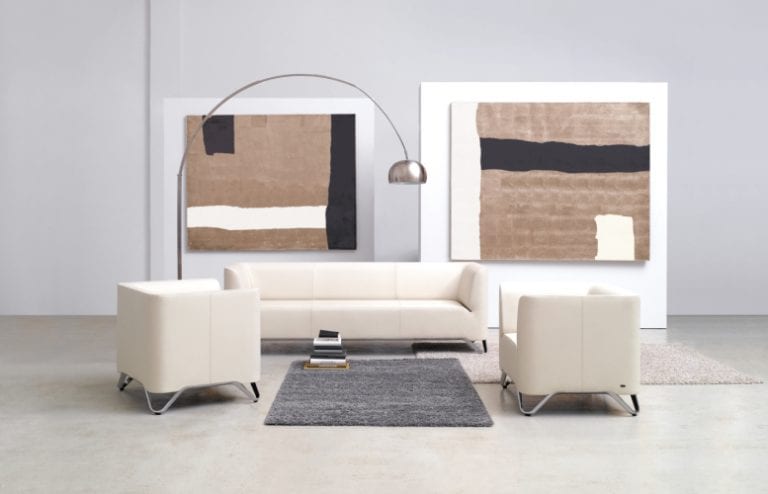 Profim Settee By Paul Brooks
Prices pulled from the Amazon Product Advertising API on:
Product prices and availability are accurate as of the date/time indicated and are subject to change. Any price and availability information displayed on [relevant Amazon Site(s), as applicable] at the time of purchase will apply to the purchase of this product.
PUPILLA CORNER SOFA BY LEOLUX
Complement your modern taste with the Pupilla Corner Sofa by Leolux. The striking piece has an organic shape and envelopes users as they sit. It is the masterwork of Gabriele Assmann who combined function, comfort, and emotion when designing it.
The sofa's name means "the apple of my eye." Gabriele Assmann chose this specific name to show how much the sofa meant to her. Pupilla is comprised of two sofas and add-on seating components that create separate seating solutions. You can choose between 3 components with different seating characteristics.
Thanks to the smart way they couple its modular elements, the Pupilla Corner Sofa by Leolux takes less space than expected. It is a perfect match for both large and small homes.
The sofa provides plenty of elbow room for you and your guests. Its plush seat and curvy form invites you to sit and relax and its richly upholstered backrest provides extra support.
You can use Pupilla in the center of your living room or in the corner. Its unique details add to its character and give it a gorgeous appearance. Its legs are its most striking features as it makes them of shiny metal and are oddly shaped. They make the sofa look like it's resting on castors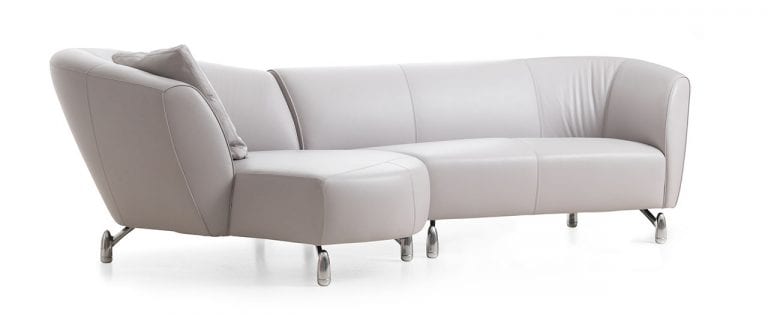 Pupilla is not only beautiful, it delivers on exquisite comfort. You'll love its cool and trendy contemporary style. They design it to inspire relaxation and does just that.
If comfort and fashion are top priorities for you, get it and unwind in style. Of all its features, which one do you like most?
Girit Corner Sofa by Yagmur
Make the most of your seating potential with the Girit Corner Sofa. Upholstered in a luxurious cover and paired with super-comfy throw cushions for ultimate comfort.
It also comes with an attached chaise lounge. The sofa looks good in large living rooms and in the corners of small living spaces. It is perfect for those with limited dimensions in their interiors.
They have designed Girit to match your desire for comfort and your taste in modern design. It will help you maximize your space and to use every corner wisely. Tapering wood legs give it a traditional touch.
The best thing about the Girit Corner Sofa by Yagmur is that it allows you to create your own compositions. You can get it with a matching armchair and transform your living room in the blink of an eye.
It comes in a variety of bright colors to suit different settings. The sofa merges different colors and will be the focal point of your living room. It will attract people with its design and make them stay with its comfort. Girit will adapt well to your changing needs.
No matter how you like to relax, you'll find a perfect companion in the Girit Sofa. It is durable, practical, resilient, and comfortable. It is ideal for those who want nothing but the best in their homes.
Girit looks at home in contemporary settings. Besides allowing you to maximize your space, it will add elegance to your home with its stylish design.
Elisabeth Corner Sofa by Paulo Antunes
A well-decorated home has many positive aspects. It appeals to guests, makes a perfect entertaining spot, and can attract buyers during the selling process. Most homeowners know that décor, especially furniture, has the most impact in a room. Corner sofas are especially popular with homeowners because they maximize both comfort and space, and they do it stylishly. With that said, you can't just place any corner sofa in your living room; you have to choose the perfect one for your space. Some corner sofas look good in contemporary homes while others look at home in traditional spaces. Others, like the Elisabeth Corner sofa, look good in any space. They blend both traditional and modern materials.
Made in a wood frame with golden upholstery, the Elisabeth Corner sofa by Paulo Antunes is as stunning as they come. The frame envelopes the seat and back and is left unadorned. It shows off beautiful wood grain. Elisabeth is upholstered at the back and front and equipped with throw cushions for extra comfort. It has flat legs which enhance the striking wood frame. Plush filling makes it the perfect rest spot after a long day at work.
Elisabeth will create ample space in your home particularly if it limits you for space. It is long and offers a lot of comfort. It will appeal to your family and guests and help you to manage your interior space brilliantly. Its lively hue makes it a striking focal point in any living room.
Move Modular Sofa by Francesco Rota for Paola Lenti
Move modular sofa designed by Francesco Rota for Paola Lenti is a seat system comprising different elements. Move series composed of sofas, chaise longue and a pouf characterized by the thin and very wide shapes.
The element dimensions and the possibility to vary their height, thanks to different typologies of feet, allow for classic or informal compositions. The sofa offers high customization possibilities: it is available in three heights and two depths, for a personal relax.
Move modular sofa made on a steel structure provided with elastic belts and covered with removable upholstery covers available in a wide selection of fabrics offering original solutions suitable for domestic living rooms but also for wider contract spaces for waiting rooms, hotel lobby or office areas.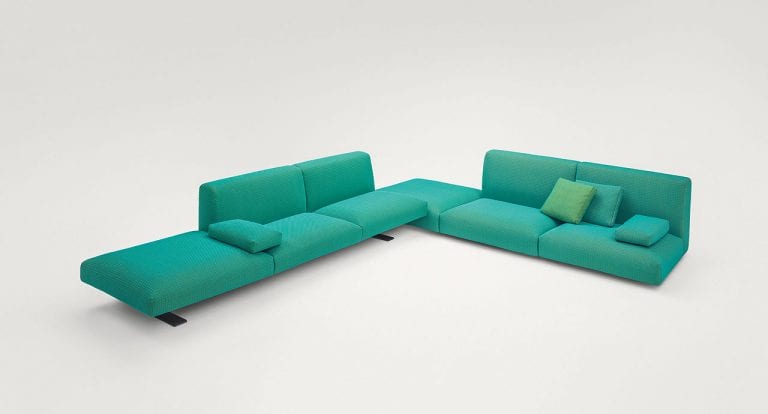 A modular sofa system with a light and sophisticated vibe open to free stylistic interpretation thanks to the selection of coverings and finishings available in the collection.
The multi award-winning Move modular sofa system is a versatile, functional and luxuriously comfortable piece of furniture that adapts to any surroundings. A modular system open to the most comfortable of configurations and an invitation to relax.
Move is an authentic island of wellbeing where you can leave your worries behind you and rediscover your own time and rhythms. They can complete every Move composition with the addition of a pouf, a chaise longue or both to match tastes and settings with highly differing characteristics both in terms of usage and style.
Francesco Rota is an interior and product designer, born in 1966 in Milan where he lives and works. He won the German Design Award 2016 in the Excellent Product Design category, the RED DOT Award 2015 in the Product Design category and the Good Design Award 2015 for the Move collection created for Paola Lenti.
Plain White Settee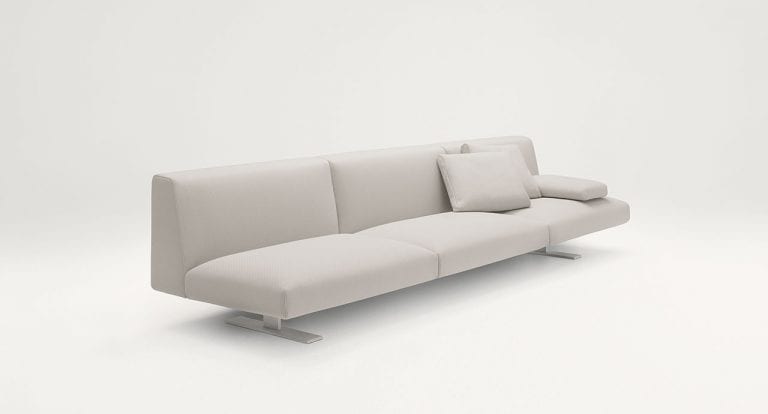 Lounge Comfy Settee
Lime Green Easy Style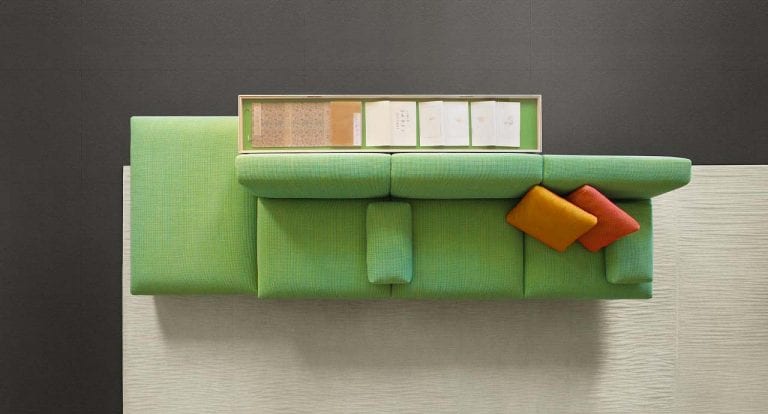 La Michetta Corner Sofa by Meritalia
Whether you like to sit or lounge in your living room, comfy seating is a must. If you are in the market for a comfy piece that does not compromise on style, get La Michetta Corner Sofa by Meritalia.
Designed by Gaetano Pesce and named after Milan's simplest and least expensive bread. Each Michetta has a unique appearance and never looks like the other.
Even when baked in identical tins, the pieces take on different shapes during the baking process. This distinctive feature inspired Gaetano Pesce when creating La Michetta. His modular pieces form a lovely unit when assembled.
It looks perfect in any modern setting La Michetta Corner Sofa by Meritalia is impressive. It comprises modular pieces that are unique made using industrial processes.
Each single sofa is unique because of the different manufacturing methods used. Each distinguished by the range of compositions obtained by assembling individual pieces chosen with no preset scheme or limitations. You can arrange the pieces however you want to display your desired composition.
If you like to relax, you'll find La Michetta to be a perfect match. It is resilient, functional, comfy, and durable. The sofa is in a class of its own and stands out brilliantly wherever you place it.
It provides superb relaxation and will transform your living room into a fun and playful spot. So, why not add some fun and interest to your living space with La Michetta?
Dining Sofa – REALLY!
Dining Sofa Collection From Thorsonn
Thorsonn introduces the Ull&Eik dining sofa collection, a cozy and contemporary space to eat, talk, read or just relax. The Ull&Eik dining sofa is a smart, comfortable piece of furniture that can be the perfect accessory for homes that need extra storage.
Thorsonn is a company created as a collaboration between a husband and wife team, Halvor Thorsen and Jennifer Valone Thorsen, based in Oslo Norway.
The addition of a beautiful dining sofa will surely lend a casual and stylish look to the area where it will be placed. You're probably thinking only dining chairs are used to complement dining tables, but after seeing Ull&Eik sofas, you better think again.
The Nordic inspiration and elegance of the comfortable and smooth sofa/bench, the soft and precise seams, the fabrics with their fine texture and the oak drawers can give to each surrounding ambiance the charm of an out of time lounge.
The compact dimensions mean that the Ull&Eik dining sofa is a useful piece of furniture that fits perfect in small living rooms.
Ull & Eik, which in English means 'Wool and Oak', is a combined sofa and cabinetry system with many functional internal layouts for the storage of clothing, shoes, bags, umbrellas, sports equipment or keys.
The collection is a design of pure lines and refined details that create original and elegant interiors with large possibility to combine with other various elements within a smaller space according to individual choices.
A storage sofa system designed to transform your house, without the house noticing. They build the sofas in Norway.  The drawer fronts, shelves and tables are solid oak available in oiled or stained finish, while the seat is a special sandwich of foams and covered with a wool blend from Gudbrandstalens, another Norwegian company.