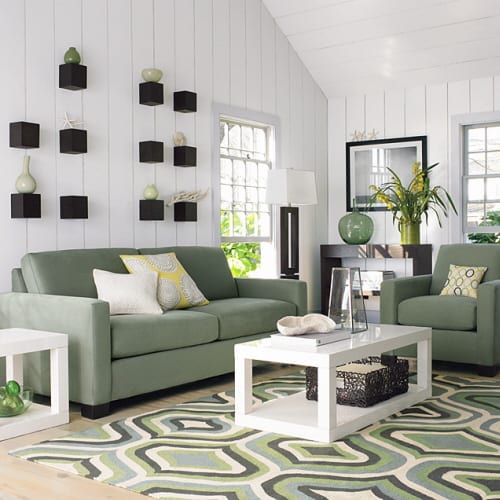 West Elm Furniture
Block Wall Shelves
Block wall shelves from West Elm are a good way to highlight small home decor accents in your house. A neat feature is that these shelves are thicker than normal wall shelving which creates a different look altogether.
I further like the fact that they can be arranged in many different patterns according to your own tastes. Pictured here in chocolate, block wall shelves also come in white, coco wood, and acorn colors. Constructed of hardwood.
Measurements: 6″l x 5″d x 5″h. Price: $44-$54.
West Elm Pleated Table Lamp
A new release from West Elm, the pleated table lamp features a larger than normal shade than a traditional lampshade. I like the over sized shade and think that it packs a design punch for a desk while also providing a greater radius of light. Measurements: 9″diameter base x 25.5″w x 26″h. Price: $129.
S Shaped Wall Shelf from West Elm
Here is a nifty wall shelf shaped like the letter "S" from West Elm. The nice thing about the shelf is the two levels. This gives you the chance to highlight different items or make a play on the size of the display items.
The wall shelf comes in chocolate and measures 48″ wide by 10″ deep. The higher shelf is 10″ above the lower shelf. Price: $119.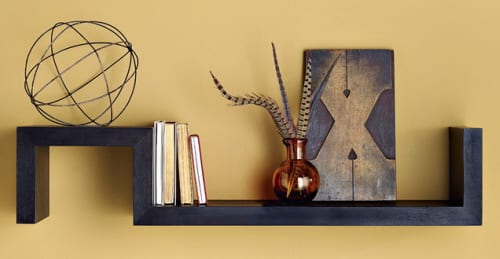 West Elm Basic Futon Bed and Mattress
In today's age it seem less frequent when you hear about house guests visiting and then staying overnight. A result of this trend is that many home owners decide not to have a spare bedroom with a bed, dresser, night stands, and chests. Instead, that space can be used as an office, craft room, or TV room for the children.
This is where the beauty of a futon comes in. A futon can work in many settings from a full-size house to a small condominium. I have one in my own home that sits in my office area. There have been several occasions where I have had guests sleep on it.
Pictured is the basic futon bed and mattress from West Elm. This very simple design is available through the internet only. Moderately priced at $229 for the frame, the West Elm futon may offer you an affordable solution as both a sofa and a bed.
The futon mattress is sold separately, and also retails for $229. The frame fits a full size futon mattress. Product: Basic Futon.
Try Something New in the Bedroom this Autumn with West Elm
Urban decor favorite West Elm, known for its unobtrusively contemporary style and soothing transitional tones, has just released its latest collection of furniture and home accessories.
We're kind of enamored with its bedding accessories in particular, since the normally subdued brand is taking a bit of a walk on the wild side this year.
From agate-inspired silk prints and sequined accent pillows to fur throws and mongolian lamb pillow covers, West Elm blends calming neutral tones with decadent — and somewhat unexpected — tactile delights just in time for winter.
It's the perfect collection to cuddle up under as the temperatures drop in the months to come.  Items in the new bedding accessories collection start at $19.
5 Fun and Fashionable Rugs by West Elm
Here are five fun and fashionable rug designs that will bring life to the dreariest of rooms.  Short of painting the wall in a room, there isn't too many other options to brightening up a large portion of a room.  Using a new rug can be a great way to add the textures and colors that you need to pull all your accent pieces together.  Unlike paint, a new rug can easily be replaced when you want to switch up the décor in a room.  Below are five great rugs with interesting patterns, colors, textures, and materials.
Kabuki  Cotton Printed Dhurrie
Blue is a very versatile color.  This Kabuki rug, inspired by Japanese elements has many different patterns and shades of blue in one rug.  Made of cotton, this would be a great rug to match with furniture that is monochromatic or neutral.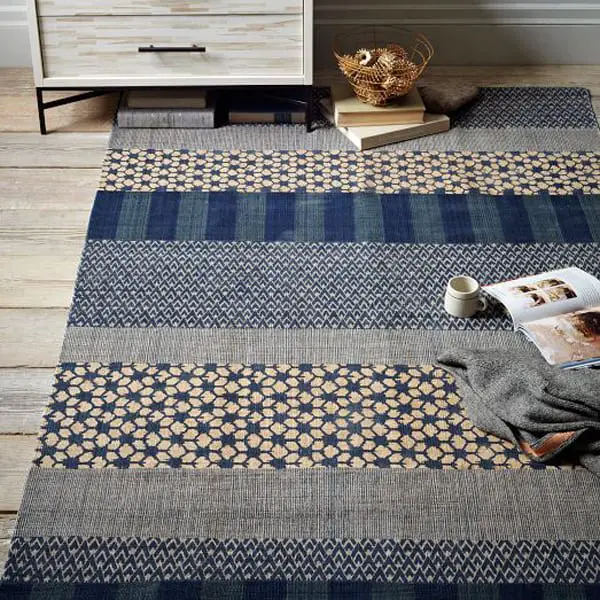 Esmeray Wool 
This hand-woven wool carpet is a perfect alternative to plaid.  It has the faded hint of a plaid rug, but without the overwhelming perpendicular lines that make plaid so hard to match with different kinds of furniture.  This could be a laid back version for those wanting a hint of the classic pattern it pays tribute to.
Samaya Soymak Jute 
This is made out of jute fiber which is similar to rope.  The earthy browns and pattern are an asset to any room.  Though the colors are mostly neutrals, the materials are what make this stand out.  The knotted ends of the rug really give it character.  This is another hand-woven beauty
Faded Ikat Wool
Ikat is a very popular pattern right now.  This rug has an ikat pattern that blends from one color to the next giving it a dreamy appearance.  Made of wool, this piece could be paired with simple or bold furniture.
MIAC Santa Fe Rain Wool Rug
Another handwoven product made of a wool and cotton blend, this rug is perfect for matching with many different types and colors of furniture.  This carpet is Native inspired and has the most lovely pattern.  The sante fe pattern is a great one to feature in warm or cold weather.  It is also versatile  enough to go with wood, leather, and cotton furniture.
All images via WestElm.com
All of these rugs are made in India and handcrafted from natural materials, meaning no two rugs are alike.  These are all very different patterns that can add depth and interest to any room.
They can be paired with many different kinds of furniture.  Most of these rugs come in a variety of sizes whether you are looking to fill a room or use as a runner for a hallway.  Sold separately are carpet pads that are recommended to help deter sliding.
West Elm Bridge Coffee and Side Tables
Pictured in chocolate, the West Elm Bridge coffee and side tables offer a classic touch to any living room. I like the height of the coffee table. A low rise offers flexibility in living room design making the coffee table more of an after thought as opposed to a living room center piece.
Offering a matching side table is great, in case you need to surround your sofa with 1-2 end tables. The Bridge table series is constructed of oak veneer with a smooth lacquer side.
It comes fully assembled and measures 56″w x 24″d x 8.5″h. Available only in chocolate. Price: coffee table: $299; side table: $179
West Elm Hemp Slipper Chair
Looking for a new comfortable chair to add an accent touch to your room? West Elm just released the new hemp slipper chair. The hemp chair's classic design adds refinement and style to any room in the home.
I'm a huge fan of the cinnabar color fabric as it really stands out against the espresso stained wooden legs, giving it a very powerful presence. If cinnabar isn't really your color, you can also pick the chair up in flax as well.
What is nice about this chair is its ability to blend into many rooms of the home. The hemp chair could be "right at home" in the bedroom as a reading chair or vanity chair, in the living room as an additional piece of seating, or in the study as a place to read a book.
Priced at $399, this is a reasonable cost for a nice accent piece.
Dimensions: 24″w x 32″d x 36″h
West Elm Sawhorse Trestle Work Table
If the Mason trestle desk from Williams Sonoma is a little out of your price range then the new Sawhorse Work Table from West Elm may be the right alternative.
The "modern industrial" look of the black nickel finish over steel plated legs easily blends into most home decor schemes. The Sawhorse trestle style table is perfect as a dining table/desk and features a wide expansive ½ inch thick glass top.