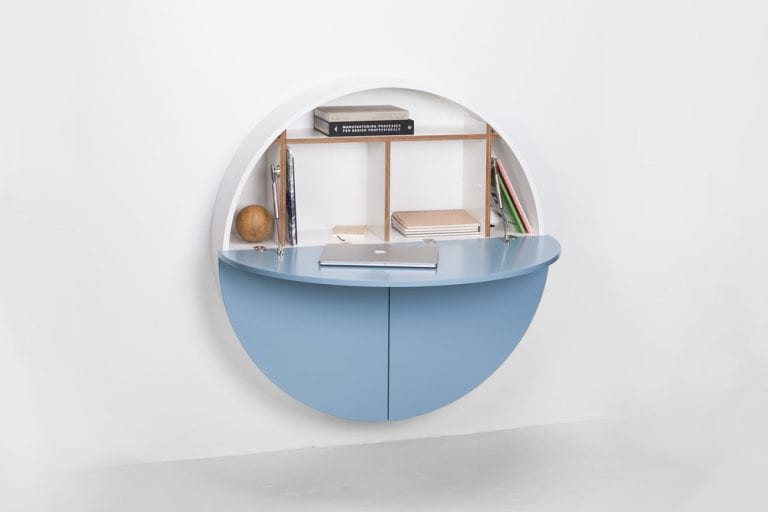 Pill Wall Desk from Emko Design
The Pill Wall Desk is designed by Lithuanian based company Emko as a treatment against clutter and messy environments. Multifunctional and stylish, the desk aims to make small spaces more useful for your laptop, files, books, and everyday work necessities and to provide a remedy against cluttered living spaces.
In shape of a round cabinet that works fixed to a wall, the Pill wall desk can instantly transform into a fully-functional working place, a dressing table, or even a bar depending on the user's necessities.

The round cabinet can be installed on a wall at any height with an interior that features display and storage spaces. With adjustable shelving system, the piece can adapt to all needs and comes even equipped with sockets and the option of integrating LED lights.
Emko is a design company founded back in 2009, when founder Erika Markovska-Mikulskiene decided to invest time and passion into the goal of showing the value of Lithuanian design tradition.
Specializing in furniture and home accessories, they take inspiration from the intersection of Northern Scandinavian, Western European and Eastern Russian cultural heritage to create products for an active, contemporary and responsible market.
The quality of their products and the guarantee for a long lasting piece of furniture comes from the quality of the materials and finishes used in each of their designs. The main attributes to create such durable product are the woods used, varying from pine plywood, white plywood, and fine lacquers.
All these quality and strength factors provide a reliable hanging cabinet with a dining table stability, that perfectly suits any type of interior, allowing you to have a multipurpose item.
Available in white with a white or black back, the Pill Wall Desk also comes in black, blue and yellow and it is ideal for people living in small spaces or wanting to get the most out of their space.