Great Alternatives To Restoration Hardware
Restoration Hardware, a Californian based company are big fans of the aviation industry and they translate this passion into their works. Their Aviator Series comprises trunks, chairs, chests and tables that all have been inspired " the gleaming nose cones and fuselages of mid-20th-century aircraft" and are encompassed in a a patchwork of polished aluminum panels accented with exposed steel screws.
The aerodynamic lines, the rounded corners and the distressed vintage look complete  with ; intentional nicks, dings, small scratches further add character to the collection. Further down the article we have a few restoration hardware alternatives for you to check out.
Restoration Hardware Aviation Chair
---
ACME Brancaster Chair -Retro Brown Top Grain Leather & Aluminum
An alternative piece from Acme Brancaster.

---
ACME Brancaster Retro Brown Top Grain Leather and Aluminum Loveseat
---
ACME Brancaster Coffee Table In Aluminum
---
ACME Brancaster Retro Brown and Aluminum Wine Cooler Cabinet
---
Floor Lamp From Restoration Hardware
Lamps and lighting are best when they have style beyond their purpose of illuminating our surroundings. The Royal Marine Tripod Lamp bears the classic look of a British surveyor's tripod crafted in solid wood and accentuated with solid cast aluminum.
This well-appointed floor lamp features a machine-turned gear mechanism, a telescopic tripod base with change and a multiple positioning lamp head.
---
Table Lamp From Restoration Hardware
Industrial Tripod Floor Lamp
Designed with sophisticated tripod base and ferrous projection lamps, this antique marine ship searchlight nautical floor Lamp is unique. It cannot be more suitable if you use it for your retro modern style decoration, adding more aesthetic to your home or office, creating a trendy and classic art atmosphere.
Key Features
Designed with sophisticated tripod base and ferrous projection lamps

Antique marine ship searchlight nautical floor Lamp is unique

Retro modern style decoration

Creating a trendy and classic art atmosphere

Made by metal & natural solid wood.

The whole exquisite vintage lamp is handmade

Adjustable function and 2.8 meter long wire operated foot switch

Adjustable lamp head
---
Restoration Hardware Grand Leather Bean Bag
A classic piece of dorm furniture gets a chic and oddly sensual update in Restoration Hardware's Grand Leather Bean Bag.
It's as if Don Draper strode confidently into your rec room and gave it a total makeover.
Offered in seven sumptuous leather options, the comfy cloud of the fun comes at a price $795, to be exact, and up to $875 for select upholsteries.
Despite the lofty cost, a pair of these is a smart solution to a call for cozy seating in a small space.  Seamed with a circular center for perfect comfort, the topstitched bean bag has a child-safe locking zipper on its velvet base and runs 50 inches in diameter.
Offered via Restoration Hardware's website and catalog only; not available in stores.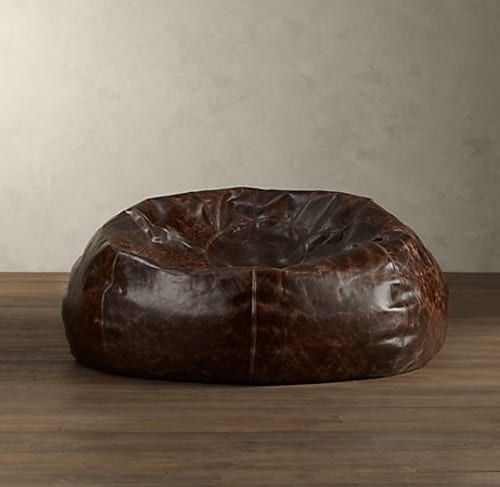 ---
British Cane Mirror From Restoration Hardware
Finding a mirror can be tricky at times as for me when I am looking I cannot seem to find one. I came across this British Cane Mirror from Restoration Hardware and wanted to share it with my readers. First off, this traditional piece is very flexible providing many options as to where you may hang it in your house.
It could be a bathroom mirror as opposed to the "piece of glass" variety, it could hang in an entry way, or even as an accent piece on another wall of your home. The brown color is almost universal making it easy to match with other pieces. I like a touch of "caning" as it adds a little charm to the mirror making it softer.
Price: $349-$399 – three sizes available.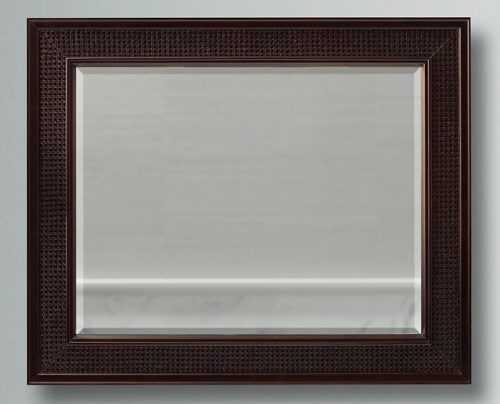 ---
Pier Crystal Lamps
Some home decorators enjoy the theme of crystal throughout the house. An often overlooked accessory is the crystal lamp when using this motif. Pier crystal lamps from Restoration Hardware are an elegant example of this type of accent lighting. I like the fact that they are not too ornate and that their shape is very simple.
Many versions on the market are too decorative and distort the balance of a living room for example, where too much attention is drawn to a single accessory.
Price: $299-$399.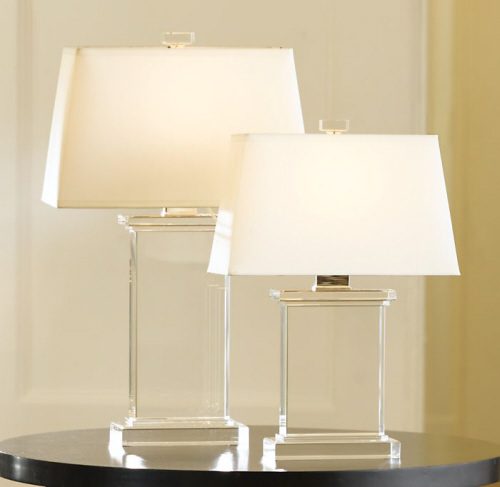 ---
Dimmable Touch Control Table Lamps
This modern table lamp with built-in sensors can be easily switched on/off and adjusted to three different levels of brightness with a simple tapping on any parts of the lamp base or poles. It works great during your (or your kid's) bedtime because It's quiet enough not to give out the noisy pattering sound like the traditional switch does. More surprisingly, it saves you the trouble of searching for a switch in the dark.
Key Features
The low light setting is perfect night light to leave on for kids through dark nights

Excellent for midnight trip to bathroom

The medium light setting is ideal if you want an ambient light in the background for family gathering, playing electronics

The high

 

light setting gives you soft warm white light with enough brightness for reading, studying, working
---
The Marston Sleigh Bed from Restoration Hardware is a great looking piece of furniture that is made right in the USA. The bed is made from solid North American black cherry and cheery veneers. I really enjoy this bed and will tell you that it works in almost any setting whether your house is more traditional or modern.
Another option, not shown in the picture, is to not get the foot board and just have the frame wrap around the foot of the bed. This option is a little less inexpensive and looks great. I know some people don't want the high foot board since it may block the view to the television.
A great feature of Restoration Hardware's Marston line is that they use the old artisan furniture technique of mortise and tenon joinery. This is where adjoining boards have grooves in them so that the board which meets it will fit into the grooves and create a secure, solid frame. Mortise and tenon joinery are used in place of nails to secure the frame.
Most furniture today uses nails or glue to affix boards to one another. The mortise and tenon joinery is a technique that was developed centuries ago when these options were not available or when the use of nails was frowned upon as it took away from the craftsmanship of the furniture piece.