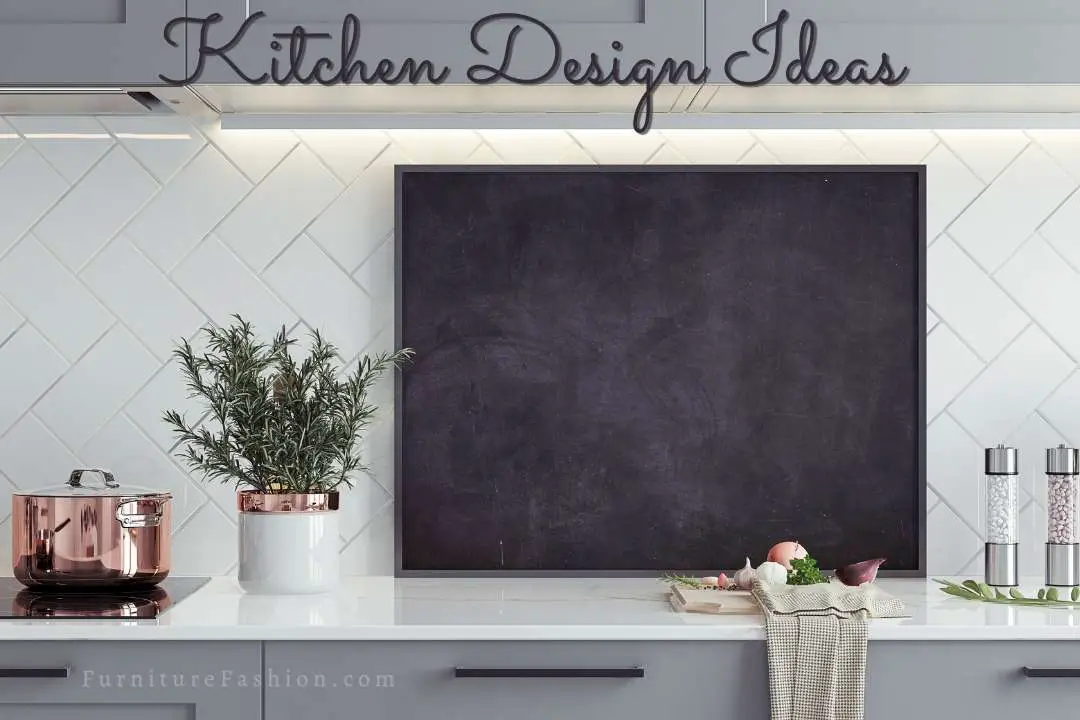 We're an affiliate
We hope you like our recommendations! Just so you know, we may collect a share of sales or other compensation from the links on this page. Thank you for using our links, it is much appreciated.
Table of Contents
10 Ways to Make Your Kitchen Look Expensive on a Budget
Refurbishing or redesigning a kitchen can be hugely expensive. Luckily, you don't always need a huge budget to achieve stunning kitchen luxury looks. Our article about kitchen design ideas, gives you some tips and tricks for redecorating on a budget and on how to make your cooking space look expensive for less.
For many people, the kitchen is the heart of the home – it's where family and friends come together to cook, chat, and entertain. We often think of kitchens as showpieces in our homes, and functional rooms, and we want them to represent our own personal style. Kitchen renovations, however, are some of the most costly home improvement jobs that you can undertake.
Luckily, there are plenty of ways to up-style your kitchen without taking on a big remodeling job. Our tips come from top home designers and suggest ways that you can get that modern kitchen luxury makeover, without spending a fortune.
For most of these, you'll just need a few materials and some basic home improvement tools. From utilizing color and texture to creating rich lighting effects to updating cabinets and kitchen worktops, we'll show you how to make your kitchen look expensive on a budget.
Kitchen Cookware Ideas
Image
Title
Price
Prime
Buy
Rachael Ray Cucina Nonstick Cookware Pots and Pans Set, 12 Piece, Agave Blue

Prime

Check Me Out On Amazon

Top

GreenLife Soft Grip Healthy Ceramic Nonstick, Cookware Pots and Pans Set, 16 Piece, Blue

Prime

Eligible

Check Me Out On Amazon
KitchenAid 3-Ply Base Brushed Stainless Steel Cookware Pots and Pans Set, 10 Piece

Prime

Eligible

Check Me Out On Amazon
Cookware Set Nonstick 100% PFOA Free Induction Pots and Pans Set with Cooking Utensil 13 Piece – White

Prime

Eligible

Check Me Out On Amazon
Cuisinart MCP-12N Multiclad Pro Stainless Steel 12-Piece Cookware Set

Prime

Eligible

Check Me Out On Amazon
Prices pulled from the Amazon Product Advertising API on:
Kitchen Design Ideas
Luxury Turkish Kitchen Towels
Cotton quality towels. Made in Turkey. High quality towels are made from 100% Turkish cotton and craftsmanship. Floral jacquard on the edge adds aesthetic. Perfect for gifting. luxury towels are ideal for everyday use.
Rugged yet soft. Recommended to wash before use. These towels will get fluffier and softer with each wash. Easy care machine wash. Do not use bleach. Made from natural materials and free from harmful chemicals or synthetic materials, safe for you & your family. Machine washable and dryer friendly because of its quick-dry technology; Gets softer and softer after each wash.
LARGE & ABSORBENT 4 PCS SET – Set includes 4 large 19" x 32" hand towels. 750 GSM towels are very plush and soft. Made from 100% Turkish cotton. Will quickly dry and feel luxurious similar to cashmere.

DECORATIVE – Best towel set for your bathrooms, gyms, hotels, kitchen, and beach. Great Excellent gift sets for newlyweds or housewarmings. Soft, Luxurious, Durable, Elegant, Absorbent, and Decorative.
Prices pulled from Amazon Product Advertising API on:
Product prices and availability are accurate as of the date/time indicated and are subject to change. Any price and availability information displayed on [relevant Amazon Site(s), as applicable] at the time of purchase will apply to the purchase of this product.
Play with Texture
One of the key elements of great interior design is the incorporation of texture into your chosen space. You can make a room look luxe by combining different textures to create a visual appearance of depth and design. Try to introduce a range of surfaces into your kitchen zone.
This can be done inexpensively by adding some bare wooden cabinet fronts and combining them with some chrome, brass, or nickel features. The interplay of fresh materials adds a sense of variety to your kitchen design and gives the impression that all your details are hand-selected, even if they're just basic DIY.
Pro tip: use this trick to create an air of richness throughout your home!
Bare Wooden Cabinet Designs
Choose a Color Palette
Carefully selecting your color palette can make all the difference for reinvigorating your kitchen. Although white is often used to make rooms look cleaner and sharper, design experts suggest opting for a muted tone instead.
You should also focus on choosing a range of complementary tones, rather than painting all your surfaces in the same color.
White surfaces can make your kitchen look stark and cause glare. This can actually make your kitchen appear cheaper, as it will look less carefully curated. Choosing an off-white color, like eggshell, or even opting for a tonal grey, makes a bolder statement and will offset any shiny or metallic details.
Upgrade Your Backsplash
A stylish kitchen backsplash can really amp up the design element of any kitchen. You can do this relatively cheaply by adding kitchen tiles to the backsplash area. Or, if mosaic tiling sounds too pricey, opt for an adhesive tile or mat instead.
Choosing a statement backsplash, such as an imitation marble tile or decorative design, can lift the feel of the entire space. If you've gone for a minimalist look elsewhere in your kitchen, a backsplash is the place you can go all-out and add a little extravagant flare.
Kitchen Backsplash Ideas
Art3d Peel and Stick Wall Tile for Kitchen Backsplash, 12″x12″, (10 Tiles)
1.4 times coverage area: a 12*12 tile covers 40% more area than a 10*10 tile covers

Premium peel and stick tile: - the tile is made of eco-friendly material, resistant to heat and moisture, easy wipe to remove the stains.

Easy DIY: stick on backsplash tiles for kitchen or bathroom, self adhesive, steady sticky, it can be applied to a round corner, no grout, no glue, no mess, no special tools and no experience needed.
Peel and stick tile backsplash sticker, specially design for kitchen backsplash and bathroom backsplash
Recommended Use: Kitchen island walls, bathroom backsplashes, bedroom walls, laundry rooms etc.
Prices pulled from Amazon Product Advertising API on:
Product prices and availability are accurate as of the date/time indicated and are subject to change. Any price and availability information displayed on [relevant Amazon Site(s), as applicable] at the time of purchase will apply to the purchase of this product.
Upcycle Cabinets
Painting your kitchen units or replacing kitchen doors and cabinet handles is a great way to upgrade your cabinets without taking them all out. A simple coat of paint on cupboards can really freshen up the overall feel of a room. Plus, it's cheap and easy to pull off by yourself.
Similarly, if you feel your current kitchen cabinets are beyond saving, you could give them a new lease of life by refurbishing their faces. Replacing cabinet doors is not overly expensive and can even be done DIY if you're confident you can cut new doors to fit.
To add a glamorous touch, try painting cupboard handles with metallic paint or replace wooden fittings with brass or nickel ones to give a modern, industrial feel.
Focus on Lighting
Lighting is an essential element of any room, and a cleverly designed lighting plan can elevate the feel of your space. Rearranging your kitchen lights can be as simple as switching out a tired old lampshade for new fixtures.
For example, a pendant shade or a glass globe fixture can cover a hanging bulb for a more appealing effect. You can also make lighting seem more sophisticated by adding dimmers or having lights installed on the underside of cabinets.
If you can add new lights in, consider hanging a statement piece above your kitchen island for a theatrical, centerpiece effect.
Under Cabinet Kitchen Lights
DIY LED light strip: 6 PCS pre-cut strips, total 9.8ft, many kinds of connection option, Great way to upgrade your  cabinets, closet, desk, TV back, bookshelf, bed, wardrobe, display case etc
Super Bright & Brightness adjustable: Super bright LED cabinet lights delivers total 1500 lumen, Came with RF dimmer to adjust the brightness

Reliable kit: High quality adapter and strip light The LED tape light working voltage is DC12V, extremely Low voltage and heat.

RF Wireless remote control: 17-Key RF remote has timing off, dimming, hot buttons, rematch and dynamic function, 60 feet control distance

Easy installation: All installation accessories are included. No tools required. Install light bars by yourself in minutes, just Clean – stick on -connect. Backed with strong adhesive tape, screw-free to protect your furniture
Prices pulled from Amazon Product Advertising API on:
Product prices and availability are accurate as of the date/time indicated and are subject to change. Any price and availability information displayed on [relevant Amazon Site(s), as applicable] at the time of purchase will apply to the purchase of this product.
Hang Mirrors
It's long been well known that mirrors can add a sense of size and dimension to a space. And, after all, the larger your kitchen, the grander and more luxurious the feel. Wall mirrors can also add more natural light to kitchens that have small windows or dark corners.
Choose mirrors that fit around your overall design and hang nothing that might get in the way or diminish the functionality of your kitchen organization. It could be a full length mirror or a simple wall mirror or a selection of mirrors that suits your style of kitchen design.
Full Length Wall Mirror
Aluminum Alloy

SIZE: Full size, 65″x22″, large enough for you to see your entire figure in a single glance.
FRAME: Aluminum alloy frame, black color, elegant. Very thin frame (only 0.16″ wide on front), wire drawing treat, simpler and more textured. No discoloration, no odor, safe and environmentally friendly.
GLASS & MIRROR: High-definition. Scatter prevention and explosion-proof membrane, burst-proof, shattered glass will not be spilled out even impacted by external force, more safe and protective. Copper-free silver mirror, environmentally friendly. Coating with silver nitrate, anti-rust treatment, no oxidize and rust. Multi-layered, more protection. Original edge-sealing technology, lasting and more durable.
ALL-MATCH: The mirror is ready to lean to the wall, or free standing with the stand at anywhere, or it can be wall-mounted either vertically or horizontally with the gourd hooks on the back (one hook on each side), fits almost everywhere indoor or outdoor.
100% REFUND/REPLACEMENT: Full refund or free replacement for mirror(s) damaged on arrival, no return is needed, simply send us some pictures through Amazon Message to show: the damaged mirror(s); the front and back views of the outer box(es); the label information on the outer box(es).
Choose Stools
With seating in your kitchen, you can save space and give your décor a stylish edge by using kitchen stools instead of dining chairs. Of course, if you have a full kitchen table as your centerpiece, you may want bespoke kitchen chairs to go with this.
However, if you have space around a kitchen island or beside your breakfast bar, stools look great and provide added function.
If your kitchen is large, try to organize the space so that the table area is for dining and the workspace area is for socializing and cooking. Counter stools near the workspace give your friends somewhere to sit and sip their wine as you prepare the meal.
Metal stools are great if you want to add a chic, industrial vibe, or opt for wooden stools if you want to give your kitchen a homey, rustic quality. Consider bar stools when searching, as they are a separate idea that sometimes can fit a kitchen design style.
Kitchen Bar Stools
Function: 360° Swivel with Air-lift handle for easy direction and height adjustment

Load Capacity: 280-pound maximum weight capacity; Seating Area Dimension: 16.1″ X 13.5″;Suitable for most people.

Material:  Black boned leather around seat and back, good for your skin; 3.3 inches high-density thicker sponge, provide you have an extremely comfortable seating

Design: Stylish Modern design perfectly decor your living room and also add a contemporary touch to your office, bar or restaurant.

Applicable Places:  These Homall bar stools are suitable for the bar, vanity room, bedroom, cafe, kitchen and so on. It will make your space more modern and elegant.
Prices pulled from Amazon Product Advertising API on:
Product prices and availability are accurate as of the date/time indicated and are subject to change. Any price and availability information displayed on [relevant Amazon Site(s), as applicable] at the time of purchase will apply to the purchase of this product.
Style Up Fixtures
For budget interior design, the devil's always in the details. Even minor changes can make a vast difference with making your kitchen look expensive for less! Changing details, such as fittings and fixtures, can really brighten up and enliven your space.
Not happy with your current kitchen taps? Why not change them to something more modern, like gold taps or chrome taps? You can also add shelves to bare patches of wall or give your windowsills a fresh coat of paint to make sure that all parts of your room work together. If you want it to look like a professional job, paying attention to the finishes is definitely important!
Make Room for Display
One of the best parts about having a super luxe, stylish kitchen is showing off your cookware and accessories. Leave space for display storage to help give your home a bit of decadence. For example, if you have some great kitchen gadgets, why not invest in a countertop that will really show them off? One slightly larger purchase like this can really draw the eye and means that you can keep the rest of the room pretty simple, without having it look cheap.
Alternatively, if you have beautiful glassware or crockery, put in some simple open shelving to display it on. Similarly, you can add glass fronts to cabinets to show off decorative objects, like cut glass tumblers, liquor bottles, whisky decanter, or elegant dishes.
Any wall space near your stovetop or workstations can also hang a magnetic rack. This looks modern and professional and is a handy way to store knives and kitchen utensils. Hanging racks for pots and pans are also extremely popular because of their space-saving capacity, affordability, and rustic look.
Install one above your cooker and you'll have everything you need in reach before you work!
Add Some Artwork
Adding some artwork to your kitchen is a cheap and simple way to make your design look expensive. You can opt for modern images or images that fit in with your overall kitchen style. Framing prints is a great way to cheaply add pictures to your home.
You could also consider having professional pictures of yourself and your family taken. This is relatively inexpensive but can add an upmarket feel to your space, especially if the pictures are monochrome or artfully taken.
If you find that your kitchen has large expanses of bare walls, this can make the room look unfinished. Carefully selecting artwork to fill the gaps is a great way to go. You could also display pottery or sculpture on any bare kitchen shelves, although avoid adding so much that the space looks cluttered.
Keep functionality in mind too when you do this and remember that a great kitchen should be easy to work in and to keep clean.
Sculptured Iron Accent
This unique sculpture has a charm that appeals to everyone, from men and women to boys and girls. Any adult or child would love this sculpture to add class to their living or work spaces. This unique iron mini sculpture makes an excellent addition to any home and also makes a great gift for the voracious readers or avid book collectors in your life.
The small statue is lightweight so that you can place it almost anywhere in your home or office. It's only 2.51 pounds! Simply set the statue down, and you're all ready for a beautiful, display on any piece of furniture, from the coffee or end table, to a bookshelf or office desk.
SAND CAST METHOD: These charming statues are made of iron using the sand casting method, so these durable pieces are solid all the way through. It also helps to complement the delicate slimness of this chic and fun art piece as you display it in your home or office.
ACCESSORY WITH ABSTRACT THEME: This modern accessory statue features a delightfully abstract design with a slender figure reading a book and reclining in the curvature of a circle. This metal statue offers the appeal of anonymity on the part of the viewer, making it more appealing to a wider audience and a great addition to any household decor.
RUSTIC DECOR FOR ANY ROOM: These statues are great for so much more than just library use. This cool sculpture can be placed anywhere, like your living room wall shelf, reading nook, office desk, kitchen, bedroom, and even in the nursery to help encourage your child's love of reading. This statue is sturdy, yet compact for greater ease in storage.
Conclusion
There are plenty of great ideas out there on how to design the perfect kitchen space. However you want to arrange your kitchen remember that it should be a room you like to use and to spend time in.
We can easily achieve this on quite a small budget by just using one or two of the options we've outlined above. We hope these great kitchen ideas have inspired you!
Archie was a builder for over 40 years. Mainly after his retirement the enthusiastic electrical works in garden and writes for a blog Homemakerguide.com to keep himself occupied. His many years of experience can get you the right tool reviews, whether it is a drill, welding machine. An impressive fact to note about him is that almost everything in his house is a representation of his skills made by his hands.