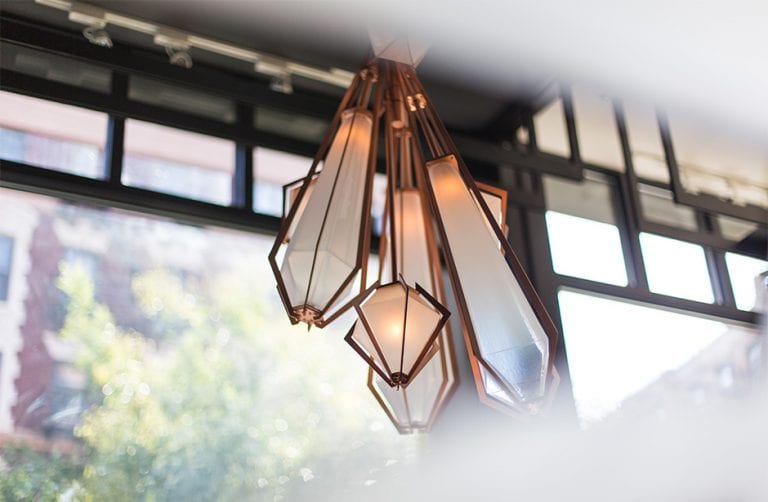 Harlow Lighting Collection from Gabriel Scott
The Harlow lighting collection by Gabriel Scott evokes a geometric and sculptural aspect throughout its various configurations. After their first collaboration together, the Canadian brothers-in-law have launched a new endeavor in design together. Launched in 2012, the line of contemporary lighting by Gabriel Scott is full of chic and modern lighting fixtures.

Each piece of their collection is handmade in their Montreal studio and delivered worldwide. A collection that is a combination of traditional and innovative elements characterized by complex decorations. An explosion of stylish elements and clear and fluid shapes, in which classic details and a modern taste coexist.
Blown glass lighting can create just the right kind of magic that will make compliments come pouring in from the visitors coming to your home. The Harlow lighting collection is a high end lighting collection featuring hand blown glass, delicate chains, and shinning metals. The Harlow lights seem to be inspired from modern jewelry designs, using gem-like glass shades faceted like the elegant jewels that inspired them.
Mold-blown glass forms are held in place by a series of metallic prongs that join together through a center stem. The asymmetric gathering of each member results in an explosive bouquet of soft light and crisp hardware. Each piece of the Harlow collection is entirely hand made and it combines the glass gems with a chic metallic setting.
The unusual thing of the collection is the fact that each piece is fully customizable
The available finishes of the frame include copper, brass and nickel, that you can mix up with various blown glass options like Alabaster White, Smoked Black, Amethyst-Violet or Emerald-Green to meet the requirements of any space they are placed in. Gabriel Scott's collection will give you the option to choose a color and texture that will best suit and compliment the walls of your home or office.