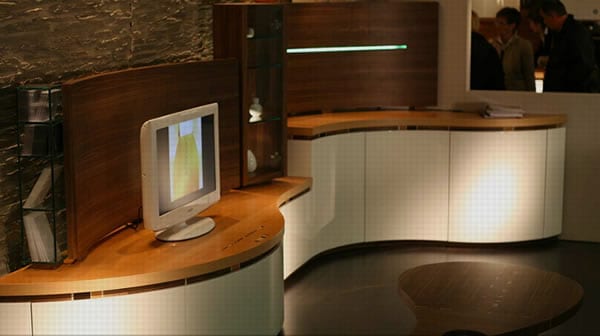 Here is a living collection that is so smooth, flowing, and comfortable that you can't help but let yourself relax into a casual living environment.  The cream upholstery and natural wood tones are inviting and friendly palette with a natural sense of chic.  Introducing the Soggiorno living room collection from Midarte, a modern collection with soft lines.  The semi-circular sofa breaks tradition with its curved shape instead of straight lines.
Tall, individual back cushions provide support for sitting and reclining along its length.  To mirror the rest of the collection, a natural wood shelf running along the back of the sofa creates a convenient place for sitting, standing, and interacting with your guests while serving as a handy place for a drink or home for display pieces. The Soggiorno living room collection from Midarte's television cabinet also incorporates the same curves as the sofa, with a scalloped front that weaves back and forth at two different heights.  Below the wooden top, white cabinets with smooth fronts provide storage for all your entertainment devices and movie collections.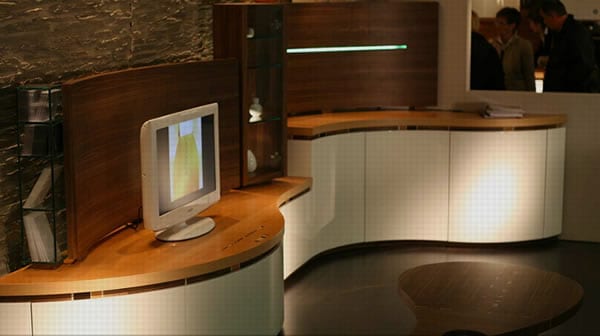 The Soggiorno living room collection is ideal for utilizing the corners of a living room to their maximum potential.  Don't waste any space with Midarte's smart design for your lifestyle.  The simple look is easily adaptable to your room just as much as the economic shapes.  Enjoy a living room collection that puts you at ease and encourages you to interact with your environment.  After all, isn't it a great feeling to come home to an inviting living room for the evening?