Did you ever wonder about the phrase "It's a classic"? Who determines what becomes a "classic", whether the item is a car, a book, or a piece of furniture? Society, consumers, and the industry from which the piece comes all factor into something earning the honorable title. The next question then becomes, where do these works of art come from? Innovators and visionaries also called product designers. Though product designers will draw up thousands of designs, sometimes only hundreds will go into production, and only a precious few (if any) of their designs will be deemed a classic.
I have actually had the pleasure of meeting one of these geniuses of the design world, and though I have idolized many of his furniture pieces (as well as his accessory collection), I was pleasantly surprised to find that Jeffrey Bernett himself didn't require the same adoration. Impeccably dressed and clean cut with bright watchful eyes, he seemed to enjoy watching the high society party that surrounded him at the opening of Dallas's B&B Italia Showroom, sponsored by Elle Decor. He was there as a special guest, and several of his furniture pieces were present. Jeffrey was a perfect choice for a guest designer, as he is the only American designer B&B Italia works with, and I was thrilled to get a few moments of his time to discuss his design process with him.
J. Chandelle: Mr. Bernett, where do you come up with your designs? How does the process begin?
J. Bernett: It depends on the piece and what the client is asking for, is there a piece you like?
J. Chandelle: I love all of your work, but lets try the Landscape Chaise, how did it come about?
J. Bernett: Actually, I had just finished the Tulip Armchair for B&B Italia, and they contacted me and told me that they wanted me to create a chaise lounge for them. They didn't have one in their collection at the time. So I worked on a design I felt worked for their collection and sent it off to them. I got a call saying that they didn't feel like it was what they were looking for, to re-design a new chaise, and that I had 3 days to complete it. The final result is what you see as the Landscape Chaise.
J. Chandelle: Such a simple, yet elegant chaise, was it very different from the original design?
J. Bernett: The original design had a slightly different shape to it, and the legs are more simplified.
J. Chandelle: Aside from B&B Italia, what other clients else do you work with?
J. Bernett: Boffi, Knoll, Michael Kors, and Northwest Airlines to name a few.
J. Chandelle: When I was still in college I did a research project on you, and fell in love with so many of your designs, if someone wanted you to design something for them, would they still look up Studio B, the company you founded in 1995?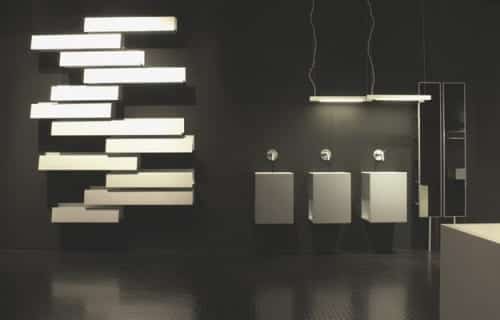 J. Bernett: Yes, you could still look for Studio B, or you could look for CDS (Consultants for Design Strategy), which is a more current company name.
J. Chandelle: I appreciate the time you've taken to speak with me, before I let you get back to the rest of the guests, may I ask what other markets you consult for?
J. Bernett: In addition to products, I also work with transportation, graphic, retail and commercial design.
After thanking Jeffrey again, I pried myself away from one of my favorite designers, and let the other guest have their turn to pick his brain. I spoke with him several other times during the event, but it seems that I was so enthralled in the conversation I forgot to take notes, so I will not discuss what I cannot fully recall. I am neither easily impressed nor clingy, but found Mr. Bernett to be so engaging and down to earth, that he seemed to have his own gravitational pull with everyone he met.  To end the interview with more design inspiration here is an indoor umbrella holder that is sleek and minimal while serving a purpose in a foyer or entryway into a home.