Indoor Umbrella Stand
If you have a big enough foyer, you can fill a quality indoor umbrella stand for the days when you need a brolly to pop out to the shops or walk the dog when it is pouring down with rain. From lush benches to grand coat racks, the possibilities can be seemingly endless.
An umbrella holder or stand is an excellent small addition to your foyer or hallway. Instead of leaving them outside to continue to be soaked and lost, it will keep them dry and ready to grab at a moment's notice. Let's take a look at 10 must see modern designs for indoor umbrella holders that were handpicked by our editors, shall we?
You have quite a good choice when you are searching for your umbrella stand. Make sure you research them all to see which is your favorite.
Indoor Umbrella Stand
Indoor Umbrella Holder
Indoor Umbrella Tree
Umbrella Rack Stand For Canes Walking Sticks Umbrellas
A high-quality umbrella holder. Made of durable metal mesh construction and superb workmanship that offer you a better usage experience for storing and drying your umbrellas or walking sticks and canes. Can store multiple umbrellas without tipping over.
Holds Water Well: A useful amount of space at the bottom of the umbrella rack stand is made for retaining water and prevents spills and leakage to your floor or carpets. Perfect for entryway, hallways in your house, or right outside your apartment.
Innovative Design: The metal mesh is designed for keeping your umbrellas free and open for quicker and more efficient drying. Large diameter allows for you to store your umbrella completely open for expeditious drying. Able to store large and small umbrellas extremely well.
Multi-Purpose Storage Rack: While most people would use this as an umbrella stand, it can also be used in a variety of ways for multiple uses. Used as a decor for organizing your umbrellas, canes, walk sticks, wrapping paper, swords, baby toys, etc. in entryway or door of any home, office, apartment, hotel, bars and so on

Dimensions: 10.31″ L x 10.31″ W x 19.61″ H
Indoor Umbrella Stand
Are you not in love with these little metal umbrella stands? They come in fun, playful colors to choose from and they not only hold your umbrella and make a very fashion-forward statement but they also stand as a piece of art for the foyer or patio area.
4-Tier Bamboo Entryway Organizer
Chic and tidy this model won't take up too much space or take away attention from the beauty of the space around it.
4-tier entryway/shoe organizer works great for bags, shoes, umbrellas, books and other accessory items

Constructed from sustainable and renewable bamboo

Creates free space near entry and hallways where usable space is limited

Entry organizer/shoe-rack dimensions of-28.37 L x 10.62 W x 25.25 W

Fits into most home décor with a beautiful bamboo finish
Milliard Coat Rack Hall Tree with Bench
A simple indoor coat rack and stand. A little different from the umbrella stands.
All-in-1 coat rack: a comfortable seat with 6 hooks and 2 shelves to provide ample storage for your jackets, scarves, shoes and mudroom gear.
With its sleek build and 20×13" footprint, this space saving coat rack fits neatly in any corner or small space.

Beautiful and modern design with a matte black finish will add style to any décor.

Sturdy metal build offers a 220 lb. seat weight capacity, 44 lb. tree capacity and 22 lb. capacity per shelf. Floor protector pads included. Clear and detailed assembly instructions and included hex key.

REAL SERVICE – When you purchase Milliard, you can relax knowing you have a dedicated team of real people ready to help you with any questions or concerns you may have.
Metal Coat Rack Umbrella Stand
Are you not in love with these curved beauties? Not only are the colors fantastic but the feminine quality of these beauties are the perfect way to add a soft touch to your door space. Keep the area neutral with this slate gray option or add a pop of color with this fuchsia finish!
Metal Umbrella Stand Rack, for Canes Walking Sticks
RELIABLE QUALITY: Durable metal construction and fine workmanship offers you a better usage experience for storing or drying umbrellas

CONSIDERATE DETAIL DESIGN: Bottom plastic drain tray to protect your floor from water, especially for wooden floors; 2 extra small hooks for hanging fold-up umbrellas

INNOVATIVE MODERN DESIGN: This umbrella stand with special design hollowed-out body allows your umbrellas freely breathe,suitable for entryway or door of your home, office, apartment, building, hotel, bars and so on
VERSATILE APPLICATION: Used as a decor for organizing your umbrellas, canes, walk sticks, wrapping paper, swords, baby toys, etc. in entryway or door of any home, office, apartment, hotel, bars and so on

PRODUCT SIZE: 6 1/8″L x 6 1/8″W x 19 1/4″H (15.5 x 15.5 x 49cm)
Indoor umbrella holder
This is a combination of sorts. With a more traditional and homey style, this coat rack has a storage option below as well. We like the all-in-one choice, especially when you don't have as much room to play with or rearrange. The nickel and brown tones make it an easy choice for a variety of themes.
Modern indoor umbrella holder
Similar to one of its curvier predecessors, these neutral beauties are perfect for holding them and keeping the water away from the rest of the house. We love how they act as large vases and look great even when nothing is inside.
Modern umbrella holder
This is an another sleek and chic holder for your foyer, patio or backdoor area. Again, the neutral tones make it an easy mix and the foundation keeps the puddles of water in one area instead of spreading all over the floors. There's also space for more than one, which is perfect for a family.
Small umbrella holder
This is a one shot deal, but it works! Storage that does it's job but also makes an incredible corner piece is an A+ design in our books! This beachy design would be great for a vacation home or a summertime accent near the front door.
Metal wall umbrella holder
This is a super modern take on a classic design. It's a great idea to use in an apartment that doesn't have as much floor space. And this particular design can also store hats and coats.  This all-in-one choice is perfect for smaller areas.
Unique umbrella holder
Here's another amazing design that is super chic and modern and is a space saver too! Display and hold as many as you need and keep them at an easy to reach spot for when you're heading out for a day or night on the town!
Contemporary indoor umbrella stand
This design is playful and unique, it's great for offices but it works for homes and apartments too! The tuft of "grass" will soak up the water after the parasol has been used and it also fits right into a corner with no problems. And add a pop of green to a monochromatic setting.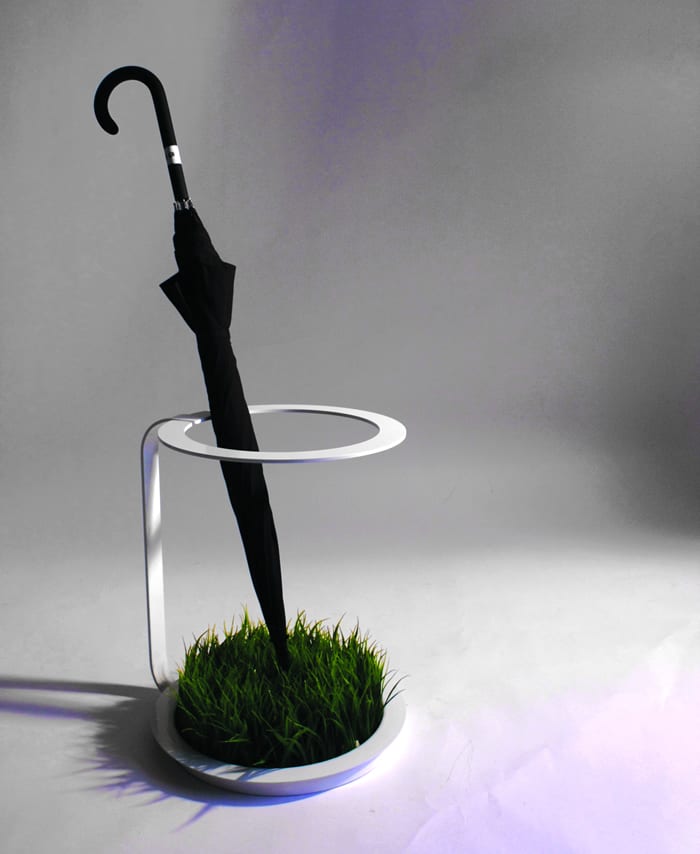 A Selection Of Umbrella Stands
Image
Title
Price
Prime
Buy
Yaheetech Hall Tree Metal Entryway 18 Hooks Coat Rack with 3-Tier Shoe Rack Bench Hat Umbrella Stand Hallway Organiser,Entryway Bench with Coat Rack Black

Prime

Take a Look

Top

Tangkula 3-in-1 Industrial Coat Rack Shoe Bench, 3-Tier Metal Entryway Hall Tree w/Storage Shelves & Adjustable Foot Pads, Bag Clothes Umbrella and Hat Stand, Entryway Bench for Home, Dorm (8 Hooks)

Prime

Take a Look
Topeakmart Metal Coat Rack Hall Tree Shoe Bench Entryway Storage Shelf, 18 Hooks Coat Rack Stand with 3-Tier Shoe Bench, Coat Hat Umbrella Rack, Coat Stand, Black

Prime

Take a Look
Leisure Space ThreeHold - Branch (Antique Brown) Multi-Function Coat Rack, Umbrella Stand and Shoe Shelving

Prime

Eligible

Take a Look
HOMFA Garment Rack 71 Inches Height, Coat Rack with 8 Dual Hooks and 4-Tier Storage Shelves, Free Standing Hall Entryway Coat Stand Home Decor Furniture for Clothes, Hats, Handbags, Umbrella

Prime

Take a Look
Shoe Rack Bench, Bamboo Removable Cushion Storage Shelf, 2-Tier Entryway Shoe Storage Organizer with Drawer and Umbrella Stand

Prime

Take a Look
King's Brand Black Finish Metal Hallway Storage Bench with Coat Rack & Umbrella Holder

Prime

Eligible

Take a Look
Winsome Memphis Storage/Organization, Cappuccino

Prime

Eligible

Take a Look
Yaheetech Coat Rack and Umbrella Stand, Entryway Coat Rack Hat Hanger Hooks Hall Tree Stand for Home or Office

Prime

Take a Look
Sleek and Chic Charleston Coat Rack with 8 Hooks and an Umbrella Holder Base in Black Made of Steel - 13.5" W X 13.5" D X 69" H

Prime

Take a Look
Prices and images pulled from the Amazon Product Advertising API on: