If you have a big enough foyer, you can fill it with wonderful essentials for you and your guests to enjoy and be welcomed by. From lush benches to grand coat racks, the possibilities can be seemingly endless. But, what about adding an umbrella holder to the mix. Instead of leaving them outside to continue to be soaked and lost, it will keep them dry and ready to grab at a moment's notice. Let's take a look at 10 must see modern designs for indoor umbrella holders that were hand picked by our editors, shall we?
Are you not in love with these little stations. They come in fun, playful colors from fuchsia to cherry red and they not only hold your umbrella and make a very fashion-forward statement but they also stand as a piece of art for the foyer or patio area.
Chic and tidy this model won't take up too much space or take away attention from the beauty of the space around it. We particularly like the foundation which will hold water as your umbrella dries after a trek inside instead of getting it all over the floor creating puddles.
[postadv]
Are you not in love with these curved beauties? Not only are the colors fantastic but the feminine quality of these beauties are the perfect way to add a soft touch to your door space. Keep the area neutral with this slate gray option or add a pop of color with this fuchsia finish!
This is a combination of sorts. With a more traditional and homey style, this coat rack has a storage option below as well. We like the all-in-one choice, especially when you don't have as much room to play with or rearrange. The nickel and brown tones make it an easy choice for a variety of themes.
Similar to one of its curvier predecessors, these neutral beauties are perfect for holding them and keeping the water away from the rest of the house. We love how they act as large vases and look great even when nothing is inside.
This is an another sleek and chic holder for your foyer, patio or backdoor area. Again, the neutral tones make it an easy mix and the foundation keeps the puddles of water in one area instead of spreading all over the floors. There's also space for more than one, which is perfect for a family.
This is a one shot deal, but it works! Storage that does it's job but also makes an incredible corner piece is an A+ design in our books! This beachy design would be great for a vacation home or a summertime accent near the front door.
This is a super modern take on a classic design. It's a great idea to use in an apartment that doesn't have as much floor space. And this particular design can also store hats and coats.  This all-in-one choice is perfect for smaller areas.
Here's another amazing design that is super chic and modern and is a space saver too! Display and hold as many as you need and keep them at an easy to reach spot for when you're heading out for a day or night on the town!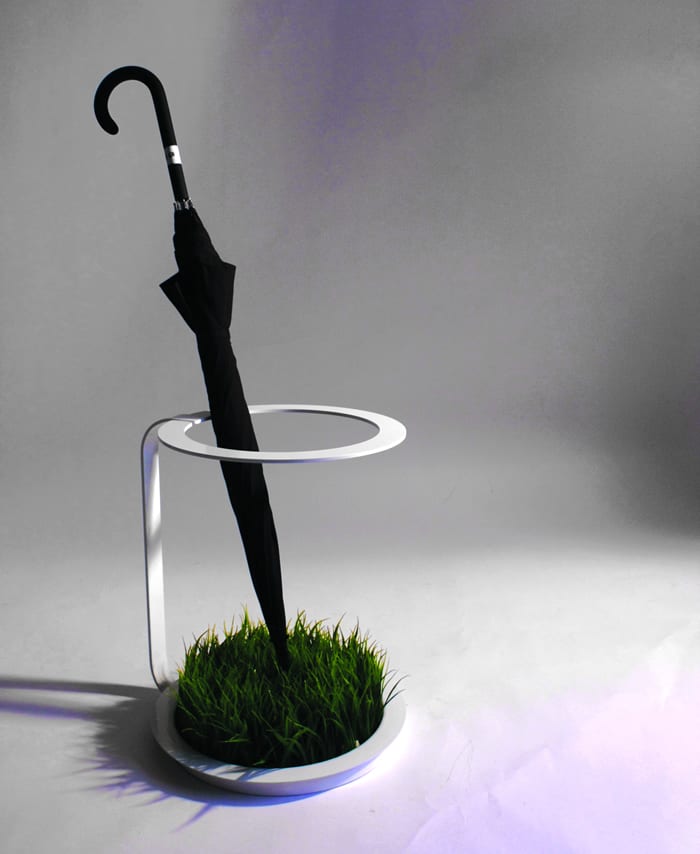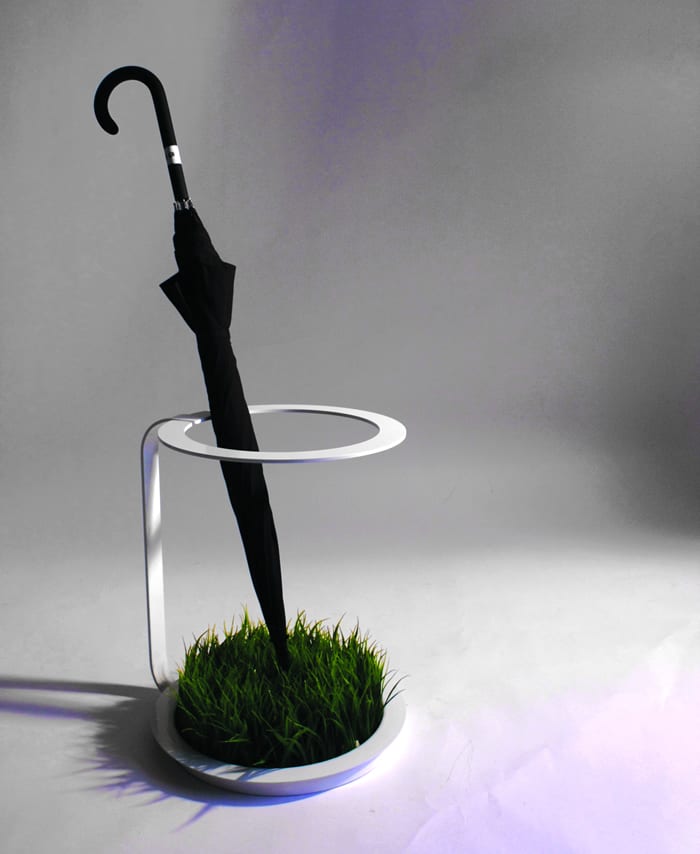 This design is playful and unique, it's great for offices but it works for homes and apartments too! The tuft of "grass" will soak up the water after the parasol has been used and it also fits right into a corner with no problems. And add a pop of green to a monochromatic setting.