Electric Fireplace Ideas For Your New Home
If you're creating a beautiful, modern home but still want that cozy, welcoming feel, you'll need to install a fireplace to get the best of both worlds. Create a family room that not only has a chic and sophisticated style but that has a comfortable essence within its four walls.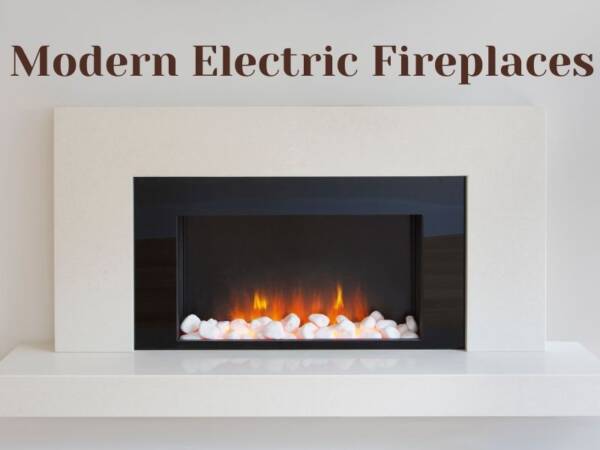 An electric fireplace provides additional heat when required and is fully adjustable to keep the room to a temperature you prefer and enjoy.
When planning a room out, understand that modern electric fireplace ideas can quickly become the central gathering point to this type of space. With its sleek design, you'll get a modern and contemporary style infused with its functionality. Let's look at some fantastic electric fire ideas where your guests will love the warmth and beauty.
What Could Go Wrong With An Electric Fireplace
Electric fireplaces are grand! They're easy to use, they look good, and you don't have to worry about burning down your house. But if you want to ensure that your new electric fireplace works appropriately, there are some things you should know before buying one.
If you decide to buy an electric fireplace that uses electricity, you'll want to ensure that it comes with safety features like a thermostat, so you won't burn yourself while trying to turn up the heat.
Electric fireplaces aren't energy efficient, and you might spend a lot of money on your monthly heating bill. The best way to save money when using an electric fireplace is to keep the temperature low enough that you only need to run the heater partway through the day. You can do this by setting the timer on your thermostat to come on at night and then turn off the heater during the day.
If you live in an area where the weather gets cold, you might need to add insulation around your fireplace. This will help prevent the heat from escaping out into the room, keeping your home warmer throughout the winter months.
Another thing to consider when choosing an electric fireplace is your available space. Most models require at least two feet of clearance around the back wall of your living room, and many require even more space. If you plan on placing your fireplace against a wall, you'll want to check whether the unit requires a unique chimney cap to fit correctly.
Finally, if you're planning on installing an electric fireplace in a small apartment, you might want to think twice before purchasing one. Small apartments tend to lack adequate ventilation, making it challenging to regulate the airflow inside the room. If you have trouble breathing in the room after using an electric fireplace, you might try installing a traditional wood stove instead.
Are Electric Fireplaces Safe?
Electric fireplaces are trendy nowadays because they are easy to use and clean. However, many myths surrounding them make people think twice before buying one. The most common myth is that they cause fires. This is entirely false; however, if you don't know how to care for your fireplace correctly, then this could happen.
To learn more about these myths and what you should do when cleaning your fireplace, read our article below!
Myth 1: They Cause Fires
There are two main reasons why people believe that electric fireplaces cause fires. First, they think the flame's heat causes the gas to ignite. Second, they think that the metal heating element ignites the gas. Both of these things are wrong.
Some types of gas fireplaces can indeed get hot enough to start a small flame, but only if the pilot light is lit. Otherwise, the flame would go out immediately. Also, the heating elements used in electric fireplaces are ceramic or glass, so they cannot burn like a wood log.
Myth 2: You Can Use Them Like Wood Logs
You can use an electric fireplace just like any other type of fireplace. Remember to turn on the power switch before lighting the pilot light. Once the pilot light is lit, you can enjoy the warmth of the fire.
Myth 3: They Don't Work Well In Winter
This is another common misconception. Many people think that electric fireplaces work best during the summer months. This isn't true at all. Electric fireplaces work great year-round. They provide a lot of heat without the hassle of having to keep logs burning throughout the winter.
In our current climate, an electric fireplace could be your last resort and something you can use at the flick of a button when you need a little warmth before you go to bed or to warm the room quickly.
---
Wall-Mount Electric Fireplace Insert in White
For an ultra-modern home, get creative with your interior design. Take this one, for example. It's a modern electric fireplace on display as a centerpiece and artistic creation in the home. However, it still gives off that cozy and comfortable warmth everyone loves to get from having a fireplace.
---
In-Wall Recessed Electric Fireplace
Talk about relaxation for you or your guests, this is the ultimate luxury, and we love the pop it gives to a more traditional area, great design, and idea with a massive selection of soft colors to choose from when it is active. You should be able to set any room atmosphere with a fireplace like this.
---
Infrared Quartz Electric Fireplace
My absolute favorite is an Infrared fire. With an Infrared fire, the heat it generates goes directly to the body and surrounding furniture and is not wasted on cold air. This way, when you switch it on and are in front of it, the heat is directed at you and not a space, making the body feel as if the sunshine is in your room.
You may not be seeing real flames flicker, but with this beauty, you'll still get that same warm glow and cozy feeling during the holidays but with a chicer and more fashion-forward appeal. And that's the perfect way to add a wall accent to keep your contemporary vision intact.
3D flame effect technology offers a layered flame effect to create a realistic fire with five adjustable brightness and speed settings.
How Do I Fix Infrared Quartz Electric Panel Problems?
Infrared quartz electric panels are widespread in homes today. They are used to provide warmth during cold winter months. The only problem with them is that they burn out quickly if you don't use them properly.
Infrared works differently from a typical electric fire in that it heats the objects rather than the whole room. This is great if you are sitting directly in front of it.
First, turn off your electrical circuit breaker, so you know there isn't any power going into the unit. Then check to make sure that the fuse box is working correctly. If everything looks good, try turning the unit back on and see what happens. If nothing seems to work, you might want to call a professional or consider buying a new panel.
If you still aren't having luck, then look at the wiring inside the unit. You should be able to find a switch labeled "on/off" or something similar. When you flip this switch, it should shut off the electricity going into the unit. If this doesn't help, you're probably dealing with a bad transformer.
If none of these things work, you could always contact a repairman to come out and replace the faulty part. This is usually pretty easy to do since most units are plug-and-play. Just make sure that you get one from the proper manufacturer, though.
How do Electric Infrared Heating Panels Work?
Infrared heating panels use solar energy to warm objects, such as water, food, air, etc., through infrared radiation. The panel heats the object until it reaches its target temperature. This process uses thermal energy, which is converted into electrical energy.
The main advantage of this technology is that it saves electricity and reduces carbon emissions. It also provides comfort and convenience because you don't have to turn on your heater when you want to cook or eat something hot. In addition, there is no danger of burning yourself since the heat source is safe for humans.
There are two types of infrared heating systems: passive and active. Passive systems use solar power, while active ones use electric power.
Passive systems include solar collectors and parabolic dishes. They convert sunlight directly into heat without any moving parts. Solar collectors are usually made of glass or plastic and are used outdoors. Parabolic dish collectors are mainly used indoors and often installed on rooftops.
Active systems consist of infrared lamps and reflectors. They emit light waves that travel through space, bounce off surfaces, and then return to the lamp, where they are absorbed. The lamp converts these waves into heat.
Is A Circuit Breaker Required For An Electric Fireplace
The National Electrical Code (NEC) requires that any new installation of an electrical product should include a circuit breaker. In addition, the NEC states that appliances such as stoves, water heaters, refrigerators, dryers, dishwashers, freezers, and clothes washers must have a ground fault interrupter (GFI).
A GFI protects against shock hazards by detecting leakage currents between hot and neutral conductors and automatically disconnecting the power supply when this occurs. However, a GFI cannot protect against arcing faults. Arcing faults occur when there is too much voltage between two points, causing sparks to jump across the gap.
If you live in a home built before 1978, you may not have a circuit breaker installed. You can check whether your house has one by looking for a box labeled "breaker" outside your home. If you find one, you can contact your local utility provider to see what kind of service you have. If you don't have a breaker, you'll want to call your local electrician to come out and fix your problem.
---
Electric Fireplace Safety Tips

Electric fireplaces are trendy among homeowners. They provide warmth during cold weather, give a cozy home ambiance, and save electricity. However, there are some things you should know before buying one.
Make sure your fireplace is installed correctly. It must be installed according to the manufacturer's instructions.
If you install it yourself, make sure you follow the guidelines carefully.
Never use extension cords when installing an electrical device.
Always plug it into a dedicated outlet.
Keep children away from the fireplace. Children often put their fingers near hot surfaces and burn themselves.
Do not leave any flammable objects around the fireplace. This includes candles, matches, lighters, newspapers, etc.
Questions & Answers
What Is the Life Expectancy of An Electric Fireplace?
The average lifespan of an electric fireplace is ten years. Most people who buy electric fireplaces will replace them every decade.
How Far Should a Tv Be Above an Electric Fireplace?
The distance from the wall where this device is placed to the bottom edge of this device's screen must be at least twenty-five centimeters or around 10 inches. If you use a traditional fireplace, the distance must be at least thirty centimeters (12 cm) or 12 Inches.
Conclusion
An electric fireplace can be a great addition to any home, whether large or small. Due to their nature, they are very user-friendly, can provide plenty of warm heat when needed, and are switched off when not required to save energy.