Modern Electric Fireplace Ideas For Your New Home
If you're creating a beautiful, modern home but still want that cozy, welcoming feel then you'll need to install a fireplace to get the best of both worlds.
Create a family room that not only has a chic and sophisticated style but that has a comfortable essence within its four walls.
When planning a room out understand that modern electric fireplace ideas can easily become the central, gathering point to this type of space and when its a sleek design you'll get a very modern and contemporary style infused with its functionality.
Let's have a look at some amazing and must-see ideas where your guests will fall in love with the designs.
Sideline Electric Fireplace
Touchstone 80004 – Sideline Electric Fireplace – 50 Inch Wide – in Wall Recessed – 5 Flame Settings – Realistic 3 Color Flame – 1500/750 Watt Heater – (Black) – Log & Crystal Hearth Options
DESIGNED FOR IN-WALL INSTALLATION: This electric fireplace is specially created for recessed mounting in walls. Recessed mounting is simple. Build a simple rough frame in your wall, move existing studs, then the right and left side have mounting brackets, which take 2 screws on each side. The 50-inch fireplace comes with easy-to-follow instructions to help homeowners install the unit on their own. Wiring can be hard-wired or plugged.

TWO HEAT SETTINGS: Perfect for the cold seasons, the Touchstone Sideline features two heat settings: high and low. Heat vents are located on the upper front area. The heat level can be adjusted according to the user's preference, making this fireplace a functional and practical fixture. The fireplace can be turned all the way up in freezing weather to keep you snug and toasty. For slightly chilly weather, it can be set on low to provide ample warmth without being too hot.

REALISTIC FLAME WITH THREE COLOR CHANGING OPTIONS: To create the cozy atmosphere of a traditional fireplace, this electronic unit emits authentic-looking flames that emulate a real fire. It has three color changing options (orange, blue, and blue-orange), along with five settings, from a soft ember glow or an intense blaze. With both its look and performance, Sideline gives you the total package. Both the heat and flame settings can be operated through a remote control. (Batteries not included)

MULTIPLE MODES: Brightness settings that range from a dull ember glow to a full blazing light, allowing you to adjust the flames to your desired brilliance

FAUX FIRE LOG AND GLASS CRYSTAL INCLUDED: This set includes faux fire logs and crystals to create an authentic feel. It operates on 1,500 watts, with a voltage of 120. It is recommended that this fireplace be positioned at least 12 inches below the ceiling. Avoid mounting it directly under a flat-screen television, as that may limit the heater's use.
Prices pulled from the Amazon Product Advertising API on:
Product prices and availability are accurate as of the date/time indicated and are subject to change. Any price and availability information displayed on [relevant Amazon Site(s), as applicable] at the time of purchase will apply to the purchase of this product.
Here's a great example that takes center stage in this living room. Your guests and family can relax on the sofas while the fire crackles in the background, but with fashion-forward energy and style. We also love the grey contrasts it has against the creamy walls.
Your bathroom can even have a welcoming, warm spirit with the installation of a fireplace near the tub! Talk about rest and relaxation for you or your guests, this is the ultimate luxury and we love the pop it gives to a more traditional area.
For an ultra modern home, get creative with your interior design. Take this one for example. It's on display as a centrepiece and artistic creation in the home but still gives off that cosy and comfortable warmth everyone loves to get from having a fireplace.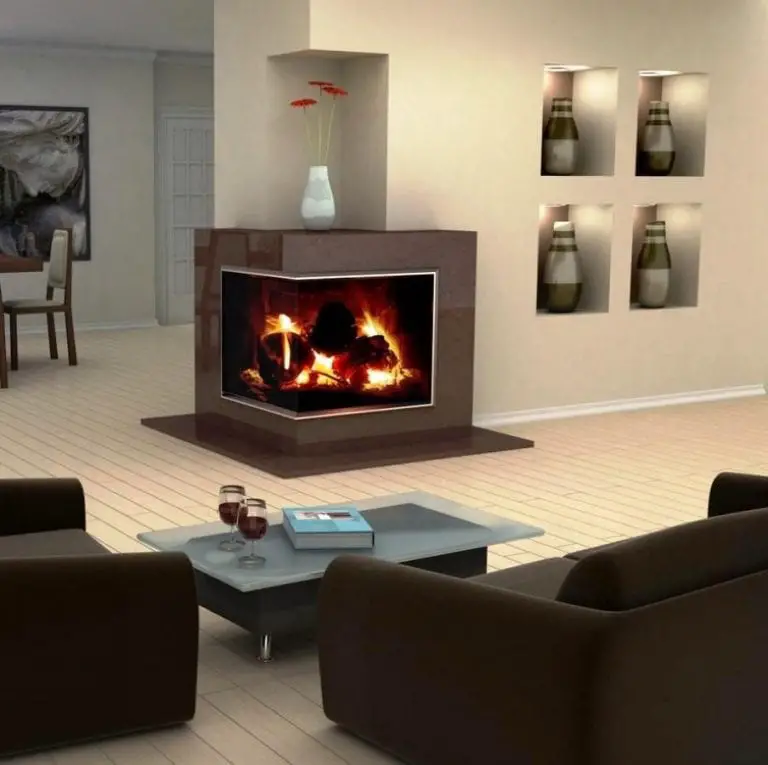 Who knew you could create a corner spot while incorporating your decorative vision? Well, now you do! If you have a layout that isn't exactly traditional, then utilize the uniqueness to your advantage. Think of all of the possibilities of the nooks and crannies and see how they can turn out like this example!
You may not be seeing real flames flicker but with this beauty, you'll still get that same warm glow and cozy feeling during the holidays but with a chicer and more fashion-forward appeal. And that's the perfect way to add a wall accent when you want to keep you contemporary vision intact.
Here's an example of a bigger, window like the version that uses up a good amount of wall space. This has a bolder and more dramatic appeal than its smaller predecessors, but its beautiful nonetheless. And, of course, we love the stark contrast of this piece against the crisp white wall.
Are you not completely in love with this slender, horizontally designed model? It doesn't necessarily steal the scene of this space as it blends in quite well with the clean lines of the room, but it certainly finishes off the area quite nicely and with functional assets.
Here's a design that's perfect for a loft and studio apartment as it has a very urban and youthful sense. Not all ideas have to be stuck in the wall, instead they can have their very own structure and life of their own. And the complete neutral dressing of this space makes the flames pop!
This example is hidden throughout the design of this more traditional, zen setting. Found below the accents of this welcoming living room, is the fireplace that acts more in functional and slight ambience than focal benefits. It also adds the right amount of modern to this more casual space.
A personal favorite of the entire list, this large in wall unit certainly sets the scene for this mid-century modern escape. It is the centrepiece and focal point of this casual gathering spot and makes it an even more welcoming spirit to this cozy, homey space.
The rocks inside this picture make a more casual appeal and make the flames appear to be coming out of the Earth. The magnitude of its size makes it a great choice for more open areas and larger living rooms or even in a master bedroom!
We love how this modern example acts in both functional, essence and artistic creation. Its frame serves as perfect and simplistic wall art to this minimalistic room but its size compliments the smaller arrangement of the area. Although we see this design in an abundance of different areas with even bolder styles.