Roberti Rattan Outdoor Swing Sofa
Designed by Technical Emotions the Roberti Rattan outdoor swing sofa from the Gravity Garden collection is elegant, charming, and inspired by gravity, nature shapes and water waves.
The new exclusive outdoor garden furniture collection by the Italian furniture manufacturer is characterized by modern pieces of furniture for the garden, pool and patio.
What could be more peaceful and relaxing than spending quality time outdoors with a cup of coffee or a glass of wine in hand?
With this in mind, the Gravity collection took shape, a collection with hanging chairs and garden swing sofa with steel frame and comfortable upholstery, which are suitable for relaxing in the comfort of your own home.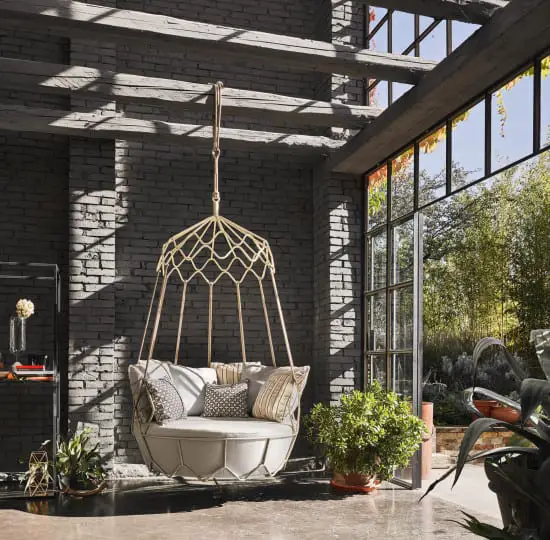 For more than 55 years, the Italian company, Roberti Rattan has worked to develop creative and useful collections of outdoor and indoor furniture.
The luxurious furniture solutions from Roberti helps to re-create, preserve and protect our life balance with nature.
The Gravity collection is made of pieces of furniture which can be put everywhere in the garden or even public spaces like hotels or SPA's. It has a steel frame and a supporting frame, which allows for free positioning.
The outdoor swing sofa is suitable for two persons, holding up to 300 kgs, and is perfect for pleasant afternoons. The design of the Gravity sofa is modern and brings a welcoming feeling.
Only high-quality materials are used in the production process. The cushions from this collection have water repellent outdoor foam and are covered with the famous Sunbrella fabrics.
Sunbrella is extremely resistant to moisture and color fading. A variety of fabric choices are available, the company offers many variants with patterns and in different colors, so you can adapt the outdoor furniture to your interior.
Gravity outdoor garden furniture collection includes also an aluminum side table and a garden sofa. The round coffee table is characterized by clear lines and solid construction and is a useful addition to the rest of the collection.